Another walk from the excellent free guide books today. This one starts at a monastery, Sv Votjēch (St Adalbert) monastery in Brevnov and 3 miles or so later finishes at the much better known Strahov monastery. 
Now I'm sure some of my readers may be wondering whether I've had ecstatic visions and am undergoing some form of religious conversion undertaking such a pilgrimage. Should I mention that both monasteries also have breweries then I suspect all fears will be allayed.
Brevnov is just down from almost the end of the 1 and 2 tram lines, on the outskirts of the old city.  A walk through a pleasant little park and there's the monastery. Let's face it, few breweries look as good as this.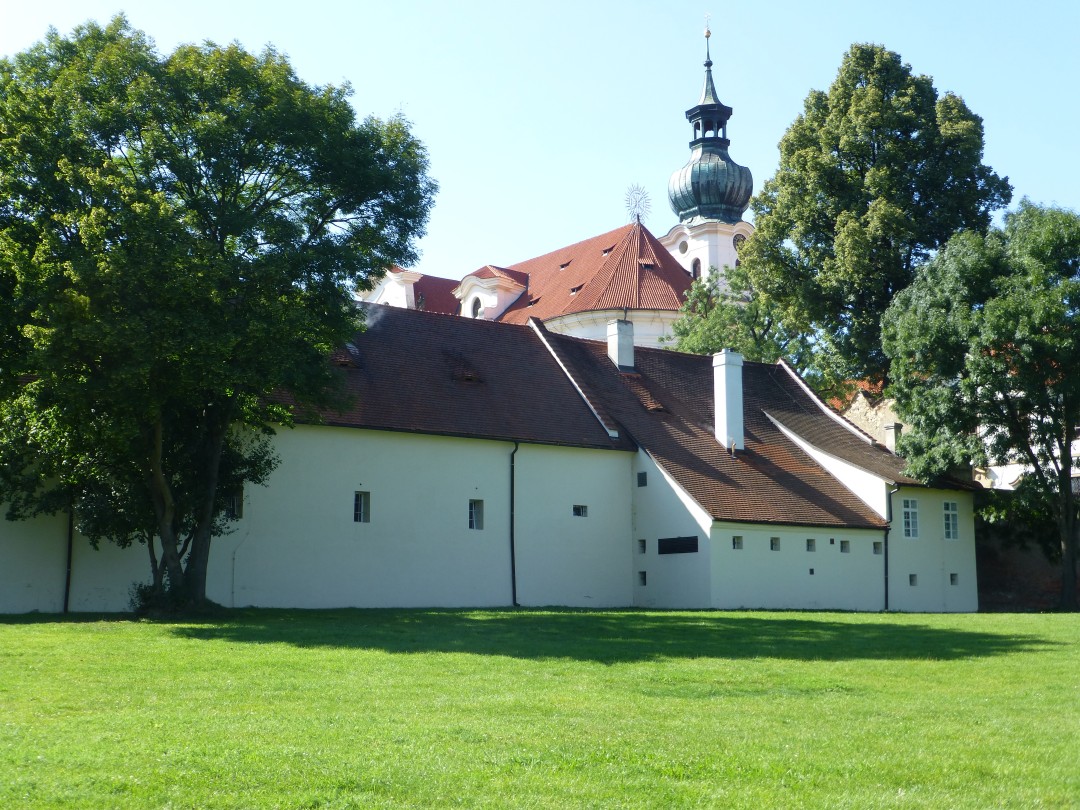 One advantage of being a little out of town is that the park, the monastery and its restaurant/bar are not overpopulated with tourists. So we have a pleasant break over a slow pint of excellent beer, although I've discover afterwards, when web searching, that my IPA was 6.5% abv, a strong start to the day but, not being early risers, at least it was early afternoon.
The walk goes past some pleasant old buildings but also plenty of blocks built in the Communist era. The old Wartburg somehow didn't seem out of place.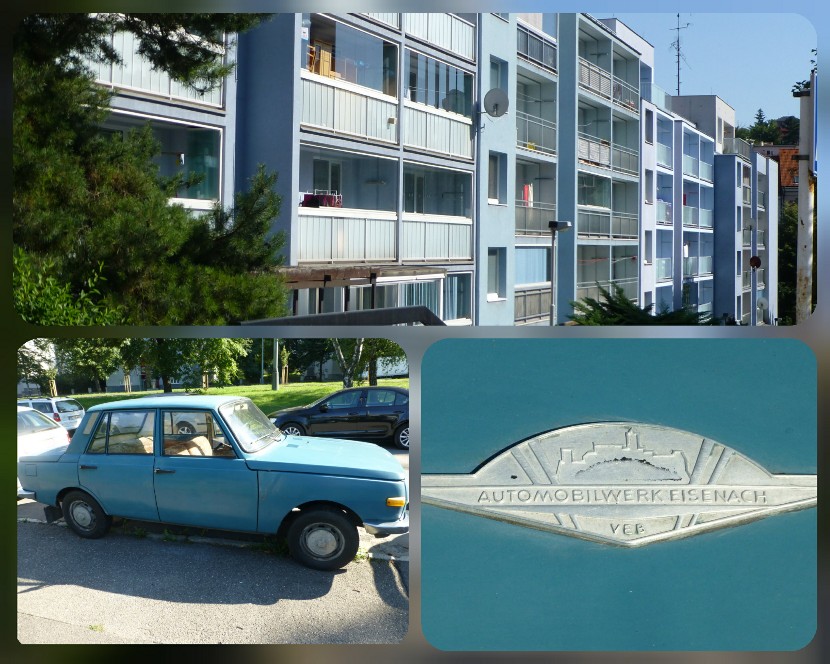 Strahov monastery is much closer to town. At the top of the hill, close to the castle, the viewing tower and the funicular railway. It's heaving with tourists, so much so we didn't take any external pictures. It's beer is possibly the most expensive in Prague (but we've yet to visit U Fleku). Still I suppose you are paying for location and ambience of a monastery's ancient wine cellar.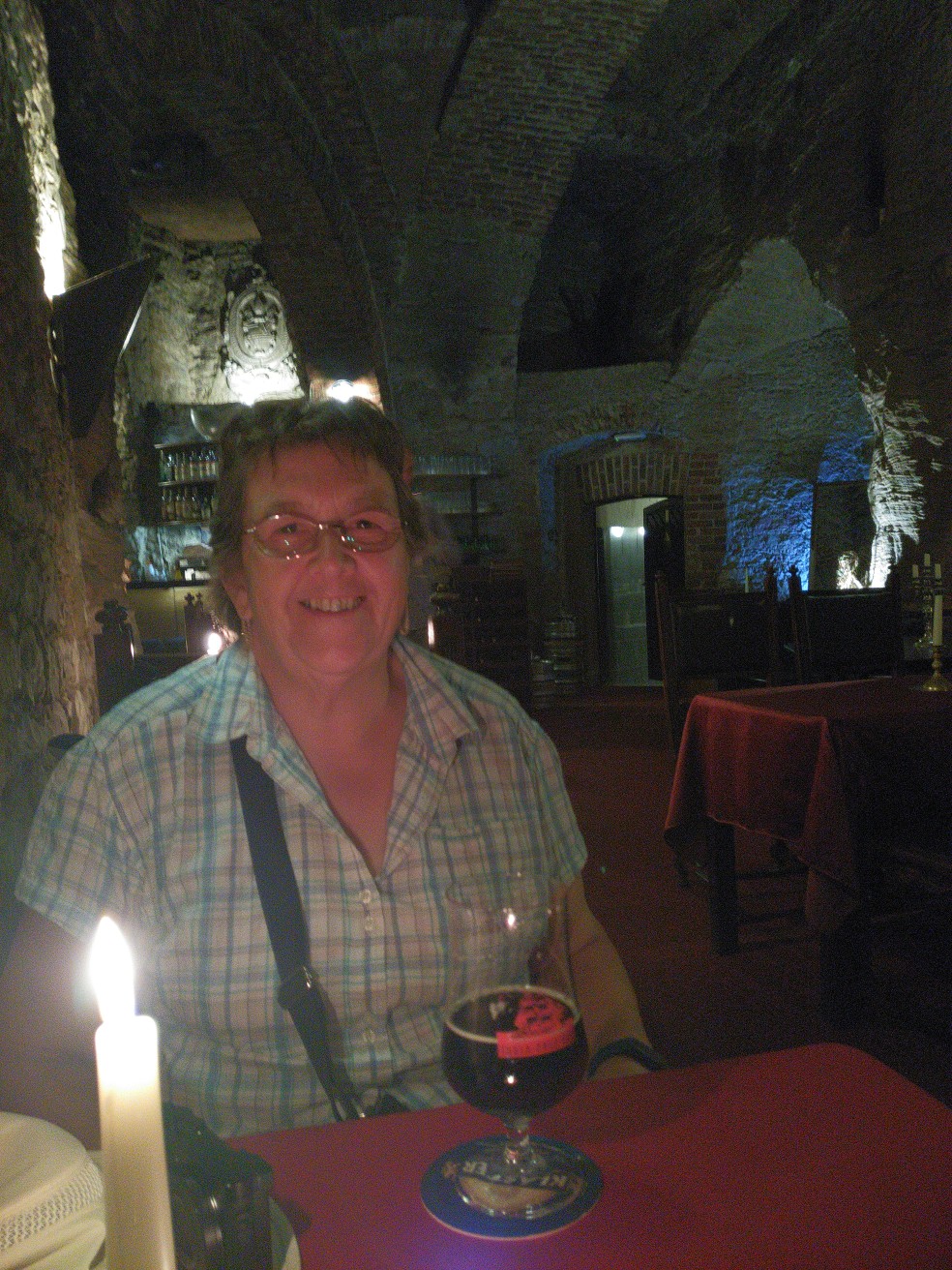 The queue for the funicular was surprisingly short, it was the easiest way down the steep hill and the cost was covered in our day bus/metro/tram ticket. So why not? And some nice views on the way down too.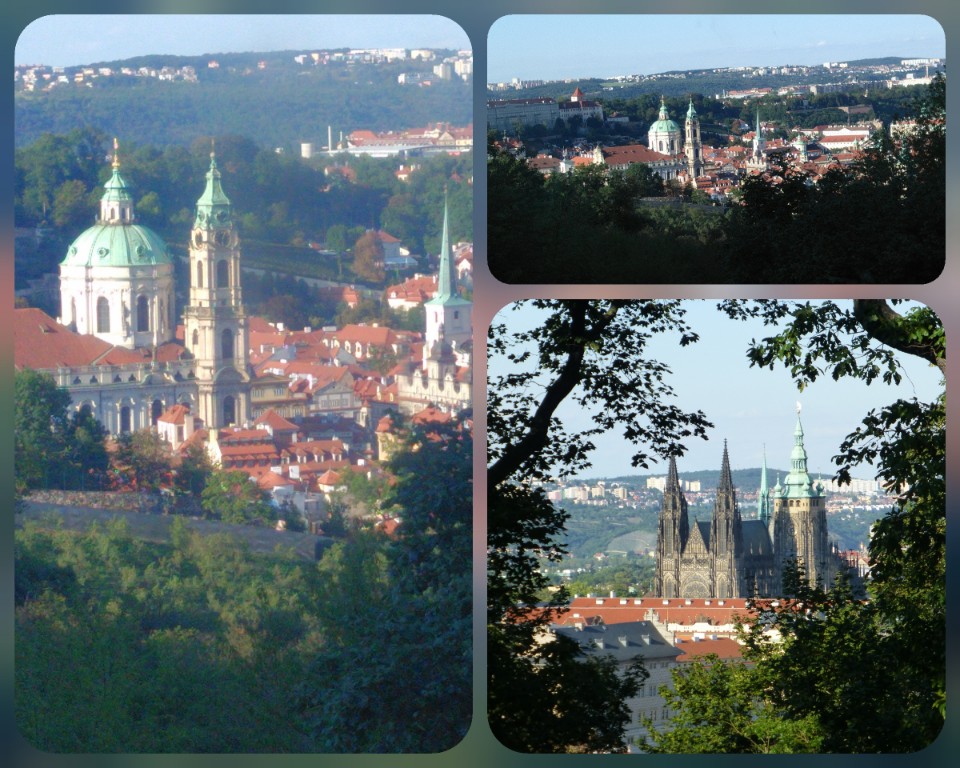 Now here's a weird idea. Take a butchers shop, a butcher that only sells organic farmed meat and add a bar to the back selling a couple of local brewed beers, and a small restaurant. The speciality apparently is their Scotch Egg. The online menu also suggested English Meat Pie and mash but sadly that wasn't on tonight so Liz and I settled for that traditional rural Czech favourite, Staffordshire Faggots, mash and peas. It was good too, as were the beers. Look closely and you will see both a Drinks sign and Real Meat Society plaque. Oh, should you want to find it yourself when visiting Prague, it's called Mason a kobliha.

And no, the food wasn't a hankering for England. The bar seemed so unique that it just had to be done despite the fact that it's cuisine was mainly English. Let's face it, in England there are scores of The Butcher's Arms and Southampton has a The Butcher's Hook, but a real butcher's pub!!
From there back to the old town square to join the throngs and be disappointed by the procession of figures as the clock strikes the hour. To be fair our view was poor, it was quite a crowd. And a fight back to Mustek for the metro back. 
Visiting those monasteries may have appeased some spirits because a train arrived simultaneous to us and got us to Stoduky with just a few minutes to spare to catch the once an hour bus back to the campsite. We'd anticipated a wait or mile and a half walk  Nice when it all works out like that.