No pictures today, a moving-on day. Another peaceful night in Bushmills park and ride car park. It's a nice site and I hope motorhomers respect it so it remains available.
Shopping in town. Call in on the single charity shop (Liz buys a nice cotton damask tablecloth), the local butchers (there were two), newsagent, and Centra supermarket. With the singular exception of the volunteers in the charity shop this doesn't appear to be a place that warms to strangers!
Before setting off we need to check the roads. Today is a practice day in the Northwest 200 and the triangle of roads between Portrush, Portstewart and Coleraine are closed to the public. We avoid the coast and sneak into Coleraine at the roundabout where the adjoining road is closed. Plenty of parking in Coleraine, and the pay and display we choose was 20p per hour. Mind you, our park and ride driver was saying that many towns have been up in arms at but even such lowly charges. So much so that in places they've been rescinded and parking is, once again, free.
Not much to say Coleraine. It's a nice enough town with a good range of ships. For us it's mainly a mooch around charity shops. A recommendation for Bob & Bert's coffee shop. Really sinful cakes and decent coffee too.
It's an uneventful A road journey along into Derry. Or is it Londonderry? Roadsigns seem to favour the latter but several of them have the "London" prefix sprayed over by black aerosol. Probably a touchy subject in these here parts. We're not going in to the walled city today but to a campsite just 3 miles outside. An working farm, apparently "the mushroom farm" will guide any taxi drivers who are unsure of the location of "Elaghvale campsite". Newly built toilet, shower and kitchen blocks and dead level concrete stands. £20 per night but that includes good WiFi, electricity, showers and even the washing machine (although the dryer requires £1 coins). Sadly a French couple beat us to the washer, we'll do ours later.
The site charges in sterling and the washer takes pounds so we think we're in NI, according to Google maps the border is 20m or so away! Let's go take a look. Yep, it's this fence.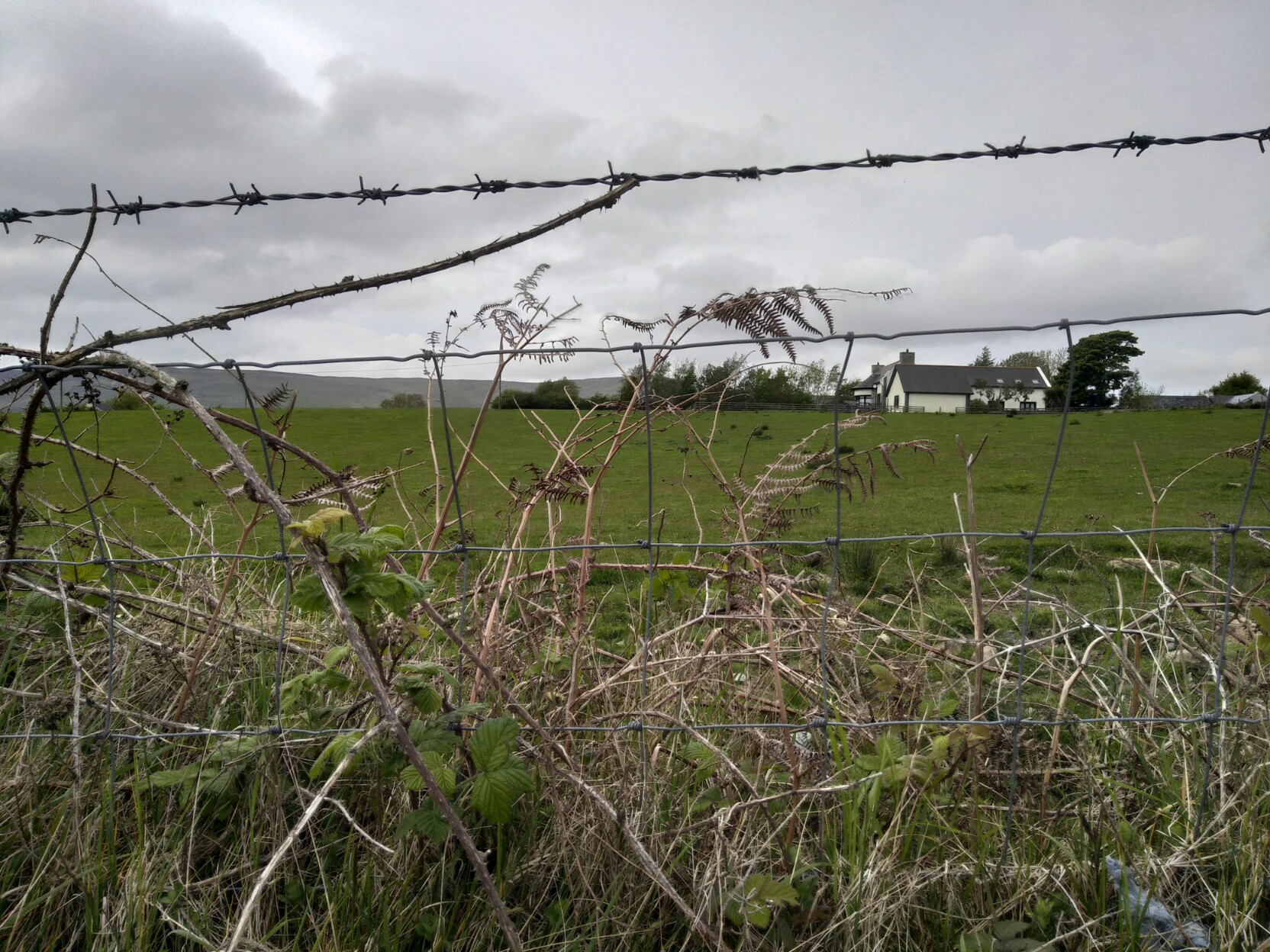 Wonder if, this time next year, the guy in that white house will be lobbing duty frees over the fence.
Anyway here's today's 46 miles