Clocks, absinthe and opera
Remember back a couple of days ago when I commented that the problem with Vienna is that there are just too many museums and art galleries. Seeing them all would take a couple of weeks and a couple of week's salary. So choices have to be made.
Two choices: #1 The Schnapps Museum because reviews were excellent and tastings good! #2 The Vienna Museum's Clock Museum because we like clocks.
Actually first choice for today was a Danube cruise but then we realised the Schnapps Museum isn't open tomorrow and a cruise would mean we wouldn't get there in time. Schnapps v cruise - no contest!
First a trundle around on the trams looking at the parliament building, university, royal palace etc. Vienna is quite hard to orient yourself around because there are so many magnificent buildings its actually quite hard to remember which one is which and so exactly where you are. 
A diversion, the Clock Museum isn't far from where Liz saw a dressmaker's shop with professional equipment in the window (tailor's hams, tailor's curves etc.) so she wanted to go look in and explore the obvious wealth of equipment. Problem was that despite 4 large shop windows the interior of the shop was barely twice the size of our little van. They had everything, we're sure but nothing on display. Lots of interesting drawers and cupboards to the rear of the shop held unknown and unseen treasures. Still Liz managed to find a pattern to buy  
The clock museum was, as expected, fascinating. From an early 15th century watchman's clock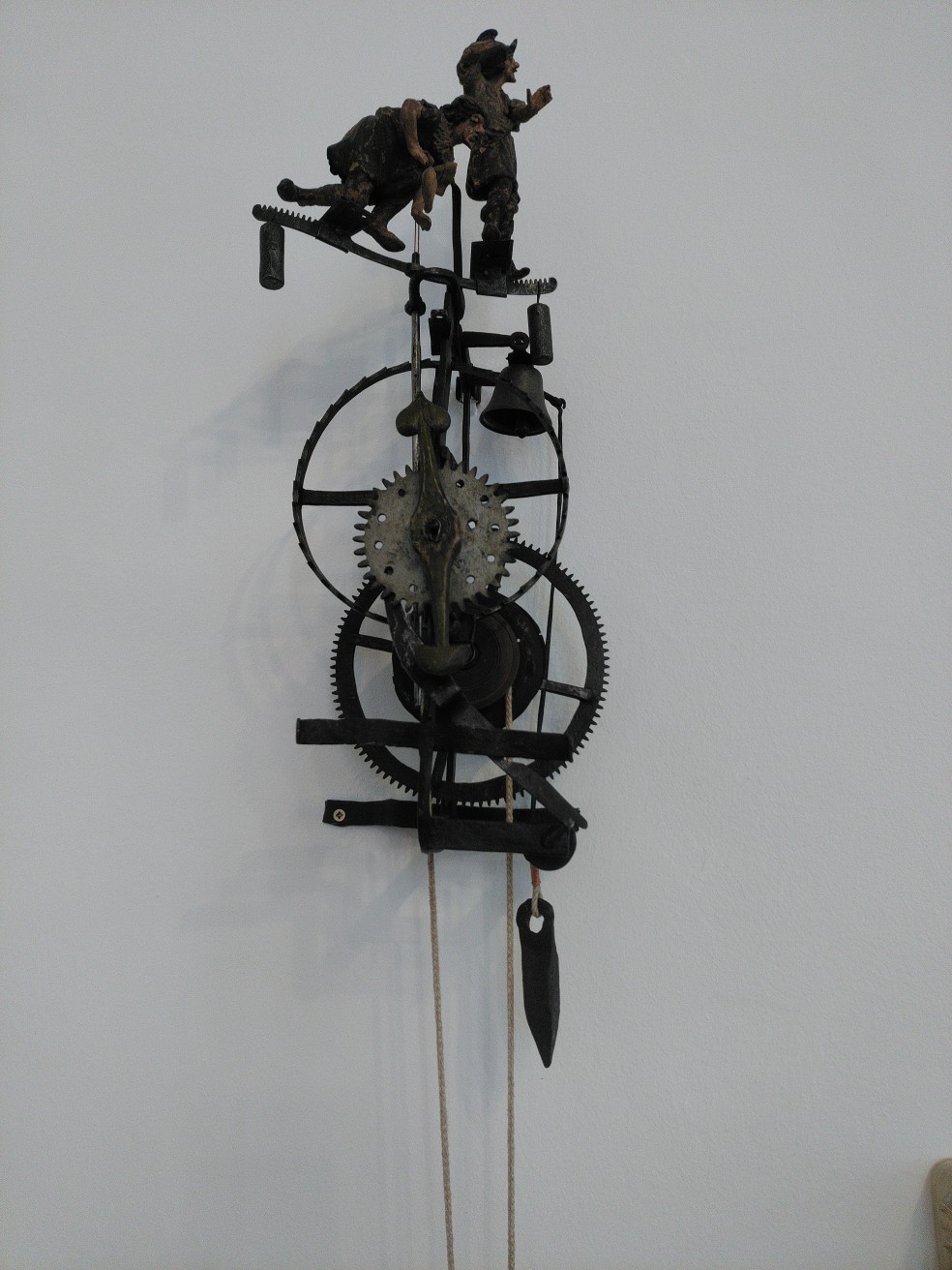 that just chimed once on the hour so the watchman could then run up the church tower and ring the bell manually to the latest 21st century timepieces
This one was particularly interesting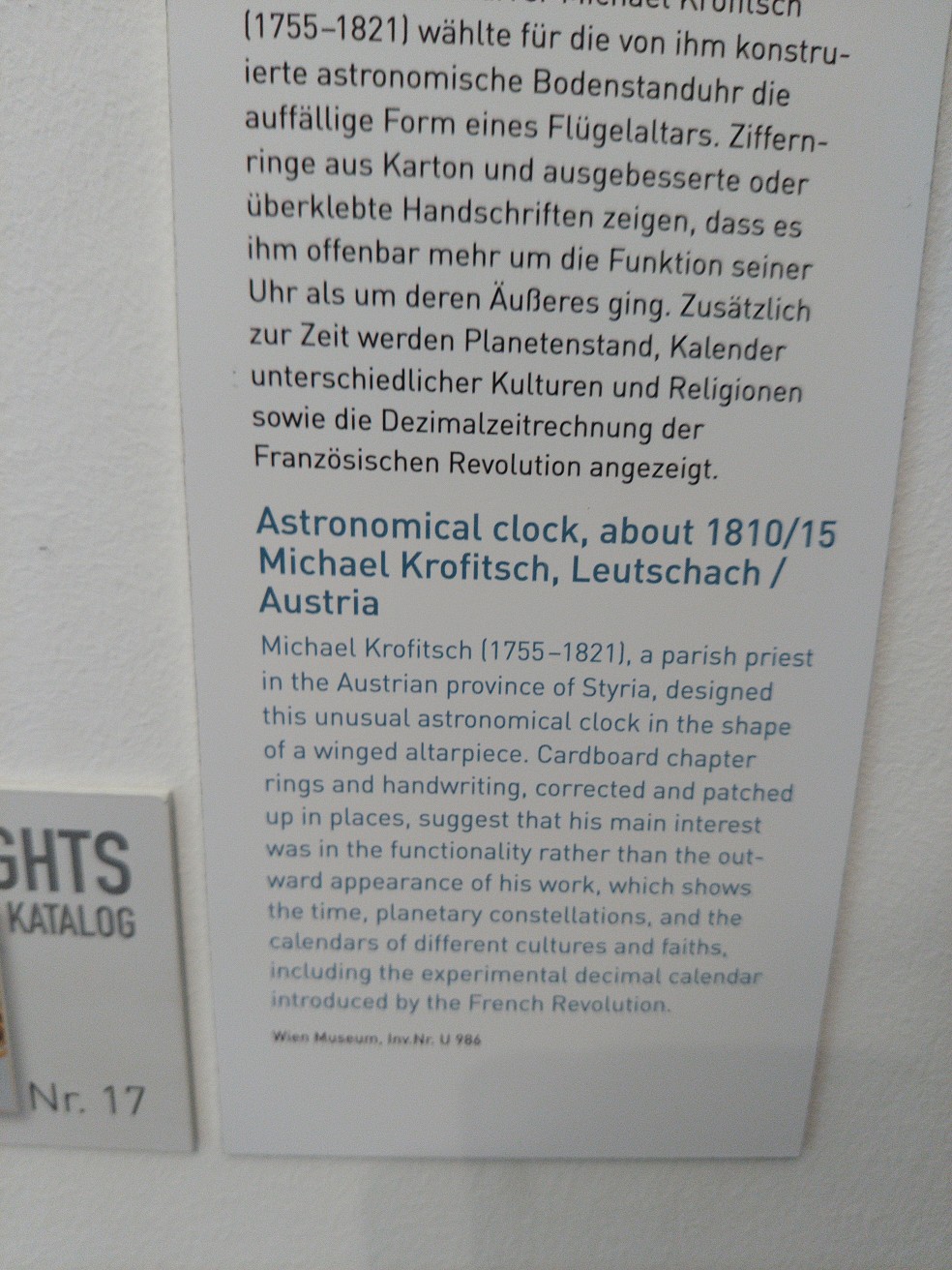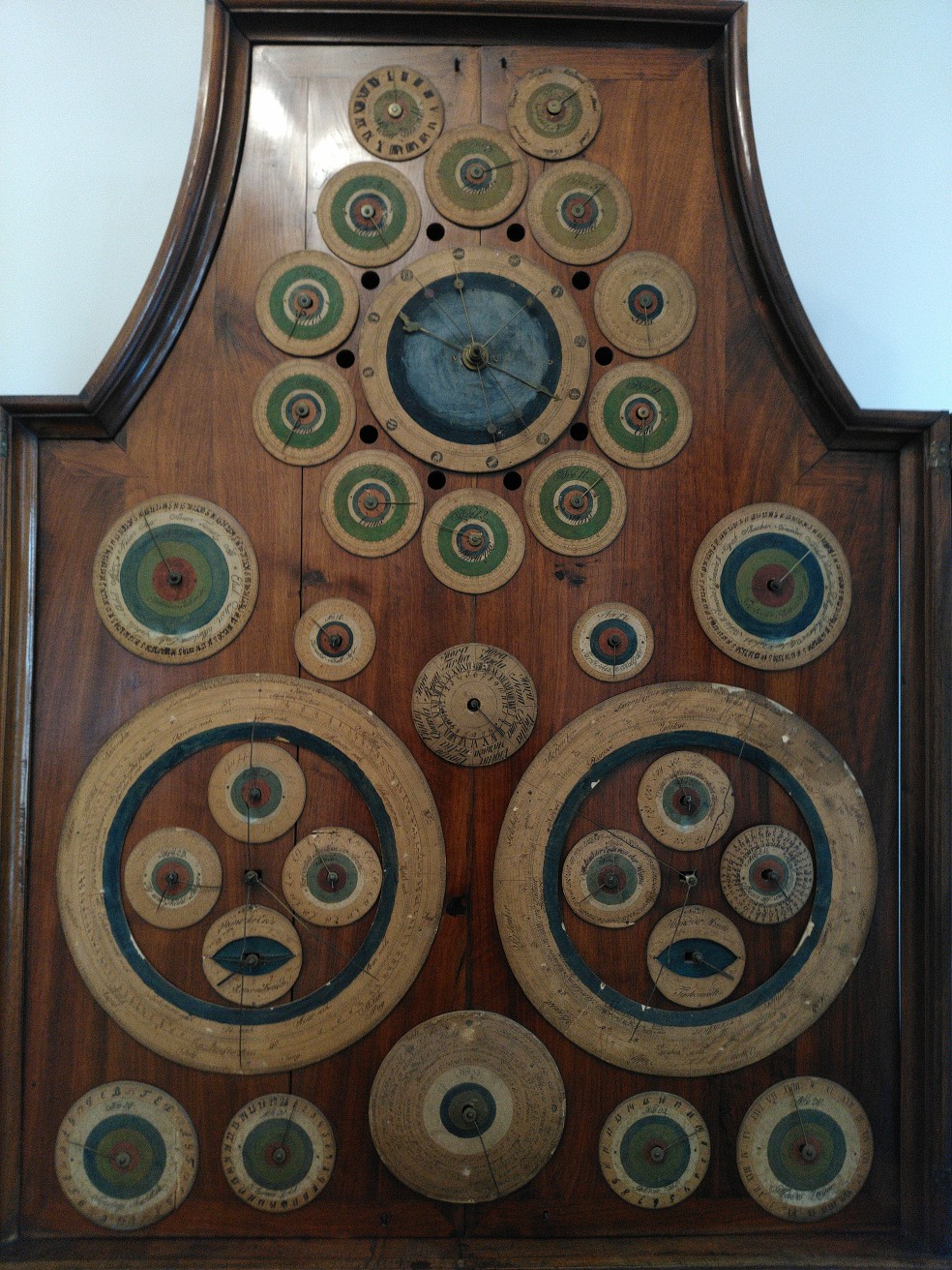 Could have taken a lot more photographs but time was pressing. The guide book says the Schnapps Museum has an English guided tour at 2:30 and it's out of town on the other side of the city. Good metro connections mean we get there at 2:11. Perfect. Except we get told today's tour is at 3:45! It's out of town so no obvious sites to while away the time. We find a local shopping street and there is a political 'Fest' going on for the FDO, the right-wing Austrian Freedom Party. A bit like something out of Cabaret with at least one person in lederhosen and loud nationalistic tunes being played and sung by a variety of performers. I was expecting a youth choir with "Tommorow Belongs to Me" at any moment. We kept our distance despite the fact that their beer looked good!
3:45 arrives and we are down into the courtyard of the distillery where 3 young Australian couples are already waiting. Then the tour starts, once we have been joined by a coach load of about 30 other young Australians. Liz and I were definitely the only ones on the tour over the age of 30! It was pretty crowded but the tour guide was excellent taking us through the history of the firm and then the range of products and explaining Schnapps v fruit brandy, how to make your own liqueurs, how to serve Absinthe etc.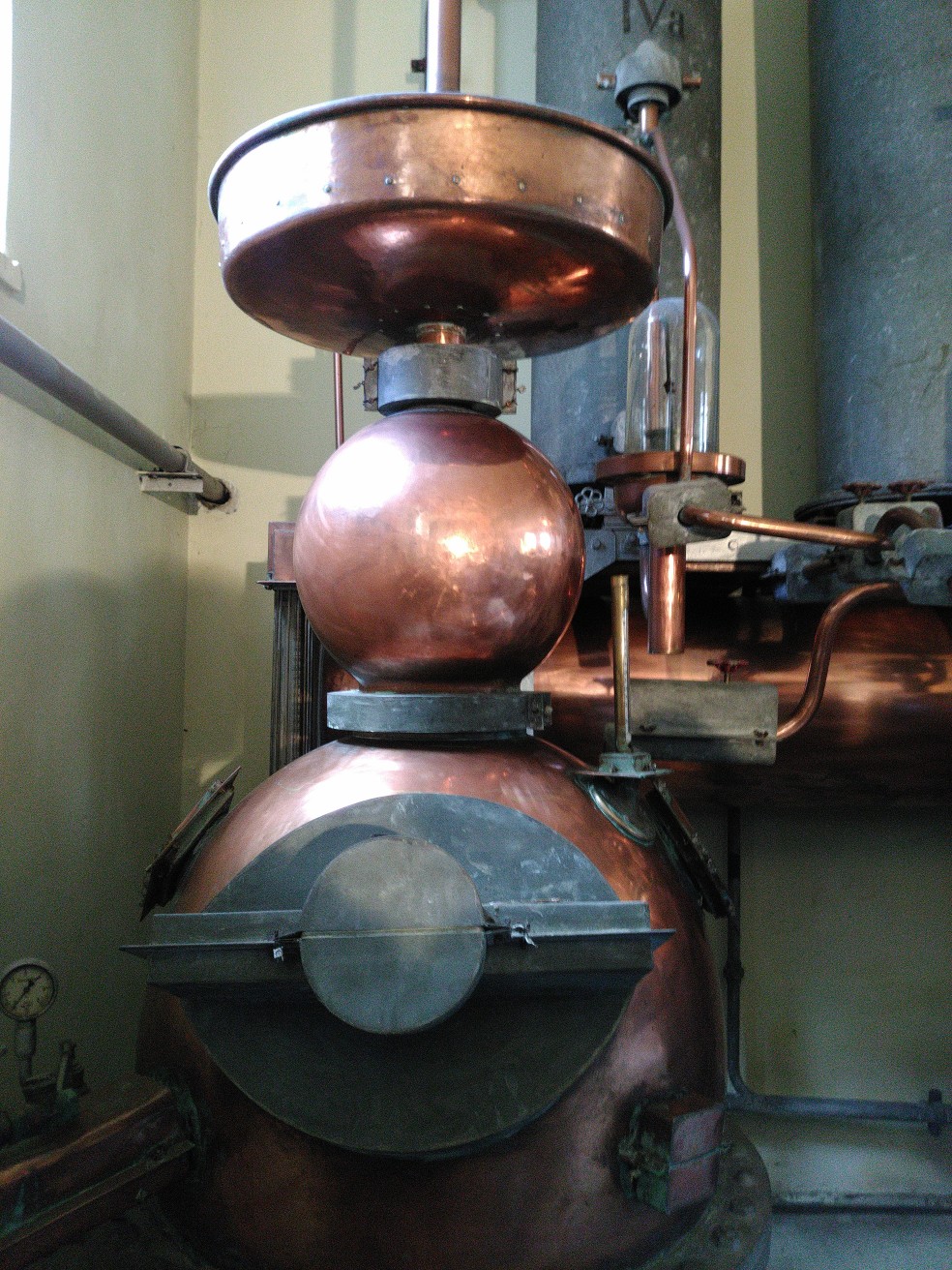 Of course what we'd all come for was the tasting. The absinthe tasted like the 60abv alcohol it contained, yet strangely the same strength chilli based drink tasted much weaker and was very dangerously drinkable. The orange schnapps with real 23 carat gold leaf floating in it was too sweet for me and their digestif bitters was pleasant but without the real bitter bite of last week's Unicum. Jim Beam and apricot was similarly sweet and their gin OK but without real merit. It was a good tasting session!
Needlessly to say we now have a bottle of absinthe, complete with slotted spoon and appropriate glasses (the packaged kit worked out as better value than just the bottle and spoon)
A good day but the highlight was still to come. After dinner back at the brew pub we rushed over to the Opera House where the Staatsopera are performing Mozart's Le Nozze Di Figaro. We don't have tickets because it is being screened live in a huge screen outside the opera house.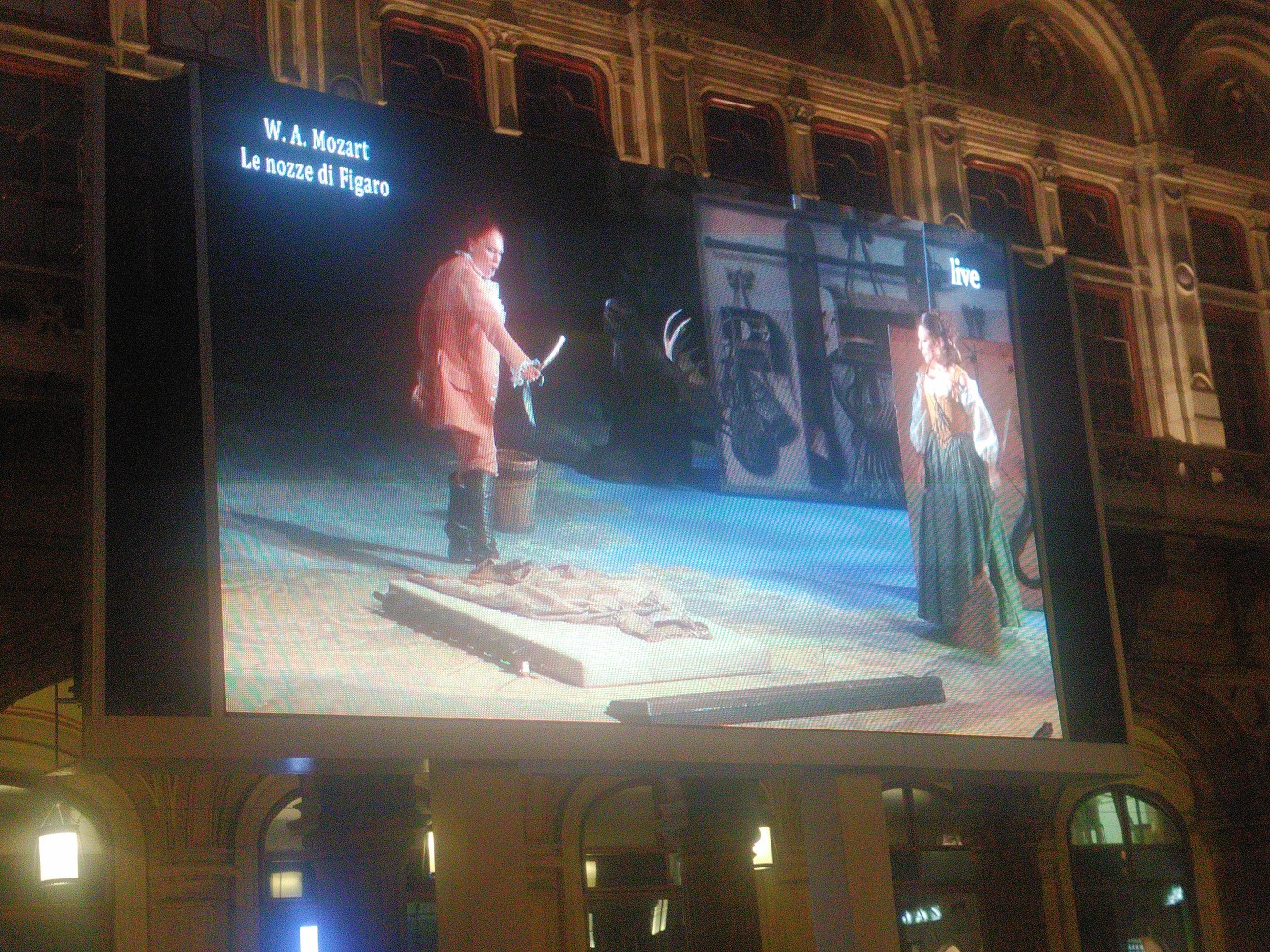 Sadly we can only really stay for the first two acts. It's confusing, sung in Italian with German subtitles but superb. One of the highlights of the entire trip for me.