Another "bucket list" tick! Ever since seeing "The Third Man" for the first time, probably 4 decades out more ago, I have wanted to go on the Vienna Ferris Wheel, The Reisenrad. Trouble is Carol Reed's film was shot in 1949 and I had no idea whether the venerable and unforgettable ferris wheel had survived. Researching this trip I discovered that, despite being 120 years old, it was still going strong, and so it was the single most thing I wanted to do whilst here in Vienna. Actually I should have know it was extant, at least in 1987, as, of course, it featured again in The Living Daylights.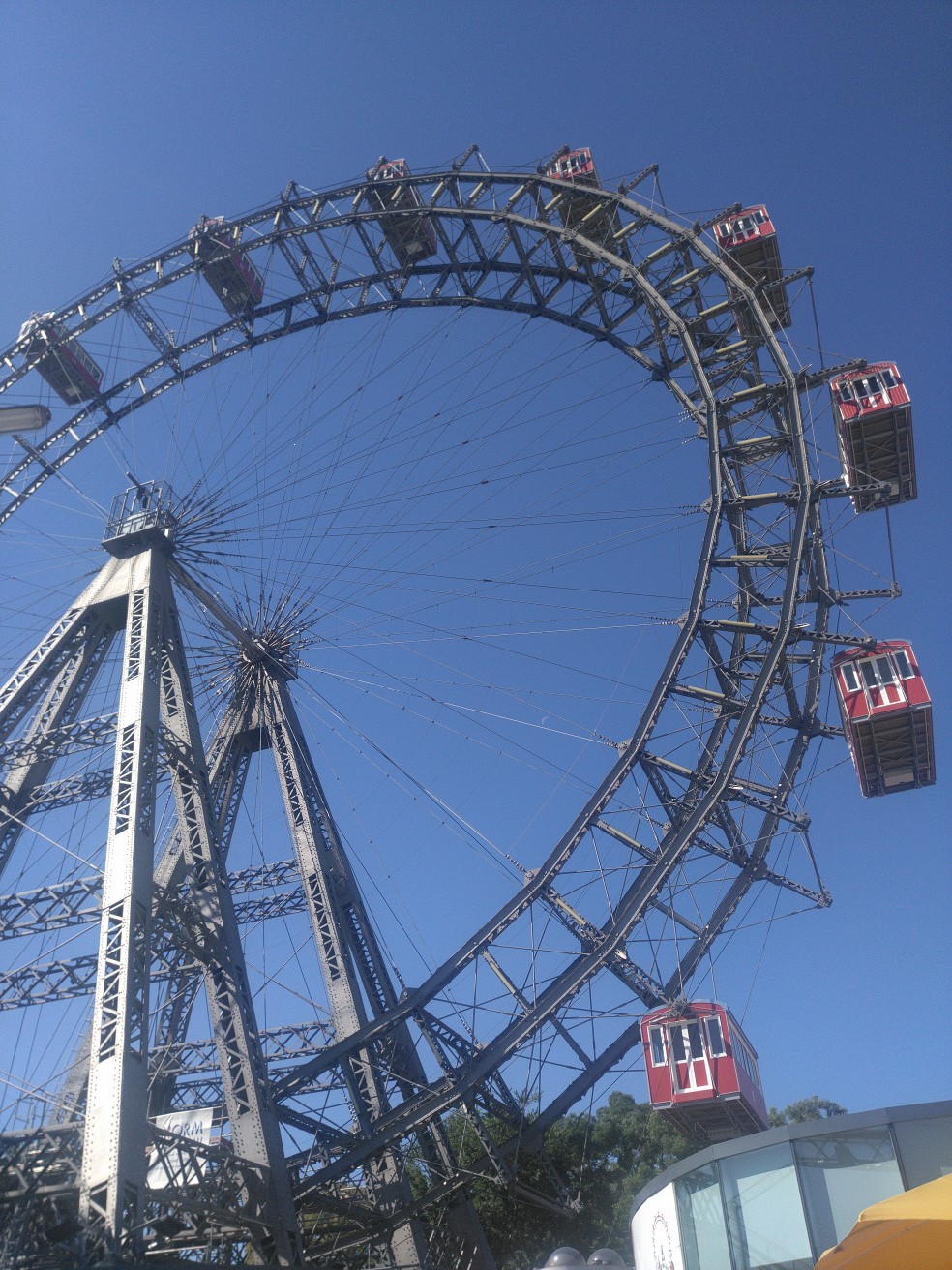 It's impressive, built in 1897 by Englishman Walter Basset who had built other and even larger wheels in Chicago, London, Blackpool and Paris. None of the others survived beyond the very early 20th century but Reisenrad managed, despite being scheduled for dismantling in 1916, and then being taken over by the Nazis in WWII. In 1944 it was burned down and the original gondolas destroyed but restored a year later, albeit with only half as many gondolas. For 65 years it was the largest ferris wheel in the world (64.75m, 212') until the Japanese in 1985 started the modern trend for building city wheels, such as the London Eye.
To my great delight, I have resisted The Eye and other such modern wheels so the venerable Reisenrad is my first!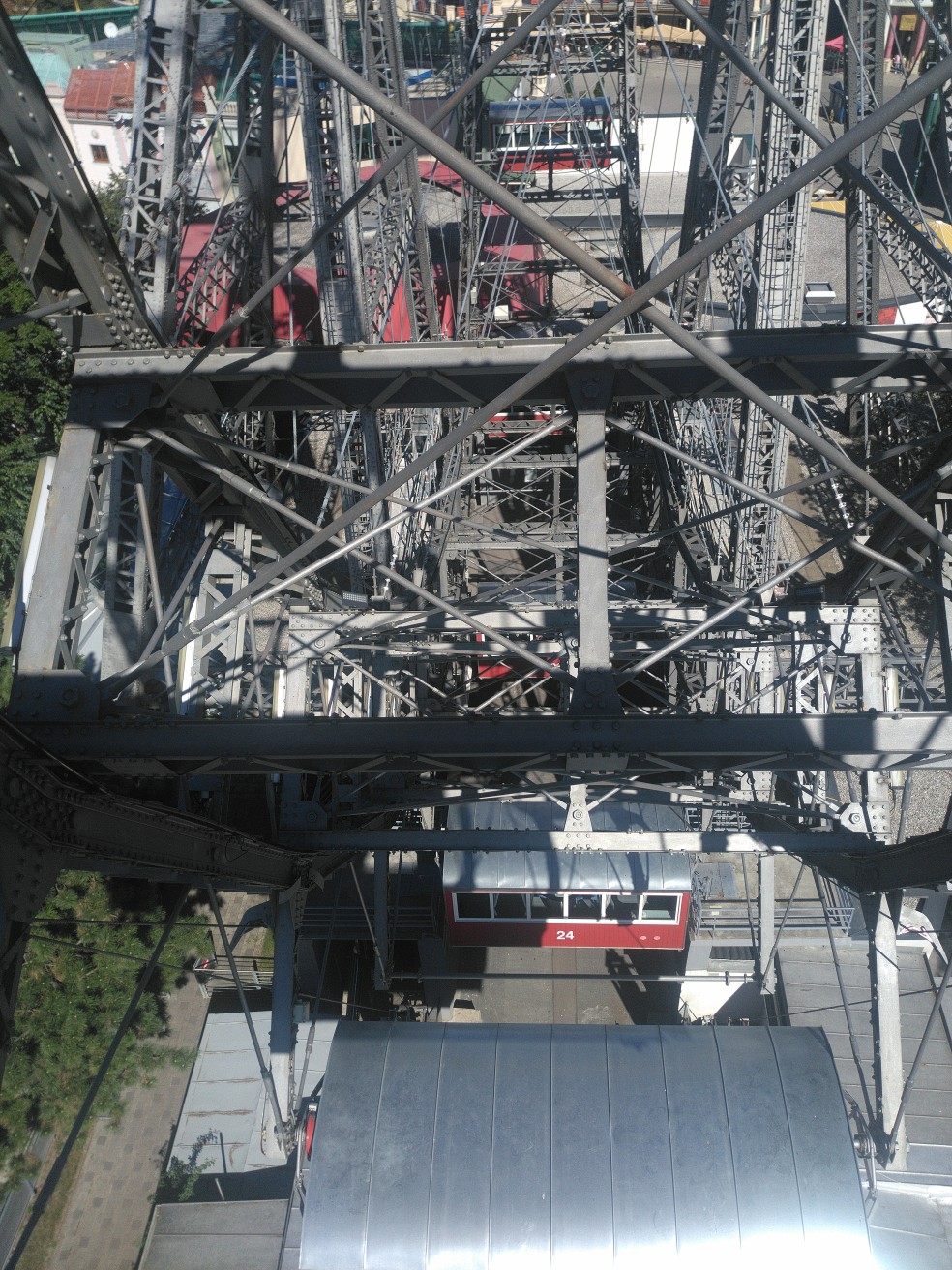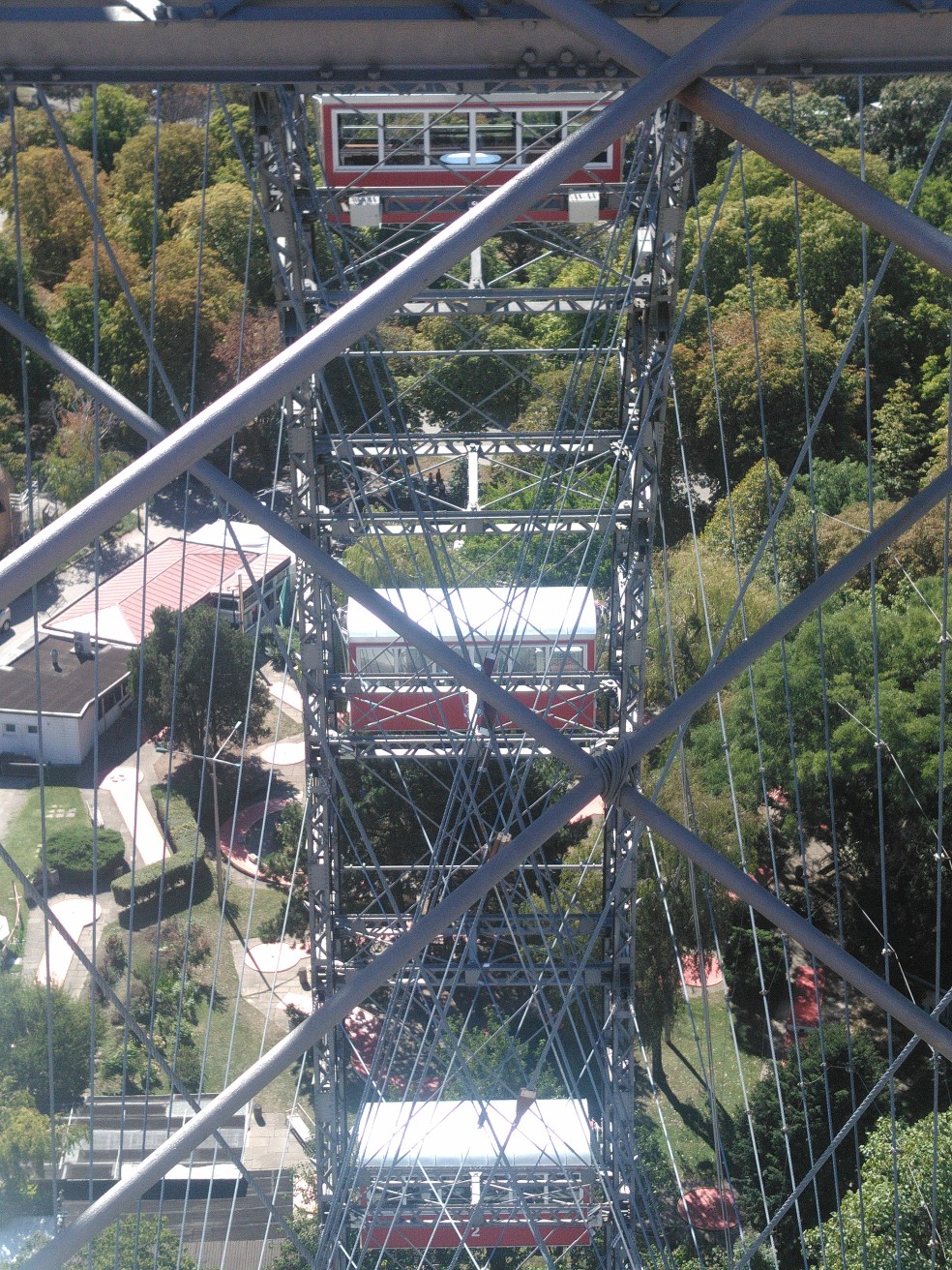 Well that was a good start to the day!
Really bright sunlight today made photography hard. Strong shadows everywhere, here's an example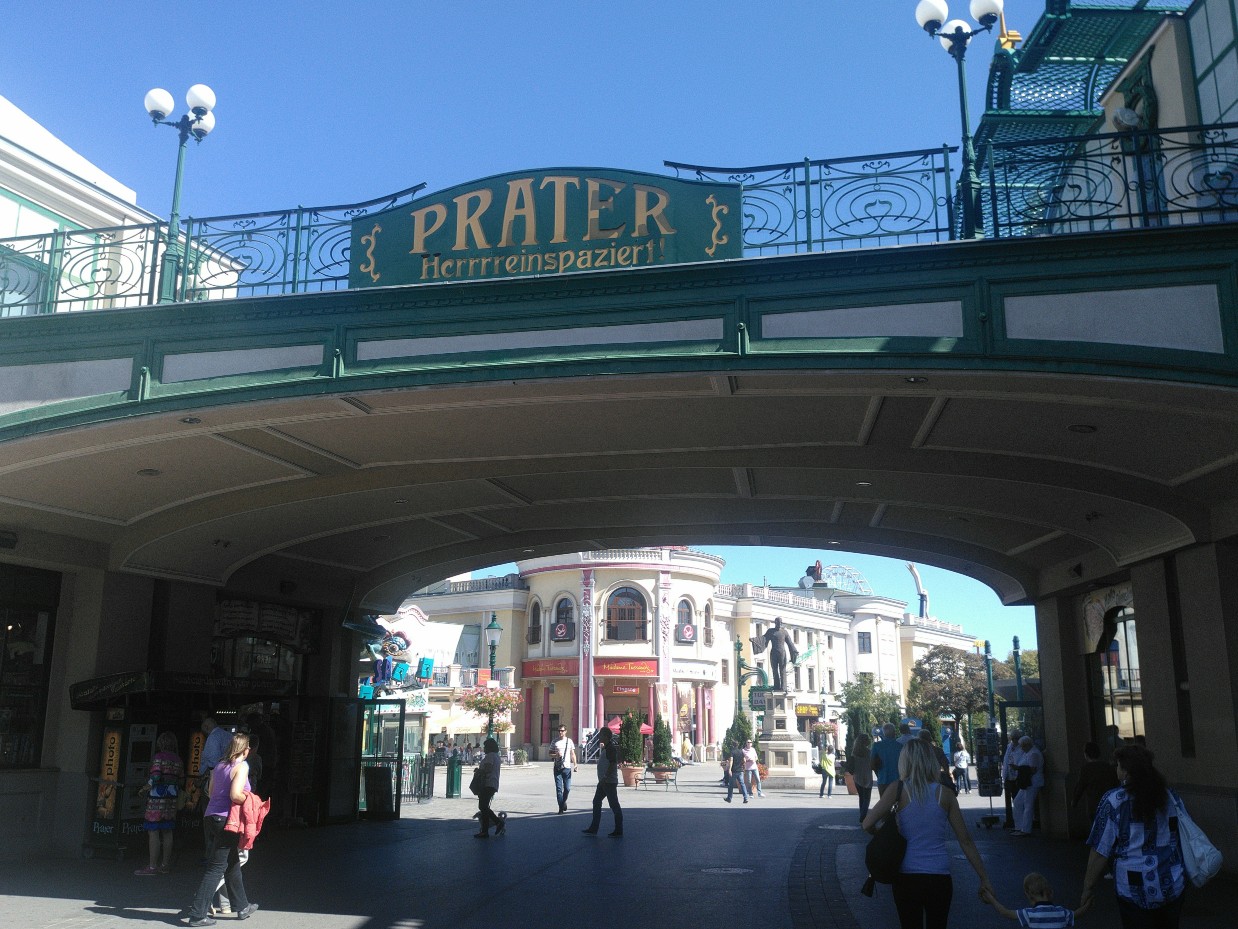 The one disappointment. Vienna has a history of milk bars (meiereien) in parks and there's one here in Prater. Turns out to be a fairly bog-standard café with no hint of milk specialities. Again, fairly expensive (€3.80 for hot chocolate) but authentic Viennese (i.e. interesting service where you have to wait an eternity for the bill, so far all the Vienna cafés and restaurants have this as their hallmark).
If you recall a blog entry weeks back when I was in Dresden you will remember me reminiscing about urinating in a piece of art: Hudertwasser's toilets in Kawa Kawa. Well I did it again today, this time in his village here in Vienna. The village building, a converted tyre factory, is impressive but the toilets aren't quite up to the Kawa Kawa standard. Some pictures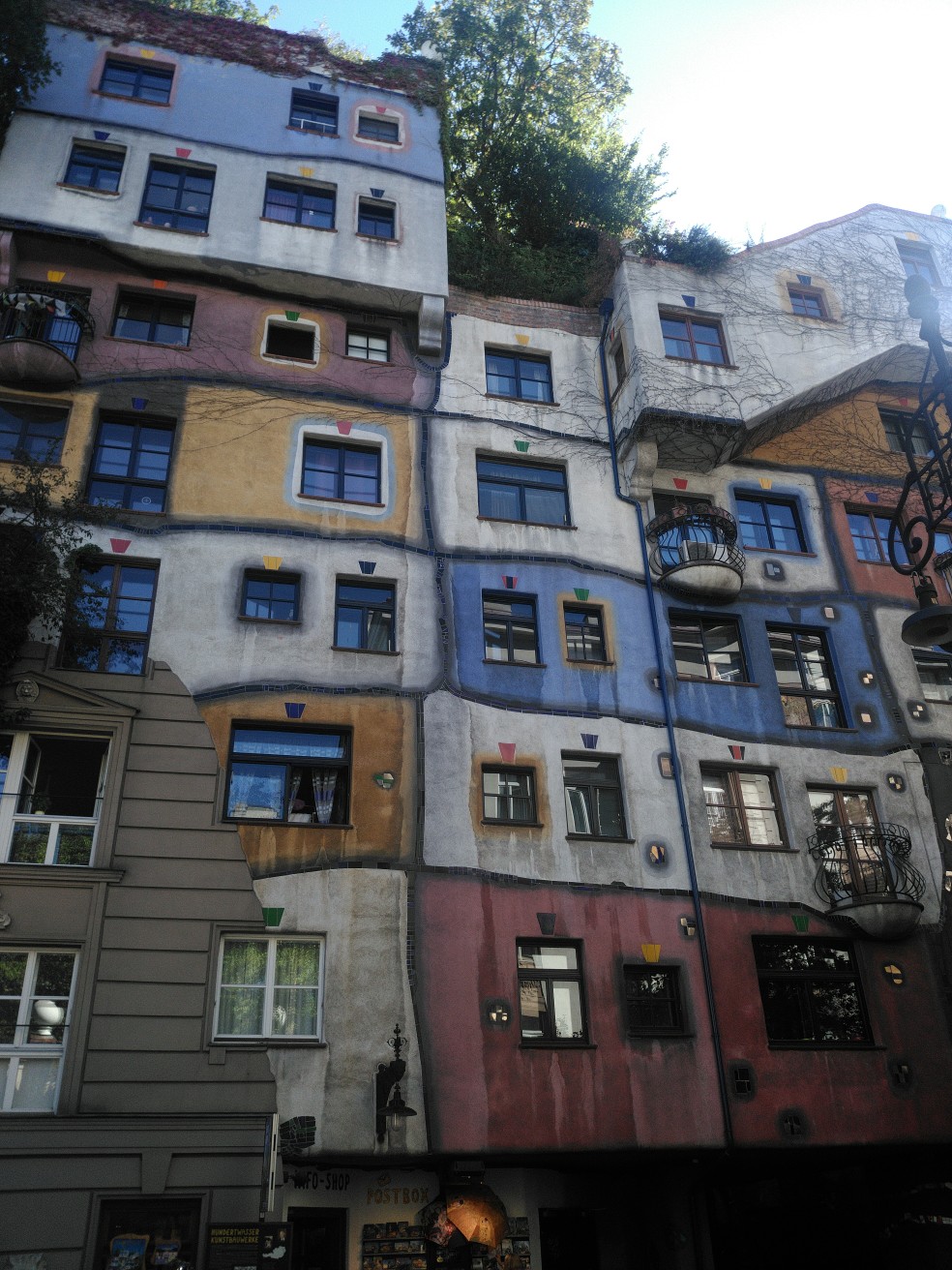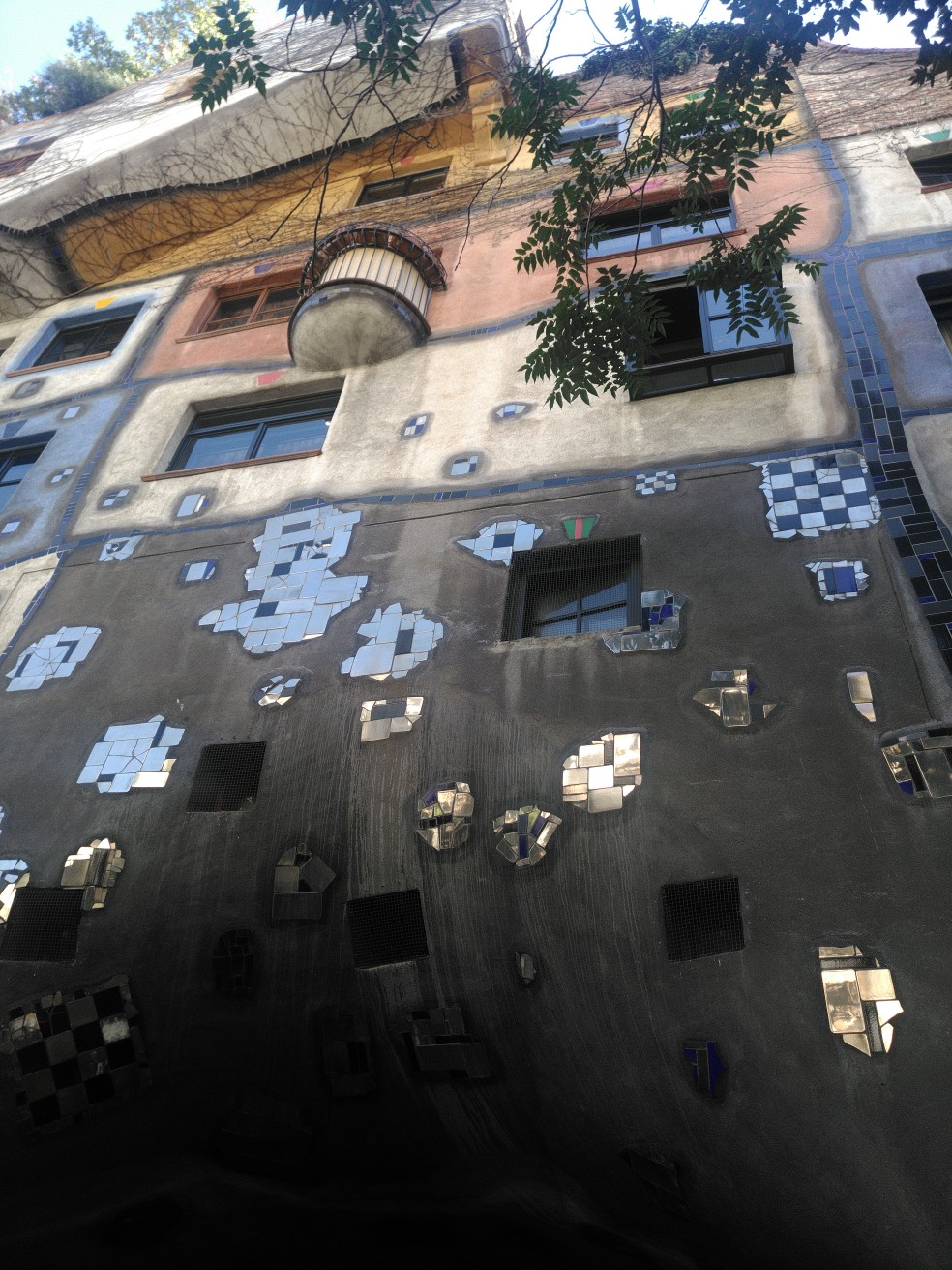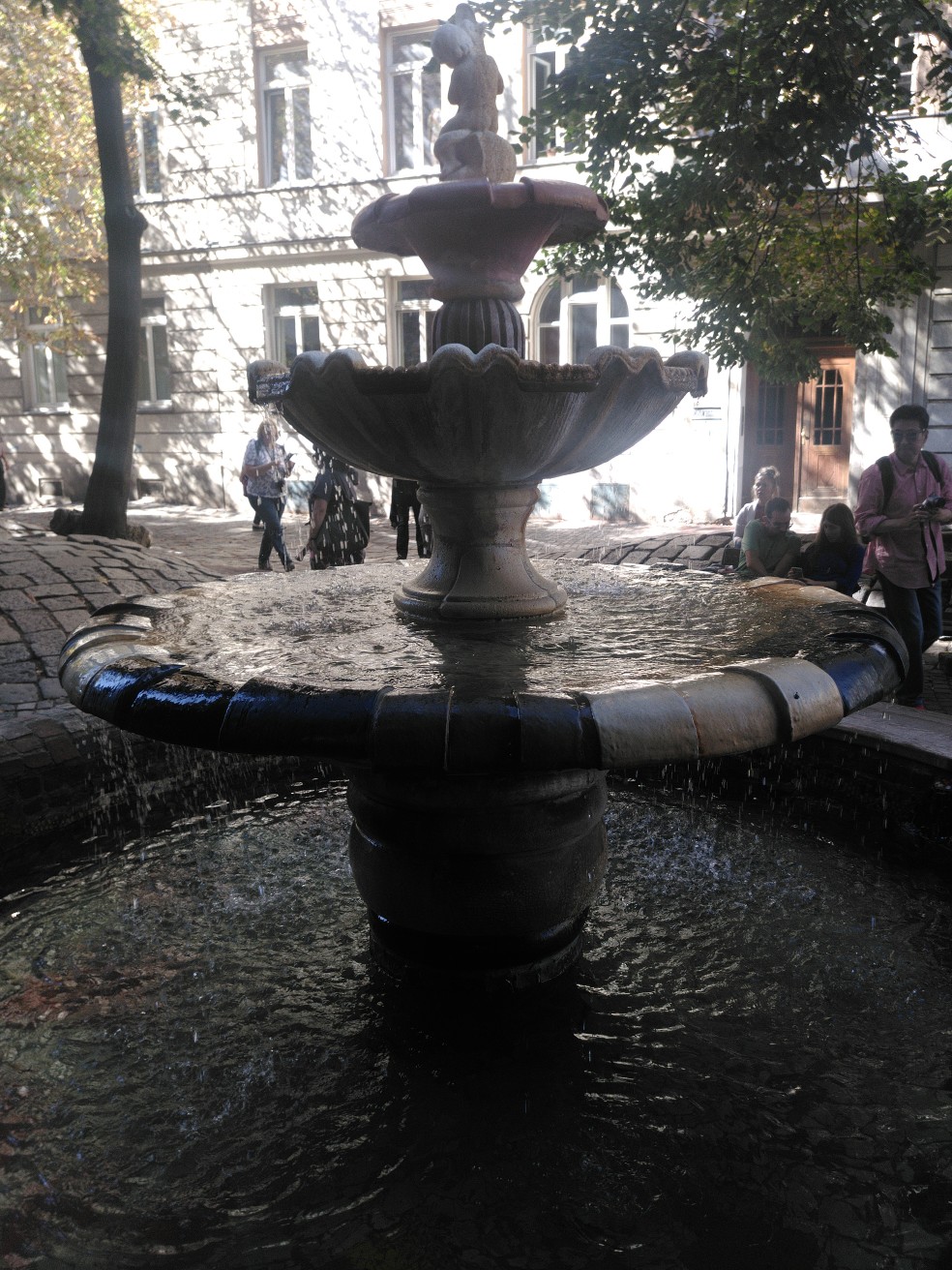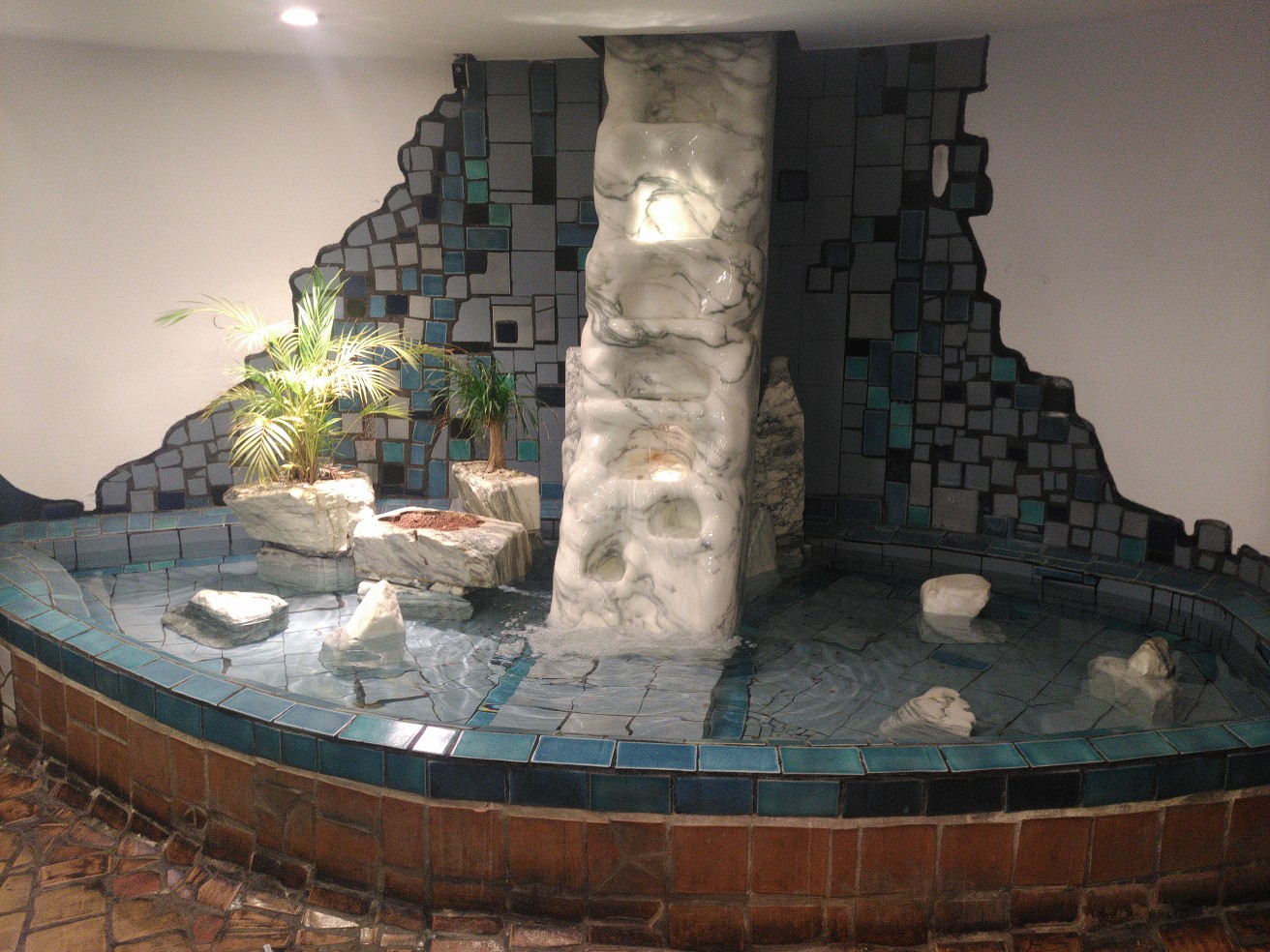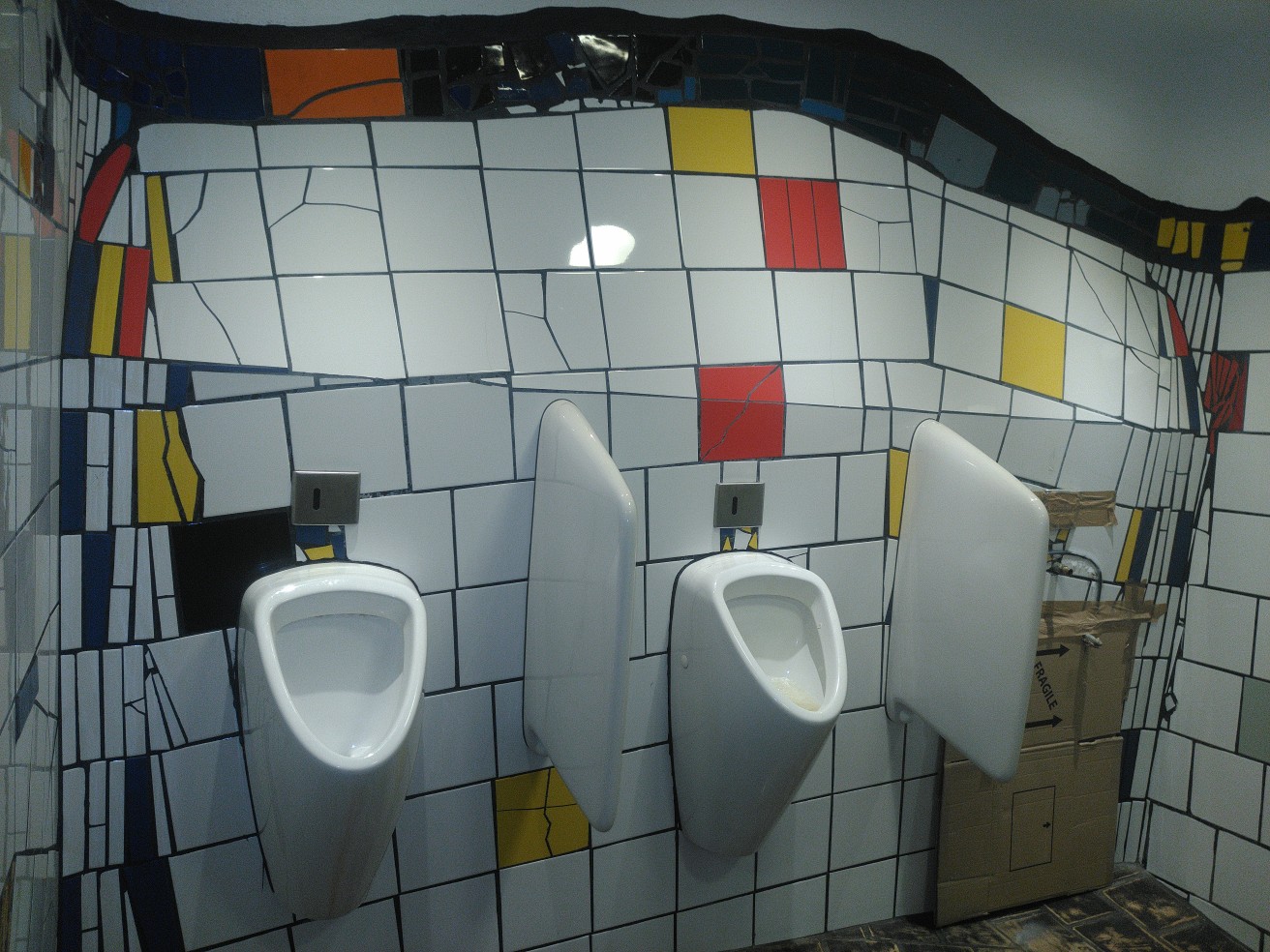 The urinals had a sound track playing, inspired by this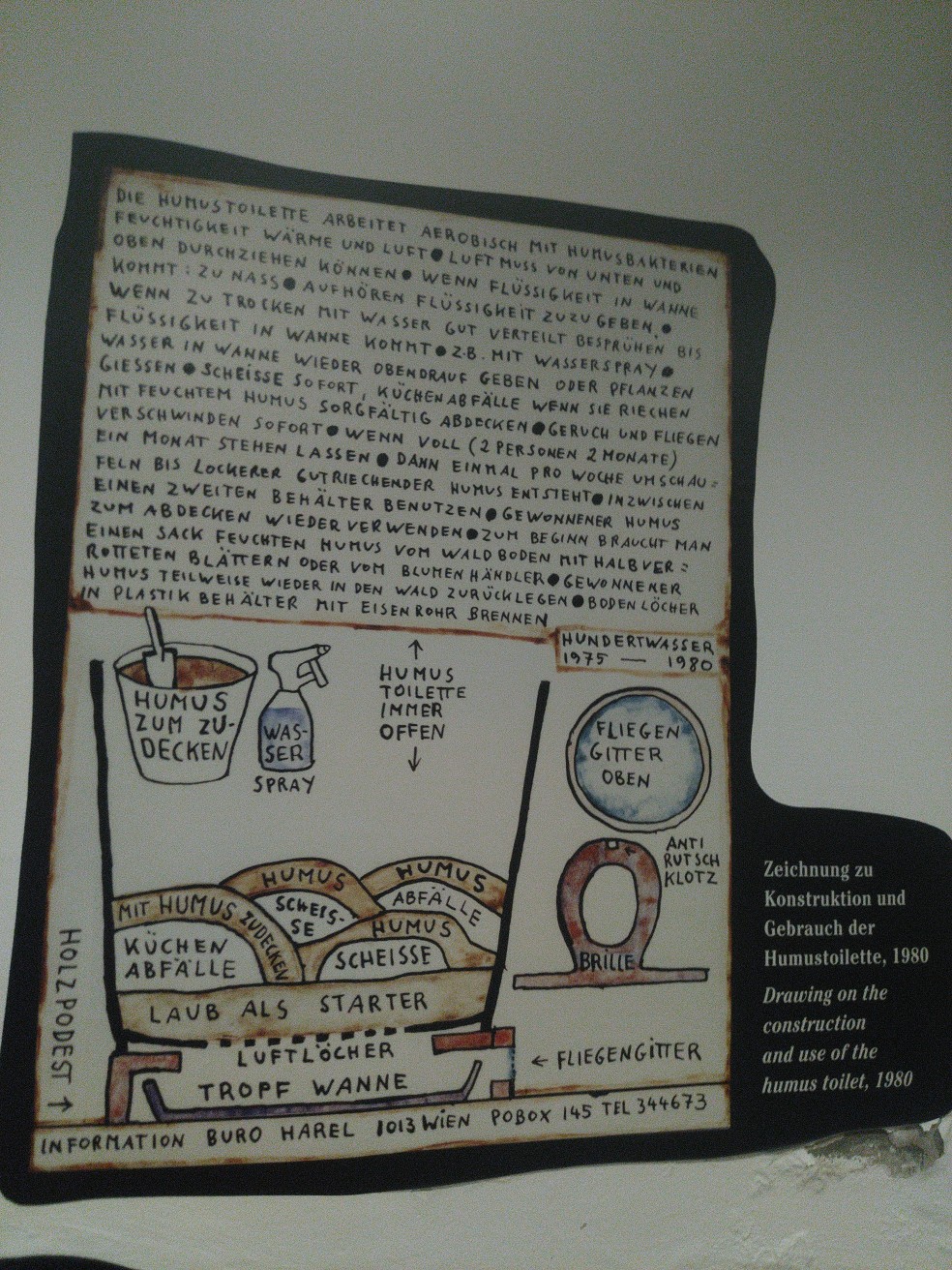 The text was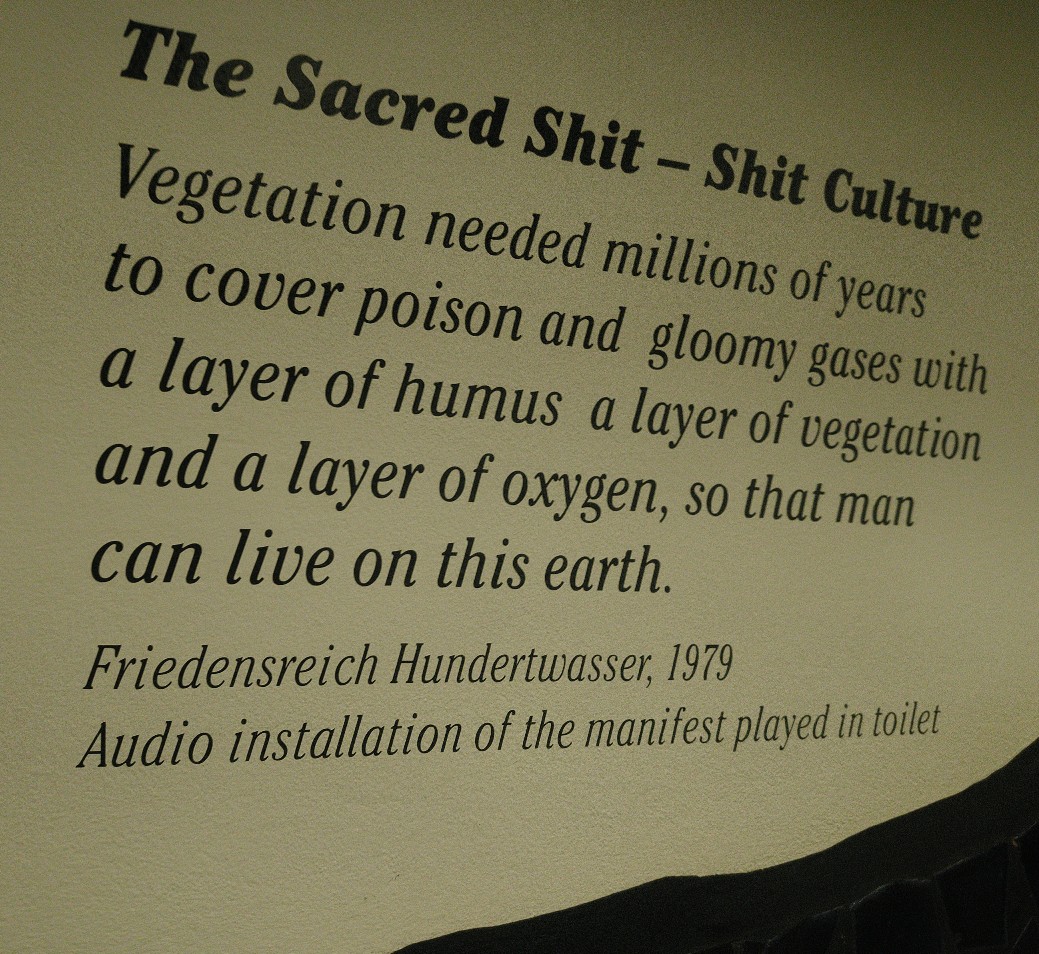 Most strange but always nice to see living art and one of the few things in Vienna that are free.
Liz's choice now and we go off the the impressive Naschmarkt, a mainly food market with a few other stalls and a lot of eateries. Lots of stuff we've never seen before, fish specialities such as baby octopus and some weird dried fish. Breads and strange cakes (just had to be bought) and all manner of fruit and veg both familiar and not.
We ate at one of the many restaurants, I just had to have Viener Schnitzel whilst here (Viener sausages need to be tried in the next couple of days too).  Sitting outside was brave as high winds suddenly blew in and the forecast rain looked on the cards at any moment.
As it was the rain held off until about 10 minutes after we returned to the van but the winds had taken their toll. This morning a German motorcyclist pitched tent next to us. This evening he returned to it completely flattened. Looks like no damage done as he seems to have it back up and sheltering from the still unpleasant weather. I suspect this is the storm that has ravaged the UK the last week or so.
Anyway whilst we were scurrying back to the tube station (to share a jam full tube with fans on their way to tonight's Austria Vienna match) I managed to snap this which we'd seen at Karlsplatz yesterday