Diddle-ee-ee, de-diddle-ee-de-ey-doo
Hands up those who think today's blog is about Irish Music. OK smart alecs keep your hand up if you know of Michael Coleman (the legendary Sligo fiddle player, not one of my ex IBM managers). If you still have your hands up I'm sure you are more than familiar with the blind harpist Turlough O'Carolan.
To be fair I only knew of the latter until recently; when researching this trip we watched a Michael Portillo train journey through Ireland where he went to the reconstruction of Michael Coleman's birthplace.
That's not where we went! Just a few miles away in Gurteen (or is that Gorteen, or Gortain - trying to find places on satnav is a nightmare over here) is the Ceoláras Coleman, the Coleman Music Centre. Fellow traveler if you have any interest at all in Irish music then this is a 'must visit'. There is a music centre upstairs with an introductory DVD and then a whole hall full of a/v displays. If you don't know the difference between a jig and a reel, or a mazurka and a polka then the sample tunes will help. The difference between Fermanagh and Sligo fiddle or whistle styles? All will be revealed. The difference between a melodeon and a button accordian ...
Want to learn to Irish dance - just watch the instructive videos: hop, step 1,2,3,4,5,6,7 and back hop, step 1,2,3,4,5,6,7. Now hop,step 1,2,3 but also go round in a circle 90°. Repeat 4 times to be back where you where. And another 4 times. Now you're back at the start so begin again with hop and 7 steps etc. That's it, you've mastered 'The Stacks Of Barley'.
Well it looked easy on the video!
The displays and, in particular, the various audio tracks could easily consume 2 or 3 hours. Downstairs there is a shop. I can't believe the restraint that stopped me buying a bodhram. Liz found a book of Irish songs she liked, then another in the series, then another and eventually bought all 4. I just bought a sampler CD, bits of which I'd heard upstairs
Friendly and chatty people too. A good stop!
We'd really like to go and visit the Neolithic tombs at nearby Carrowkeel. But time is running out and it's a scorching hot day. A mile and half scramble up a steep hill might not be the best idea. Next time perhaps.
When we stopped at Anderson's Thatch Pub on Sunday Pàdraig gave us a flyer for the Arigna Mine tour. Having visited a deep shaft mine in Ostrava (Czech Republic) then a strip mine which goes, more or less, horizontally into the mountain might be an interesting contrast. Of course to do this the mine has to be quite a way up the mountain so has a fantastic panoramic view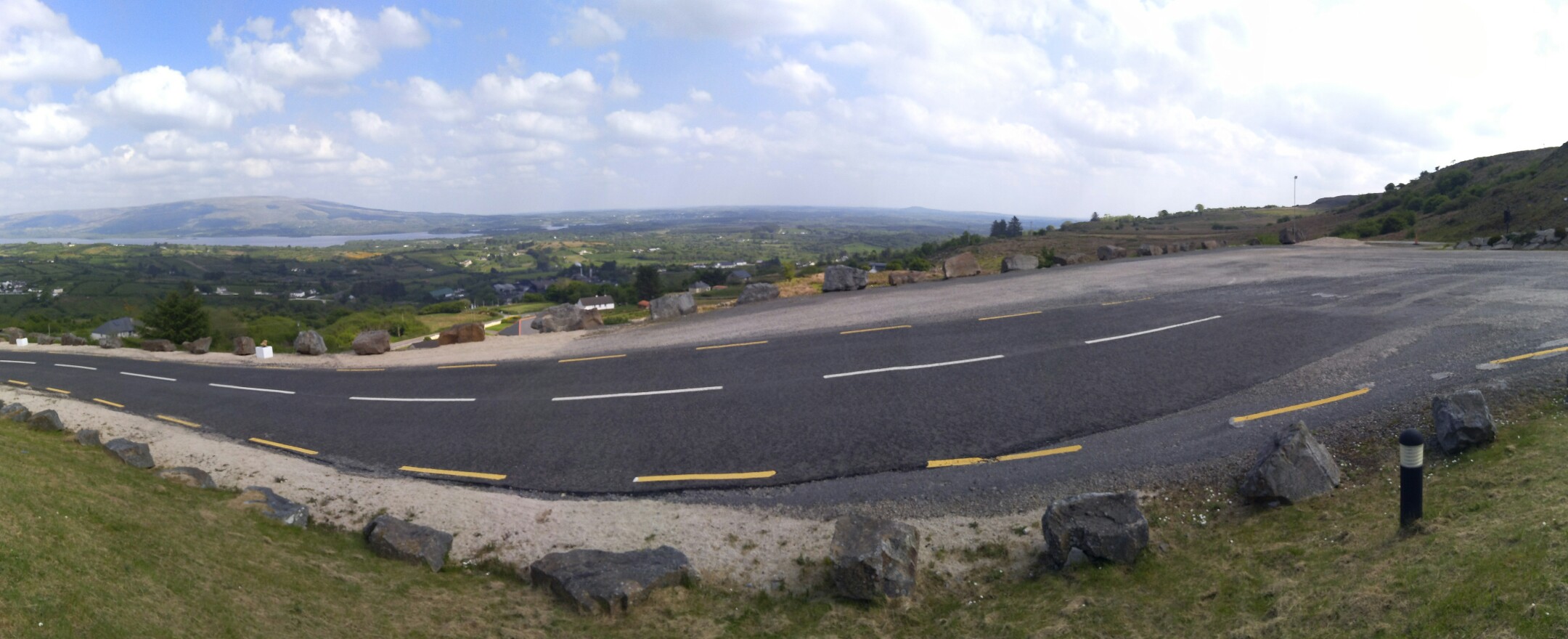 As you might guess it's guided tour only, and we are the only ones on the 3pm tour. Our ex-miner guide is enthusiastic and informative although on times his heavy local accent almost renders him unintelligible. An interesting mine. Incredible narrow seams 20" or so but running long enough and wide enough to provide an incredible amount of coal (and further down the mountain there are huge deposits of interior 'crow coal' completely untapped).
Here mining was a simple process, blasting revealed the seam, a mechanical cutter undercut the seam and then a miner armed with pick (manual originally, later powered) would break away the coal. Behind him another miner would shovel the loose coal into trucks which would be pushed to the central trackway and thence hauled out of the mountain. Hard work, dirty work, in very confined spaces, the pick worker would be lying on his side in the 20" seam, often in a pool of water.
Gene, at The Thatch suggested going on up and over the mountain. Now if going down very steep, twisting, grassy-middle, tiny roads is your thing then go for it! Mind you the views over the loughs were stunning.
Naturally satnav had us off-road the entire trip.
Down and into the village of Keadew (or Keadue and probably many other spellings). In the local graveyard is O'Carolan's grave. If you don't know O'Carolan then he is considered by many to be the greatest Irish musician and composer. A contemporary or thereabouts of Handel this blind harpist toured the country playing his compositions
A several statues and a pub mural in Keadew pay tribute to him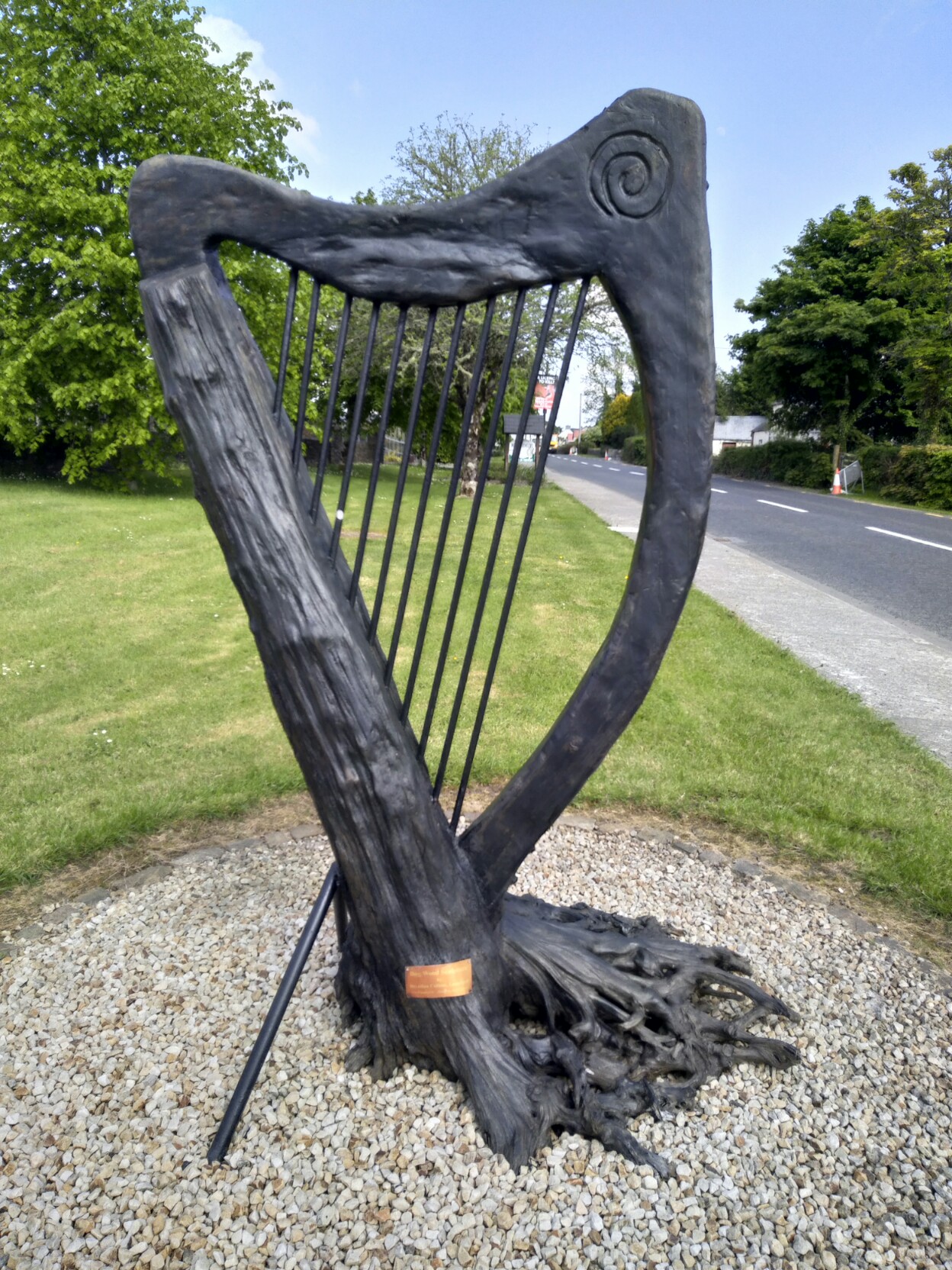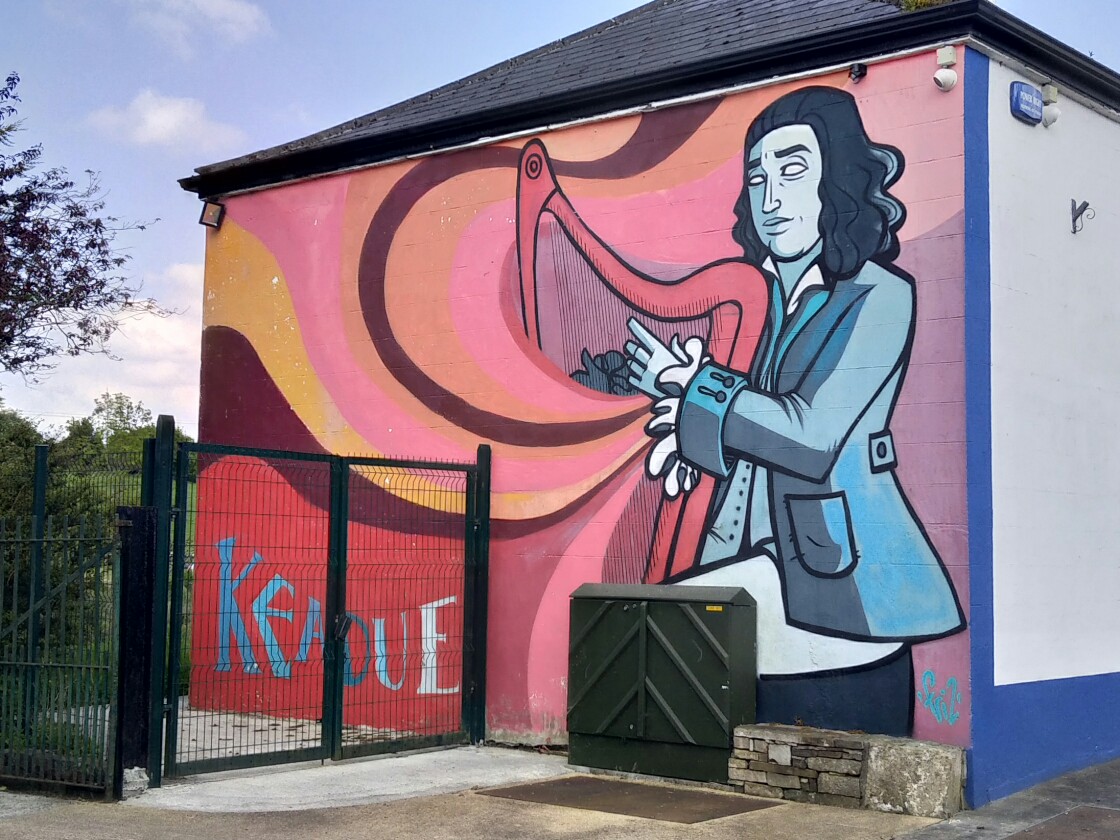 To be continued tomorrow ...