Woah, it's 10am when we wake up. I knew staying in the pub until almost midnight might not be a good idea. We stayed on for two reasons. Primarily to see if any real craic broke out and secondly to make sure the dreaded Lough Neagh flies were well abed.
Music in the bar wasn't traditional. A fairly bland singer singing mediocre covers of 60's standards. Even his nod to Irishness with Las Vegas In The Hills Of Donegal wasn't as good as our Belfast tour guide busker's rendition. But the main reason for the lack of craic is the Northern Irish reserve. Probably The Troubles has made people up here take a little longer to warm to strangers, possibly English strangers in particular. Although, as always the drunks are drawn to me like a magnet and I eventually understood my new found friend was excited because he was going to see the Stones in Dublin shortly. He was much bemused when I told him my name was Brian Jones!
A late start and number one matter to hand is personal toilette. How to put this delicately? We have a portaloo toilet onboard but in such a confined space it is best reserved for liquid waste only. This necessitates finding convenient places regularly. Campsites obviously make life easy but here on a Sunday morning on the marina with no public conveniences and the pub shut life is not so easy. Still it's only 8 miles to Cookstown and large supermarkets. Now down in the Republic Sunday hours are liberal, with stores opening early; some supermarkets are open 24 hours 7 days a week. Not so in the North - we drive into Tesco's a little after 11 and the empty car park tells a story, not open until 1pm. Just in case it's Tesco we pop on round to Asda. Same story. Plan B, bus station. Yes it has public toilets - behind a locked door!
Plan C, there's a National Trust place not too far away. As we head back along Cookstown High Street we spot a coffee shop appearing to do a brisk trade. Toilet found, excellent coffee and a cake. Result! I might have enjoyed mine more had I not spent almost the entire time fixing the birdcam (see separate post)
The coffee was so good we had a second taking the time up to 1pm and supermarket opening. Tesco's and do last night's washing up whilst parked there.
Cookstown seems to typify NI. One minute we're driving through streets lined with orange/white/green tricolours and the occasional more sinister standard and then the next it's all Union flags and we spot a mural listing the names of folk murdered by the IRA. As I've noted before, it's going to take a while and I wouldn't be surprised if sectarian violence was to flair up again in the not too distant future. Let's just hope this border/customs stuff doesn't provide the barely needed catalyst.
Remember Plan C, the National Trust place, well it's getting too late to visit because there is a different NT attraction we have on our itinerary - Wellbrook Beetling Mill. I can almost hear the question being formed in your mind "beetling?". When cloth comes off the loom it needs to go through a fulling process to thicken out the threads and push them together, thickening and softening the final fabric. For wool and cotton this usually involves some form of liquid. In the case of Harris Tweed the process is known as waulking and the liquid was, traditionally, stale urine. Hmm, there's a bit of a bodily function theme to today's blog! For linen the thickening and softening is done by repeatedly bashing the fabric with large wooden hammers. Originally done by hand this "beetling" as it's known eventually became done in mills such as the one at Wellbrook.
It's NT so free for us and a nice guided tour taking us through the process of linen production with practical demos of scutching (using a wooden knife to scrape the fibres and remove any last seed heads and woody stem) and heckling (combing the linen fibres in preparation for spinning) before opening the sluices to power up the wheel and turn the incredibly noisy beetling engines. Only 3 of the 7 are powered these days for museum demo purposes and that's noisy enough. All 7 would have been deafening (literally) and heard for miles.
Here's a picture of the hammers. The cams rotate, lifting the heavy wooden hammers and then dropping them into the much, much slower rotating cloth beneath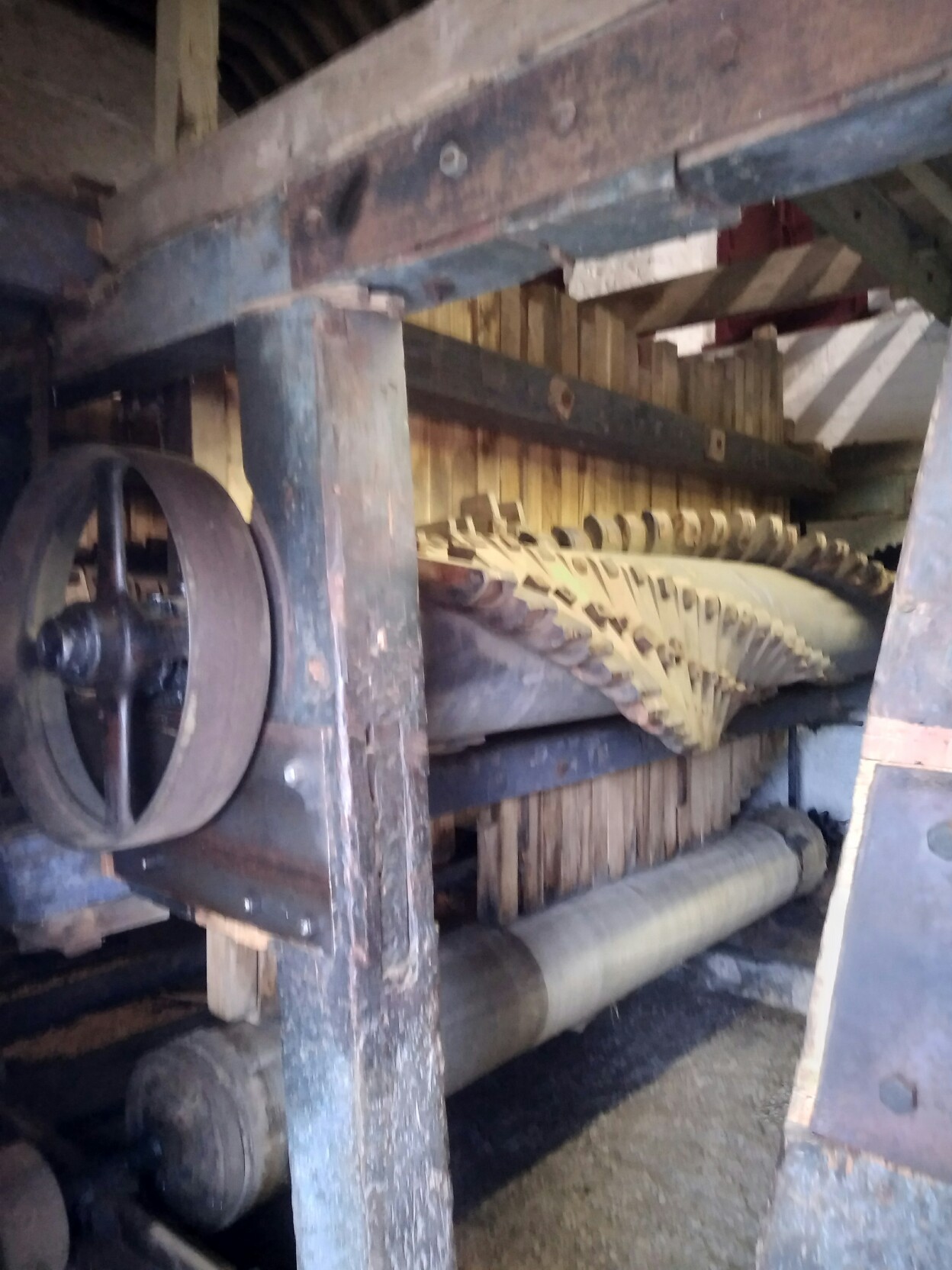 All driven by this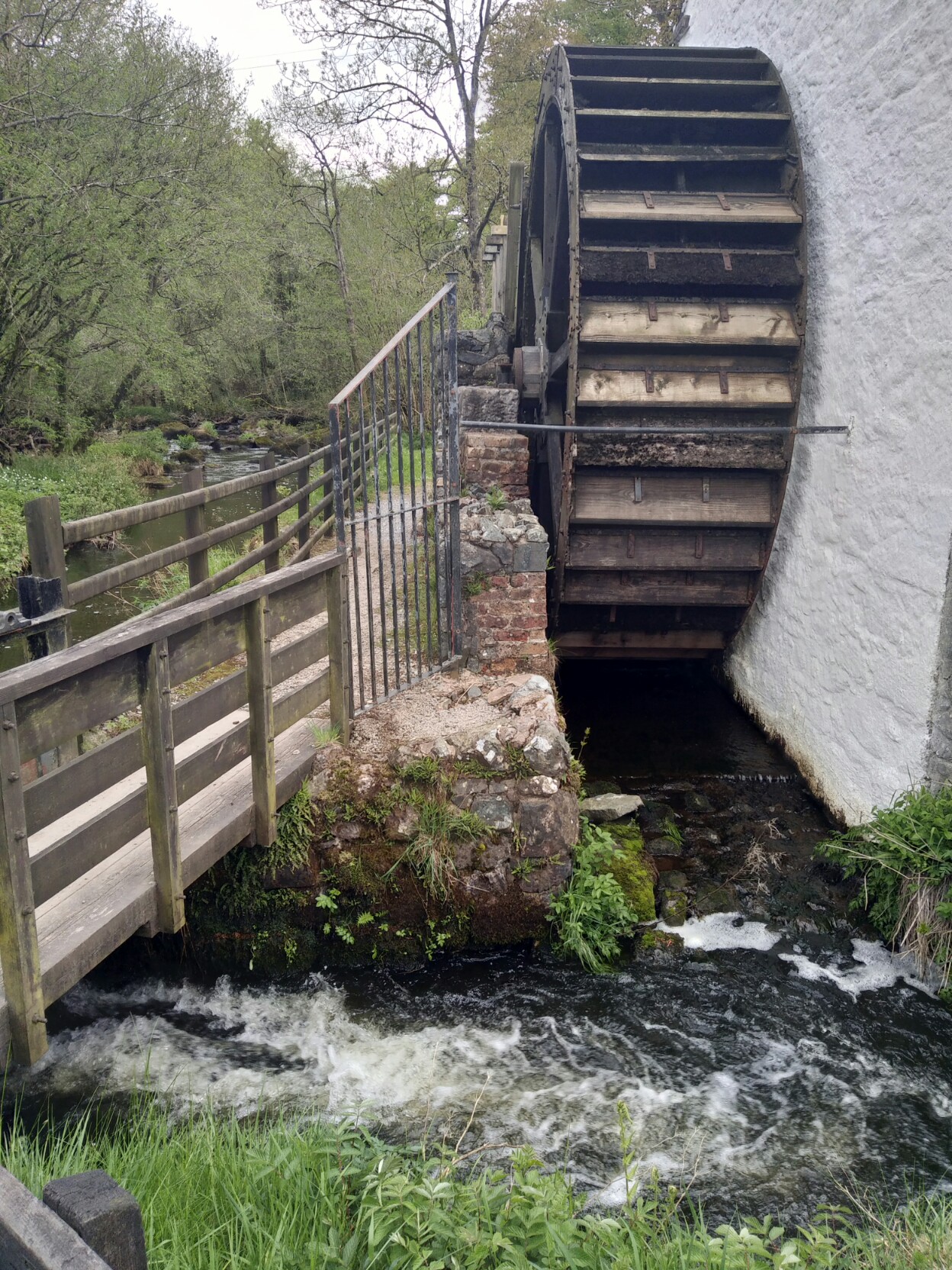 Which in turn is driven by a mill race taken from the swirling Ballinderry River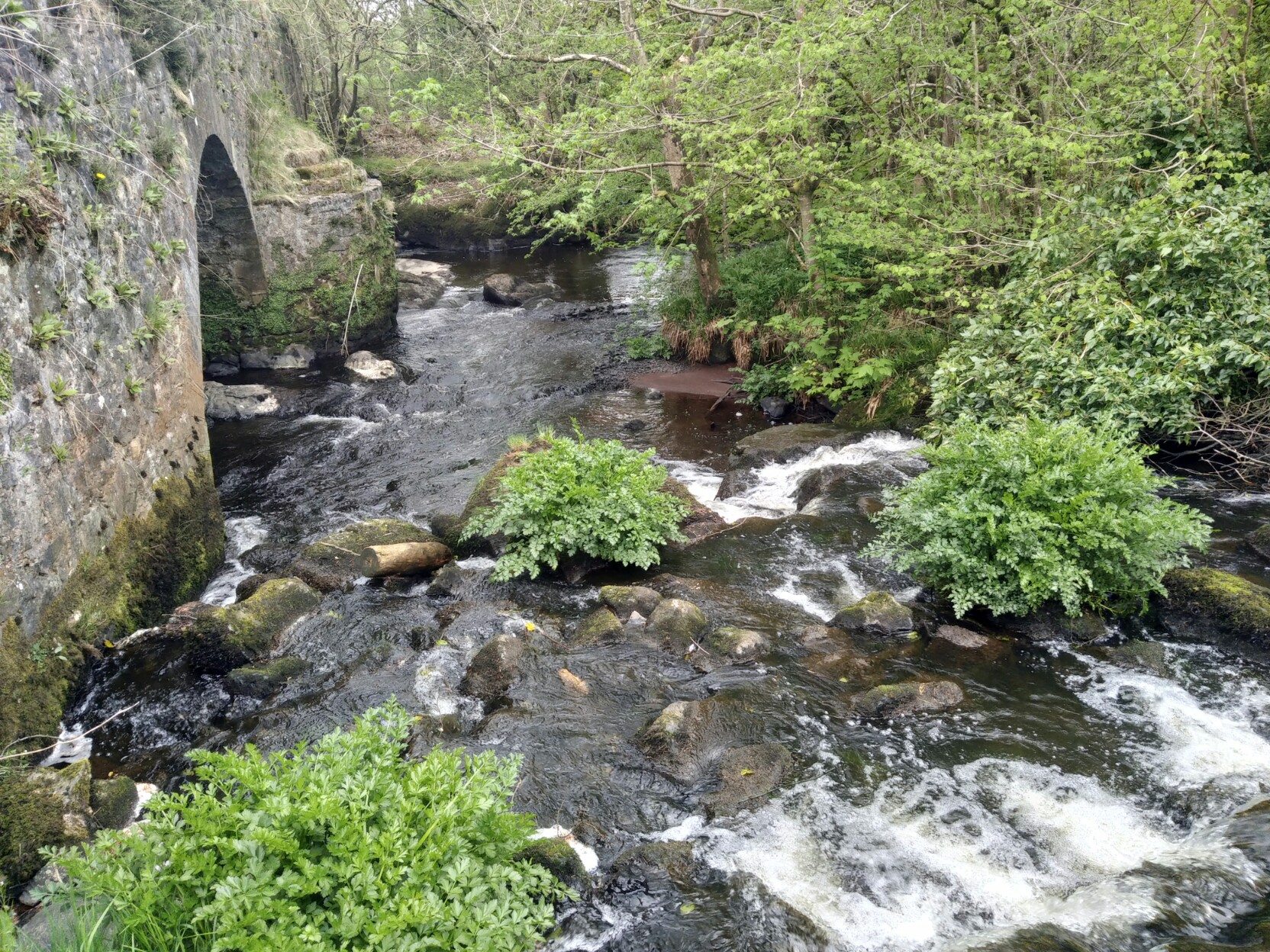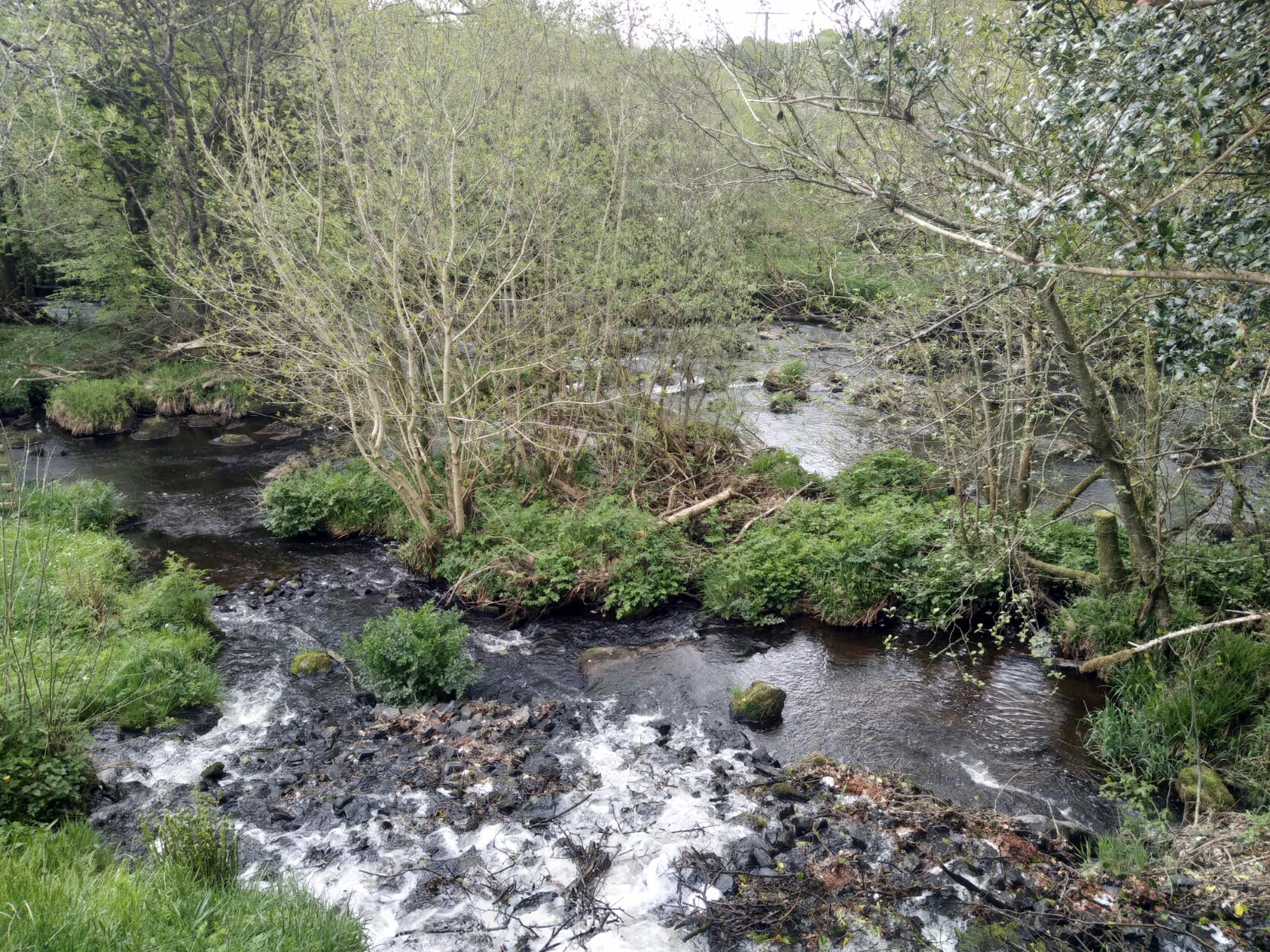 No dippers spotted on our river walk, which was a pity, beautiful birds and the perfect setting for them. Like otters they are regulars, just not around this afternoon.
We thought we'd come a good way to see this gem of an historic curio but meet up with a couple from Brisbane. As campervanners back home they were fascinated with our R20.
One more venue before our night stop. A road so popular these days that it has recently been closed to road vehicles. Recognise it?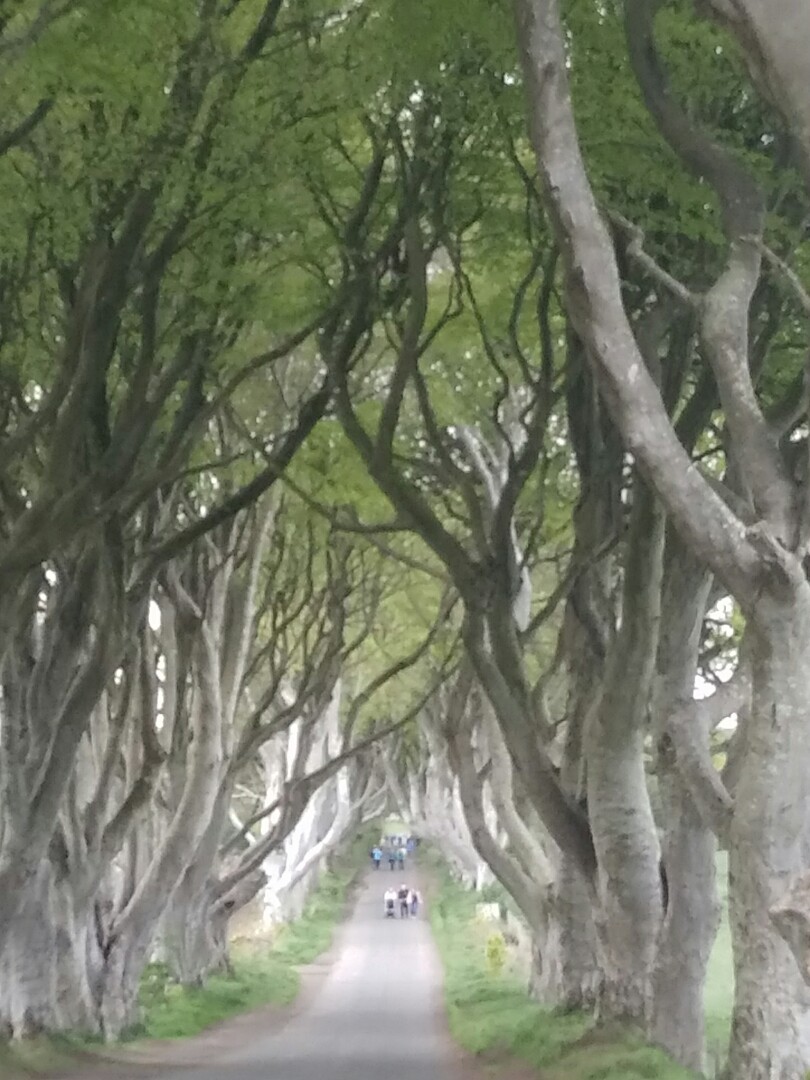 If you do recognise it, I suspect it will be as The King's Road as portrayed in the first episode of Season 2 of The Game Of Thrones. In these here parts it's known as The Dark Hedges. Quite spectacular and becoming one of Northern Ireland's most visited tourist attractions.
On to our overnight stop, the park and ride carpark at Bushmills. Yes, the Bushmills of whiskey fame. If we can park overnight with no problem tonight (we believe so, but there are no signs specifically authorising it) then perhaps a second night tomorrow would allow a distillery tour and tasting without having to drive afterwards.
This was a strange picture to find in the car park
Just over two and a half hours driving for our 76 miles or so today