The Irish people, even those English people living in Ireland really are something special. Conversations pop up from nothing. Yesterday in the museum a woman apologised to Liz for her son's rambunctiousness but this took about 10 minutes as the 9 month old baby she was carrying had latched on to Liz's fingers and wouldn't let go. Last night walking to the campsite toilet block I was stopped by a couple of random 9 year old kids and offered €20 to perform some stunt I couldn't quite understand (no, I'm sure it wasn't rude). This morning a couple of folks come over to chat about the van. During the course of the conversation I mentioned that being Bank Holiday here we weren't sure where we were staying tonight. Immediately there was an offer that there was enough space on his pitch in front of his caravan. In fact he came back 5 mins later and reaffirmed that he was serious, he knew the site owners (lovely people) and it would be easily sorted. This is a nice site. The kids seem well behaved and ideal for exploring Tralee. Probably the neatest, best kept site so far.
Yes it's a Bank Holiday here and we are in one of the singular most touristy parts of Ireland. Great planning, not! It should have been, our idea was to drive in down into Killarney for the weekend and resume the tourist trail Monday afternoon as folks are returning home. But we'd not factored in that it's Bikefest in Killarney this weekend. All the sites are likely to be full - in fact the convoy of bikes arriving on the Tralee site late last night suggests they already are.
So no plans for tonight nor today really. Our only thought is to head around the Dingle Peninsula, probably shuffling around in a conveyor belt of holiday traffic. Oh, to heck with it, if we are going to do that we might as well go the whole hog and sit in a queue to crawl over the Conor Pass.
The Conor Pass at 465m is the highest pass in Ireland. It is closed to coaches, motorhomes and HGVs - and for good reason. The final part of the ascent is single track with squeeze past places. Anything longer or wider than a large van would definitely be interesting. The pass is only closed in extreme weather but most sites recommend avoiding it in any sort of bad weather. It's definitely an interesting drive. A couple of pull-ins to allow folk to pass must have had rocks close to the GRP of my roof. Even if a bigger van meets the restrictions I wouldn't like to cross the pass in one much taller than ours. The real surprise was the it wasn't busy. Much of the way I had little out nothing either in my front or rear views.
The views were good. Driving I couldn't get any pictures of the spectacular knife-edge mountains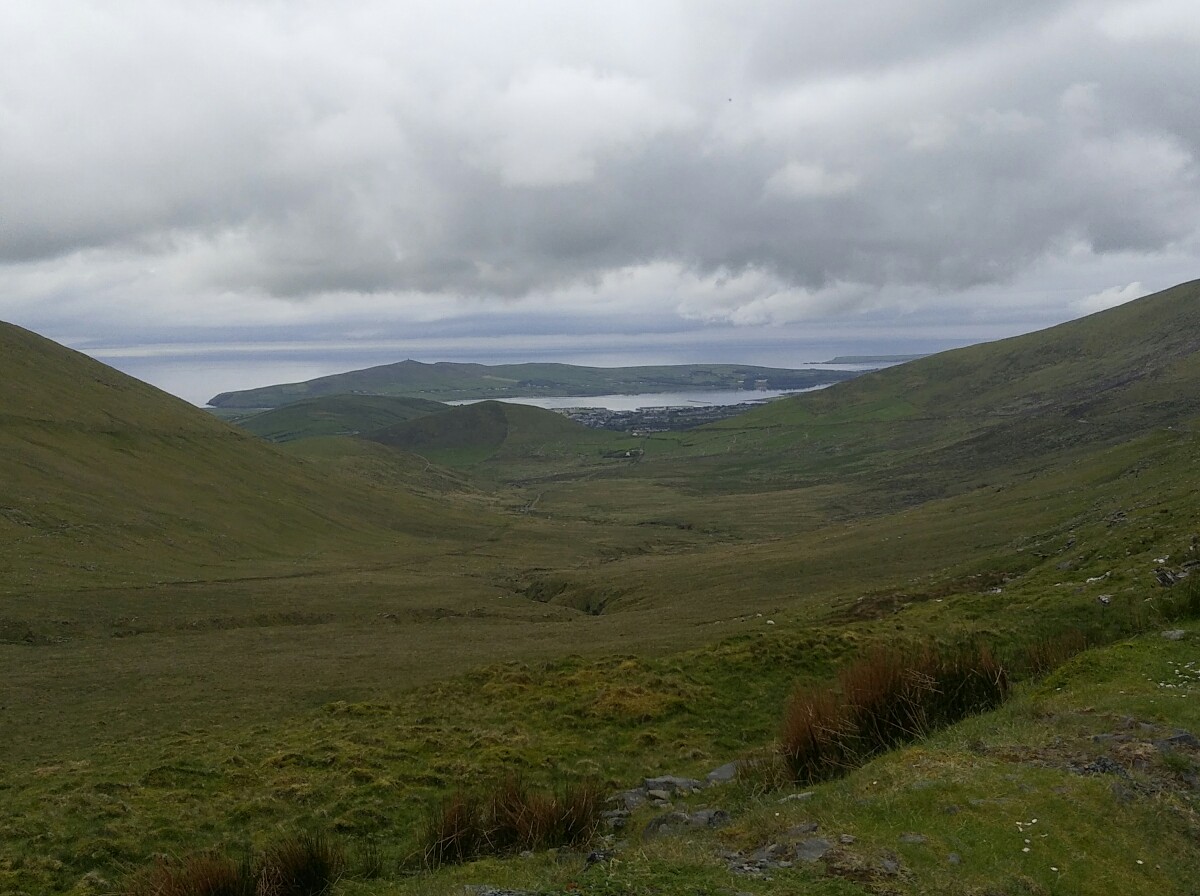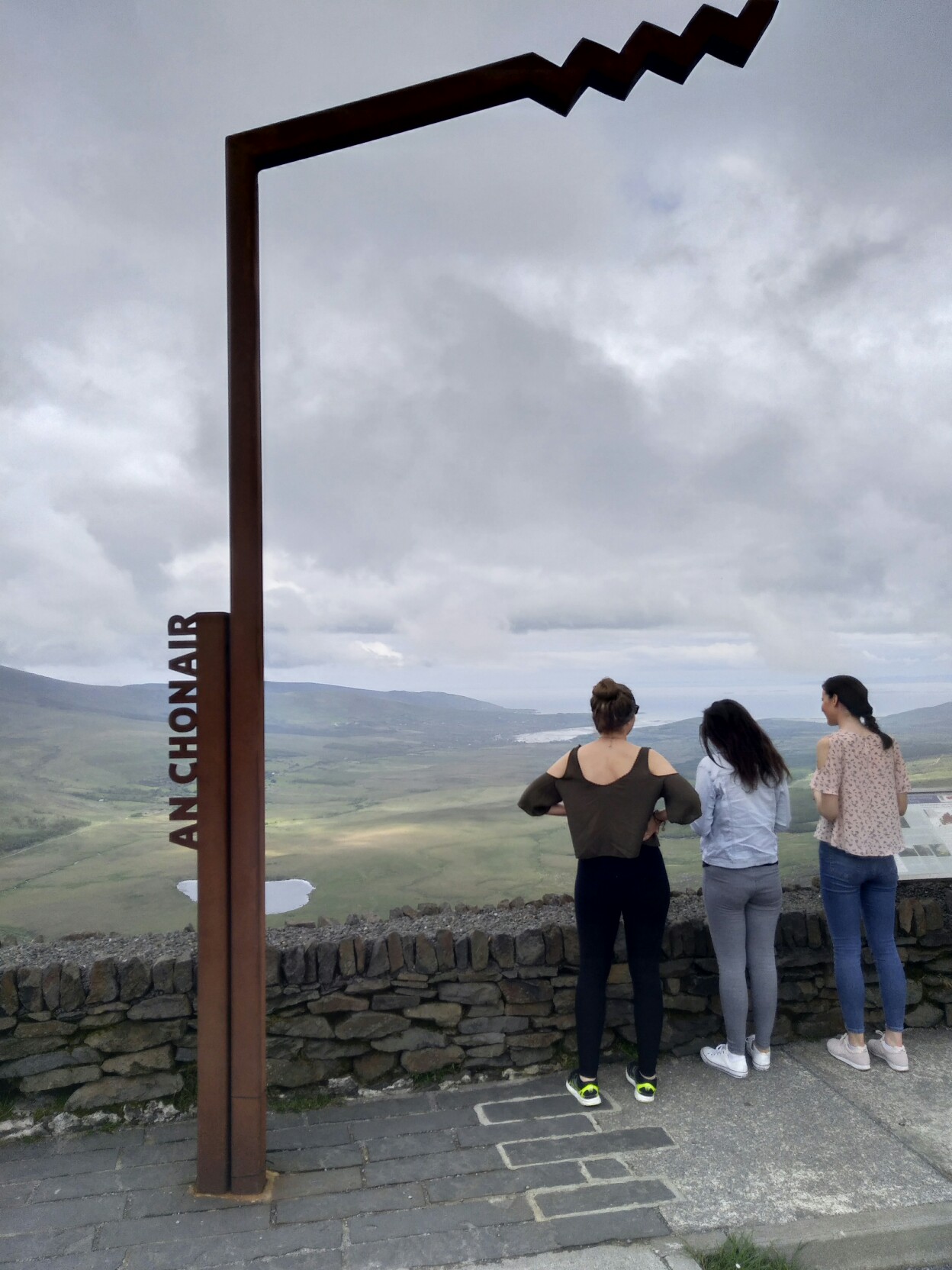 The road running down into Dingle is wider and gentler. Dingle's an interesting town. Very tourist oriented of course, 2, maybe 3 craft breweries, a gin & vodka distillery, a whiskey distillery and every other building is either a pub or a local craft shop. To be fair there was far less tat than many tourist places and some of the craft was really handmade at and well priced. A couple of the music shops' prices reminded me I was a tourist though. Down by the quay it was busy with coaches and American accents but the rest of the town had bustle but was quite pleasant. A real surprise for a Bank Holiday Saturday.
When there's a choice of where you buy wool from, you just have to choose the one with the best window display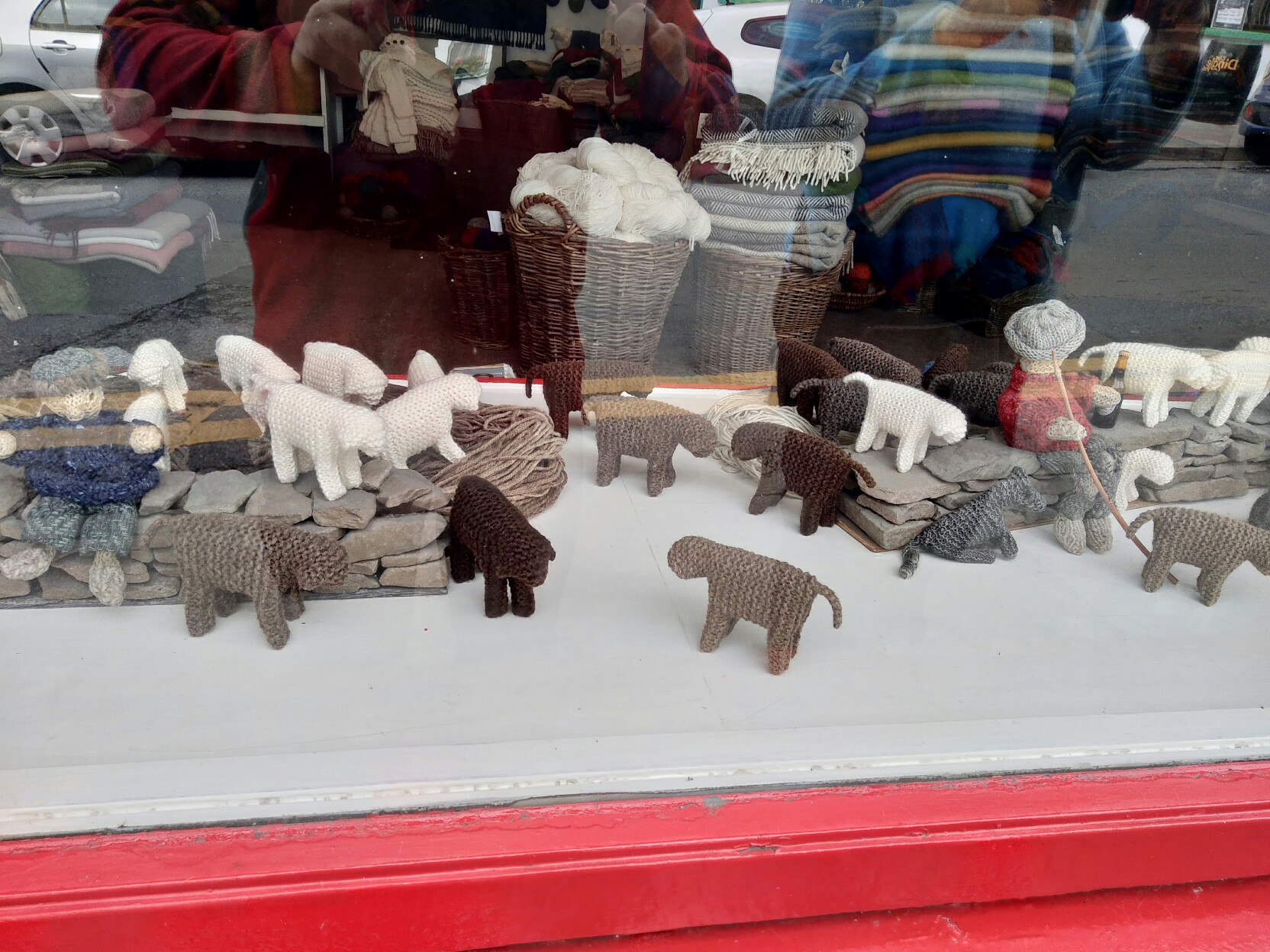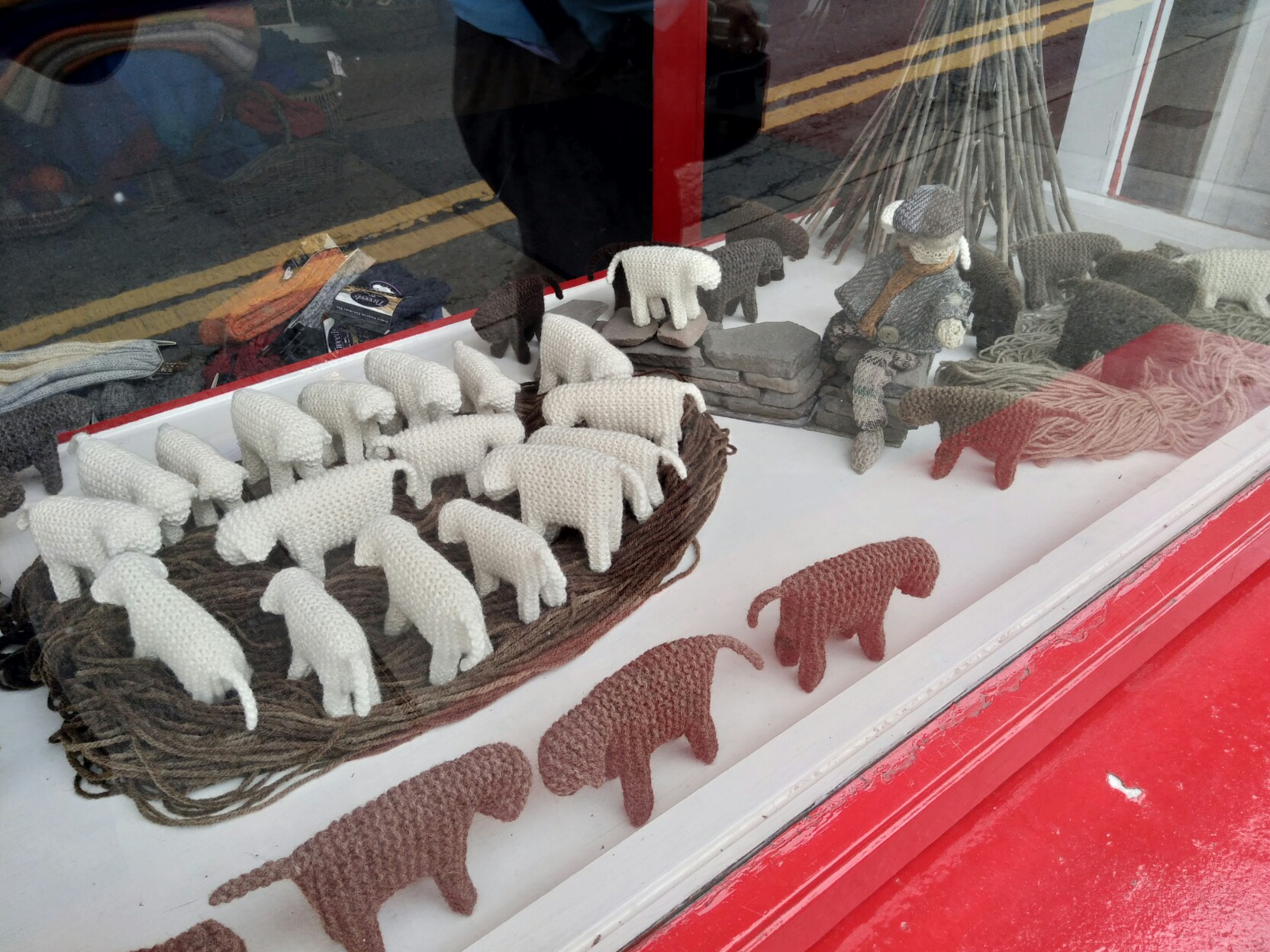 But the real question is, what's it going to be like driving round the Dingle peninsula out to the end of the peninsula and back?
Again, far quieter than anticipated. Perhaps this is because the day has turned "soft". It's not so much that it's raining, more that the clouds have descended to ground level. Not ideal weather for viewing the majestic coastline, nor stopping to see the many antiquities: ring forts, beehive huts or the famous Gallarus Oratory. Shame, lots of history and photo-opportunities left for another day, although I suspect the weather was typical and far better than many days out here.
The tiny village of Ballyferriter was recently home to a film set. Does today's cover picture give it away. If not, will these help?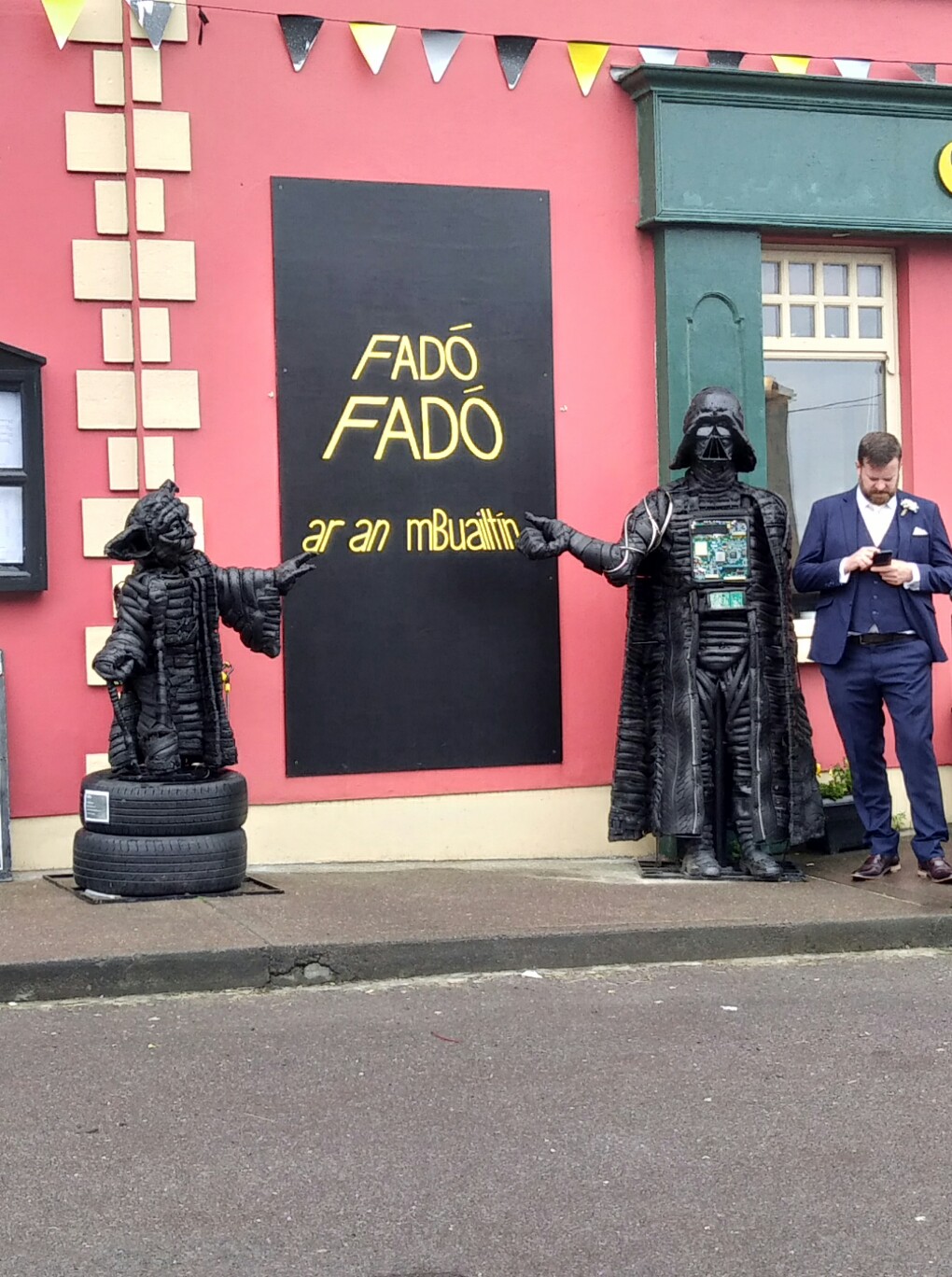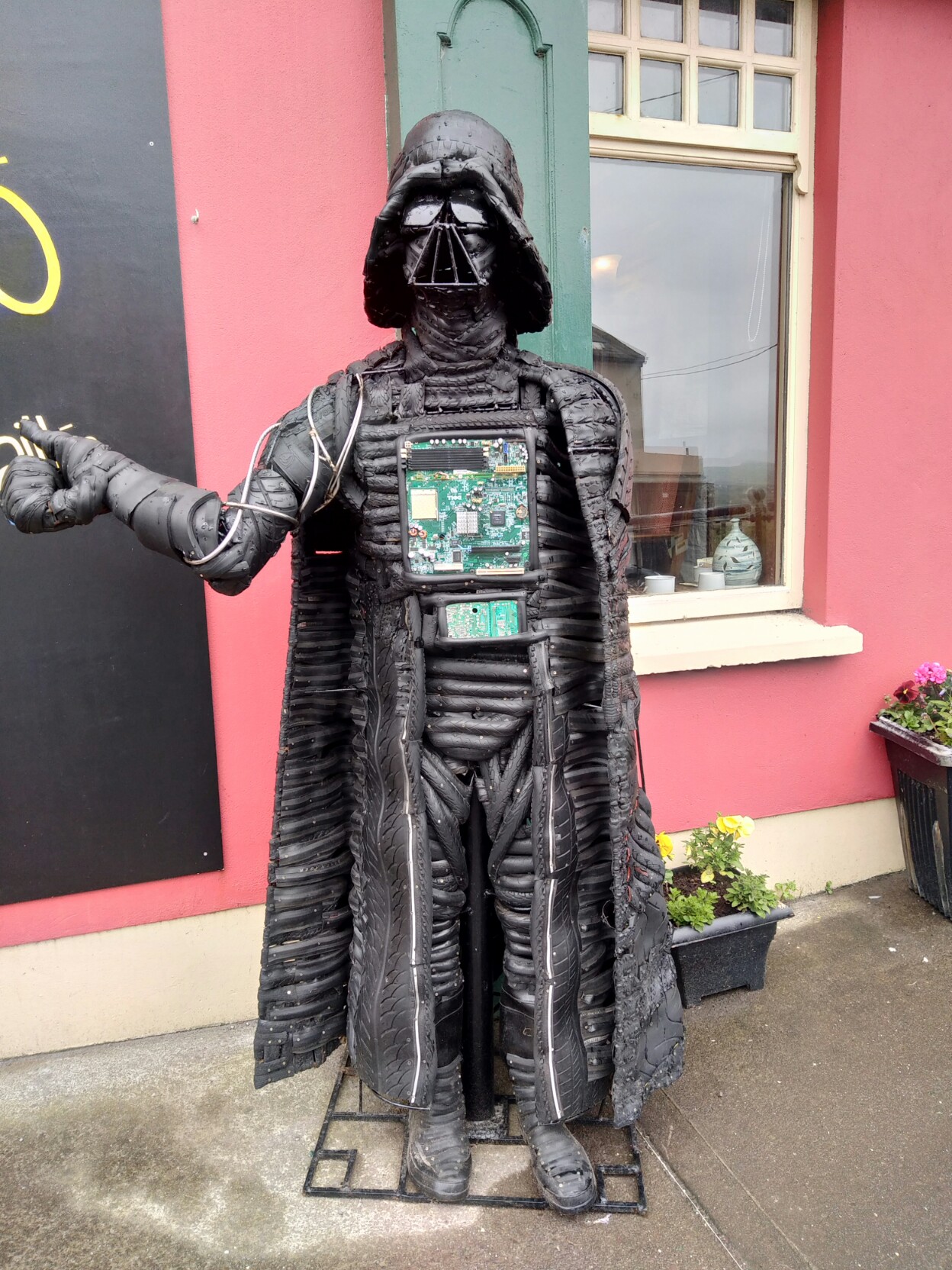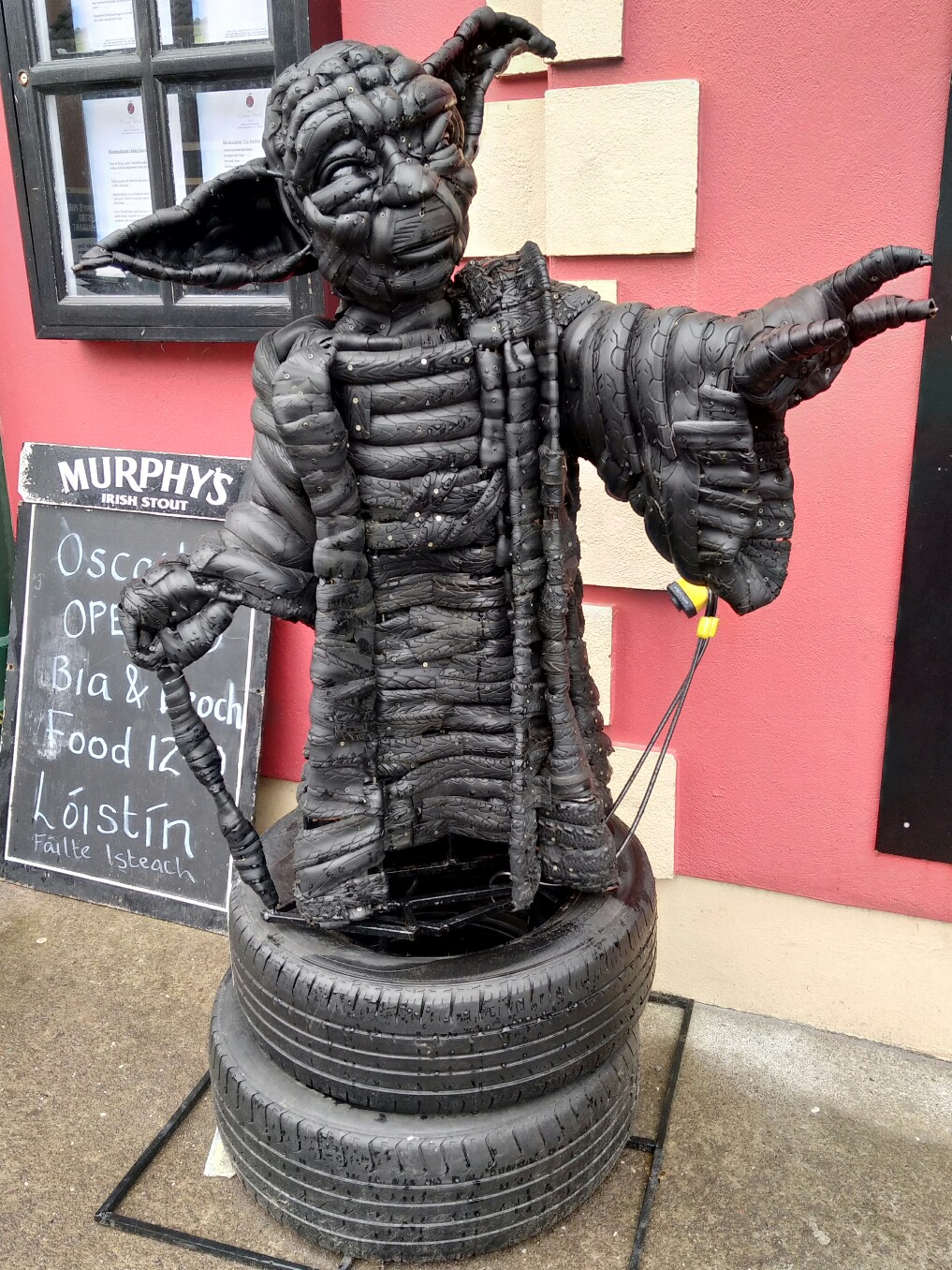 The insouciant character unaware of his photo-bombing was a member of a large wedding party that was roaming the streets and had taken up all the parking. Otherwise we might have looked for the actual film set.
Tonight's stay is Murphy's Bar just outside Castlemaine. Castlemaine? All together now
There was a wild colonial boy
Jack Duggan was his name...
The car park is across the road from the pub, flat and secluded. Perfect. The pub itself is a pub, no food, but an upmarket pub. Both pub and clientele are tidy and it's more like a series of lounges rather than bar and lounge and back room. Clientele literally ranged from the ages of 8 to 80, families being far more the norm than the solitary drinker. Despite the somewhat reserved barman who didn't enter into unnecessary conversation this is a nice, comfortable stopover. And the Murphy's is good at just €4 a pint.
Here's today's 80 miles