Public transport in Germany is good, in Berlin it is very good. Almost too good. Ask Google Maps how to get from the campsite to, say, Berlin Central Station and it offers several alternatives. You could get this bus to here, then an S-bahn (overground) train to somewhere to connect with another bus. Alternatively you could wait 5 mins, get a different bus to here, and connect with the U-bahn (underground). Alternatively ...
There are so many options and because German trains and buses tend to run on time you can fine tune your trip. Alternatively like us you can panic because you can't remember which option you selected and when you look again a mile or so into the journey, it's gone and a different option is now available.
Anyway, bottom line, getting from anywhere to anywhere in Berlin is easy because there will be a bus, S-bahn, U-bahn or tram within a few metres and easy connections on to the next leg of the journey.
Cheap too, unlimited travel in the Brandenburg/Berlin area is €7 a day.  And all day; the campsite is a few miles or of the city, yet buses run ever 20 mins until just past midnight, even on a Sunday. Imagine such a travel system across the UK. No, I know, it's just too big a stretch of the imagination.
Anyway we trundled off this morning to the central station, mainly because it seemed a good place to get our bearings then walked past the Reichstag, Brandenburg Gate, and in down Unter Den Linden to Alexanderplatz. That's it, seen the sights. Berlin, been there, done that. And here's a picture to prove it: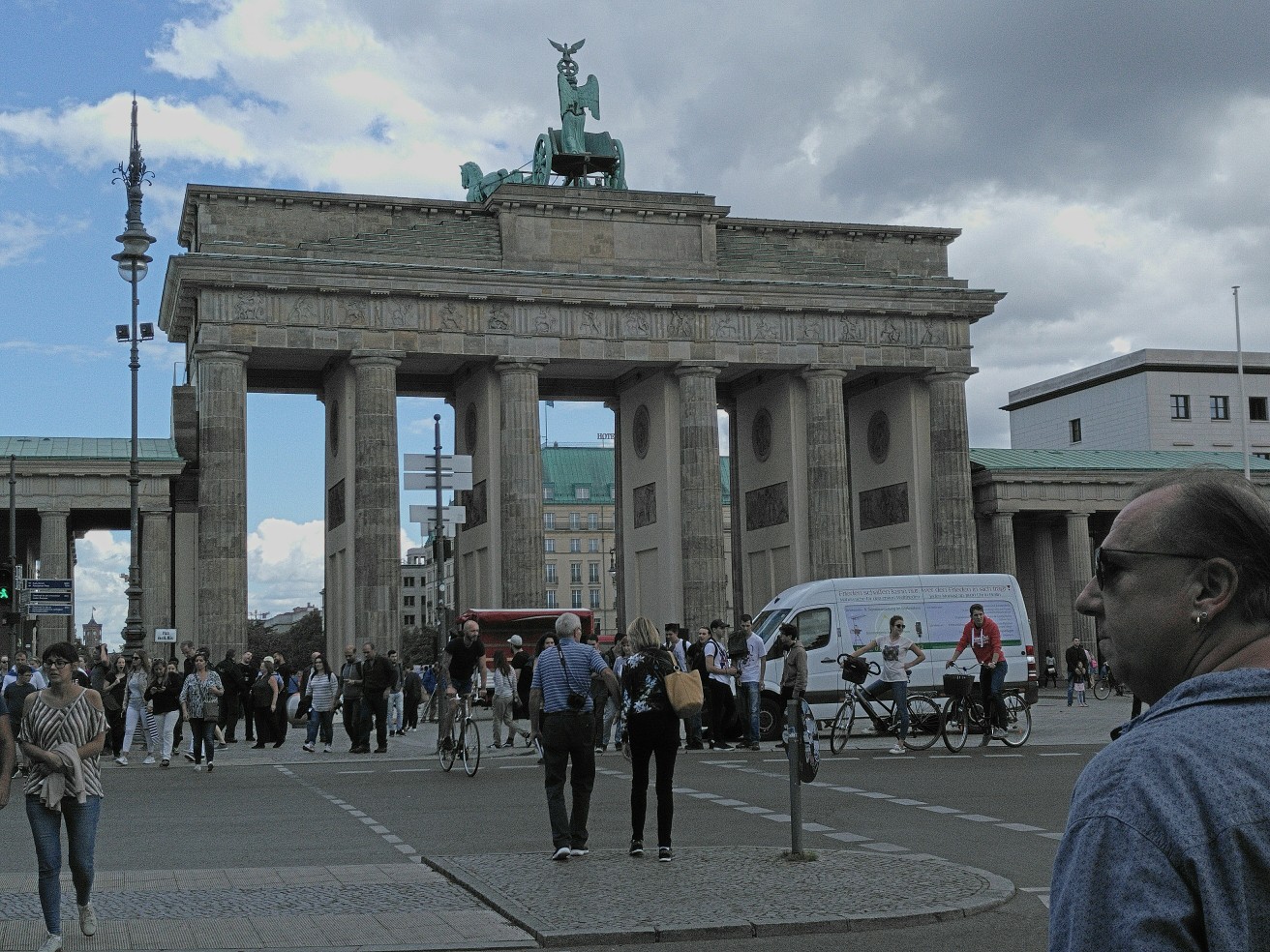 And what is it with Berliners and deck chairs?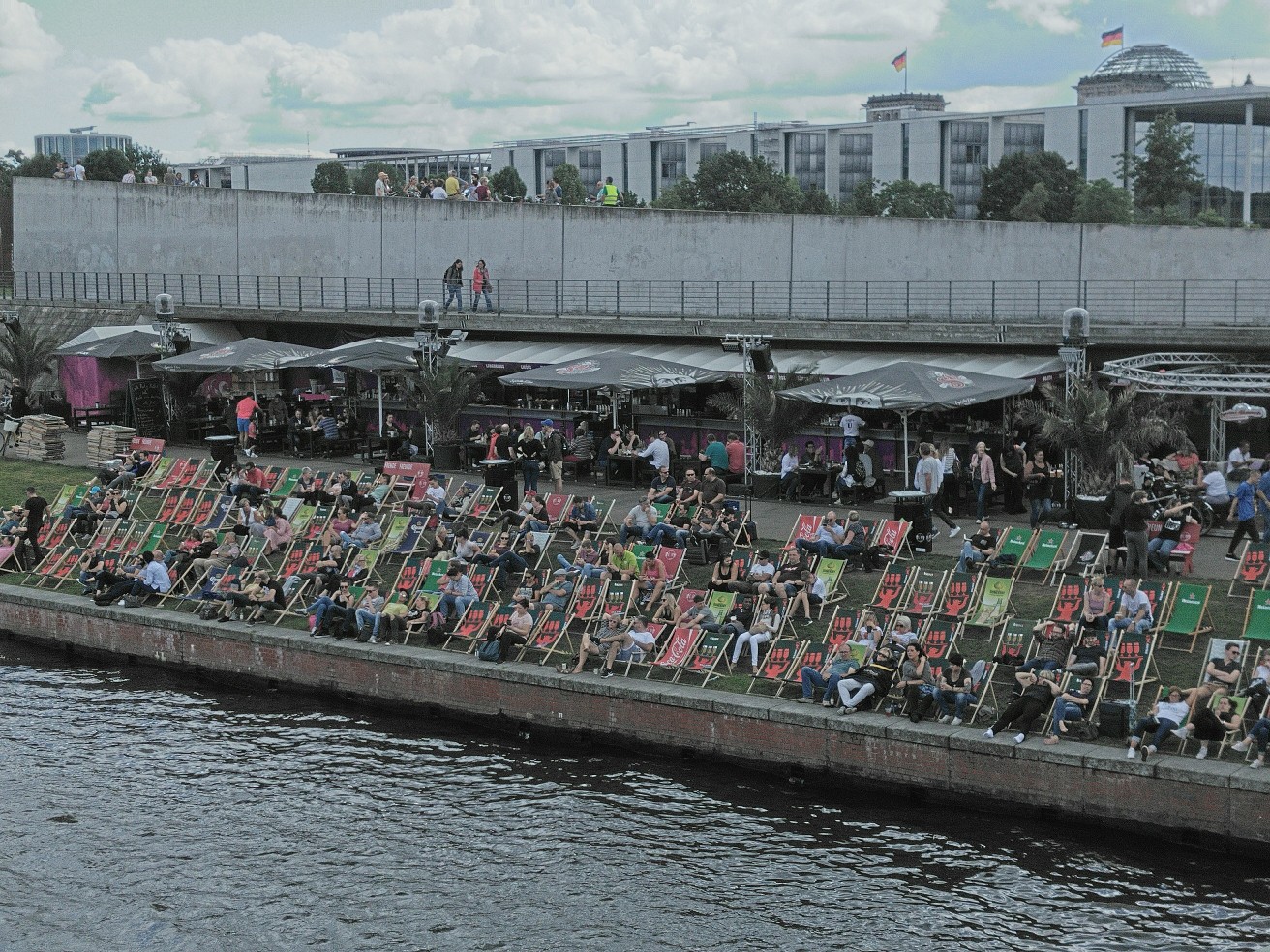 Not just these but several shops had deck chairs outside with people taking their ease, as did the beer garden.
Did someone mention beer garden? We meet up with our friends Andrew and Morag (along with their friends Paul, Jean and almost 2 year old Leo) at Emil's beer garden. Now most of us have seen pictures of Munich or possibly Berlin beer gardens and envisage lush lawns with rows of formal seating and litre steins of foaming beer borne by buxom, frilly skirted frauleins. Emil's is about as far from this vision as you can get. No grass (but a nice sandpit), a scruffy mix of tables and the inevitable deckchairs. The only frauleins were behind a counter inside where you went to buy and fetch your own beer. The neatly trimmed hedges of your mental picture we replaced with iron railings and the brick wall of an adjacent industrial building. This was a real Berlin beer garden, where real Berliners go too drink great beer and eat excellent pizza at prices the average Berliner can afford, rather than those reserved exclusively for tourists. It was good, very good and the company made it perfect. Andrew is a member (probably ex-member) these days of my local Itchen Valley Amateur Radio Club, hence the title of the blog. We spent several pleasant hours in the sunshine chewing the fat, and munching the pizza. A perfect way to spend an afternoon. A HUGE thanks to Andrew and Morag for introducing us to a small part of real Berlin.
And Berliners, beer drinkers? Well they start them young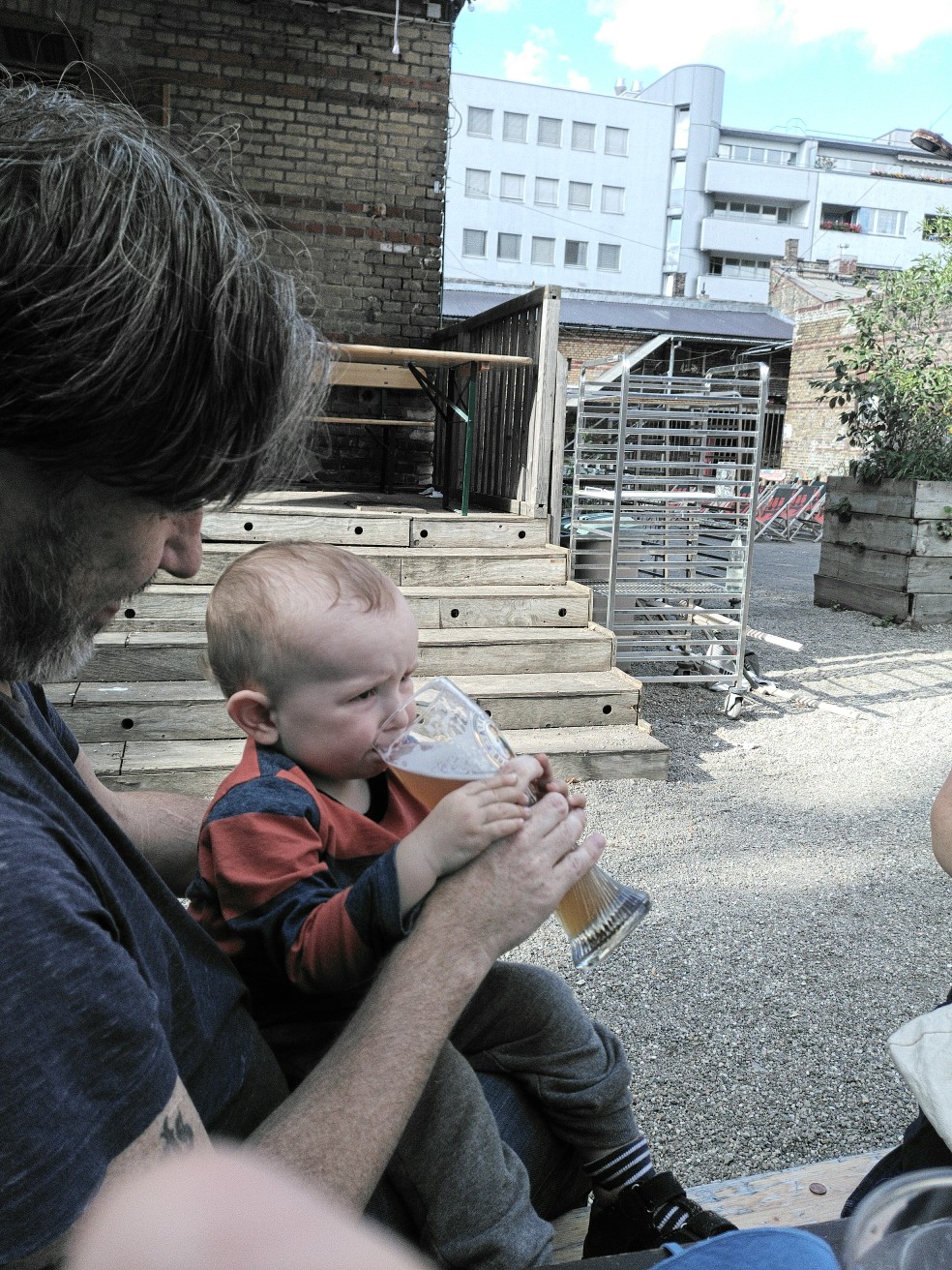 [OK, OK it was alcohol-free beer, honest]~