We've pretty much completed the Wild Atlantic Way and during the course of this trip visited every county except Waterford and Laois. If we go inland today for 80 miles or so then the latter could be ticked off. But where to go? There's a couple of campsites that take our fancy but it's weekend and hopefully a small town might have some craic in one of the pubs.
So we elect for Cashel in north Tipperary; the site sounds nice and is very close to both the town and the famous Rock Of Cashel (more about this later). Not only that but it's not too far to the border with county Laois. Next, what to do in county Laois? Turns out there's a workhouse museum at Donaghmore that a couple of folk on the internet have said was worth visiting. Let's go!
Boring drive up and for a rare change we actually use the motorway. The workhouse is huge. We wander into reception, ready to part with our hard-earned but there is no one around. There's a bell. Duly ringed. Still no one. Doors are open, this is Ireland, off we go. After the workhouse closed, it was a temporary army barracks and then in 1927 it became used as a local farmers' cooperative. So part of the museum display of given over to that. Lots of old implements etc but fairly scanty information. Still, good to see this 'people's' history being preserved.
Wander out and across into a second huge block, this must be where the actual workhouse museum is. Correct, we walk through the door to find a guide giving a tour to a couple of people. We join partway through and then he repeats the missing part later. The building is tremendously well preserved and huge, the size of a small factory. Yet as a museum it hasn't reached its full potential. There are artifacts and information boards but the site could be developed into do much more. Still it was an interesting tour and well worth the €3 pittance they charge for OAPs (so, in the hope that every penny helps towards turning this into the tourist attraction it could be, we overpaid a little)
Stopped at Templemore on the way back to Cashel. A strip town that goes on for much longer than you might think. But nothing really worth stopping for. We had the obligatory cake and coffee and confused the local charity shop by haggling upwards but that but was the sum total of our entertainment there.
Cashel looks a bigger, better town. It also has more tourism because of The Rock (see tomorrow's entry). The Queen even came here in 2011. Because The Rock was a major centre for Christianity in the medieval times almost directly at the foot of it is an old Franciscan Abbey. I say 'almost directly' because sandwiched in-between is the campsite.
So the view from one side of the site is The Rock Of Cashel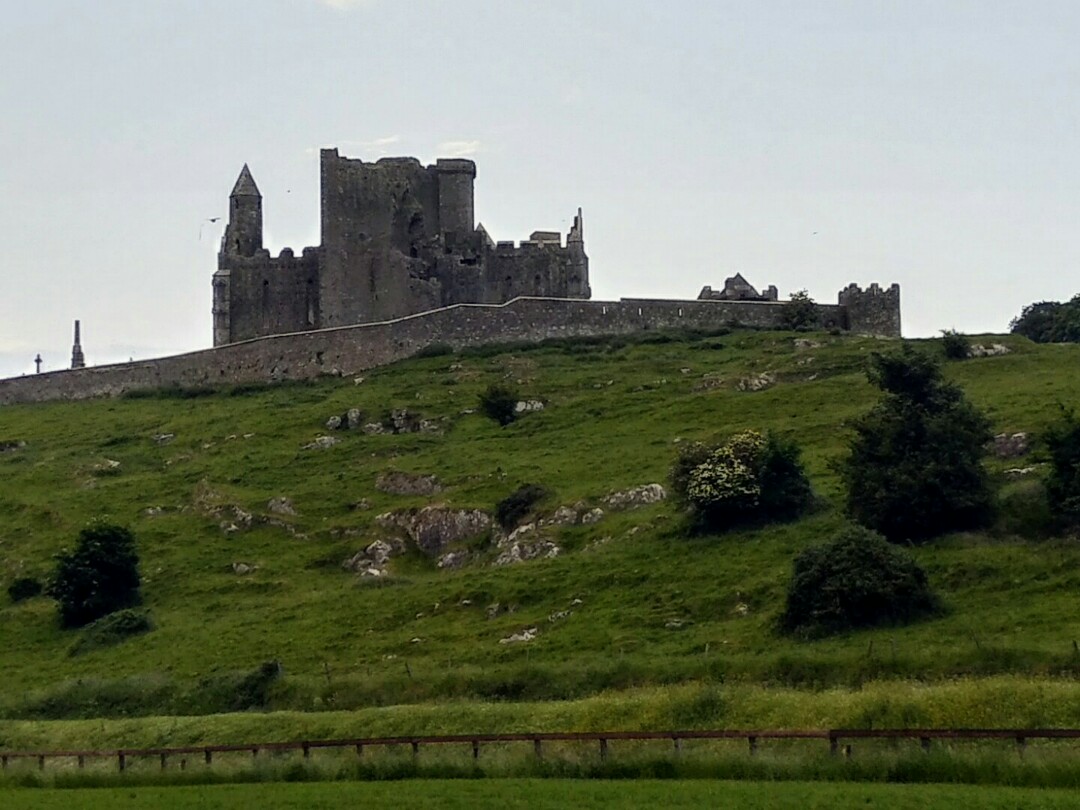 with the Abbey on the other side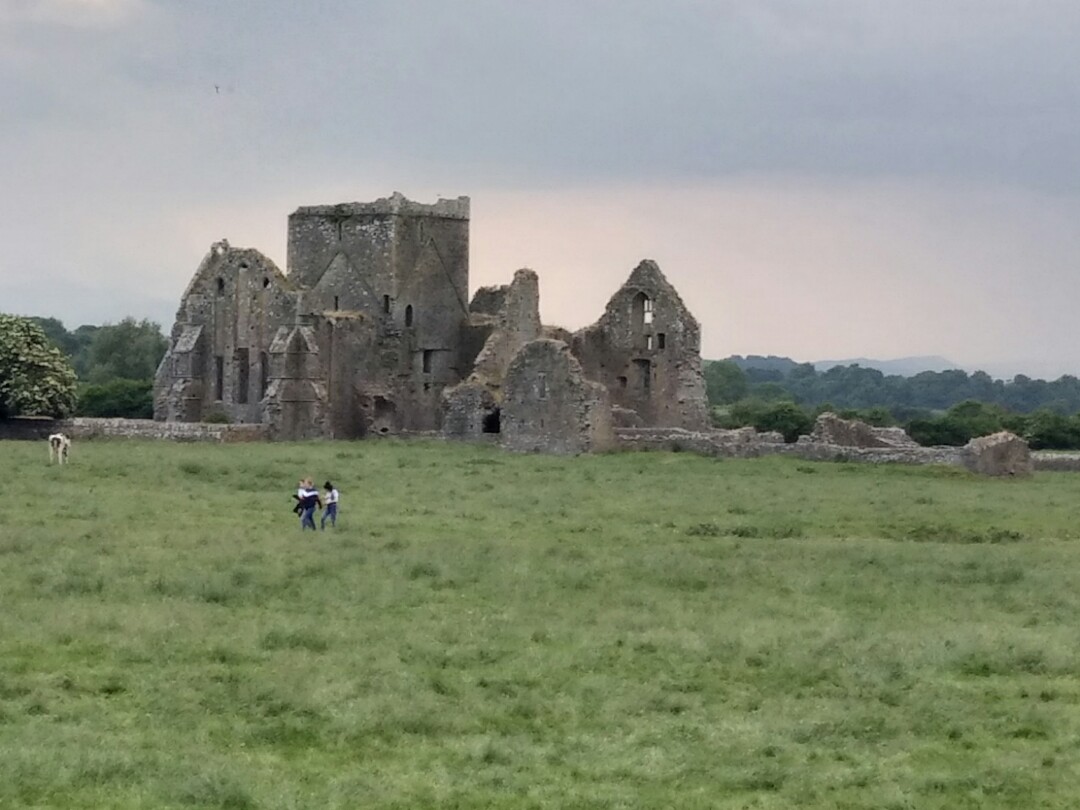 Town is just 10 minutes walk away and with plenty of places to eat we will dine out tonight. Restaurant of choice is the large Brian Boru pub, partly because it has local (Templemore, in fact) White Stag beer and also because it promises traditional Irish Music at 8. The good news is the food was good. The rest - bleh! Service was reasonably prompt to take our orders but the server couldn't be bothered. The beer I wanted wasn't on so I quickly selected another one and and as for the stout for Liz - we'll not know if the White Stag stout is any good as our order was translated to Guinness. Service to clear and offer dessert (which for reasons apparent shortly was the last thing we wanted) was non-existent and so when I went to the bar to pay the bill it was little surprise to be proffered the wrong amount, about €10 or so more than my back of fag packet guesstimate. Bill remade and about right but I notice the beers on the bill didn't reflect the ones we actually drank. First place we've not tipped!
The music was one man and one guitar with what appeared to one tune, although several different sets of words. That's a little harsh perhaps and, to be fair, his rendition of "A man you don't meet everyday" was actually quite good. On the other hand, he was well into the refrain of the familiar "Nancy Spain" before there was any glimmer of recognition from either of us. Too smooth, too many Irish 'standards' (Wild Rover, Wild Colonial Boy, Whiskey In The Jar) for us but probably just what the US tourists want. Hence the need to escape, even had dessert been calling.
On to Foley's bar. Supposedly music from 9. It's 8:30 and there are two other customers. At 9:30 and as our pints end, musical gear is being carried in and there will be music at 10 apparently, despite there still being just two other, now different, customers. And around 10 a duet of young singer guitarists did indeed start. They were good. Pleasant to listen to and a decent repertoire but modern songs (many of which we didn't know) rather than Irish trad. A step in the right direction certainly but not what we were hoping for. Finish that second pint at about 10:40 (now about 6 people in Foley's) and head on out, back to the van.
Passing TJ Ryan's pub it's packed and there's music. Not sure it doesn't sound a little more country than Irish but it's certainly being played with gusto. Worth a swift half surely. TJ Ryan's is an 18th century rambling pub with side and back rooms. The back room is half filled with tonight's entertainers, a couple of guitarists, a couple of fiddlers, a bodhran player, a bass player and there's a couple of whistles lying on the table. Now this looks promising.
Mind you in the bar there are a group of 5 twenty-somethings who are slamming shots at an alarming rate - hmmm, maybe we won't be staying long after all. A regular leaves and gifts his stool to Liz, in the bar, next to the group now on Jaegermeisters but it's better than standing and the back room is not only full but it's on the main route to the toilet so trying to squeeze in will mean having folk squeezing even more as that try and get by.
But the music is good, very good. Another pint methinks despite it now being 11:40. A lady seated at the bar and the landlady are suddenly very conspiratorial and then call me over with "we're going to get the owner to sing" as if I should know this to be a good thing. OK, it was good. He launched in to "Leaving Nancy" and it was hard to imagine it wasn't Eric Bogle himself, accent and all. And, yes, I know the Australian Eric Bogle isn't Irish trad but it's close enough! Lots more followed, driving foot-stomping instrumentals, songs traditional and from the wider folk canon. It's close-up and personal music, great musicians enjoying themselves with an enthusiasm that inspires the audience. My glass is empty again. Another pint, sure, it's only a quarter to one. Sometime shortly after this Liz notices that to leave requires the landlady to unlock the door for you. The pub has at last started to thin but the music keeps coming. Pictures were almost impossible without a better low-light camera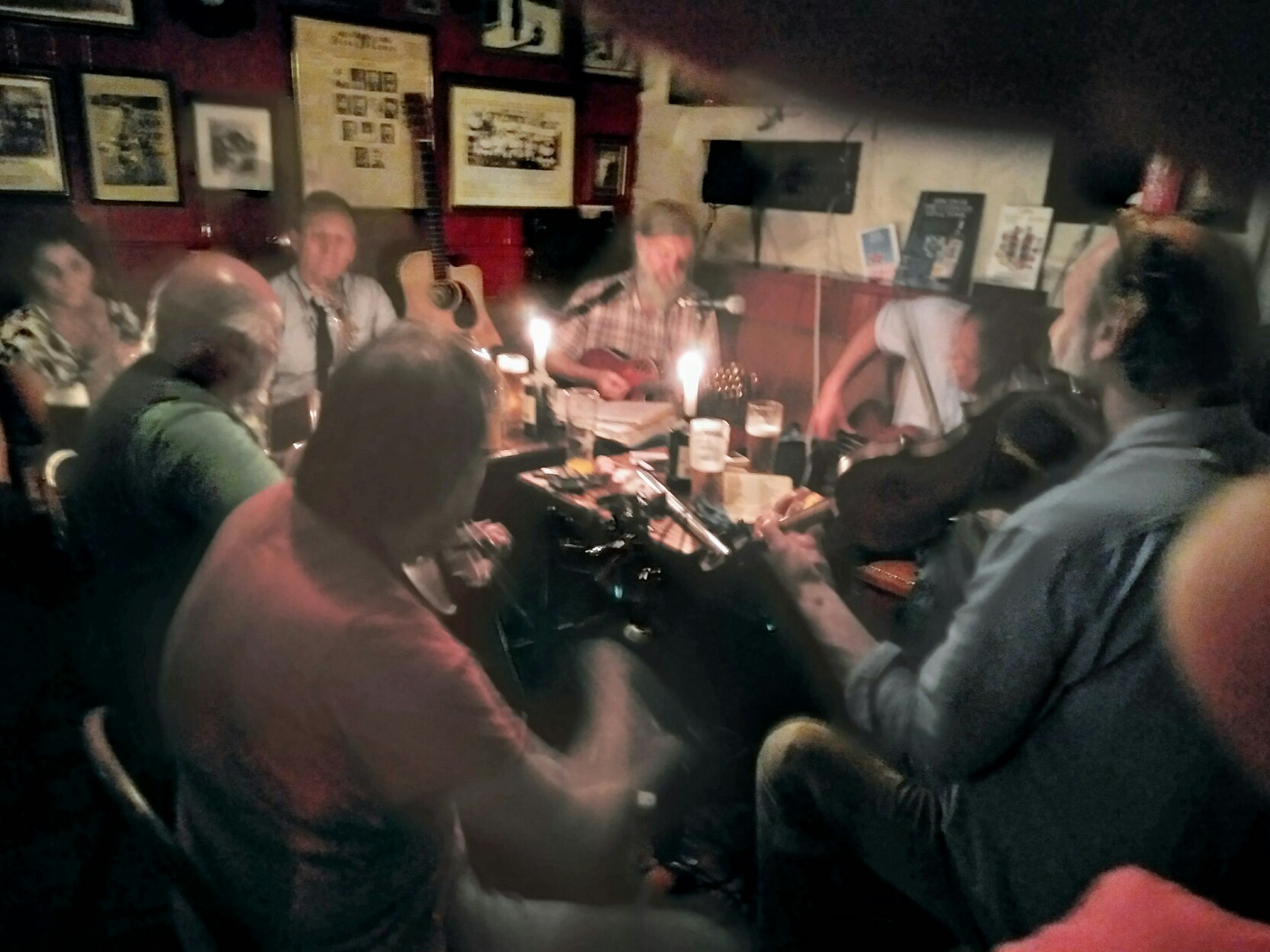 Remember that group of shot-slammers. Well one of the males seems definitely a bit unsteady on his pins but they are baying for "Galway Girl" and one of their lasses joins to group to become the Sharon Shannon to the guitarist's Steve Earle. Given the earlier intake it was a really good effort too. Eventually around 1:30 some of the group start packing instruments away. Others keep playing. My glass is empty and I probably could have got another pint. Somewhere just after two we start to gather things to leave, perfect timing as the remaining instruments are cased. A quick chat with the landlord. Apparently about every 6 weeks or so this bunch come in from the various outlying towns and villages to play. Looks like we were both lucky and privileged to catch them.
Nearly 7 weeks in Ireland and two nights where the craic really was 90. I'll take that!
Hammering all the way up to county Laois was a longer run, just over 129 miles today