I remember now why I chose Athlone as our inland destination this part of the trip - Sean's Bar, the oldest in Ireland and possibly the oldest in the world. A few years back renovation of the pub turned up a wattle wall with coins, trading tokens dated at 900AD. So the pub is 1200 years old.
Athlone itself comes from the Gaelic Atha Luain, the ford of Luain. Luain being the innkeeper who guided folk across the Shannon in those days. And today's Sean's Bar is what became of his pub.
Trouble is, it's a beautiful day so the tourists (yes, us included) are out in droves and the bar is packed. So we pay homage with a quick stroll through it before going on somewhere quieter.
I'm getting ahead of myself. Athlone is about 3 miles from the campsite. Although the roads are busy it's a pleasant walk, especially since for the first mile we can take a back road past some of the homes of the more affluent Athlonians. It's Ireland, a resident stops mowing his lawn just to chat with us. Cars wave as they pass.
An hour later we wander past the modern shopping centre at the start of the "new town" north of the river. Now we didn't see too much of the new town as the main road, Church Street, is being completely resurfaced and pedestrians are herded into narrow pavements and prevented from crossing to shops on the other side by wire fencing. I think the phrase is "it'll be nice when it's finished".
After all that walking (almost 9000 Fitbit steps) a sit down is needed - Galway Coffee Roasters seems a good stop. But the darling colleen of a waitress upsells us and Liz and I find ourselves persuaded into ordering dessert as well. It was excellent and I do hope the dear lass was on commission. The coffee was outstanding, so much so that I suggest to the cashier that we'll hunt it out when we get to Galway and see if we can buy some beans. But this is Ireland, Galway Coffee Roasters don't have an outlet in Galway!
And this being Ireland, a photo of the Shannon is mandatory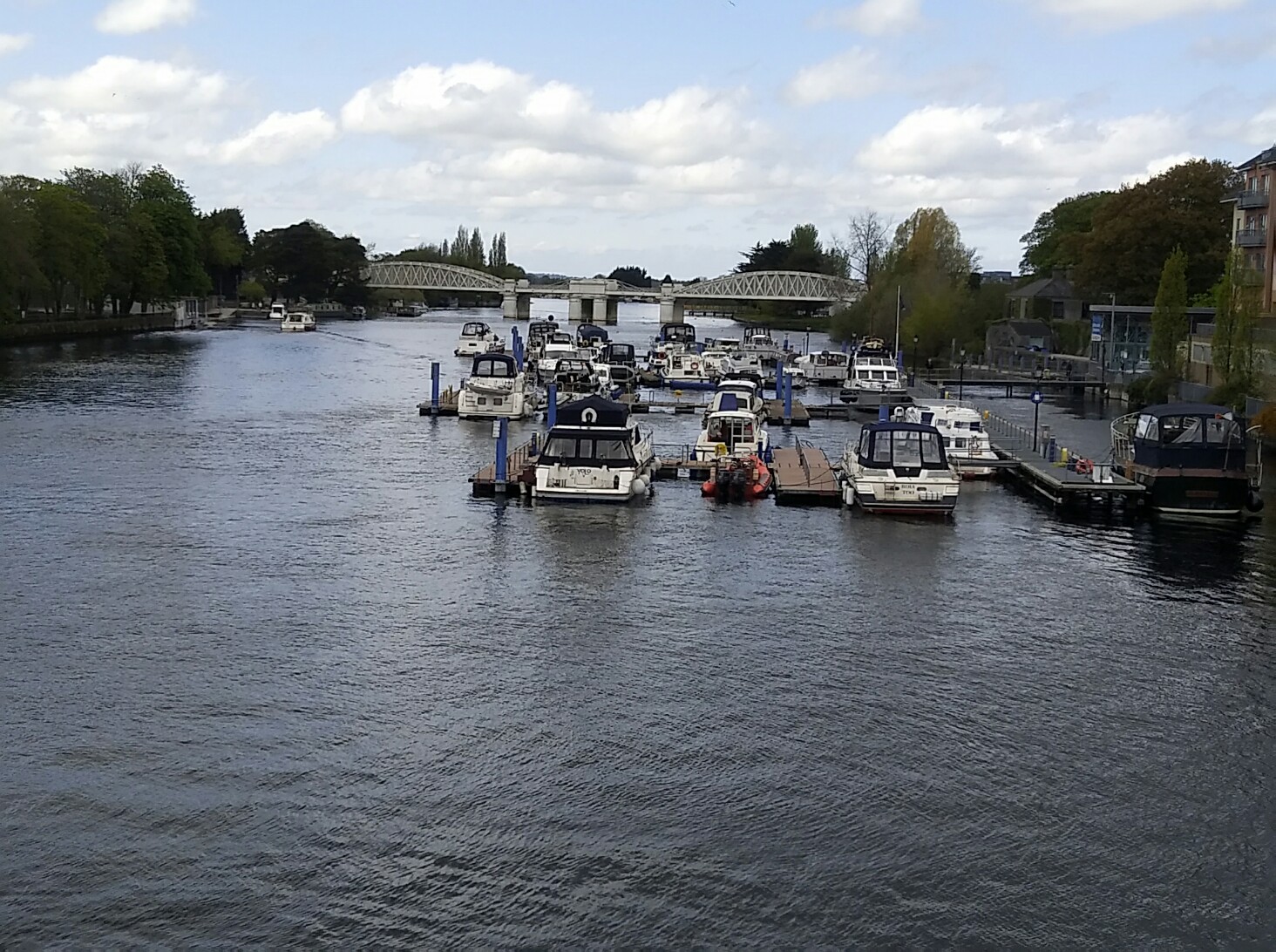 To be honest, not a lot more to say. Without the roadworks Athlone may have been a tad more interesting. The castle certainly looked interesting and many folks might enjoy a Shannon cruise. But not a lot else fired our imagination - the two bars we patronised were pleasant and friendly enough but nothing special.
Another hour or so's walk back but we did get a decent sunset as our reward, taken from directly outside the van: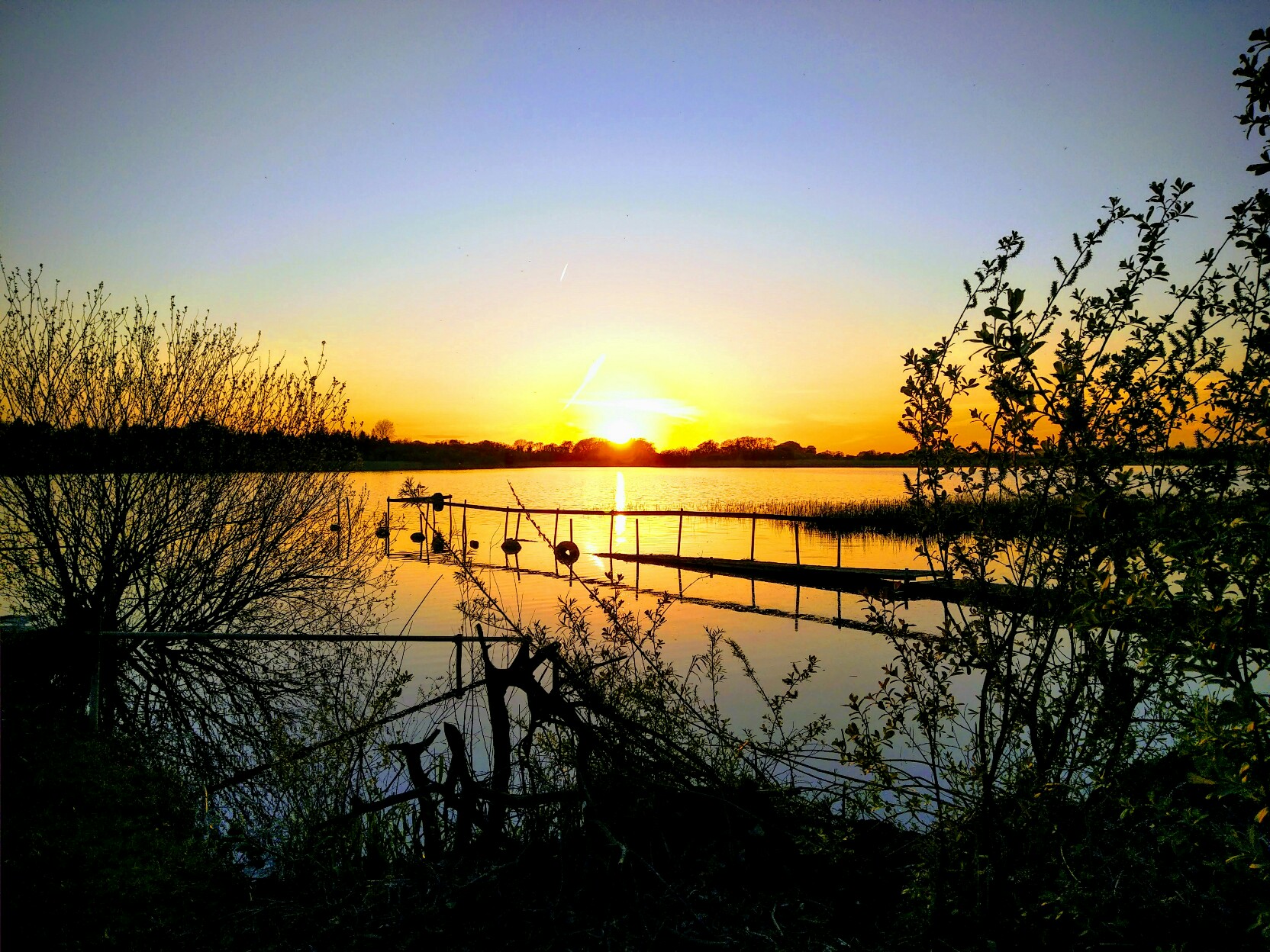 Then on to the local pub, just round the corner from the campsite. A joy, cheap Guinness at €4.20 a pint, live music (too loud, as always) and some fascinating conversations with other campsite folk. We are getting the idea that this site is a bit special for a lot of people, many of whom have been coming here for 20 years or more. Certainly it would be on my list on any return visit to Ireland. Great location, super local pub and some of the friendliest campers we've met anywhere. Back from the pub, the site is lit not so much with barbecues but with barbecue pits hosting huge full-flamed campfires.
Nice to have such pleasant weather to allow a 23,000 Fitbit steps walking day today.