Well we've decided we'll move on tomorrow. Martin is interesting but the change in temperature and vagary of buses means we don't fancy an out-of-town open-air museum tomorrow.
Buses are weird. The campsite is at the terminus of a bus route. Buses on that route run as often as every 20 minutes, more typically every 40 minutes but this morning the 10:05 was followed (as per timetable) by the 11:42. Of course we arrived a little after 10:30! Couldn't even rest in the bus shelter, as something, probably a bus, had hit it hard, cracking one of the wooden corner pillars and leaving a very unsafe leaning structure, with newly added police No Entry tape.
Still this was definitely not a tourist bus. It filled fairly quickly with locals about their business, mainly shopping. Buses are used much more here. I suspect car ownership is significantly lower than in the UK. Bus fares are cheap too, a single ticket is 0.70€ for any distance, but, of course, the locals all have multi-trip pre-owned paid cards giving much cheaper fares. Unusually paid fares are collected on the bus by the driver who seems to have no problem giving change. The scenery may look like Scotland but the bus drivers give the location away!!
And so into town. Shops seem to have very limited window space but go back a long way so window shopping doesn't really work. And of course wandering in shops to browse with no language skills isn't easy. We managed a cake shop with much pointing. Strudels are cut and bought by weight so the natural conversation in Slovak is"Do you want all that, a half or a third?". Not only that strudels are not exclusively apple, they come in a variant that looks like apricot and nougat but is probably cream cheese or similar. I don't know despite it being what I had!
Suitably refreshed and having succeeded in confusing the local baker we set off for the main purpose of the visit. The ethnographic section of the Slovakian National Museum. We try to buy tickets from a non-English speaking receptionist who refuses to take our money until pointing out that we could well be old enough to be eligible for concessionary prices. We were, so our €3 each entry fee was halved. We hadn't bothered trying to sort out asking for concessions, too difficult in a foreign language, but 'no' the receptionist insisted!
The museum was very good. It had 3 main focuses: agriculture, pottery and textiles and then a large display of traditional folk costume across both time and regions. There was also a special exhibition running currently which the English speaking curator (called especially to introduce us to the museum) described, uncertainly, as 'tinkers'. Tinkers was 100% the correct word and was a display of some fascinating iron work decorations. I regret now not taking photos. Liz almost certainly has some.
But I did take some pictures. There were a couple of looms: a traditional 2 shaft floor loom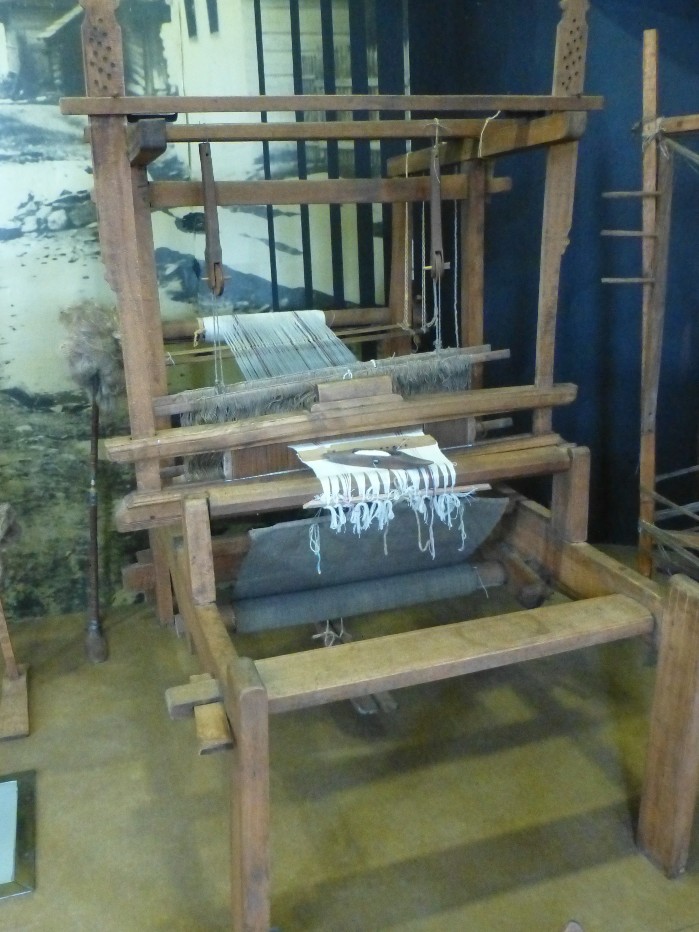 and a much rarer rigid heddle box-loom for making braids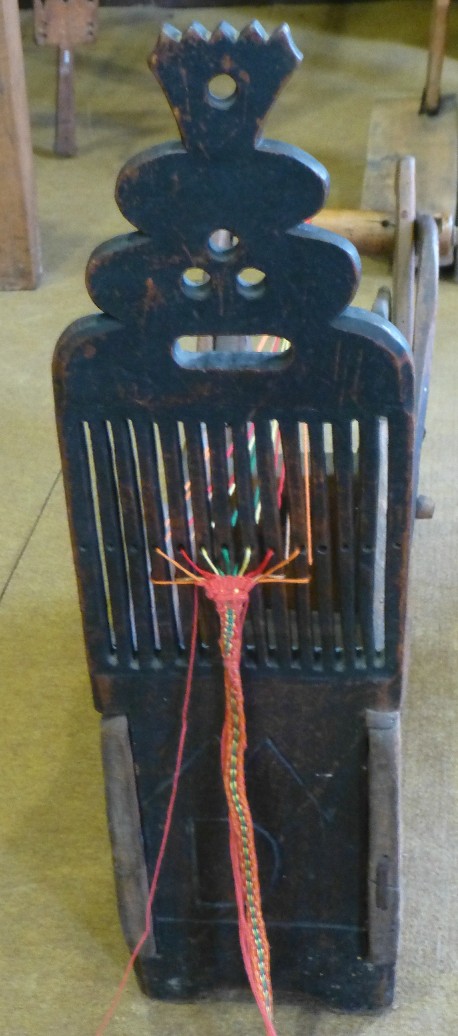 And then a display case full of some fantastic embroidery and really nice weaving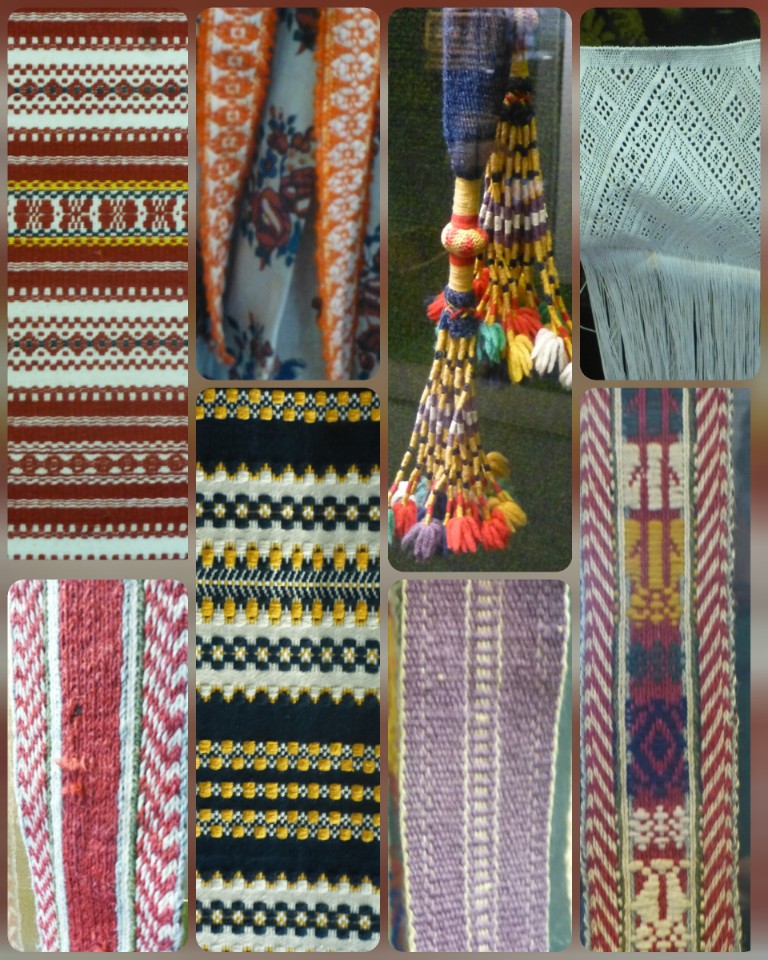 I think the top right is sprang, a cross between weaving and macramé which I've never seen before.
Yeah, alright I know they won't mean much to most readers but if you want nice pictures of national Slovak costume go read Liz's blog.
One other photo from the museum, which I thought an interesting piece of carving but is actually a beehive!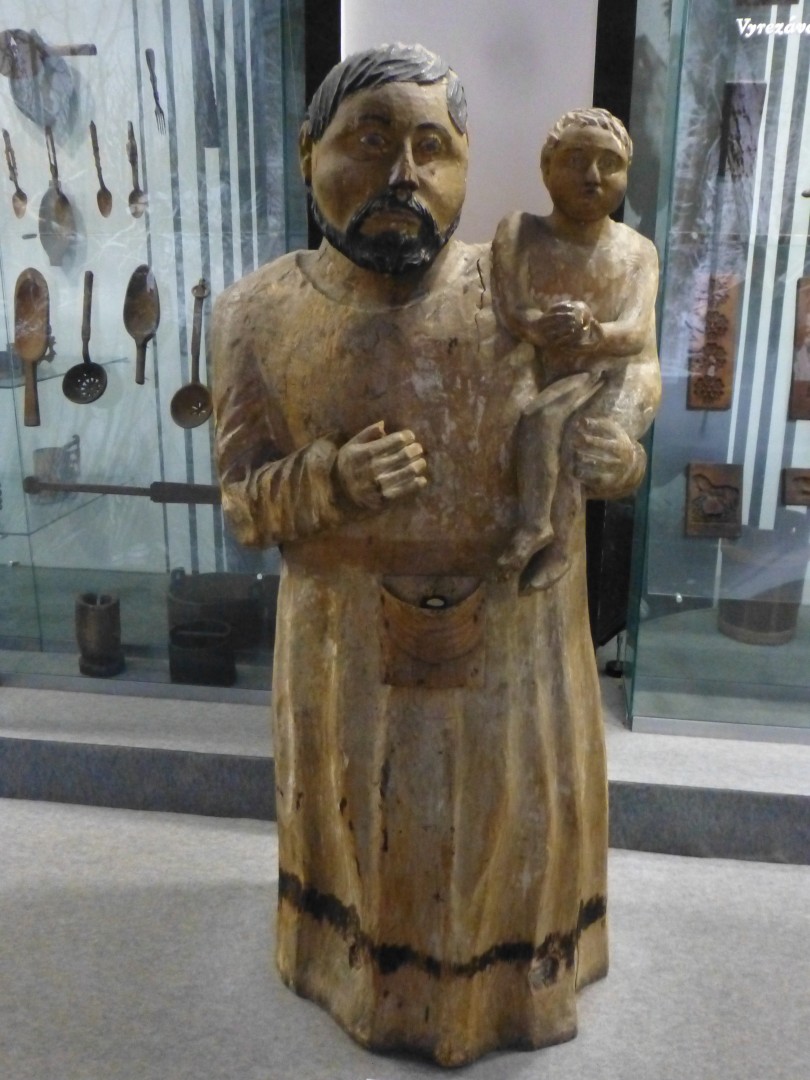 We didn't look too closely at the porcelain because we were distracted. A small warbler had somehow managed to get into the museum and was flying at the windows to escape. I tried looking for a member of staff, and then opening the windows but to no avail. We even tried taking using my coat to capture the bird and so be able to escort it outside to freedom. Hope it's not still trapped in there.
There is at least one, maybe even two, the web is uncertain, brew pubs in Martin but both are out of town; the one we are sure of doesn't open until 16:00 but with the vagaries of the buses who knows what time that means back to the van. We settle for a local bar where at least the beer is unpasteurised.
An interesting slice of real Slovak life and a change from the tourist trail we've been following for the last few weeks. Hard without any language though.