It's a little busier in Knock as we leave this morning. Still, I feel more depressed than spiritually uplifted. Reminds me of Mablethorpe, vibrant in its heyday perhaps, but now just out of touch with changing times. Sad.
Now what was spiritually uplifting was the cracking National Museum Of Ireland - Country Life, just outside Castlebar. This is our sort of museum, dedicated to the folklife and folklore of the ordinary people. Set in several acres of sculpted parkland in Turlough Park you could easily spend a half day or more just wandering amongst the trees, or along the lakeside. Seems to be a few playground activities for younger explorers too. The museum itself is a modern glass sided building on 3 floors. Not just stuffy old artifacts but interpretive panels and videos of long gone crafts and customs, captured for posterity in now crackling black and white.
We wandered around and missed a several of the videos etc and were still nearly 3 hours. Then we realised we'd missed the entire 19th century section in Turlough House itself. So gentle reader, if you go - no make that, when you go, as no trip to Ireland should not include this, then allow yourself a full day to visit.
In the grounds there was a self-portrait in willow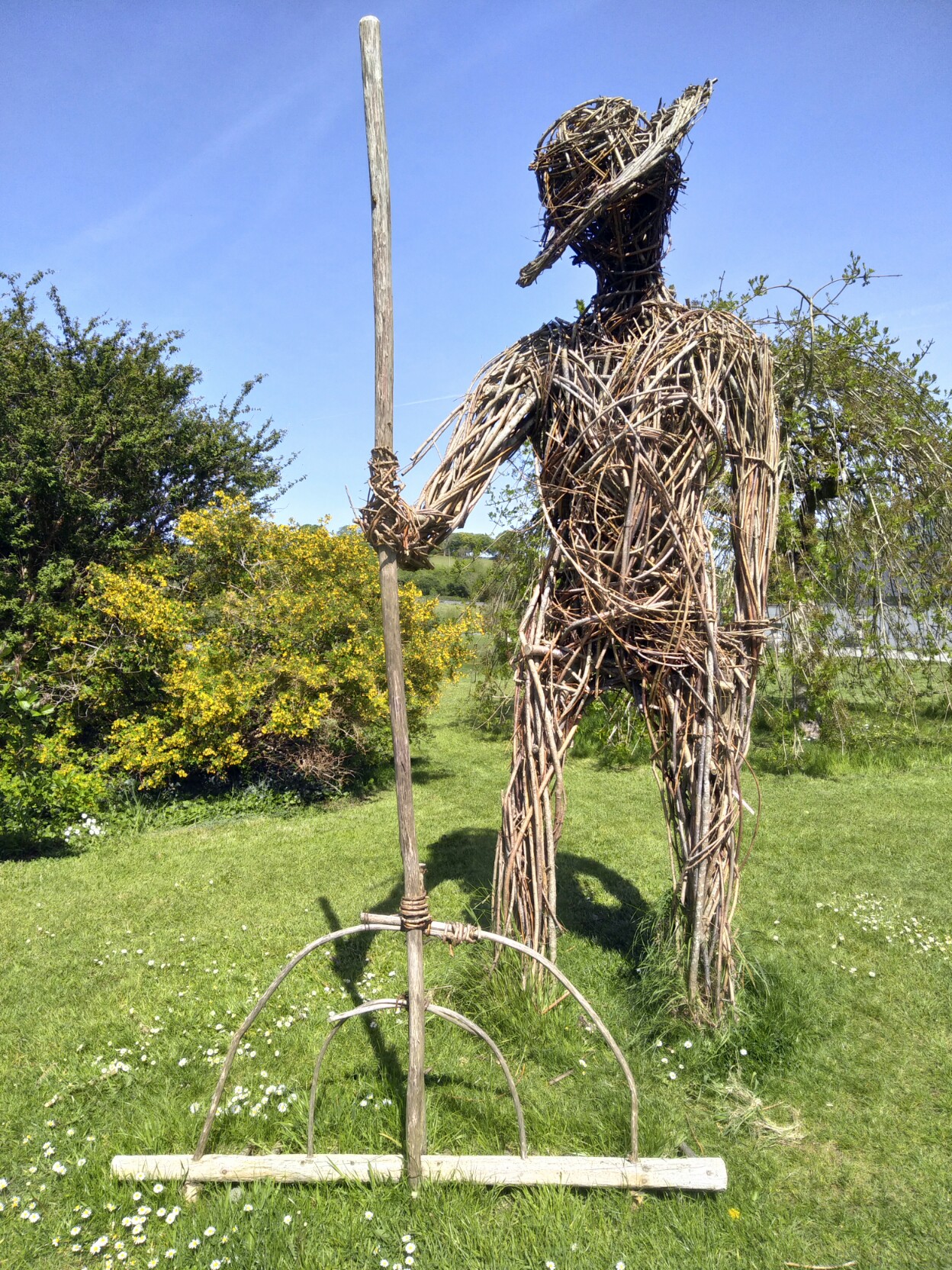 I'm interested in Irish Crois (pronounced 'kris') belts which were traditionally hand woven without the aid of a loom (the warp was tied to the weaver's shoe). There is precious little information around about these. Back in the 30's the museum commissioned some folk on Aran to visit reproduce their heritage costume for posterity and a crios was included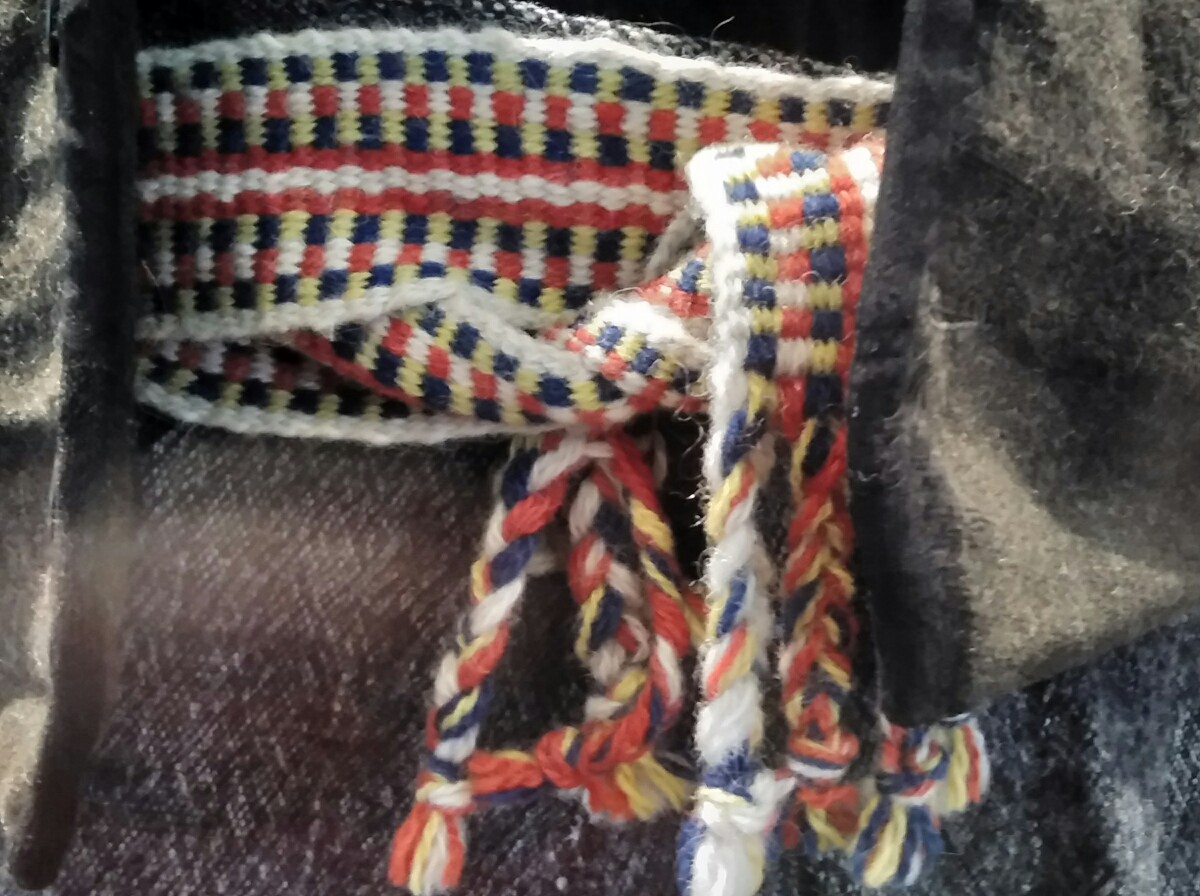 During the 18th and 19th centuries, the so called penal period, anything Irish was forbidden, including costume and hairstyle. So, traditional costume only survived on remote outcrops such as Aran.
I hadn't thought about the fact that Ireland has a mixture of terrain and that the decent farming land would be purloined by the wealthy (probably English migrants) whilst the native Irish would have to subsist as best they could on the less productive rocky or boggy ground. Add the scarcity of trees and wood and resources were sparce. In such an environment straw (and rushes) was king. Not only was it essential roofing thatch but it could be plaited, braided and woven into mats, cribs, horse saddles, even chairs.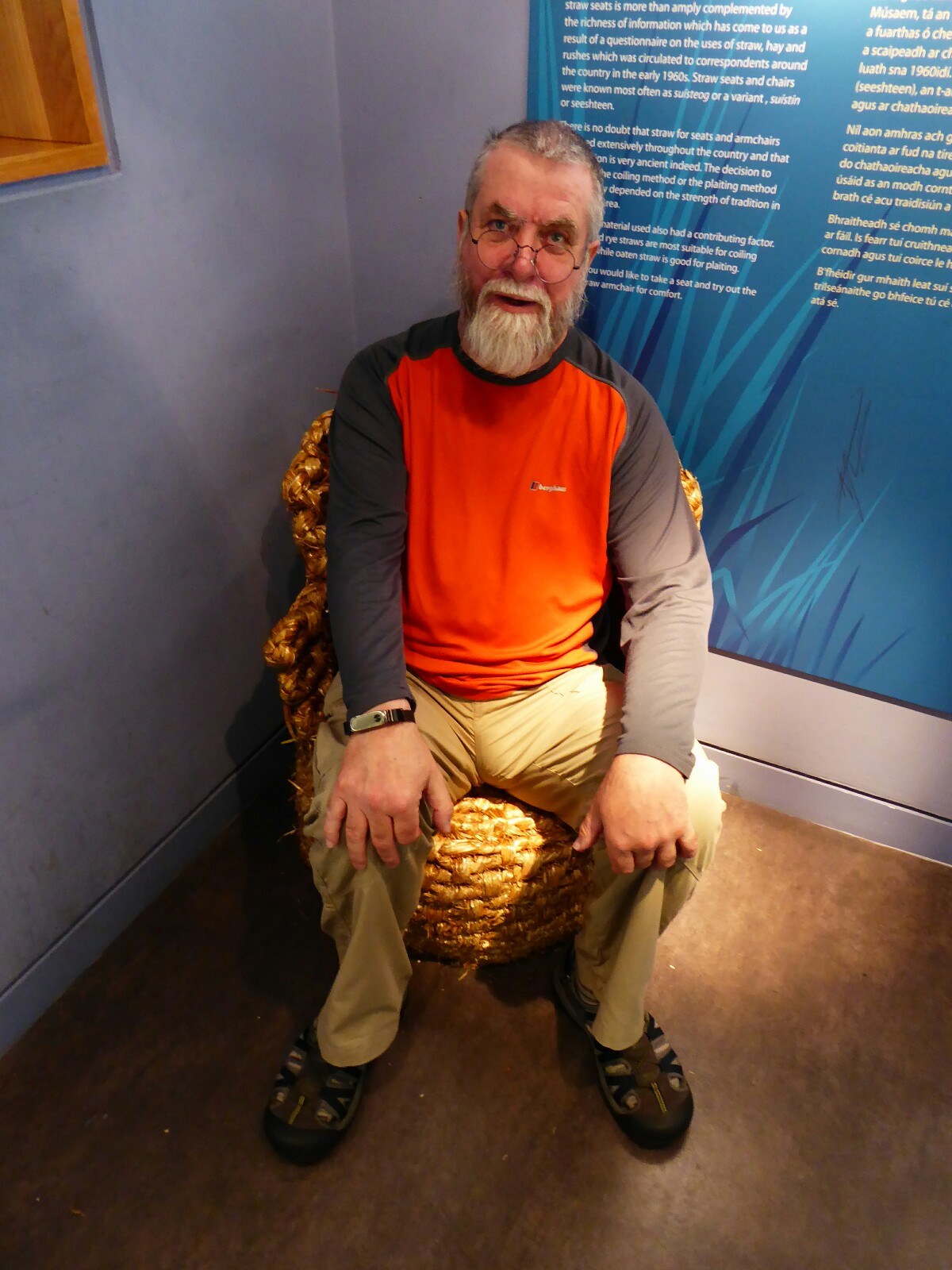 No, that is not a commode!
Reluctantly we leave and head for Foxford Wollen Mill. A charge of €6 for a tour raised my suspicions and they were confirmed when the shop seemed to a cross between Edinburgh Woolen Mill and Habitat. A typical customer inquired on slaking her thirst. I never want to be in places where the clientele think the middle consonant of the word "water" is a 'd' - i.e. the transatlantic "wadder" !
Time to move on and quickly. My plan is to go along the pass next to the spectacular Mount Nephin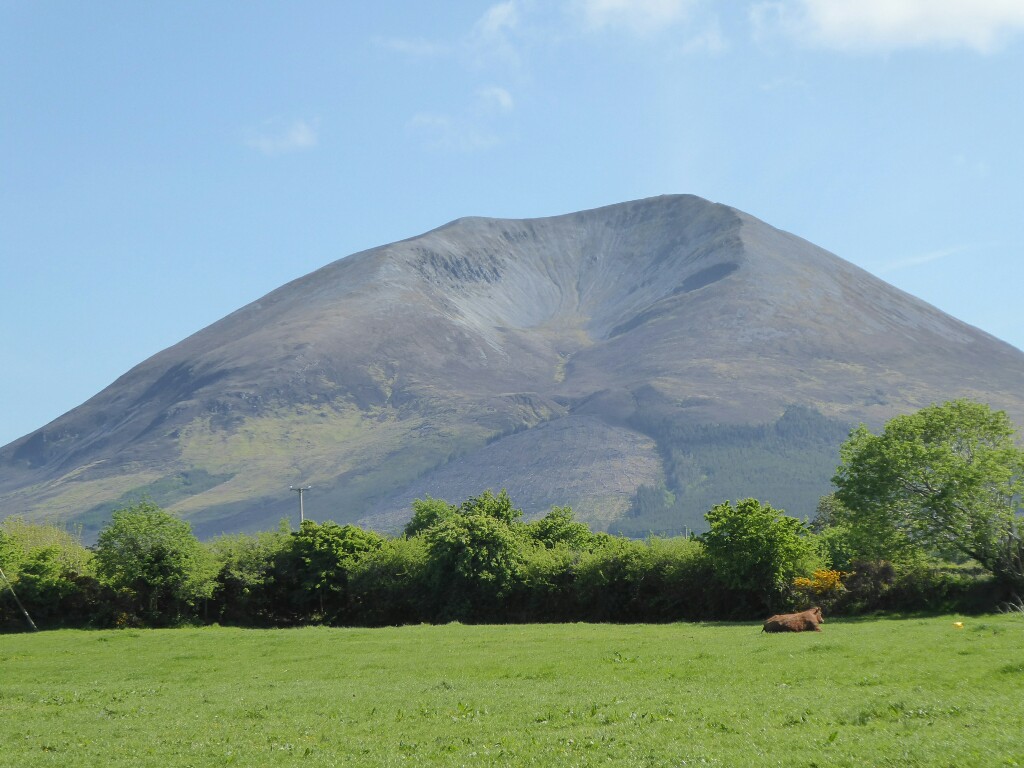 Liz decides that the pass might be a small, awkward, windy road so takes us the longer route on the larger R roads (equivalent of UK B roads). To be honest they were probably no better. Wider maybe, better surfaced maybe but like many Irish roads the surface undulates, bouncing the van about. One part this afternoon was almost nausea inducing and I'd already reduced speed to well below the limit.
Still serendipity had determined the route, as we passed through Lahardaun - "Ireland's Titanic Village" being proudly proclaimed on the village signpost. A hasty stop is called for! There's a small park memorial, opened on April 15 2012 by Ireland's Taioseach no less. Apparently, back in 1912 14 people of the parish left for America, taking the train from Castlebar down to Cobh and then on to the ill-fated ship. 14 people out of the population of just 200 puts Lahardaun as the place with the highest per capita percentage of Titanic victims. 11 perished and the 3 survivors never returned to resettle in their native land.
Mourned and remembered in silence until 2002 when the Titanic bell in the churchyard, at 2:20 on April 15 made 11 mournful rings followed by 3 of gratitude.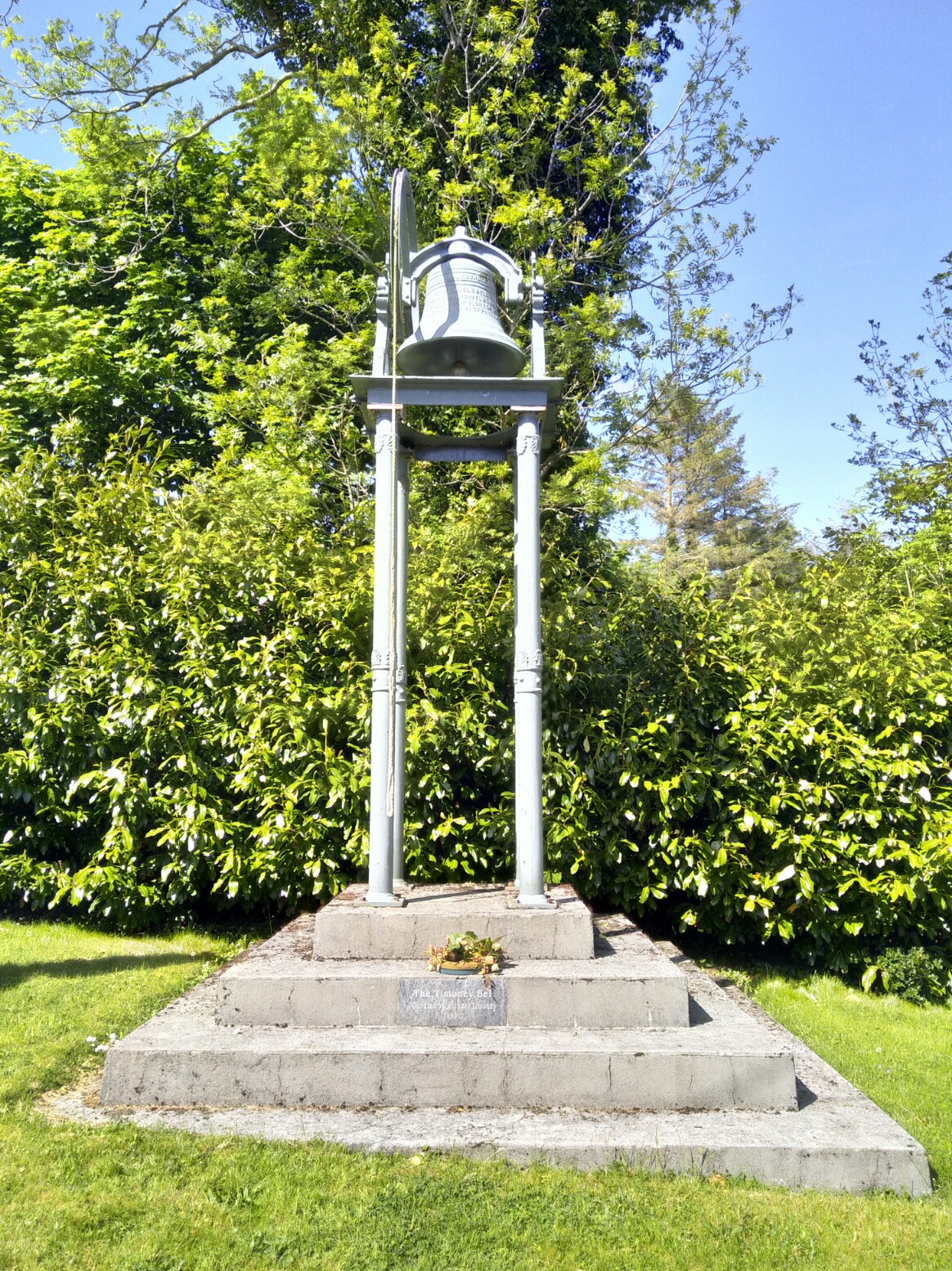 And the anniversary has been remembered ever since.
Now your intrepid photographer missed the obvious shot. These two were designed to make a single vista with emigrants in the foreground and the ship off to the distance. I didn't spot this so took two separate shots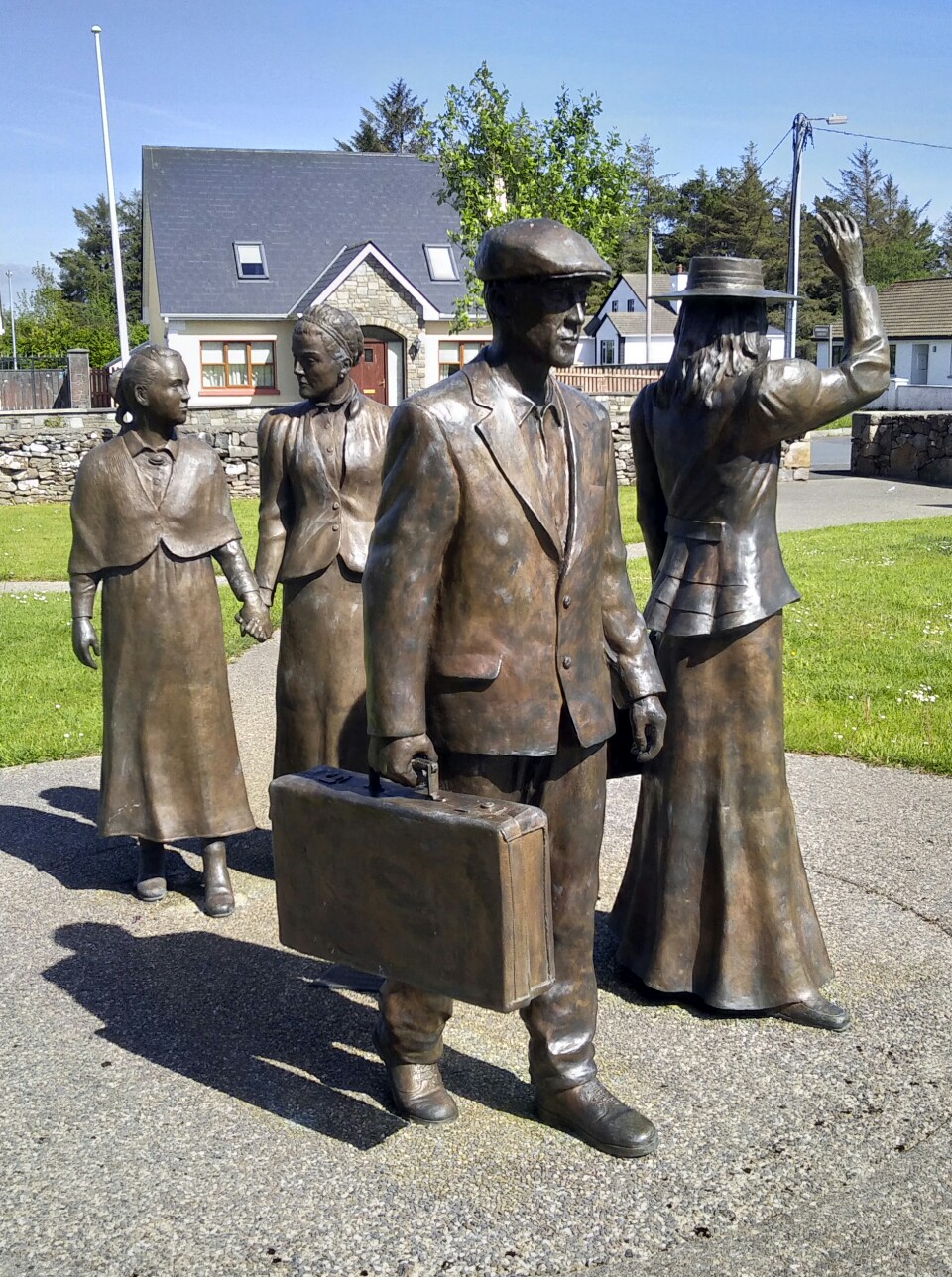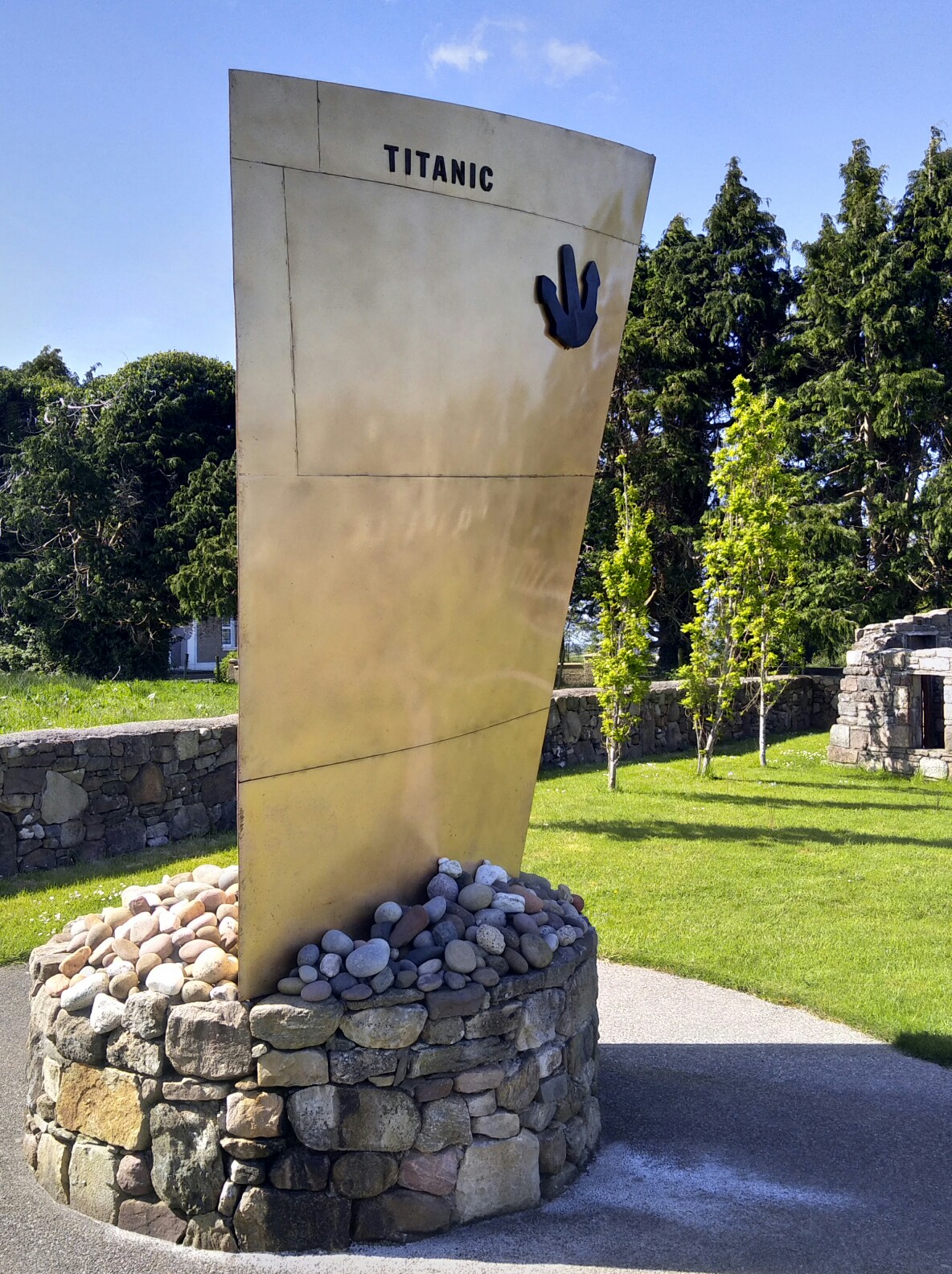 The church has one of only 2 stained glass windows in the world dedicated to the disaster. Sadly it was closed. My outside photo didn't capture its light so here's a stock photo

Mind you in the same village I spotted something that could only be in Ireland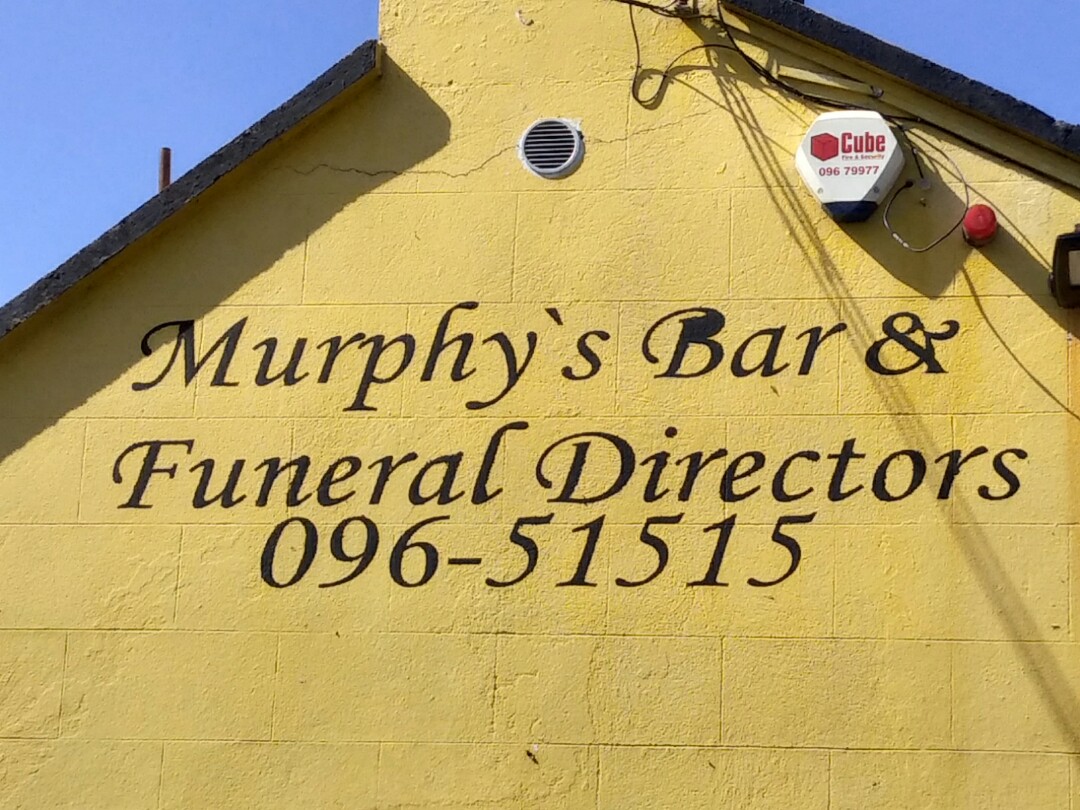 Tonight's overnight is the car park of Yeat's County Inn and Hotel. A pleasant enough little hotel that has probably had better days, maybe its proximity to Knock airport means its heyday was aligned with Knock's. But the food is good and not bad value for money, and it has a Sligo craft beer on tap. Not the sort of vibrant country pub that would be first choice but a decent enough stopover.
96 miles today