Oh, I do like to be beside the seaside
A lovely night's sleep at Bunmore Bay. Shame the smokery had external lights but I suspect there wasn't quite enough clear sky to see the milky way. To pay for the hospitality we popped in and bought some organic smoked salmon. We were given a taste of their mackerel too. I suspect we'll be ordering both on our return home.
Remember Keogh's, back in Ballyconneely, with its roped off car park where we didn't stay last night? It's not roped off this morning! We stop, as we've yet to do the Full Irish Breakfast. It lives up to its coronary inducing expectations! It was good, very good and we're set up for the day.
Round the stone littered bays to Roundstone where Malachy Kearns makes bodhrans. It's an amazing shop, half full of the usual tourist stuff, tweed, aran and Guinness but the other half full of all manner of musical instruments. You're asked not to play the wind instruments for hygiene, and to play the drums etc. in the quiet room. The bodhrans are both lighter and noisier than I expected. Also a lot harder to get that seemingly simple beater action. I want one! But common sense prevails. Sometimes it's sad to be sensible.
The road twists and winds, then winds and twists. It's slow but by goodness it's scenic. Seaward there are incredibly rocky bays and inlets, whilst landward these are small lakes and stunning rocky outcrops. There is so much rock that even the walls dividing fields are picturesque. An hour and probably only 30 miles later we reach Spitall where there is a craft village. To be fair it's good. Real craftsmen and women are working making baskets, glassware, pottery, cloth and art. The basket maker is interesting to chat too and had we not been traveling a basket would be a useful and sensible memento. The weaver had some beautiful compositions but nothing we'd buy.
Just behind the site was a book and CD shop. Got to be worth a look. Now this area of Galway is Gaeltacht, Gaelic speaking and this was a bookshop primarily geared up to serve that community. Bravo! They had a bargain box of €1 CDs so I haggled upward in a bulk buy of 3 for €5. Should give us some interesting random trad Irish music. Very friendly too.
Pulling in to Galway there are two campsites cheek by jowl. We'd heard mediocre reviews of both but the second O'Hallorans seemed marginally the better. Expensive, but we are in seaside territory, we get a discount on normal motorhome rates because we are small. The €28 per night includes (poor) WiFi, showers and normal services. Everything seems fine, toilets are clean, showers hot. No complaints.
About an hour away directly along the prom is the main roundabout in Sandhills and just off that is the Oslo Pub, taproom of the local Galway Bay brewery. Regular readers will be aware that we know this courtesy of the barman at The Barrelhouse in Carrick-On-Shannon. It's a lovely evening stroll and they do have a good range of craft beers although at least €1 a pint more expensive than regular beer. Food is good too. Liz has a most interesting salad whilst I settle for fish and chips (good but not great) but again a € or two more than we've been paying. No criticism - we're at the seaside. Most of the mile or so walk was along the prom, past both stone and sandy beaches and revellers enjoying the sun. And great views out to the Aran islands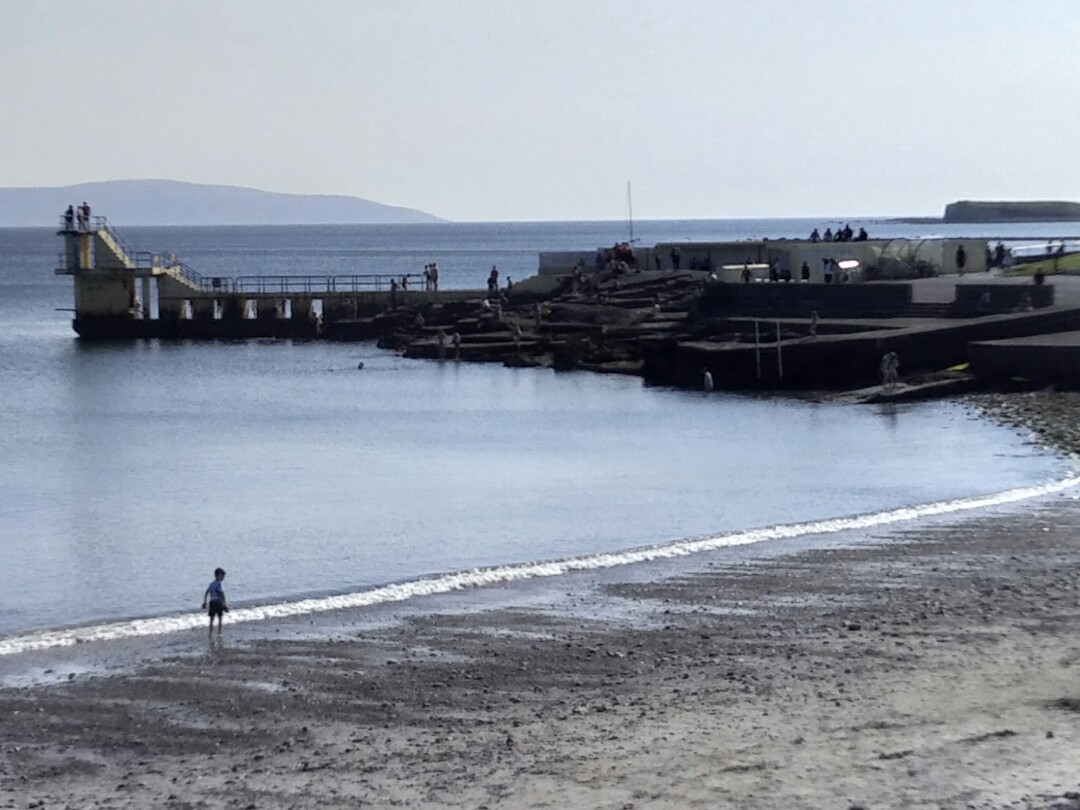 There's even an outdoor diving lido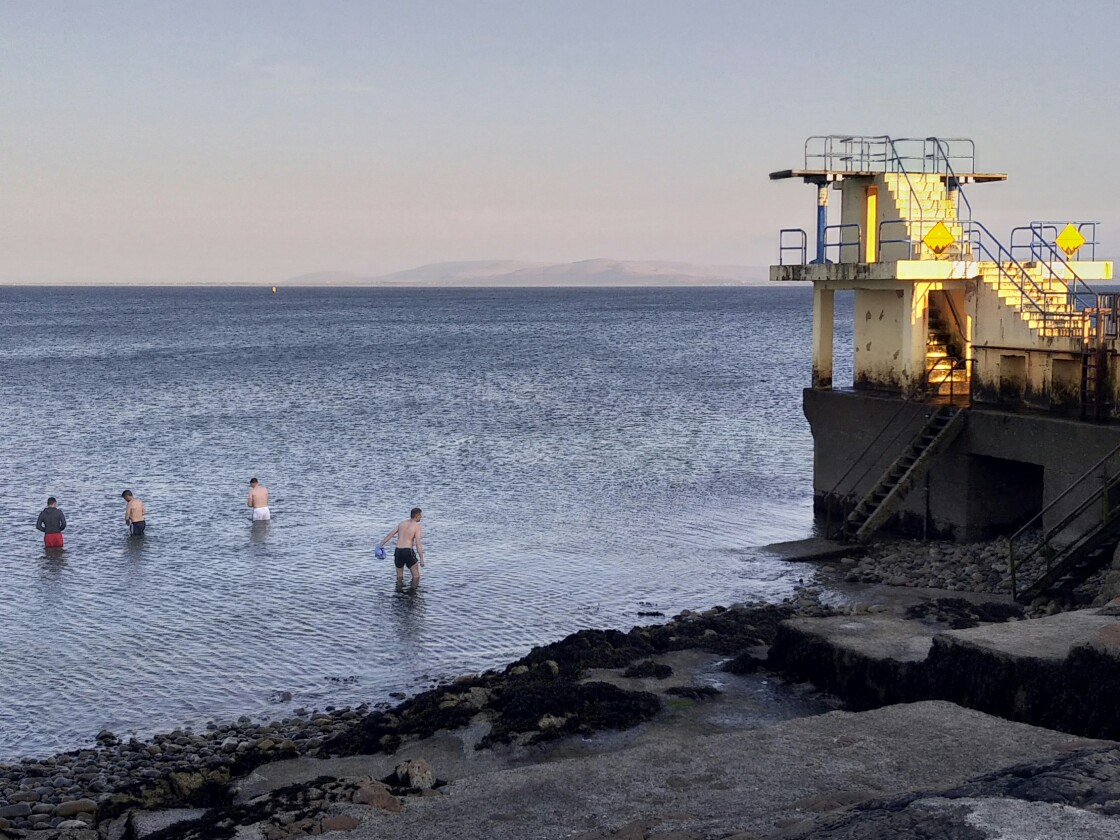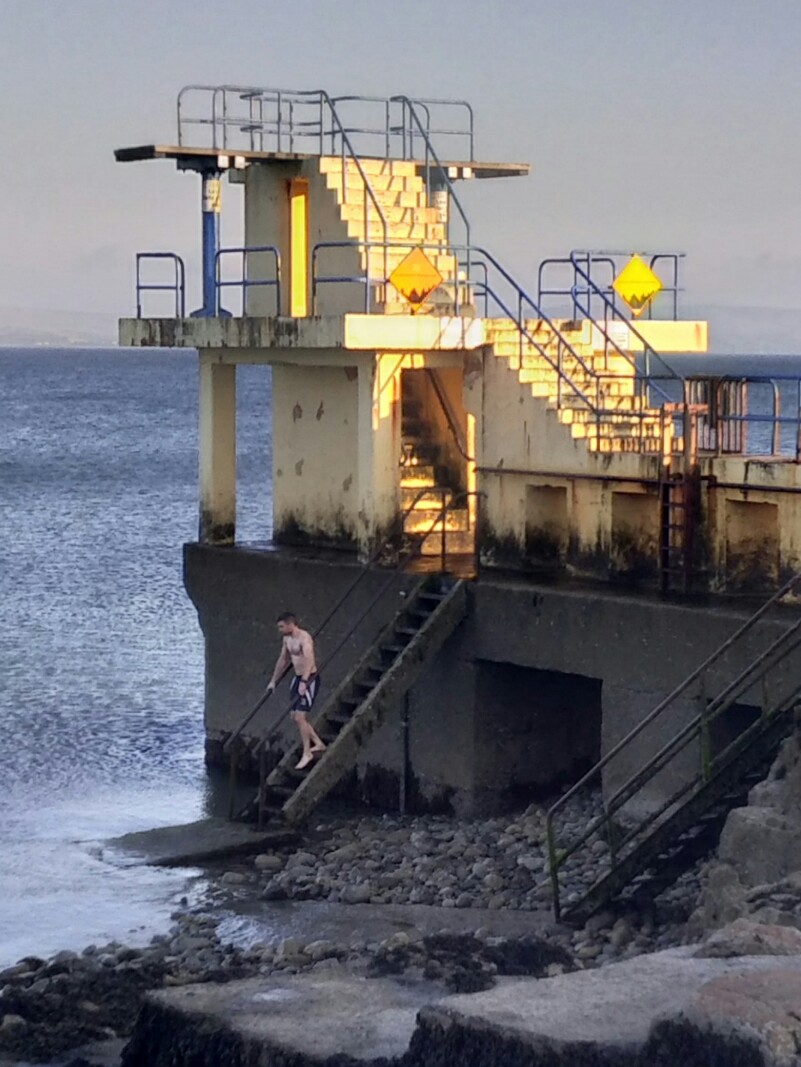 Getting breezy as we stroll back. The beach walk takes us past the other (Sandhills) campsite. They seem to pack 'em in a bit tighter there. Think we made the better choice.
Here's today's 72 miles, it's a bit wibbly.