Day 1 is driving day. Or, since this is England, driving for a bit, sitting in a traffic jam for a bit, repeated.
Still not too bad. An 11:15 start, closest we've been to our "I want to be on the road by 11" yet. 112 miles, over an hour an a half mooching around Bridport, another 45 minutes in Honiton, right through central Exeter in Friday rush hour and still at the pub just after 5:30. Not bad at all.
Bridport is nice. Lots of little shops, lots of charity shops, expensive though. Still we found a game and book for grand-daughter, a game and DVD for her grand-dad and her nana found knitting needles, wool and a book. Oh, and fantastic data and ginger scones from one baker and excellent, contenders for the world's largest, sausage rolls at the other.
Honiton wasn't quite so bountiful or exciting, but perhaps that's unfair, we didn't get the until nearly 4 so were always a bit time challenged.
The pub: The Royal Oak at Nadderwater. No real ale, shock, horror! Yet I still wholeheartedly recommend it, even more shock, horror. Lovely, lovely people, campervan friendly, excellent basic cheap pub grub and decent keg cider and bottled beers from the local Branscombe brewery.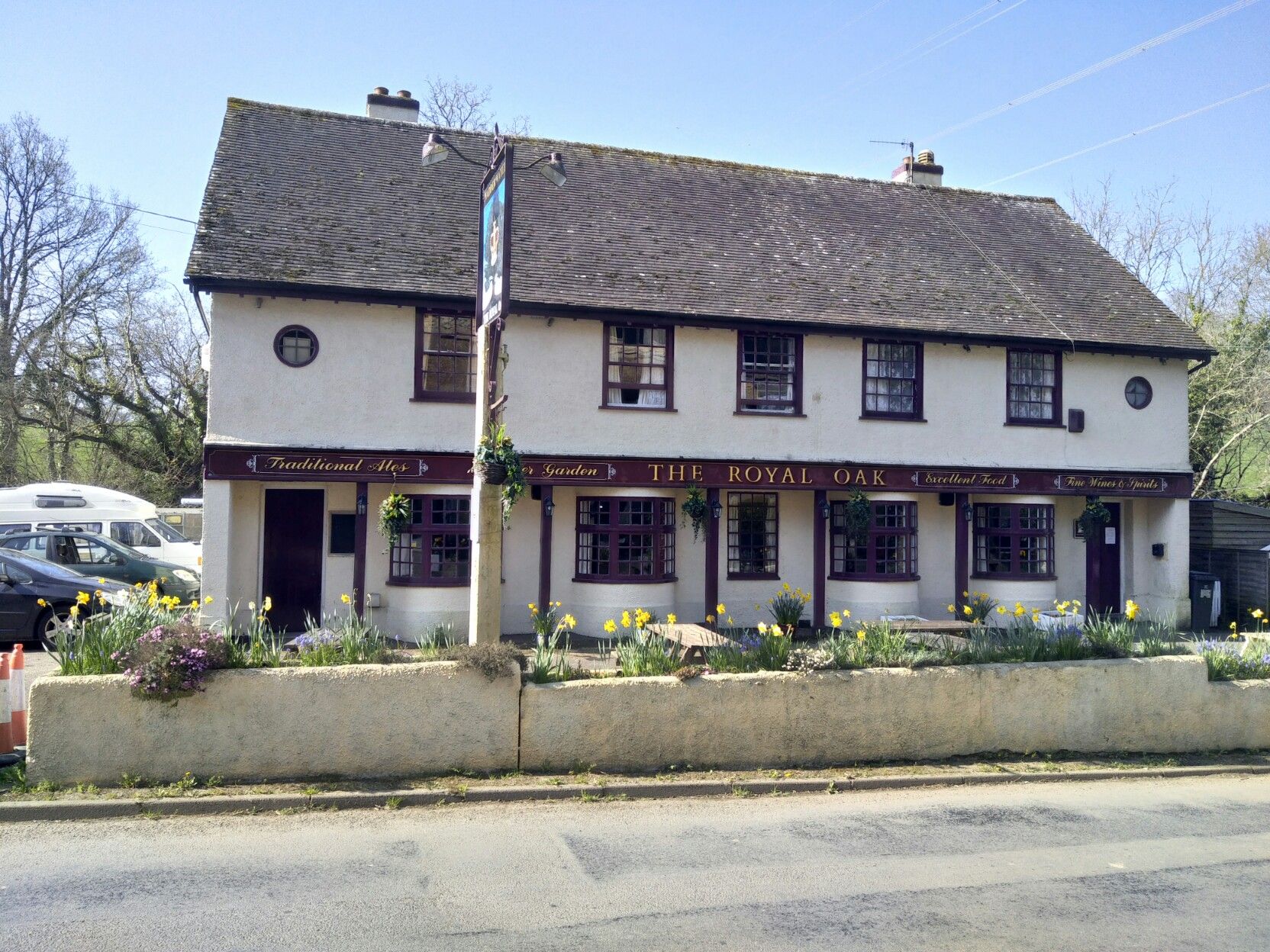 £4.95 for a couple of generous wedges of gammon ham, egg and chips. £7.50 gets you that plus dessert of the day. Good too. Friday night is steak night, 2 8 ouncers for £15. Guy next to me has this for himself! Mind you we was a farrier so probably burns and sweats that off pretty quickly.
Oh, I knew he was a farrier because this was the sort of pub where the locals chat. Even to wayfaring strangers. We mentioned we were going into Exeter tomorrow and would return again if OK and was told just to leave the van in their car park and taken bus into town, easier and cheaper.
We like the Royal Oak at Nadderwater
Here's today's map: