This Bank Holiday is playing havoc with our plans. Unable to lie low in Killarney for the weekend our only option is to ignore the Bank Holiday and press on. It worked yesterday on the Dingle peninsula. What about today on the Ring Of Kerry? Let's take the chance.
Firstly we need to pick up a missed location from yesterday, Blennerville Windmill back in Tralee. Yes I know this is stupid, not only were we in Tralee yesterday but we actually drove into the windmill car park! But that was in the morning and discussions whilst parked led to us deciding to try the Dingle loop, and so not have enough time to visit the mill.
So just over 20 miles back to Tralee to see the mill. If you think that was crazy, just wait!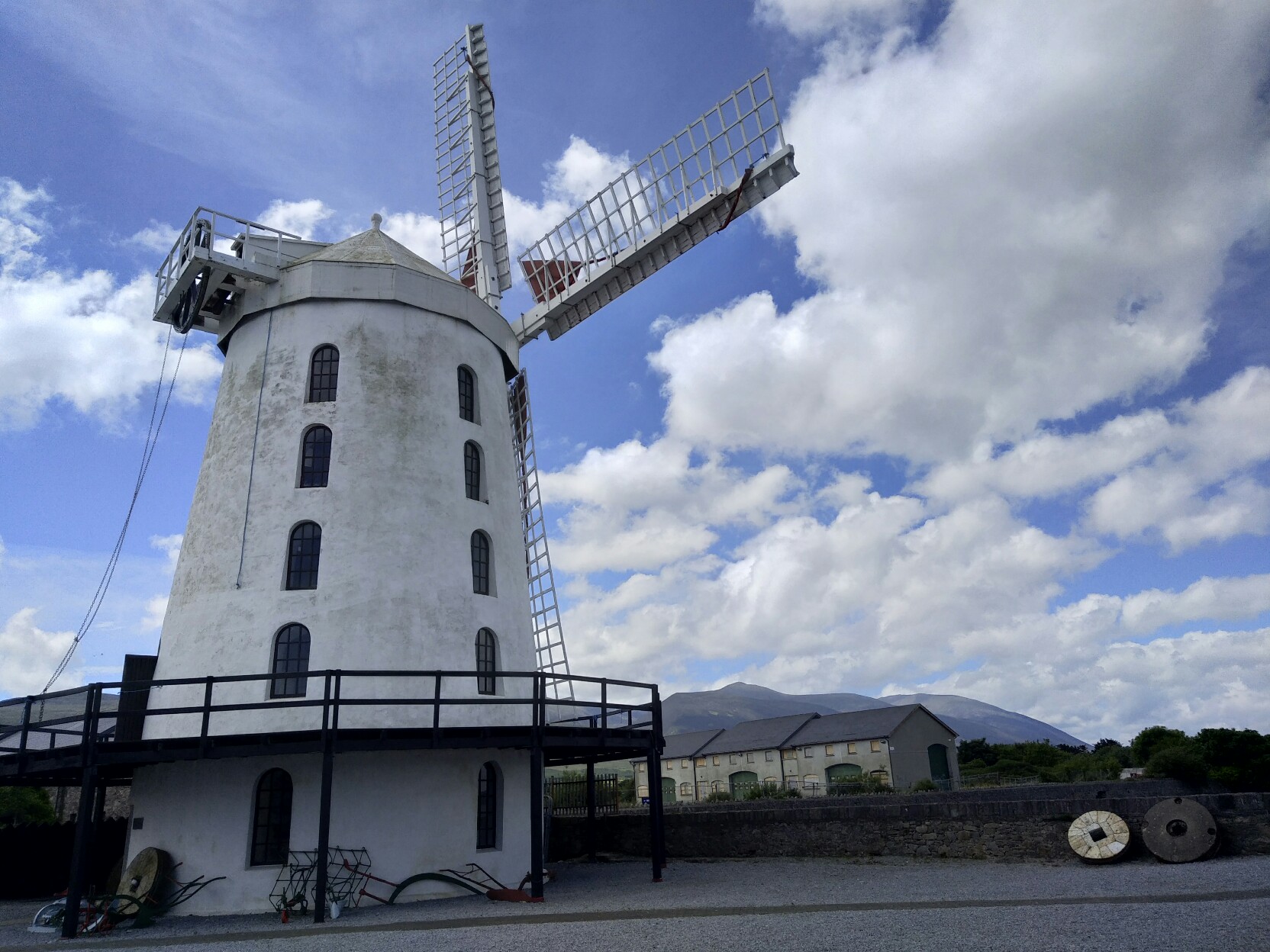 Blennerville is the tallest tower windmill in Europe. It is a lovely story of local council and youth training schemes working together to provide funding and manpower to restore it to fully working condition. Sadly they made the decision that actually milling flour would detract from the tourist experience (they wouldn't enjoy getting covered in the dust). But it's a cracking tour led by a guide who was full both of knowledge and Irish wit. The mill is worth visiting for its magnificent Douglas Fir main shaft.
Here's a random picture of the main drive wheel and the wood vaulted roof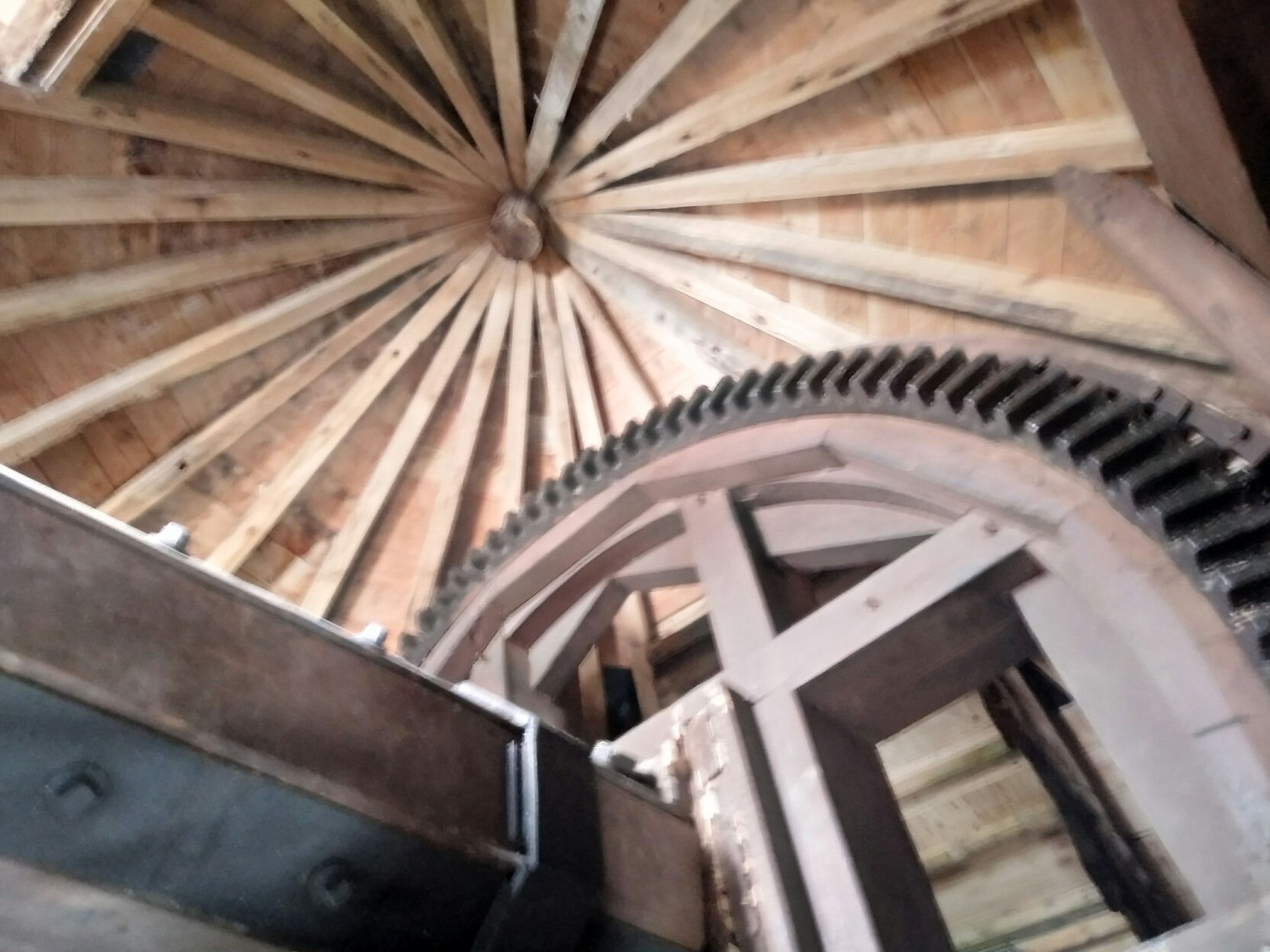 As well as the mill there's a model railway exhibit hosted by one of those train buffs who have the rare gift of being enthusiastic whilst avoiding boredom. Also Blennerville was a major emigration port during the famine times. Sadly our tight schedule meant we missed the exhibition on this. So, if you plan to visit do allow a couple of hours!
Remember I told you to hold off calling us crazy? On now to jostle with traffic around the Ring Of Kerry. So 20 miles back on the same road, back into Castlemaine. Now that is crazy.
The entrance to the Ring Of Kerry started at Killorglin. Traffic is slow. There's a family music festival in town and traffic is being re-routed. Traffic is very slow. We realise we'd intended to visit Kerry Woolen Mills, one of very few mills actually producing wool, back near Killarney. A U-turn in the almost unmoving traffic and head back to Beaufort, 11 miles away. Despite the mill saying it is located in Beaufort it is in fact 5 miles back towards Killorglin in the other road. Doh! We eventually find it. It's closed. Double Doh!! Still we can sit in their car park and examine Google Traffic. Killorglin seems clearer now so we resume our original Ring Of Kerry thought.
Killorglin is indeed clear but looks like street partying is in full swing. Wish we could find somewhere to overnight and join in.
On round. It's pretty, very pretty. Half way round is Cahersiven gateway to Valencia Island (the site of the first transatlantic telegraph) and the Skerrigs. The (Mancunian) owner of the gift shop tries her best to sell it to us so that we decide to stay for a couple of days but the town itself seems a little jaded and run-down and surprisingly few shops were open.
The wall next to the magnificent church did sport this curious mural though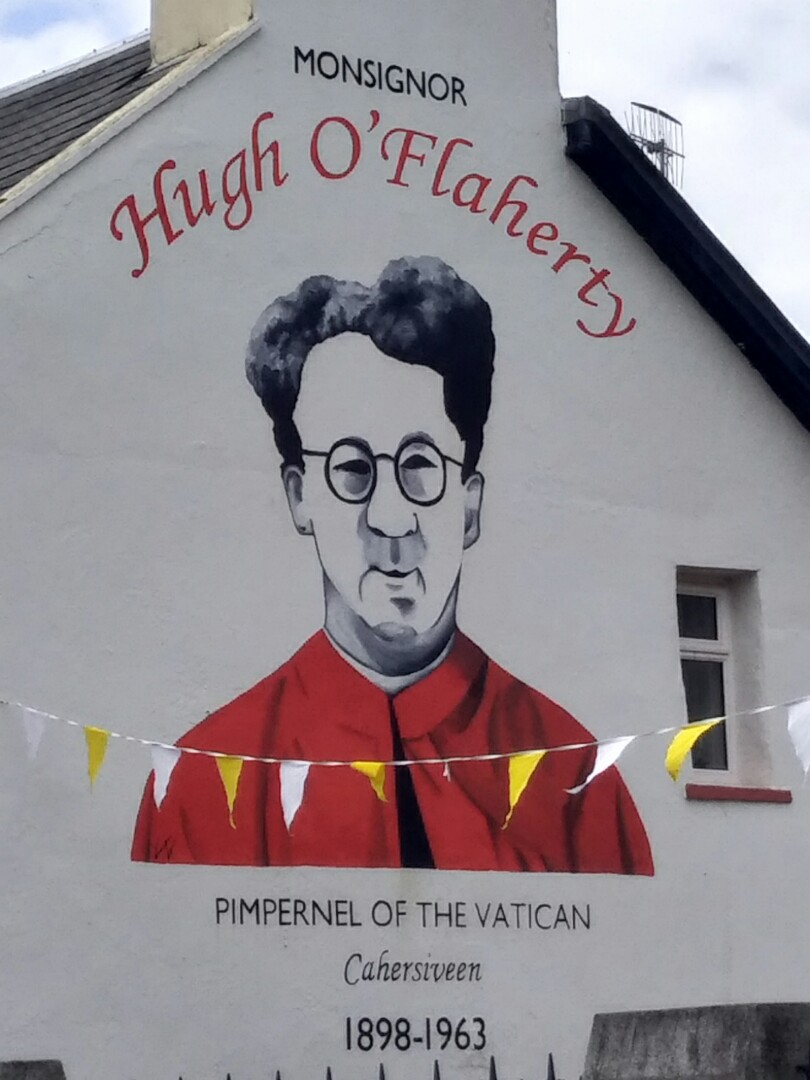 On round and the scenic opportunities keep growing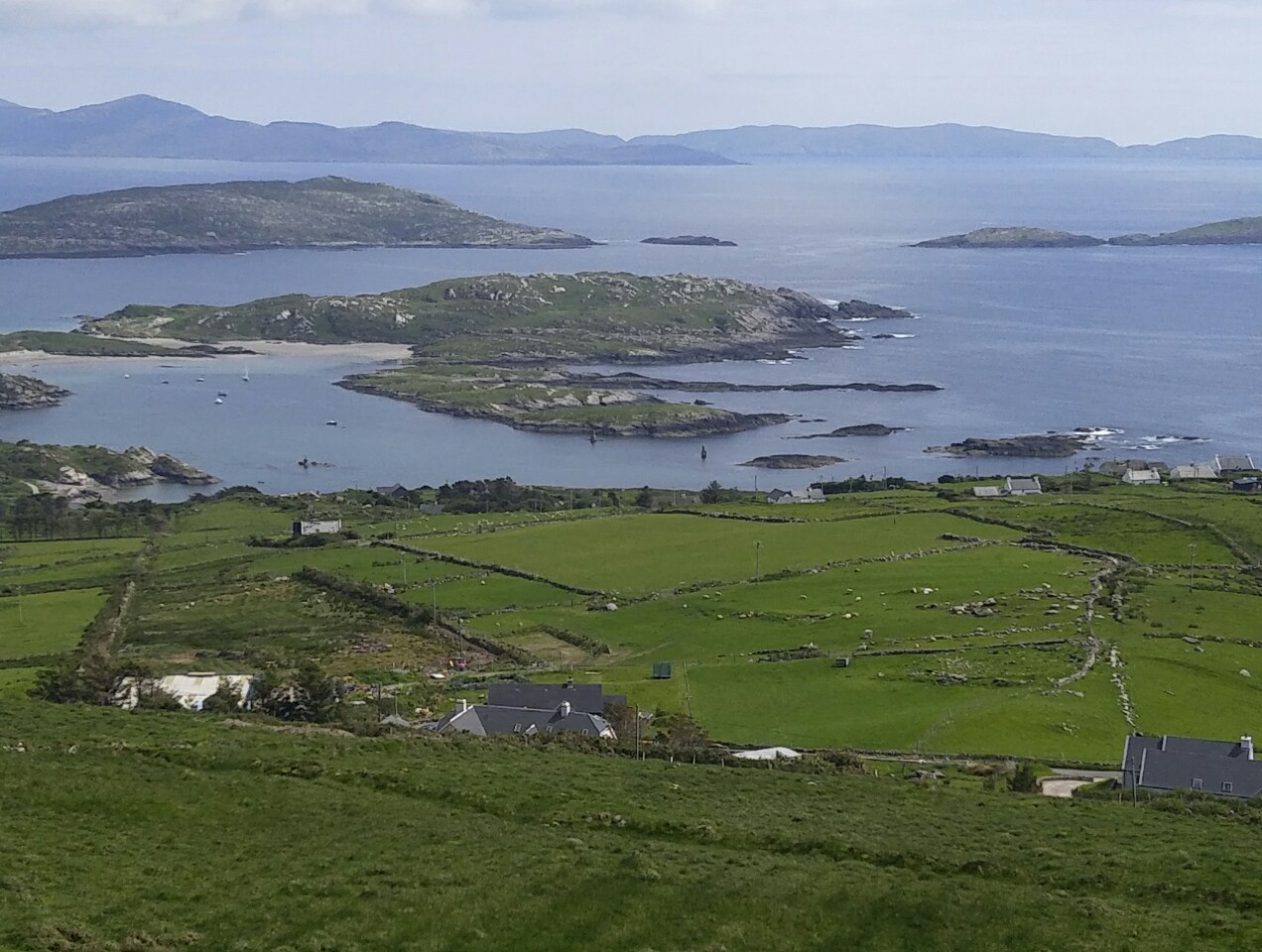 Waterville is a tempting spot but I can't find an easy parking space so we carry on round to Sneem. Sneem has an aire, a motorhome stopover point with limited facilities. It's just €10 a night but what a location. The van is hard to spot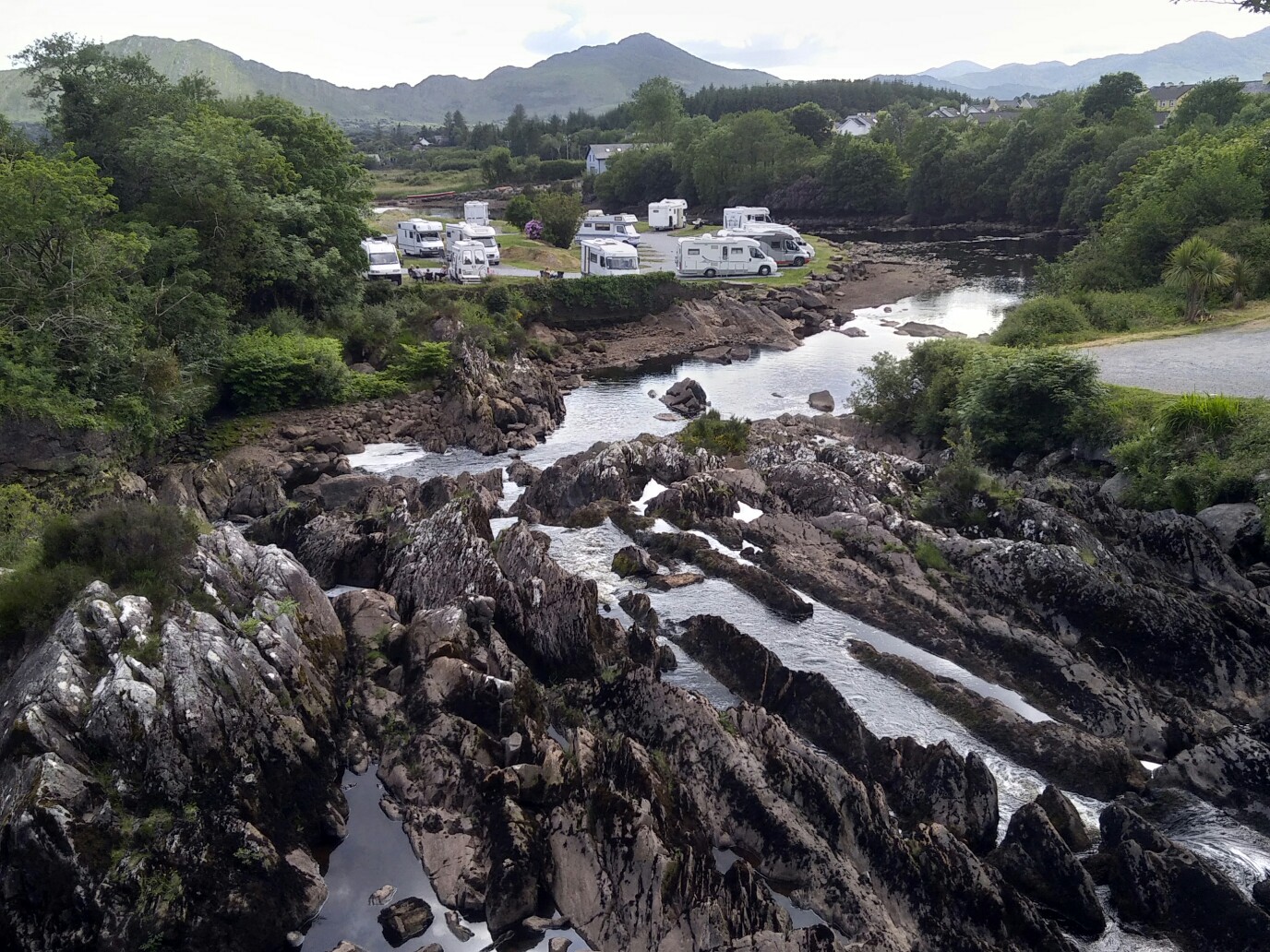 Now Sneem is the opposite to Cahersiven. Gone 6pm on a Sunday night and I could still by a CD or a bicycle! In fact it's near 8 when we leave the pub after dining and the Post Office/gift shop is still open. Wonder why this place is as dynamic as Cahersiven appears run-down?
Anyway here's today's 100 hard-work miles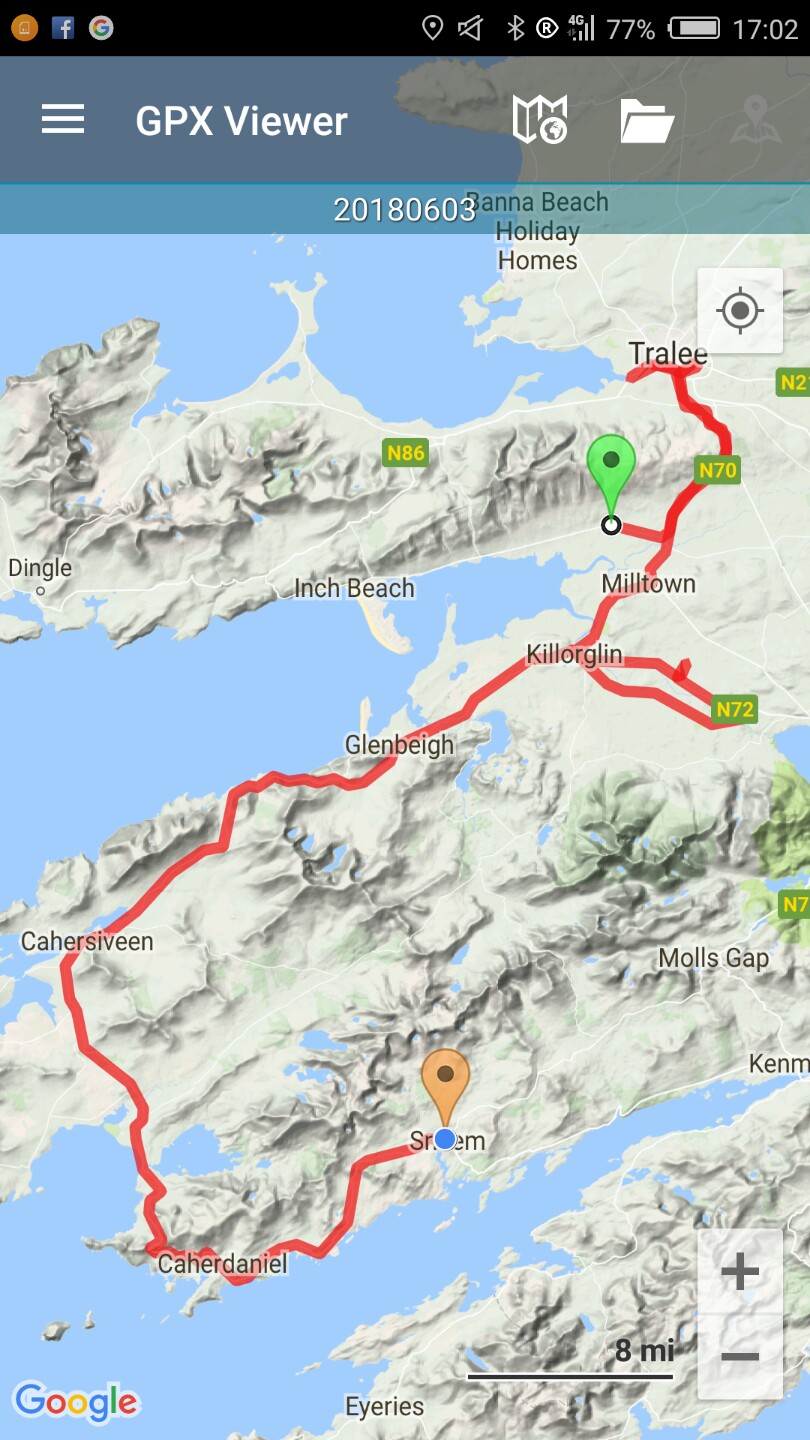 Note all the toing and froing this morning. But surprisingly this afternoon's jaunt was probably no more traffic fettered than any other warm weekend, possibly less so. Another pleasant surprise.