Ruin will be the beer of me
One thing unique to Budapest is the ruin pub. There are a lot of buildings just being left to decay so back around the turn of this century a few enterprising folk decided to turn one into a pub. Today there are several of these ruin pubs sites around the city, mostly in the decaying ex-Jewish sector. 
The idea is simple, find an abandoned building, lease it (optional, apparently), stick in a bar and whatever discarded furniture you can find and the customers will come flooding in, bringing their own eclectic ideas of art and decoration along with them.
Szimpla was the first of these and, although it has moved a couple of times, since opening, Szimpla Kert has been in the same rambling building since 2004. It's a huge building, spanning two floors with music stages and an occasional open-air cinema. Decor is shabby-chic without the chic! Furniture is whatever, there's even a table made from an old Trabant car! Definitely different!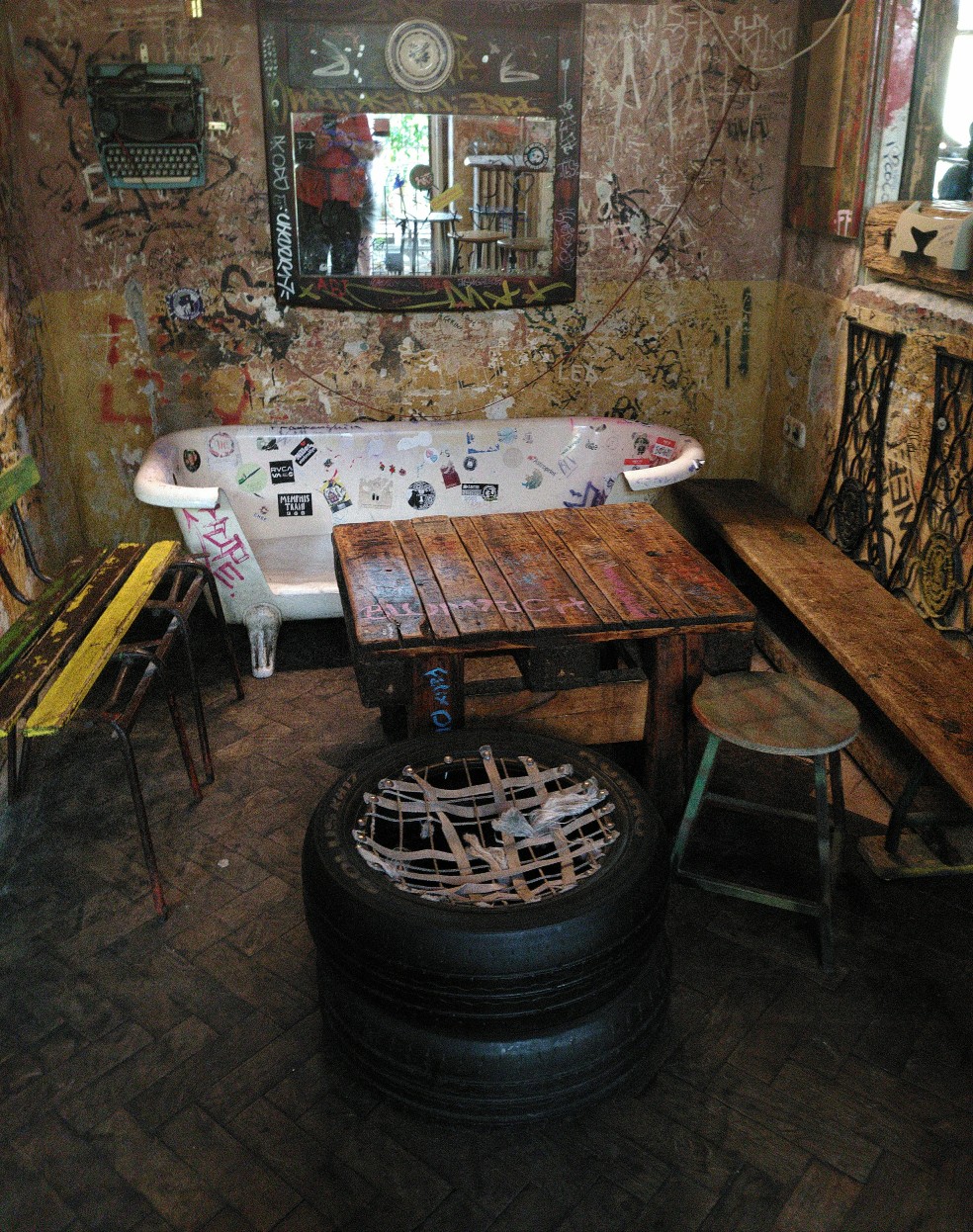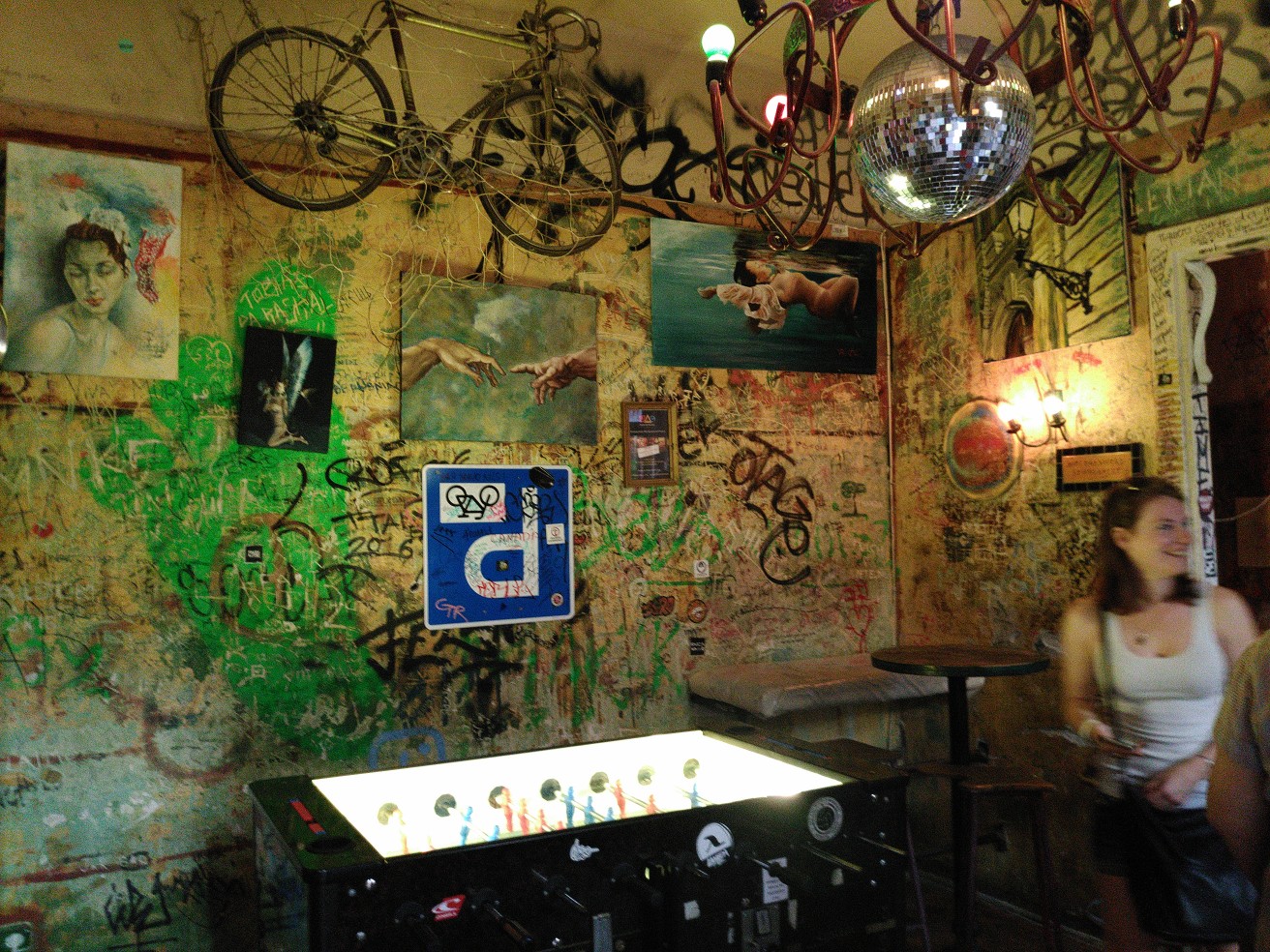 Why are we here in this mother of ruin pubs early on a Sunday? Simple, it hosts a farmer's market; an interesting ramshackle affair of fruit, meat, cheese, honey vendors with a few food stalls including the famous charity stew stall where you pay whatever you feel appropriate. Of course nearly all the bustle about the place appears to be in American rather than Hungarian accents, such is the tourist appeal but the carved hams we bought definitely weren't your average supermarket fare. Oh, and we did just have to have a beer whilst we were here, despite the fact the sun was yet to reach the yardarm.
We passed a craft/flea market on the way and one stall had something unique enough to tempt us. Saying no more as they will be family Xmas presents. Lots of interesting designer jewellery and clothing vying for tourist dollars/Euros this morning.
But we had a simple, relaxing plan for the day. We bought tickets for the hop-on, hop-off your bus (my knee still isn't 100% so I've had to get assurances that no physical hopping would be involved). There are two routes and a small river cruise all included in the price. So we did the two routes, 2 hours each. Of course the idea is hopping off at points of interest but we just stayed on, doing both loops and learning about the city and both it and it's nation's history whilst catching all the major landmarks. Relaxing particularly given today's 29° heat; informative and hopefully making tomorrow a little better planned. Since we didn't get off  the bus we didn't take many photos - here's a couple of random ones: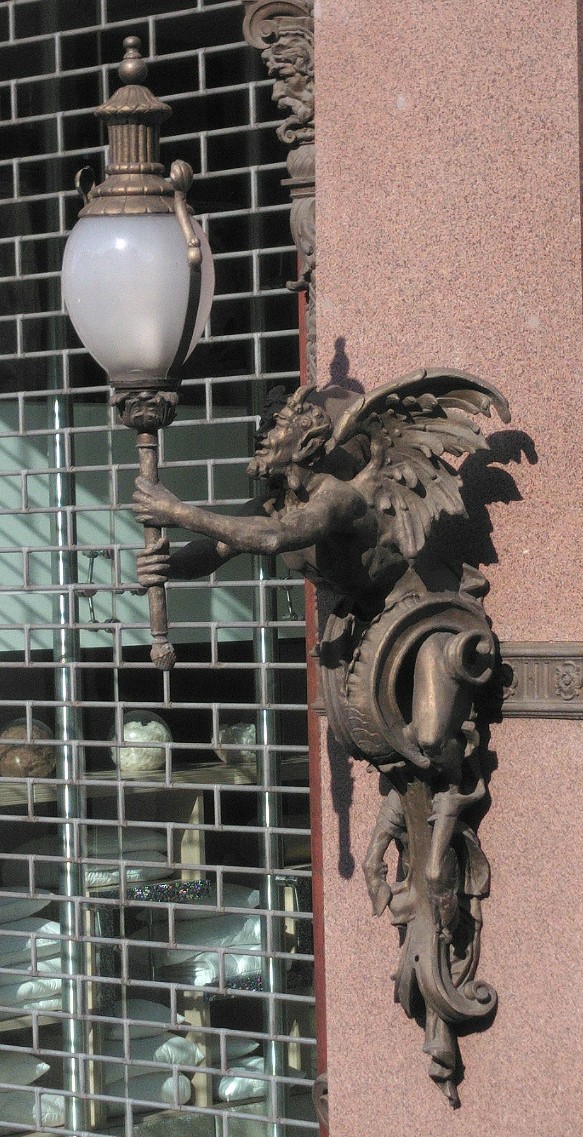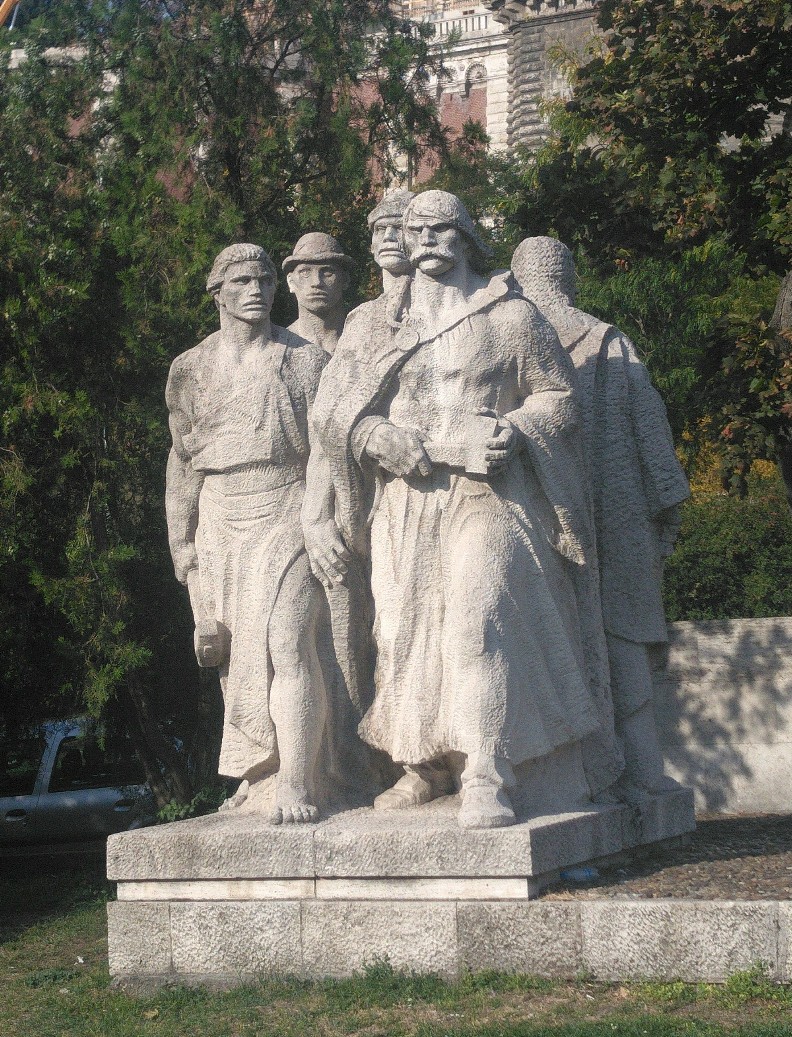 Top tip if you ever want to do this tourist bus thing (and it is very good) - make sure you have your own headphones with you. The supplied ones are very uncomfortable and seemed way too large to fit in my ears..
We have a dinner reservation tonight, early at 6pm since the restaurant is fully booked later. So we get off and wander round a local park. Firstly this fantastic fountain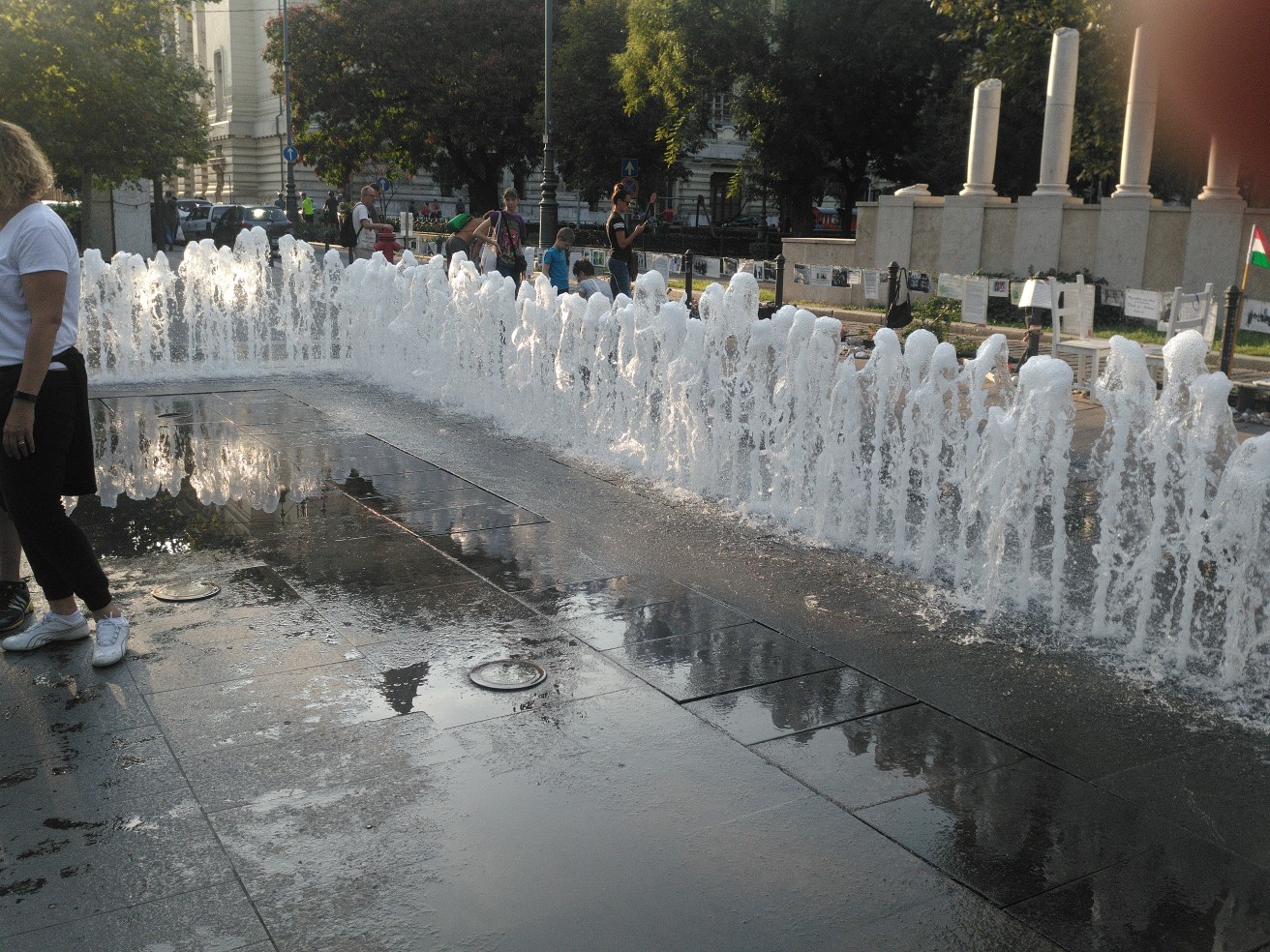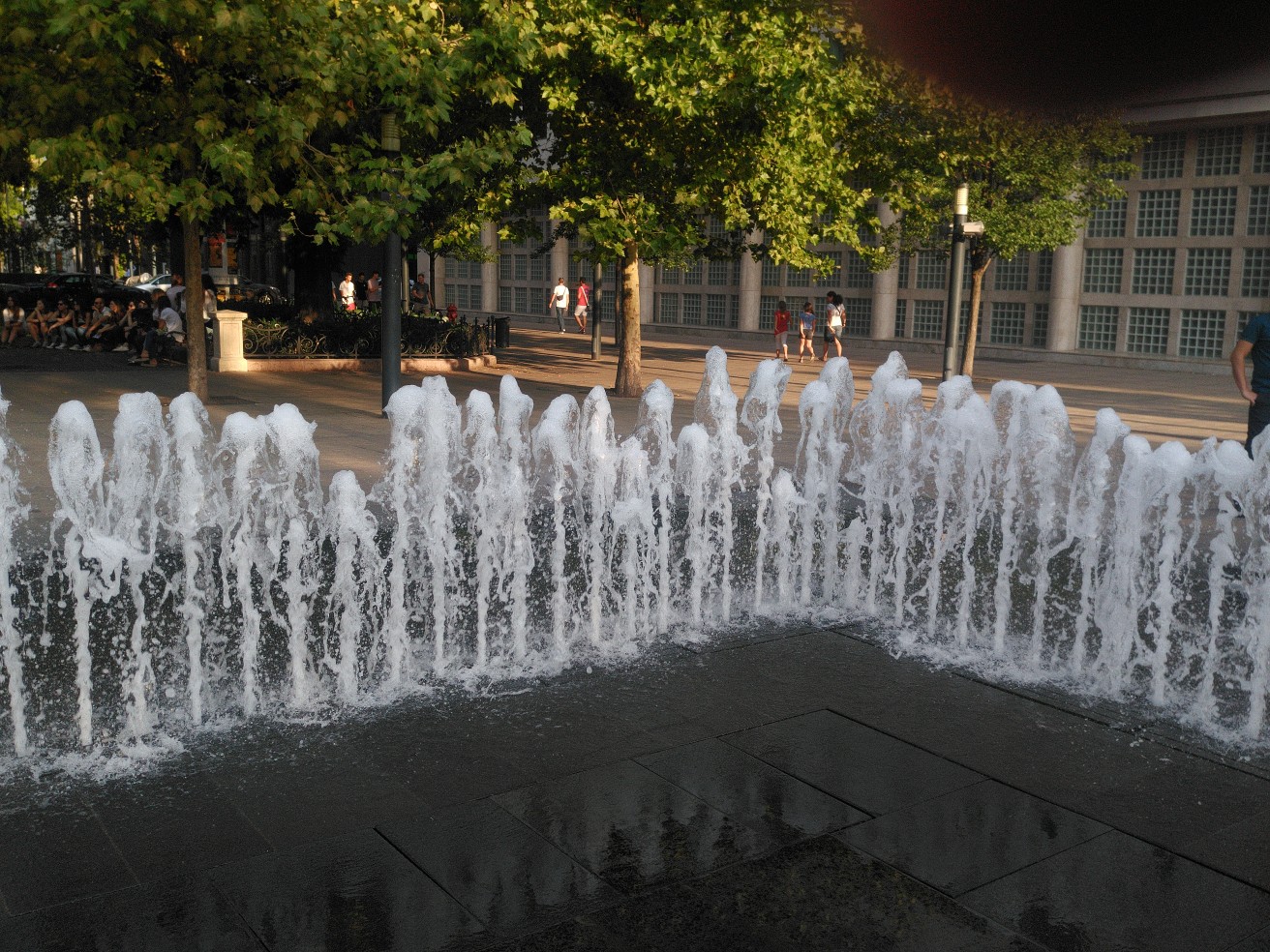 It's a 10m by 5m rectangle completely surrounded by a 1m high wall of water, yet there were, apparently dry, people standing in the midst. Had to be investigated. The secret is that both inside and outside the fountain is flanked by pressure sensitive kerbs. Walk close to the wall of water and that section stops. Fantastic! And a lot of fun even for big kids like Liz and I to wander in and out marveling that we are completely dry. 
On a more sombre note, just around the corner a statute has been unveiled recently to much controversy. The statute shows the Angel Gabriel holding the orb of Hungary about to be attacked by the eagle of Nazism.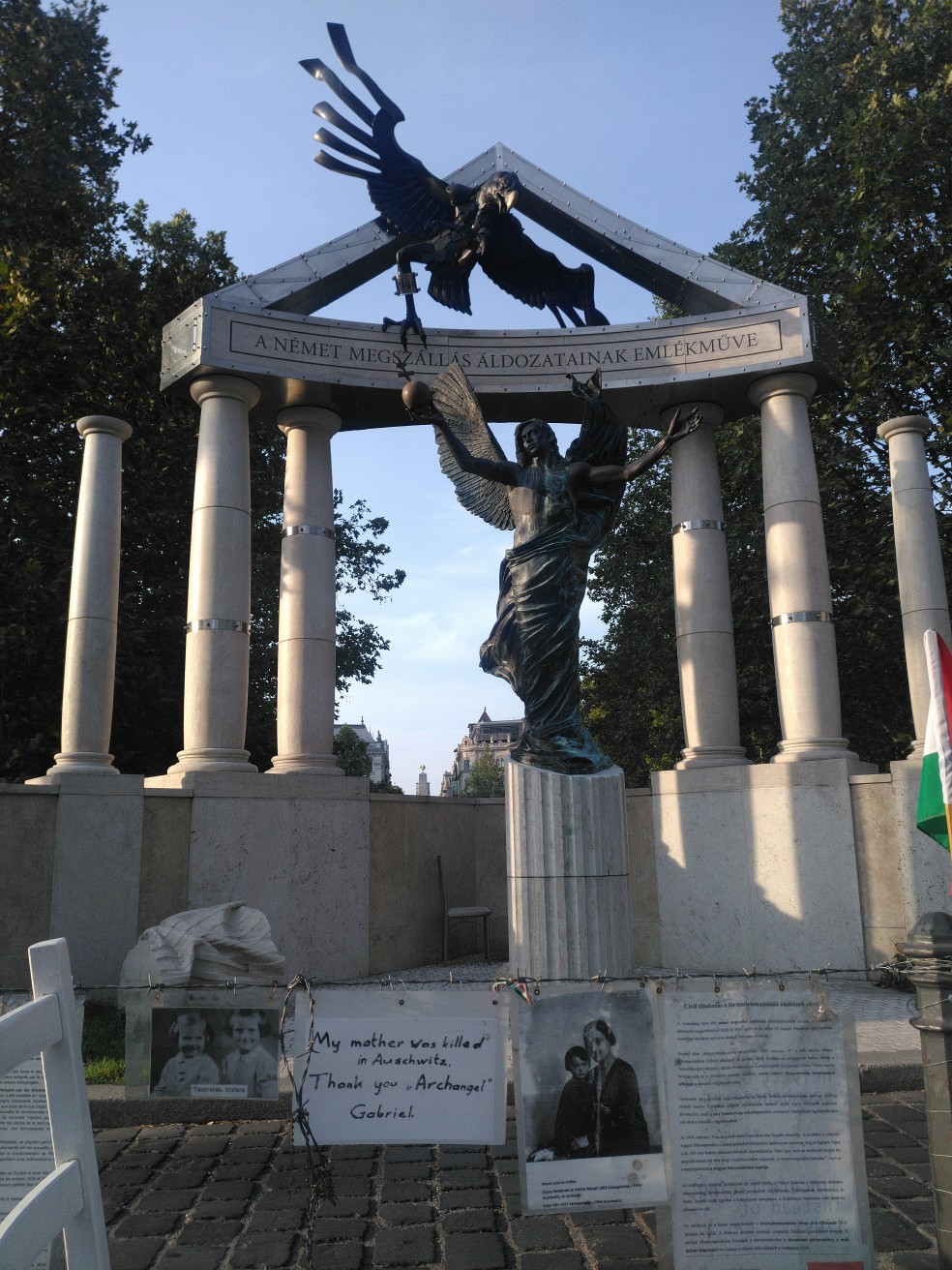 The political message is clear, poor Hungary, victim of the 2nd World War German machine. However many protesters point out that Hungary was the first country to join the Axis peers and that the blood of the Hungarian Jews and Roma lies firmly in the hands of the Hungarian politicians of the day, rather than the country being some hapless pawn in the Nazi machine.
So there is much opposition to this new statue, being considered to be an appeasement of the neo-right in Hungary. So much so, that a separate monument has been started alongside the statue: barbed wire, suitcases, memorabilia, documents and photos of Hungarians who became part of the Holocaust. It was great to see such a vivid counter-culture clash. I was in two minds as to whether even photograph the controversial memorial but if you look closely at the picture above you will clearly see the protester's message "My mother was killed in Auschwitz, thank you Archangel Gabriel" hanging in the foreground. Here's the protest wall: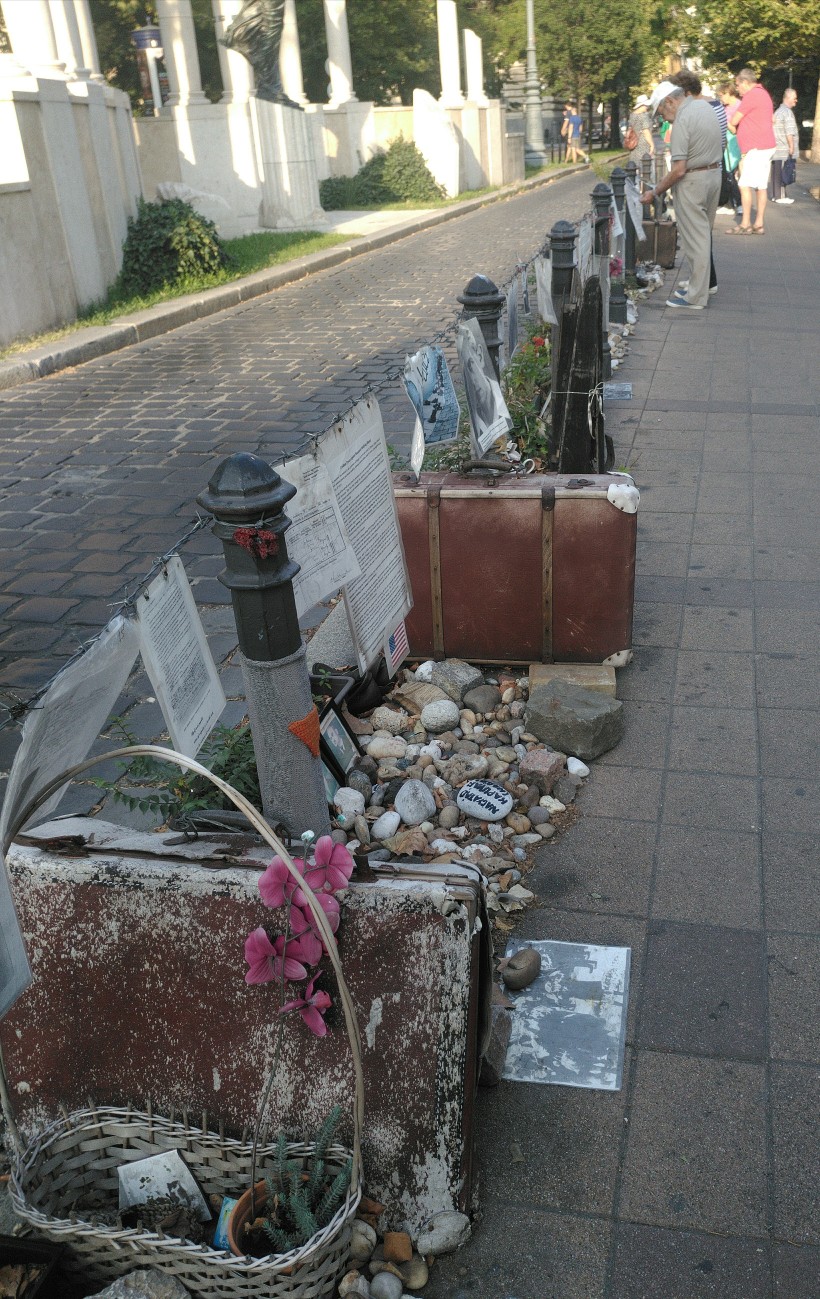 If you want to know more do a Google search for "Hungary rewrites history"
On the the restaurant. Liz had found the Hungaricum Bistro on some motorhome Facebook site. I checked it out on TripAdvisor et al and it seemed too good to be true. Almost everyone had written rave reviews  authentic cuisine, home cooking, intimate restaurant, etc. I love it when sceptics like me are proved wrong. I've eaten in restaurants in 5 continents and tens of countries and this is one the very best! The restaurant was small, probably 40 diners. The menu was small but all regional. The service was personal and exemplary. The food was very good. The wine menu sufficiently varied in price and range to be interesting. Wine by the glass was the exact pro rata cost of a bottle (i.e. a 15cl glass was exactly one fifth of the bottle cost) and wine by the glass involved the waitress bring the bottle to the table, showing you the bottle, pouring a taster to ensure it was exactly as expected before filling your glass. This restaurant is a cultural monument in Budapest, completely booked out despite being a little off the beaten track. Why have they succeeded when so many might have failed? Probably because they costed for enough staff to ensure everything was a smooth and enjoyable dining experience, that everyone would (like me) leave saying how enjoyable the experience has been. A rôle model for fledgling restaurants. Oh yes, and hiring a rather talented cimbalom player to provide the background music wasn't a bad idea.
Some pics on the way home