Let's continue yesterday's themes (the ones in the main blog entry not the codicil) - "bucket list" and "chance conversations"
Bucket list first. What do you make of this?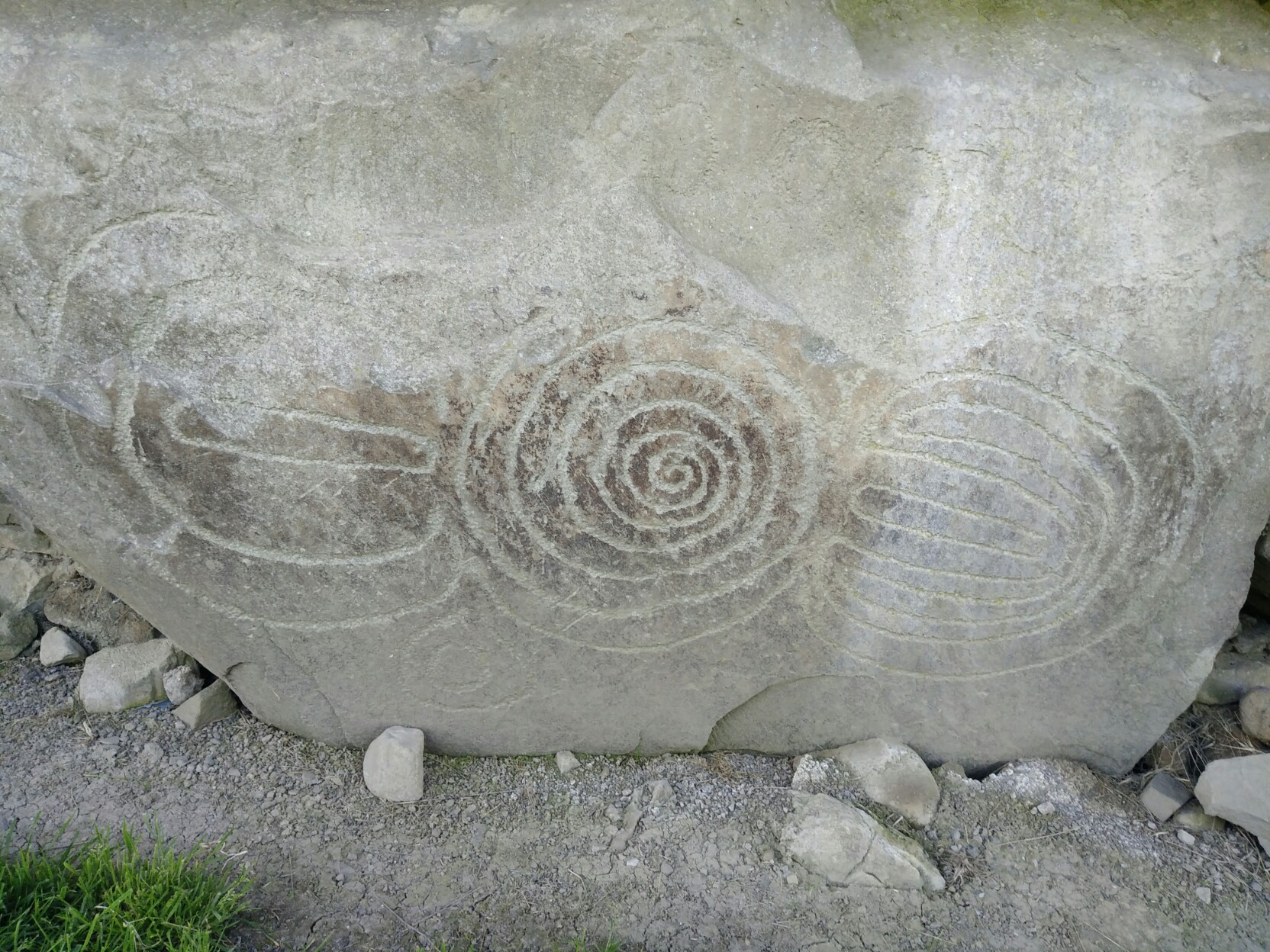 It was carved 5,000 years ago, about 3,000 BCE. No big deal. That would be a full 1,000 years before Stonehenge, 500 years before the Great Pyramid of Giza. Yet these huge stone slabs transported from 80-100 Kms away were carved as part of the great chambered cairns that dominated the Boyne valley in those Neolithic times. Huge chambered cairns, the one at Nowth the largest of its kind in the world but its neighbour at Newgrange with an intact 6m high corbelled chamber that has remained waterproof for 5 millennia is the better known. I dunno about your bucket list but to stand inside a room that was built before Stonehenge takes some beating!!!
The Brú na Bóinne World Heritage site is something special and, like all such, needs good tourist management. We'd booked tickets online to visit Newgrange but just using the phone Liz wasn't sure if this included Nowth as well. Turns out it didn't but, fortune smiled upon us, we reached the site early enough to get on a Nowth tour immediately preceding our Newgrange one. The sites, just a couple of Km apart are only accessible via organised tours and really only reachable by going to the Heritage Centre and taking a shuttle bus up to either of the sites.
Nowth is the slightly larger cairn and has several small satellite round chambers in the vicinity. Sadly Nowth has suffered badly over the years. Around 600CE ditches we dug around it, then a Cistercian abbey was built atop it and the old archaeology suffered. So back in 1962 work was done to explore, understand and make as much of the site as possible accessible. It turned into Ireland's longest running archaeology project, completing 40 years later in 2002. The chamber is believed to be aligned to the autumnal and vernal equinoxes but is not really accessible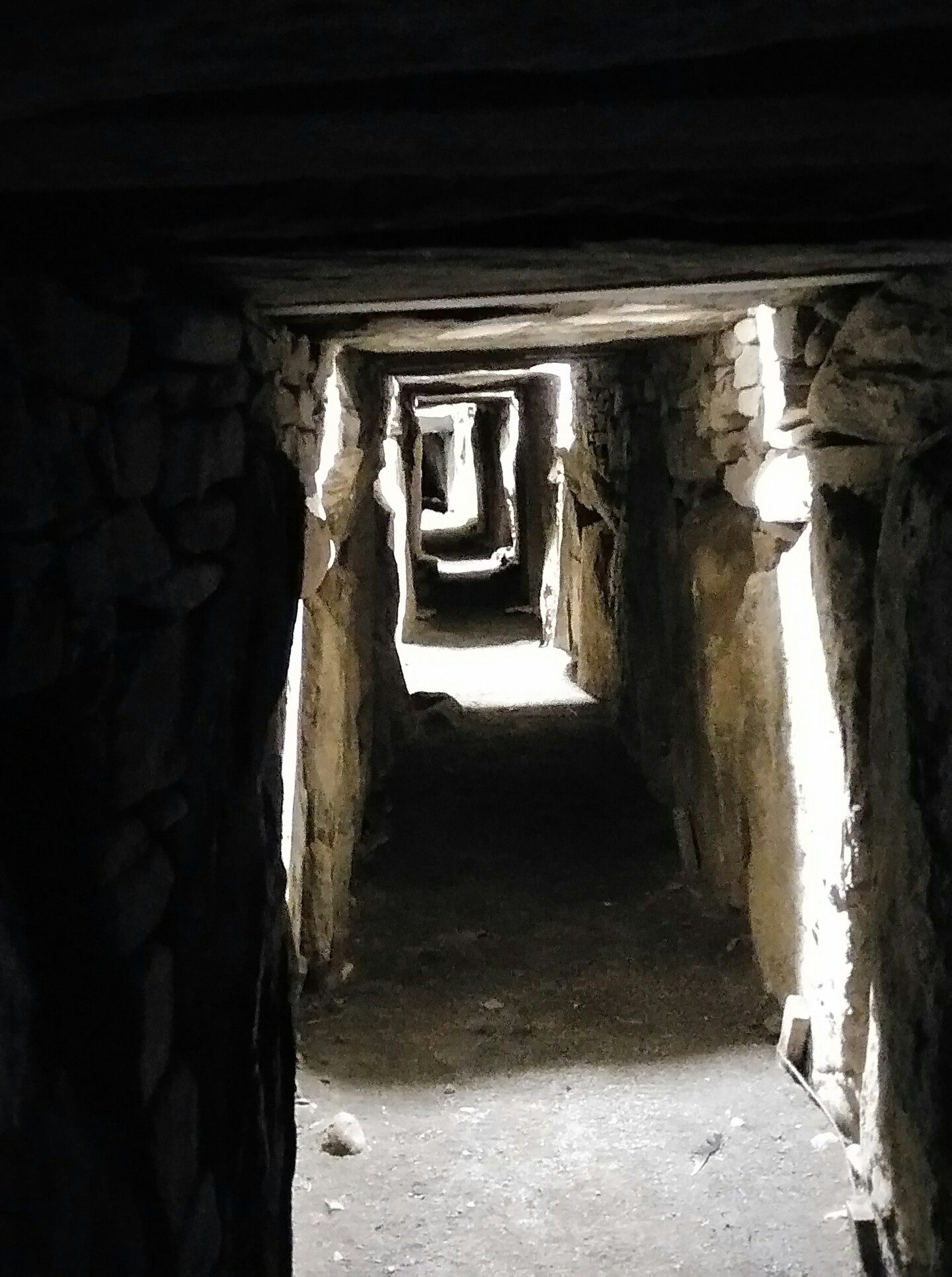 With stone gnomons outside the E and W entrance to project their shadows at the appointed time.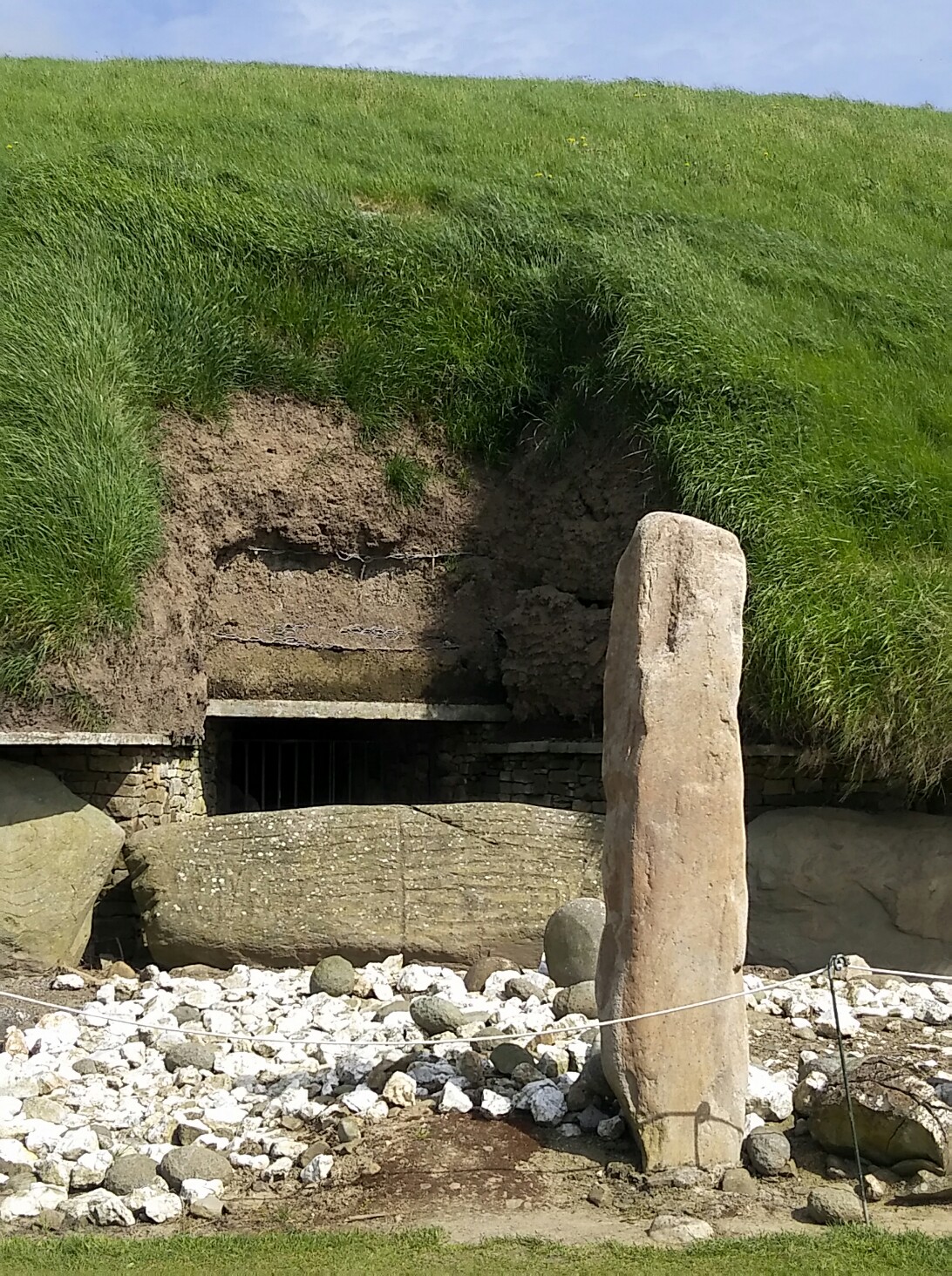 The real jewel in Nowth's crown though is its megalithic (big stones) art. Tens of huge stones with patterns and symbols, their meanng lost to time. I won't bore you with all the photos, just these couple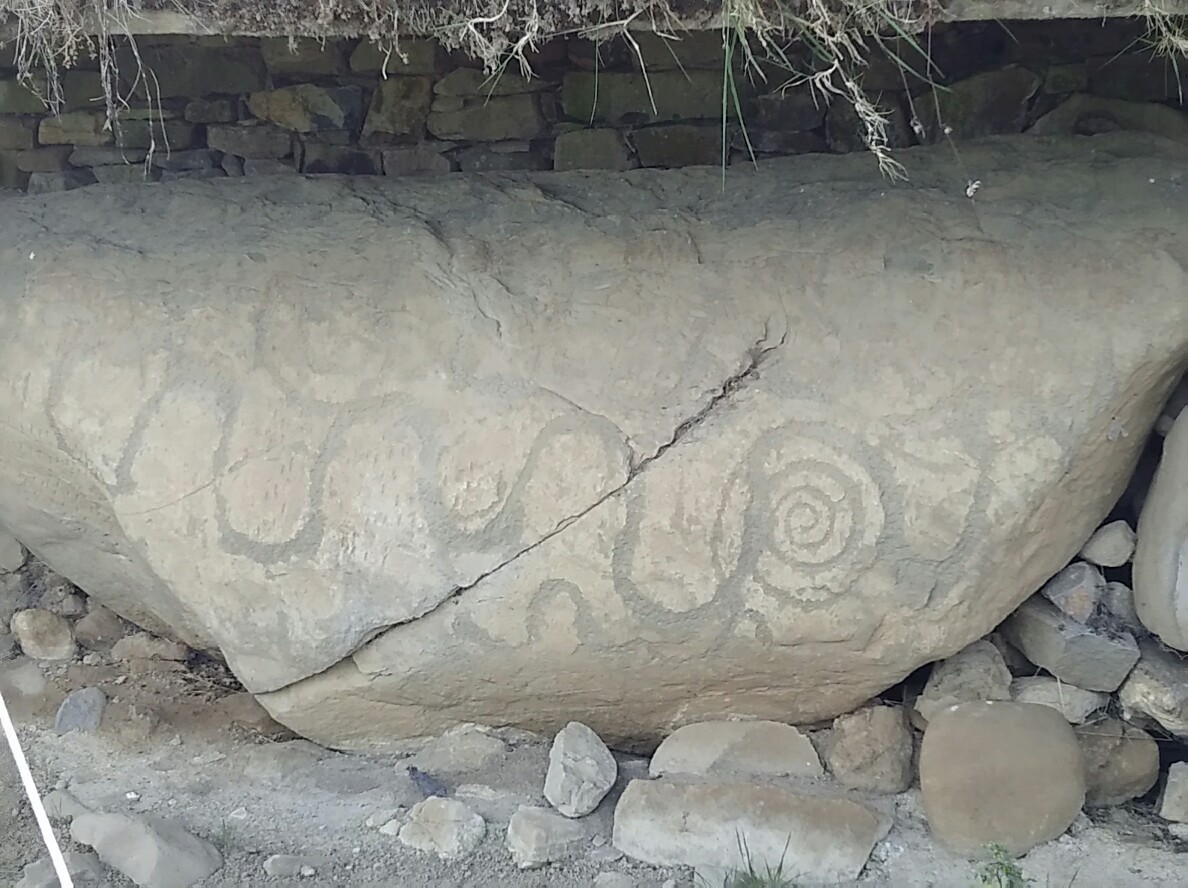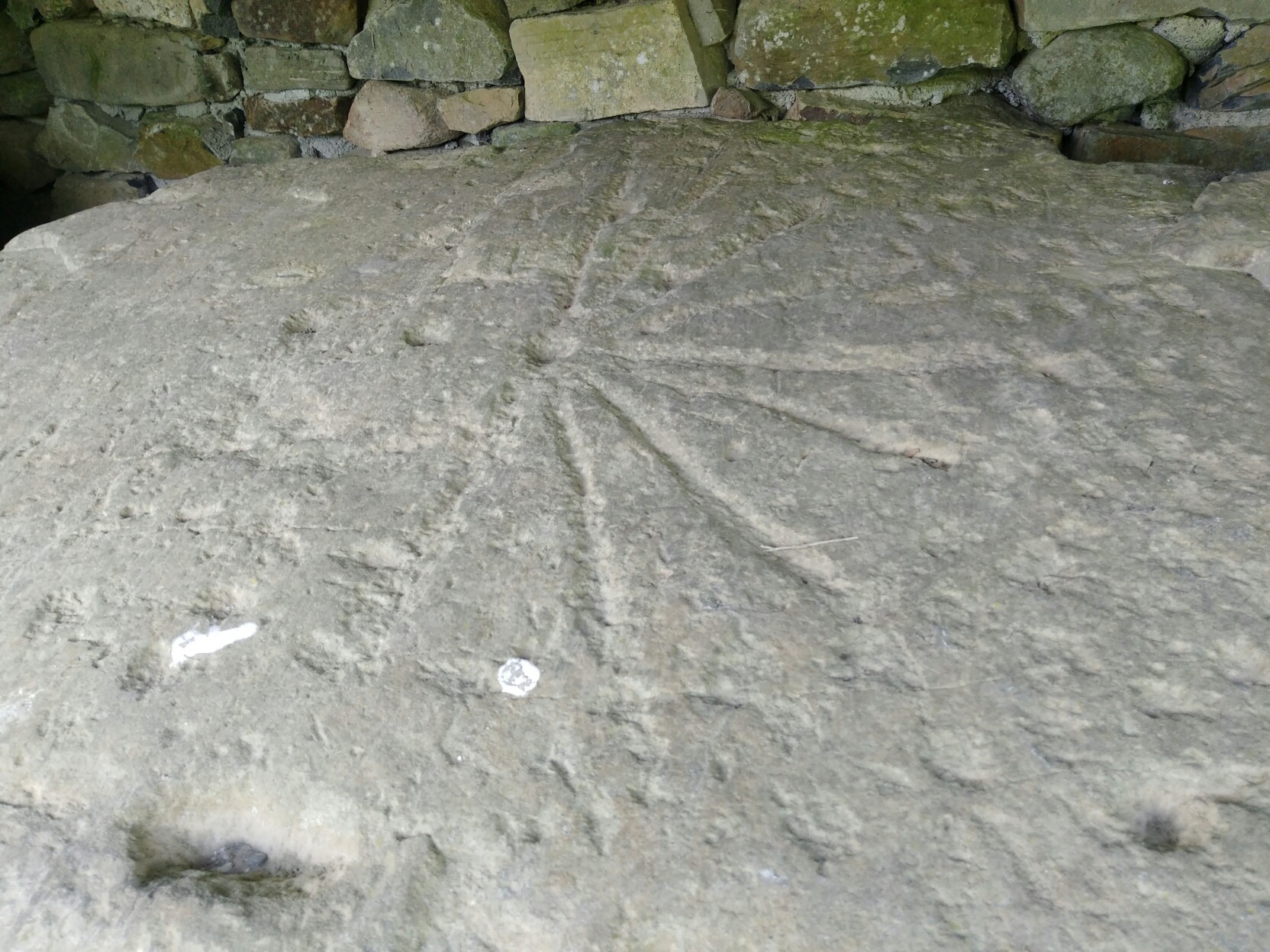 On then to Newgrange. Stupidly I didn't take a good picture of the cairn, let's use this one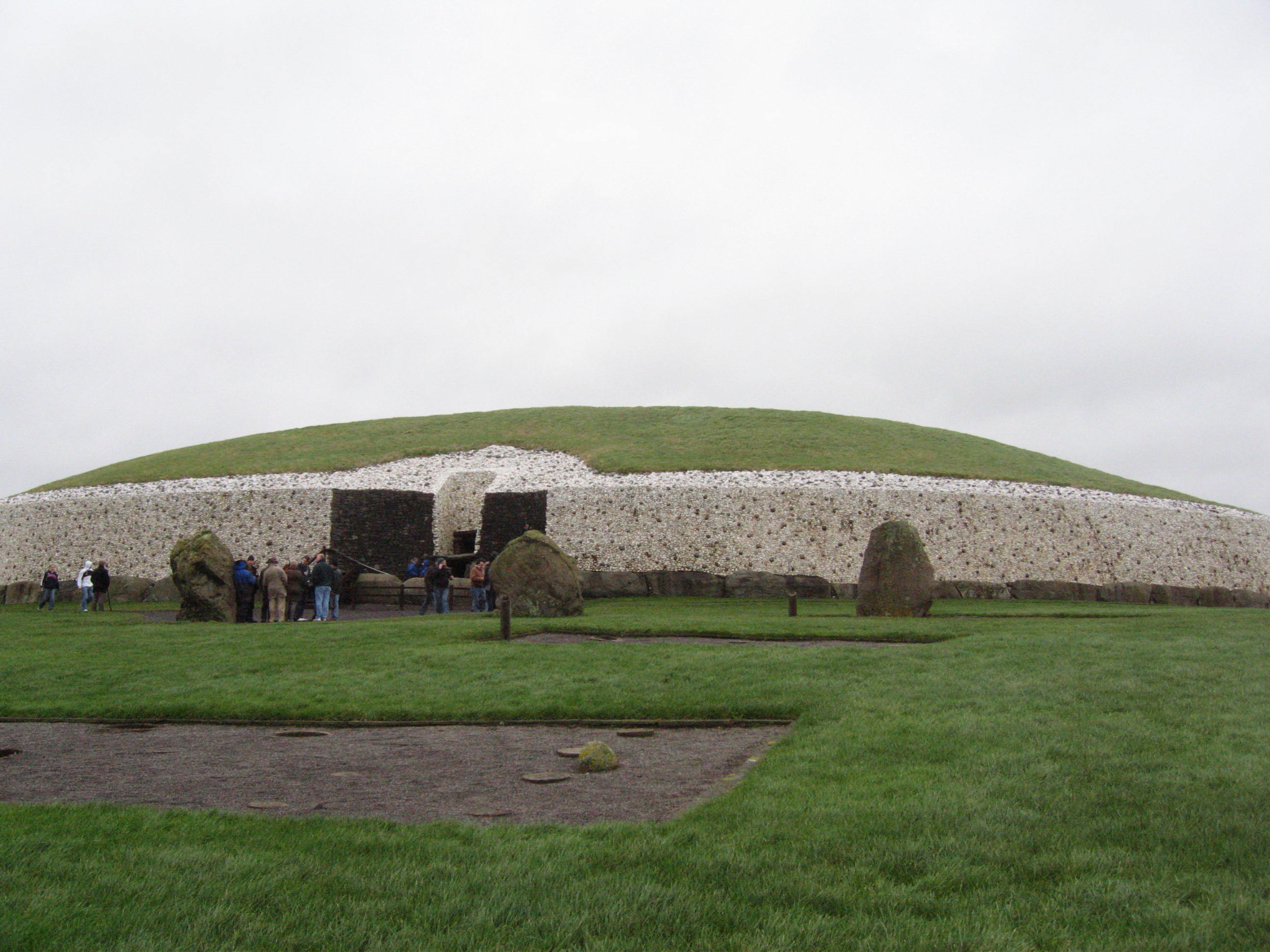 Newgrange remained pretty much archaeologically intact until the 17th century and even then wasn't too badly despoiled . It's amazing its inner chamber is still extant.
Newgrange doesn't allow photography inside the chamber which is a pity as there is some amazing geometrical work, not just whorls and spirals but linear patterns and engraved diamond lozenge patterns. Access to the inner chamber is through a low, narrow passage, all but the most infirmed or claustrophobic ought be able to crouch and shimmy the few metres of tunnel. Now Newgrange is aligned for the rising sun of winter solstice. There's even a demo of how the comes through and strikes the furthest internal chamber room. Of course, the real joy would be to see the actual event. Amazingly OPW run a lottery and 10 lucky winners for each of the 6 days that the sun snakes through each December get chance to witness this awesome feat of Neolithic solar engineering. Of course the lottery doesn't stop if you are lucky enough to win a ticket, you still have the second lottery of the Irish weather as to whether the sun might actually reach the site!
Despite no internal photos there are more carvings outside, a set of standing stones were added to the site in the bronze age, as was a huge wood henge, complete with cursus in the neighbouring field that also hosts a couple of smaller round cairns.
Breathtaking. Like the Hill Of Tara yesterday one question is "why here?" and again, like yesterday, it's not much high ground but enough to give an almost 360° vista (indeed Tara can just be seen in the distant horizon) and those quartz white walls of Newgrange must have made some statement!
Just to really fill out the day we popped into Drogheda in the morning. But much was open though. Walking up from the car park the town has a distinctly run-down feel to it. The centre was a little better but I suspect it is not one of Ireland's most affluent cities. It does have a nice church on the high street though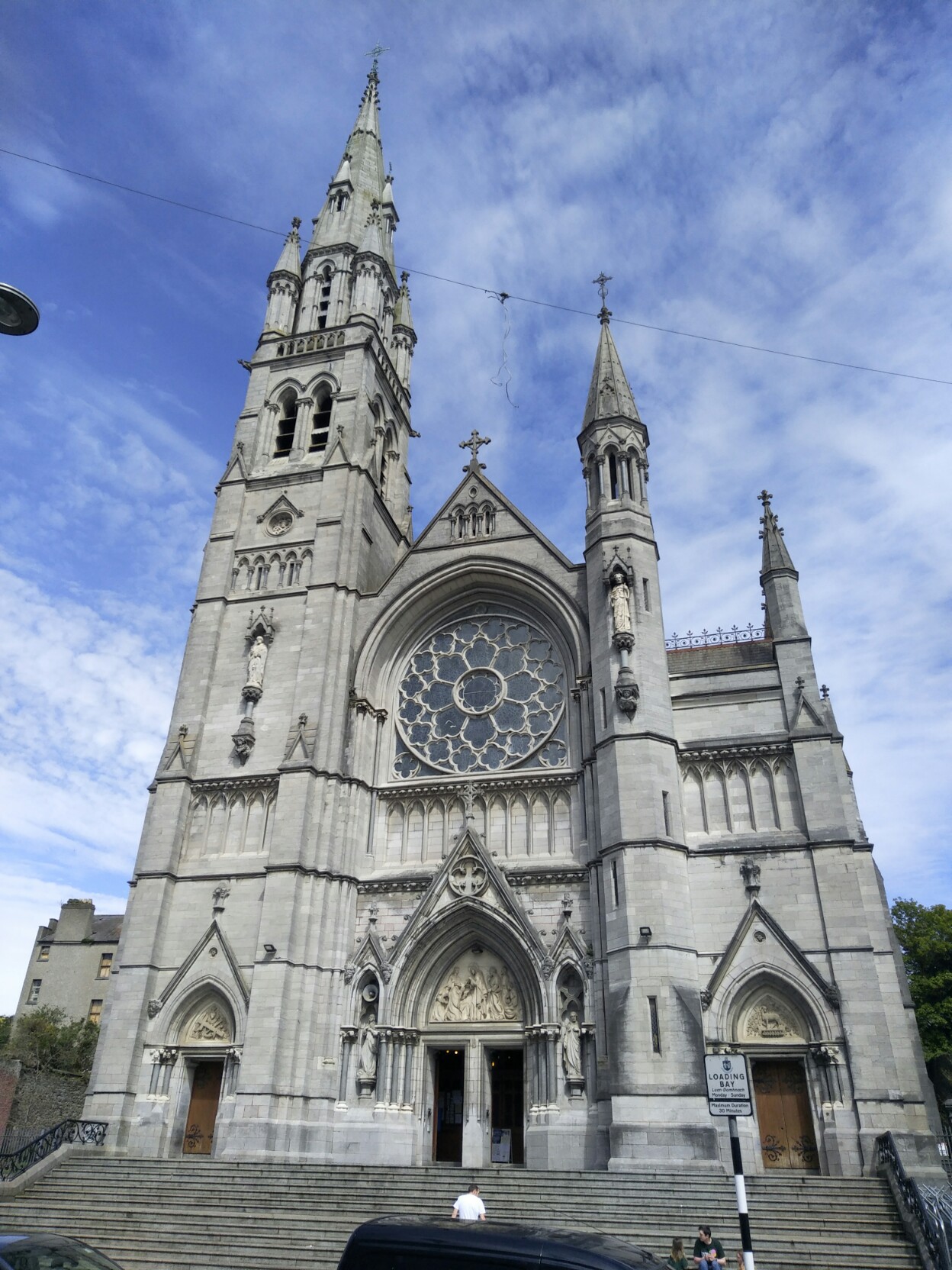 There was another interesting church but we just couldn't find a road crossing combination that would get us anywhere to photograph it. It was just over the Boyne from here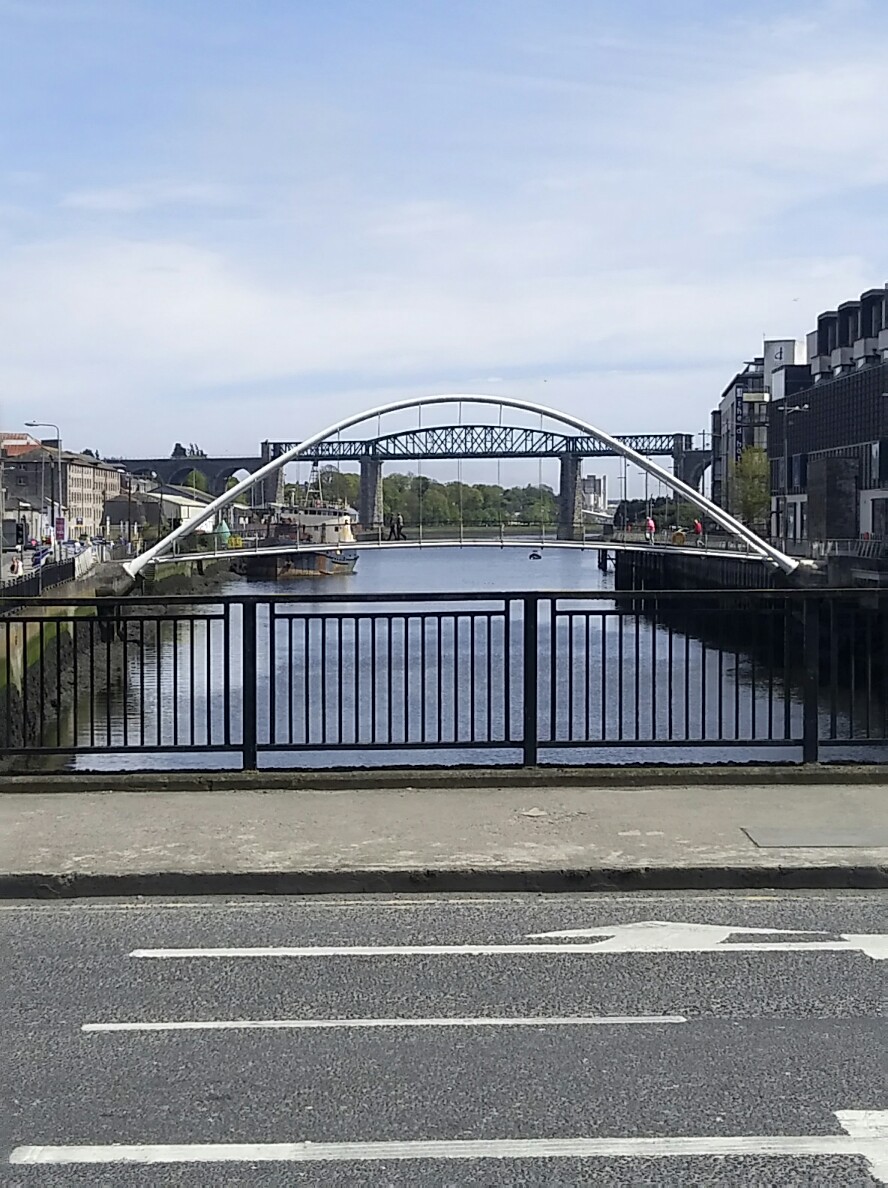 You probably are not aware but in the 26th of this month Ireland has a referendum - on abortion. The "Yes" folk were out in full on Drogheda's streets yesterday and despite us not being eligible to vote some very enthusiastic young ladies pressed literature, stickers and badges upon us. It's quite a thorny issue and may be a close run thing. I think most party politicians are in favour but the "No" vote has some very powerful emotional posters. I suspect most readers would be able to guess which way I'd vote!
To finish the day - we need to sleep and decide upon an aire, a parking site specifically for campervanners. There are 3 possibilities: Carrickmacross, Castleblaney or Carlingford marina. The first is the nearest and sort of en route to the others. The Aire seems quite small and almost full of cars and is just off the main road, quite a distance from town. As we make the decision to give it a miss Liz notices the additional spaces at the rear of the park. Rats, I'd just made the decision and it was too late unless we did a U-turn. Then we remembered the other recommendation in our chance conversation in the pub a couple of nights ago. One lady had recommended Carlingford. Decision made, despite the Aire being €10 a night. Probably Castleblaney might have been the better choice. We arrived at Carlingford Marina close to 8pm. The parking was fine with great views across the marina but the place to get water (along with grey and black water emptying) was locked, just when we are short of water! I had planned it to be a no beer day too!!! Couldn't find any toilets either. So €10 just for a good view was a tad expensive.
Anyway all that toing and froing made today's 75 miles definitely non-linear