You never know who you'll be camped next to. Who'd have thought that right next to us there would be the UK's finest Michael Bublé tribute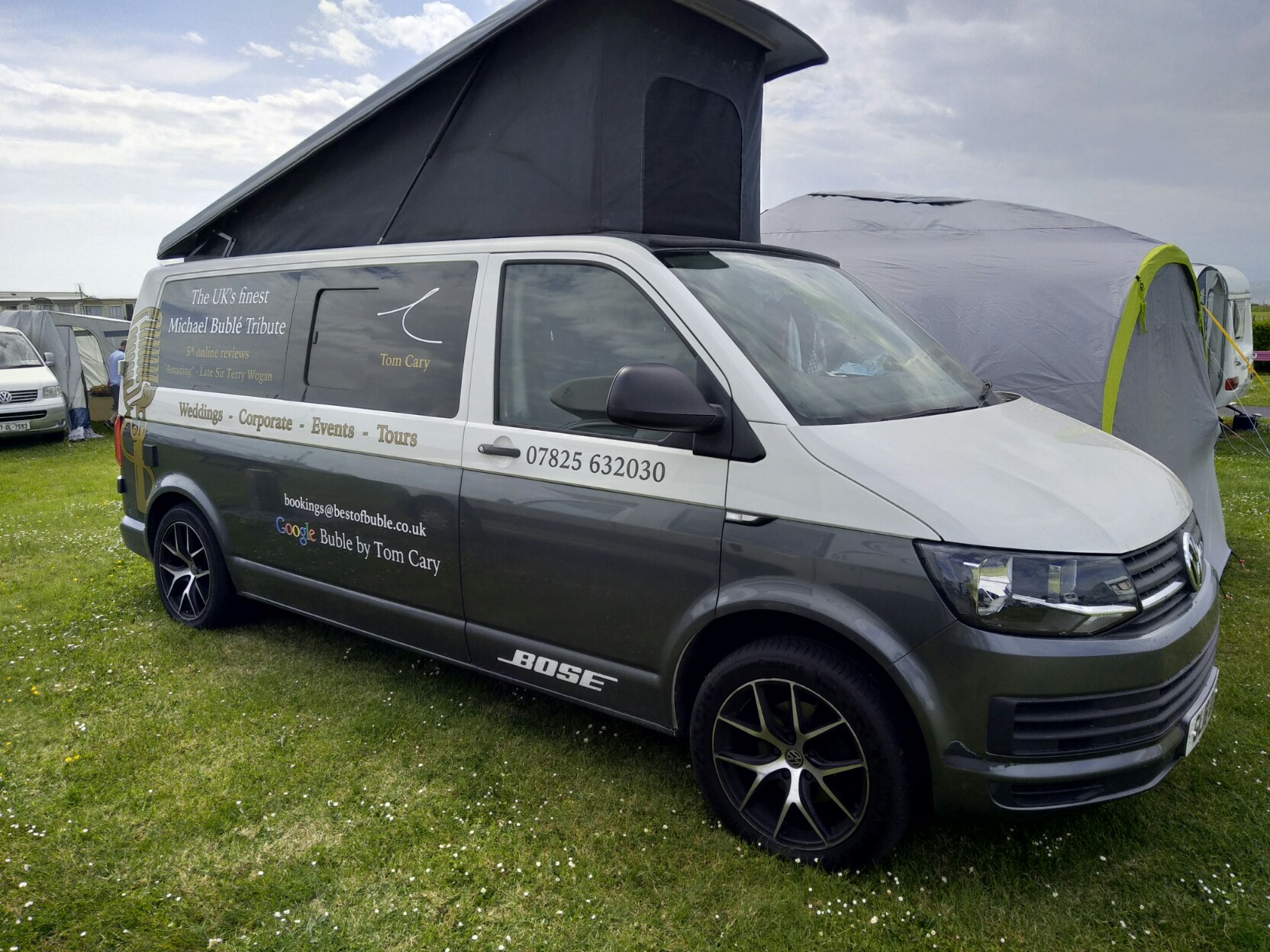 But then again, who the heck is Michael Bublé?
One goal of this holiday is to take in local events. And, let's face it, it doesn't get more local than the Athenry Agricultural Show.
Athenry?
But a lonely prison wall,
I heard a young girl calling
Michael they have taken you away, ...
Wonder if that's about that Bublé bloke?
As suspected the show is focused on all matters equestrian with riders both young and old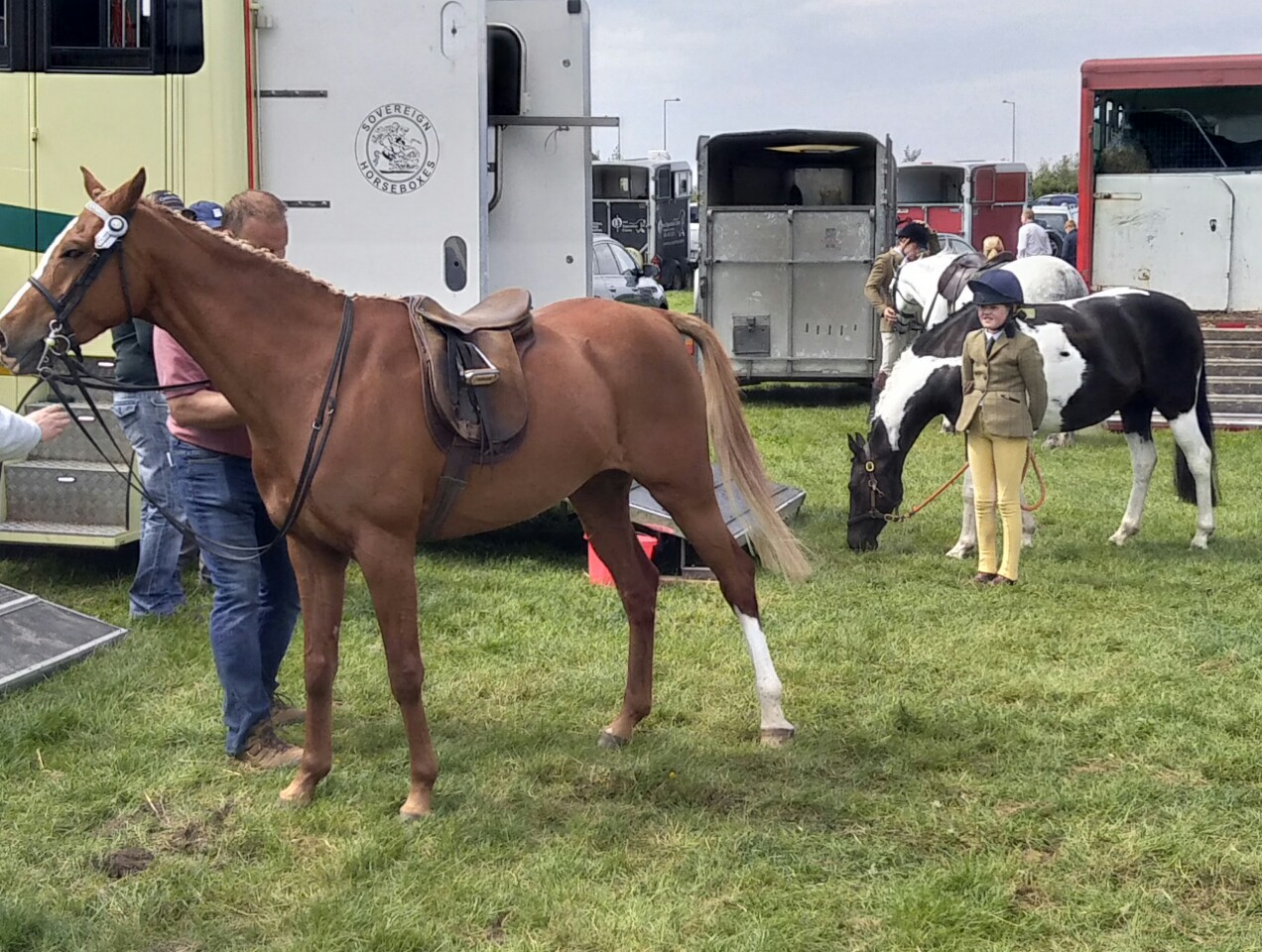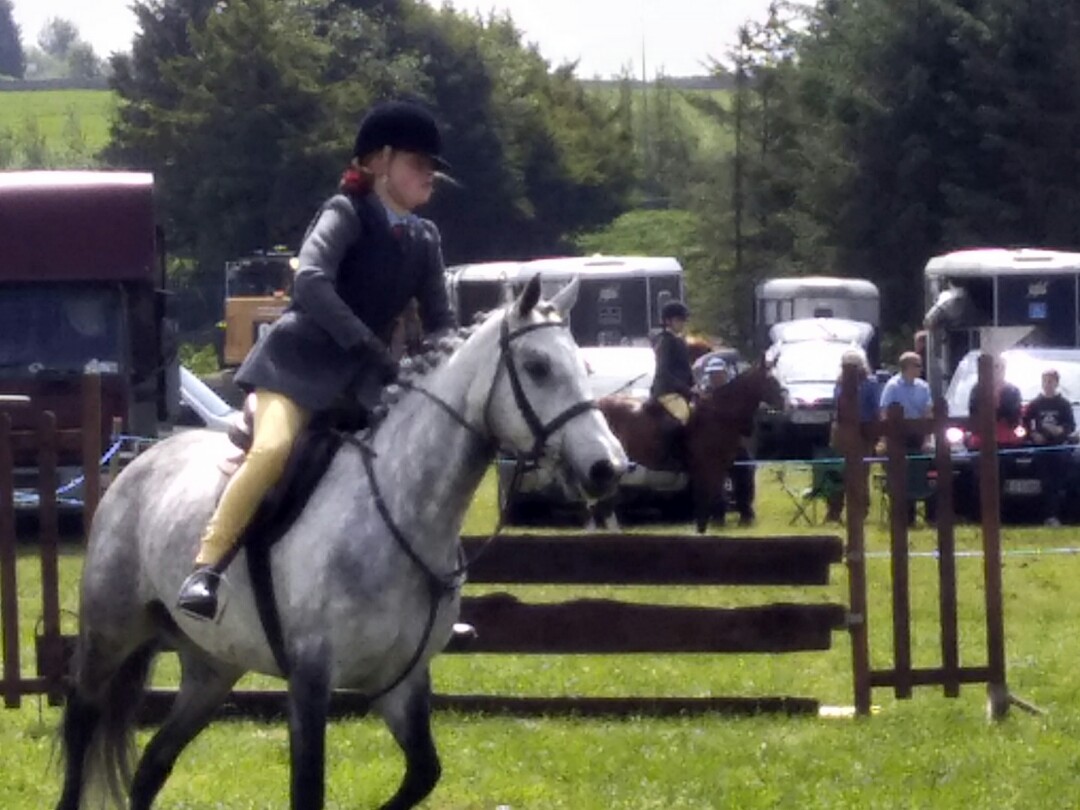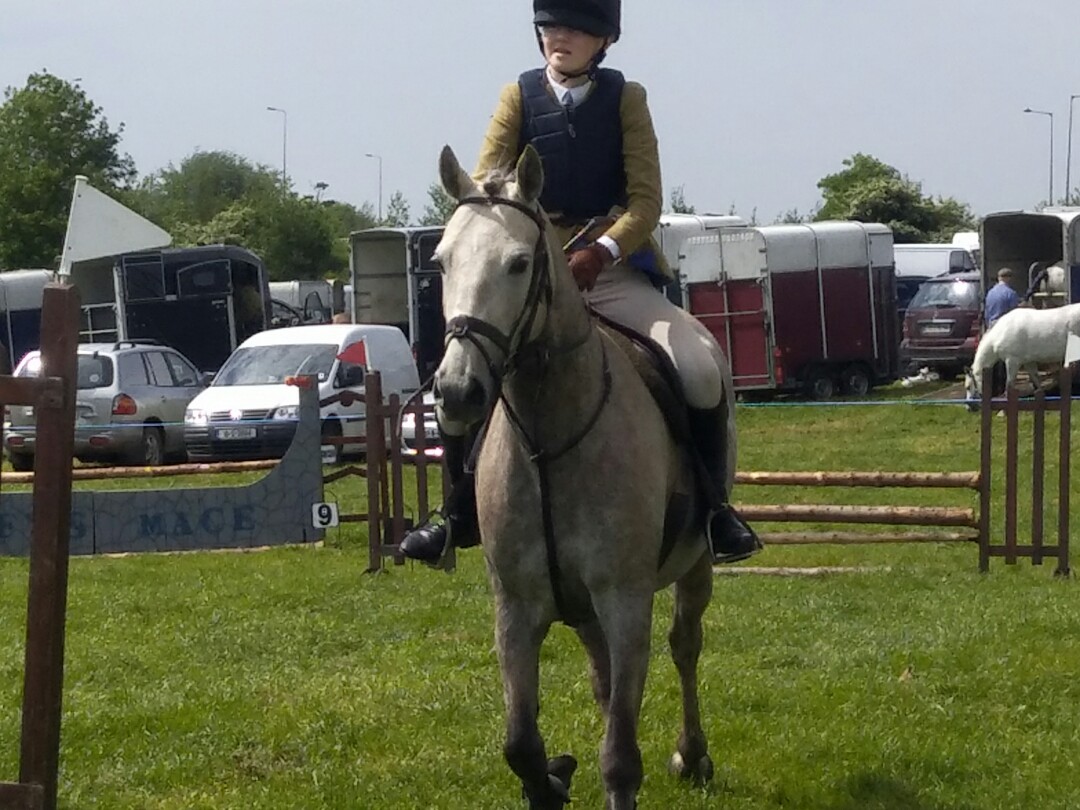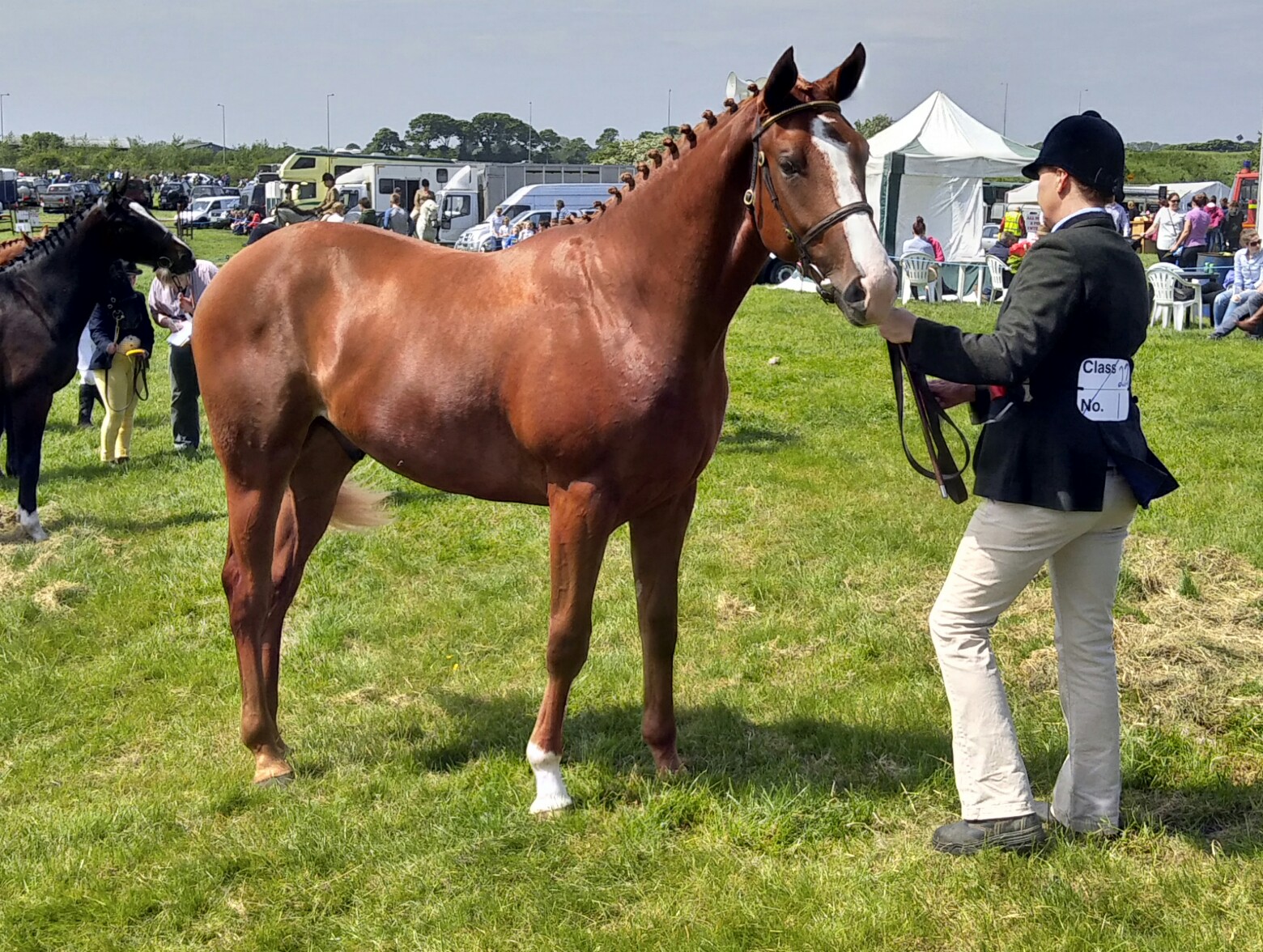 But it is host to the World Championships no less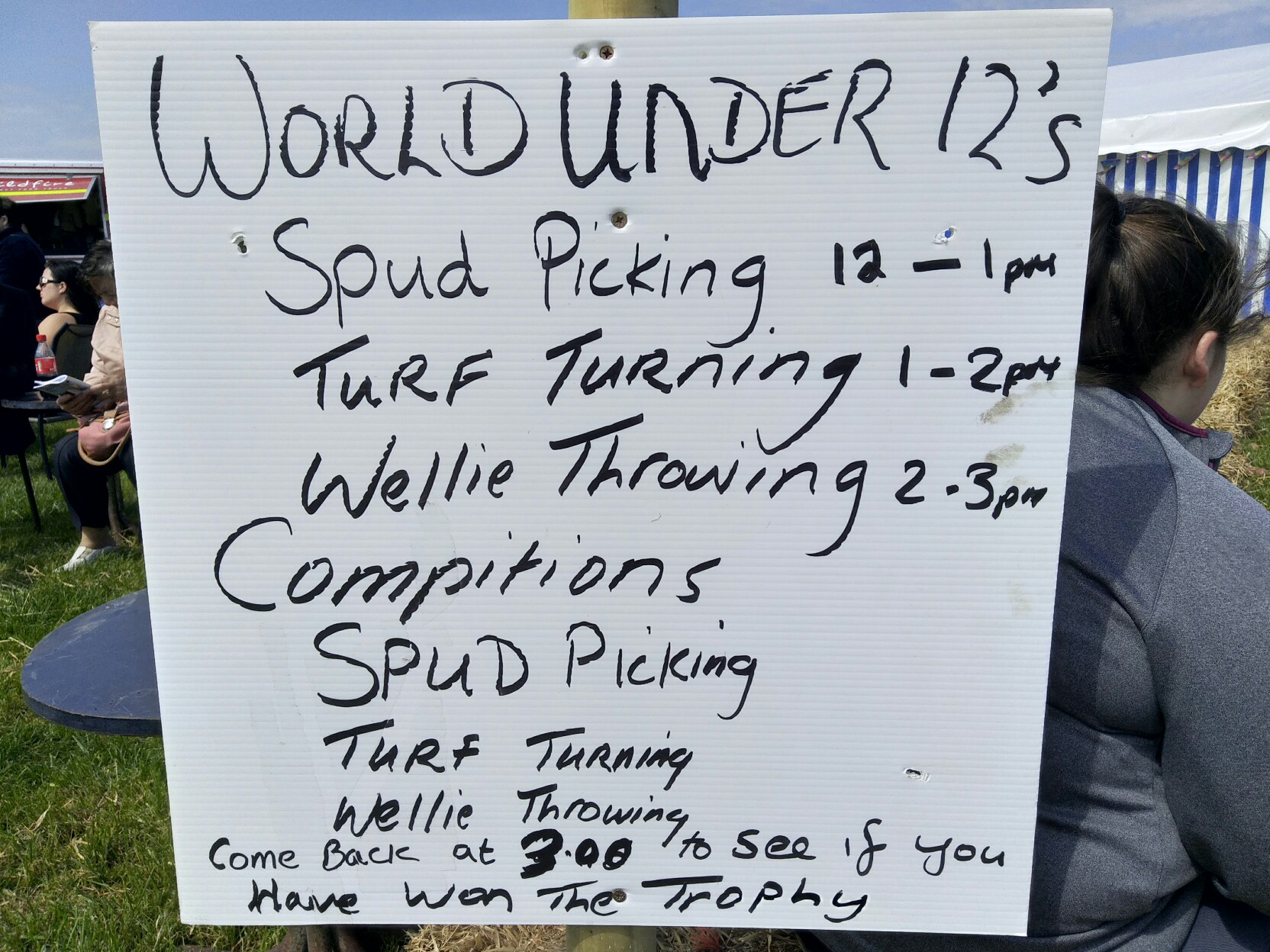 The craft tent was disappointing and the craft and cookery competitions would certainly have given a good chance for Lucy to take a bakery prize, Emily one in knitting and Liz in quilting.
Just as disappointing were the sheep, Liz had hoped to take several photos of different breeds but they were almost all Suffolks (with fleeces subtly coloured for the big show day). Poultry and waterfowl however was the opposite, cage after cage of birds of every shape, size and colour. Must be have been well over 100, almost all different.
The weather is good and everyone, particularly the younger ones seems to be enjoying themselves. Hope it is a success.
As we come to leave, a man in a hi-viz vest signals the van to a halt. Customs! We're in the middle of Ireland, have made a gazillion border crossings and here, in Athenry we get stopped by customs! Tourist status confirmed we're quickly waved on - he can see it is extremely unlikely we have a tank full of red and that I'm not hell-bent on smuggling Galway sheep over the border into Clare!
Onwards - to Lisdoonvarna. Altogether now:
Flutes and fiddles everywhere.
If it's music you want,
You should go to Clare.
Oh, Lisdoonvarna
Lisdoon, Lisdoon, Lisdoon, Lisdoonvarna!
First there is the matter of crossing The Burren - a barren rocky landscape of cracked limestone. Later this week we plan to go for a walk in search of gentians and possibly early orchids but for today we content ourselves with driving across it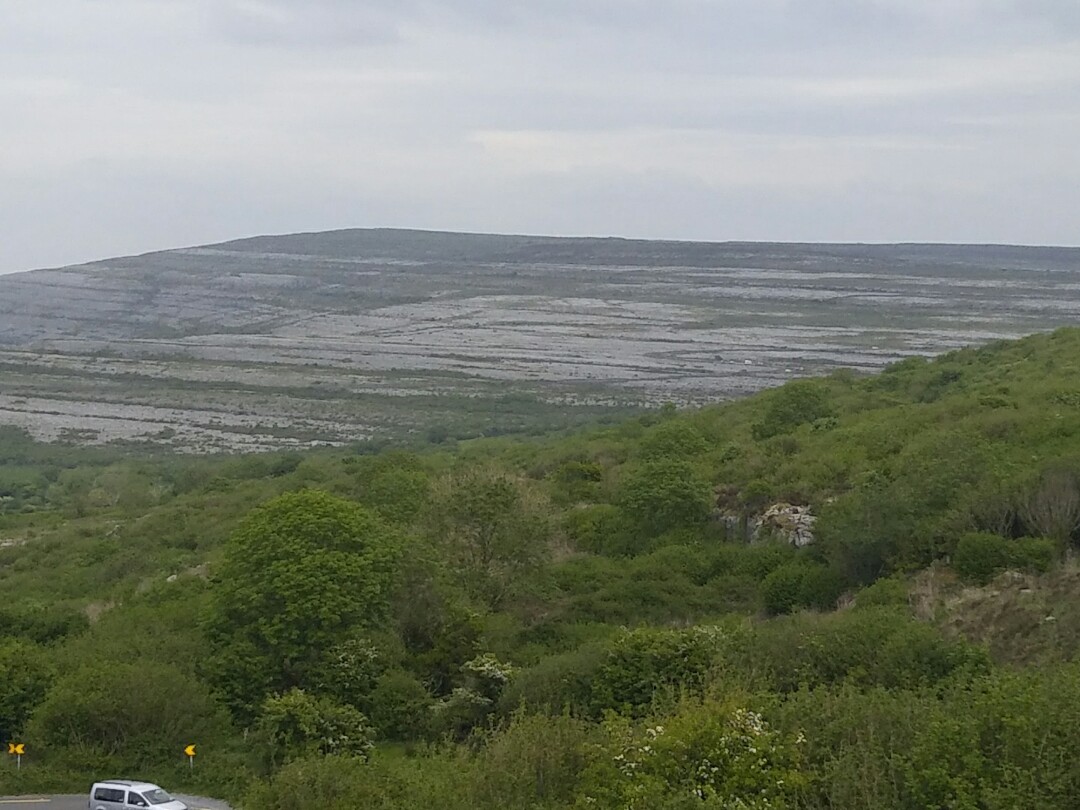 Lisdoonvarna is an old Victorian spa town famous for its August match-making festival where the local match-maker (the current incumbent being Willie Daly) hooks together singles from all over Ireland, and these days, probably the rest of the world. It was also famous for its folk festival - just take a look at the line-up on these posters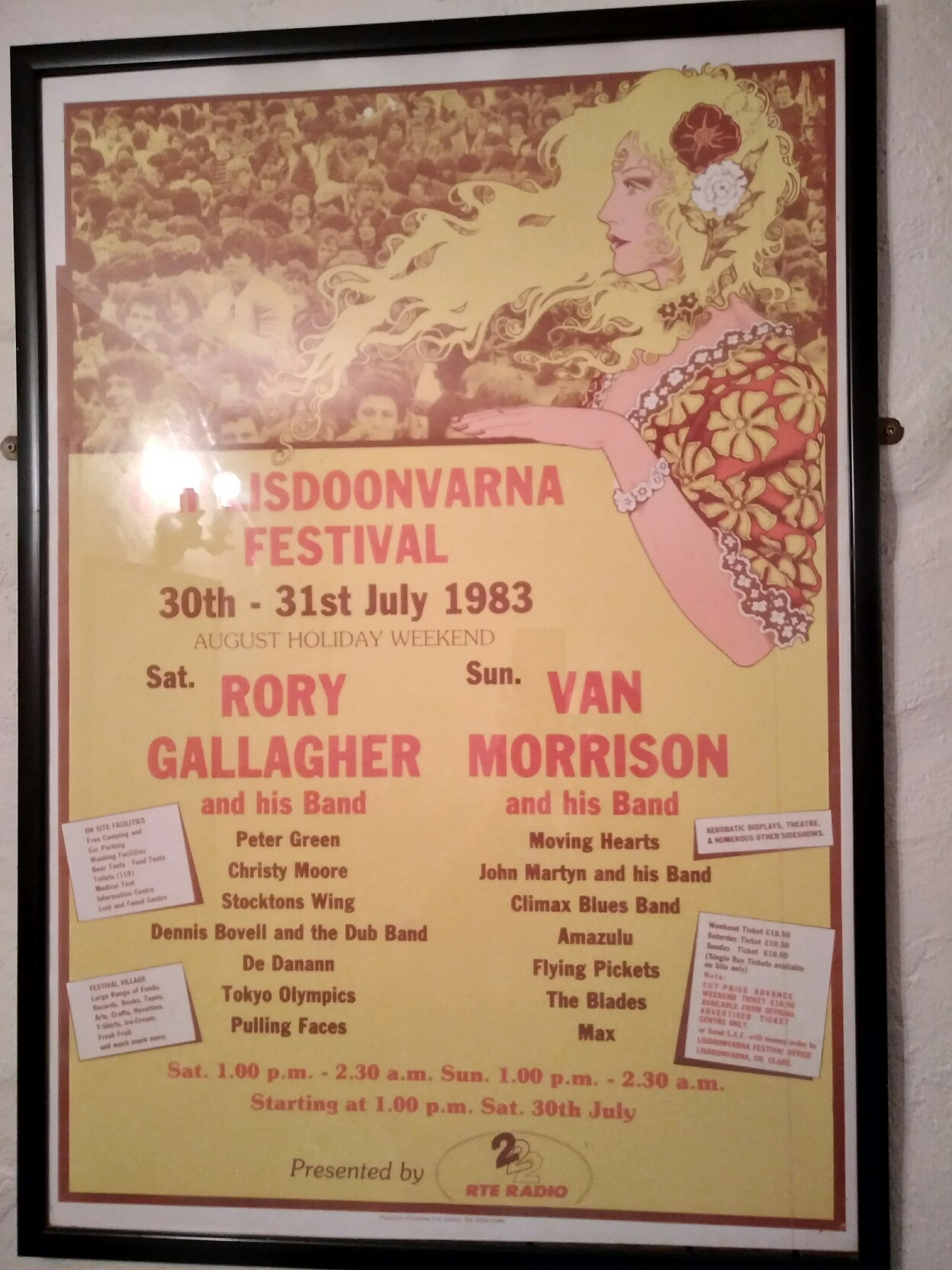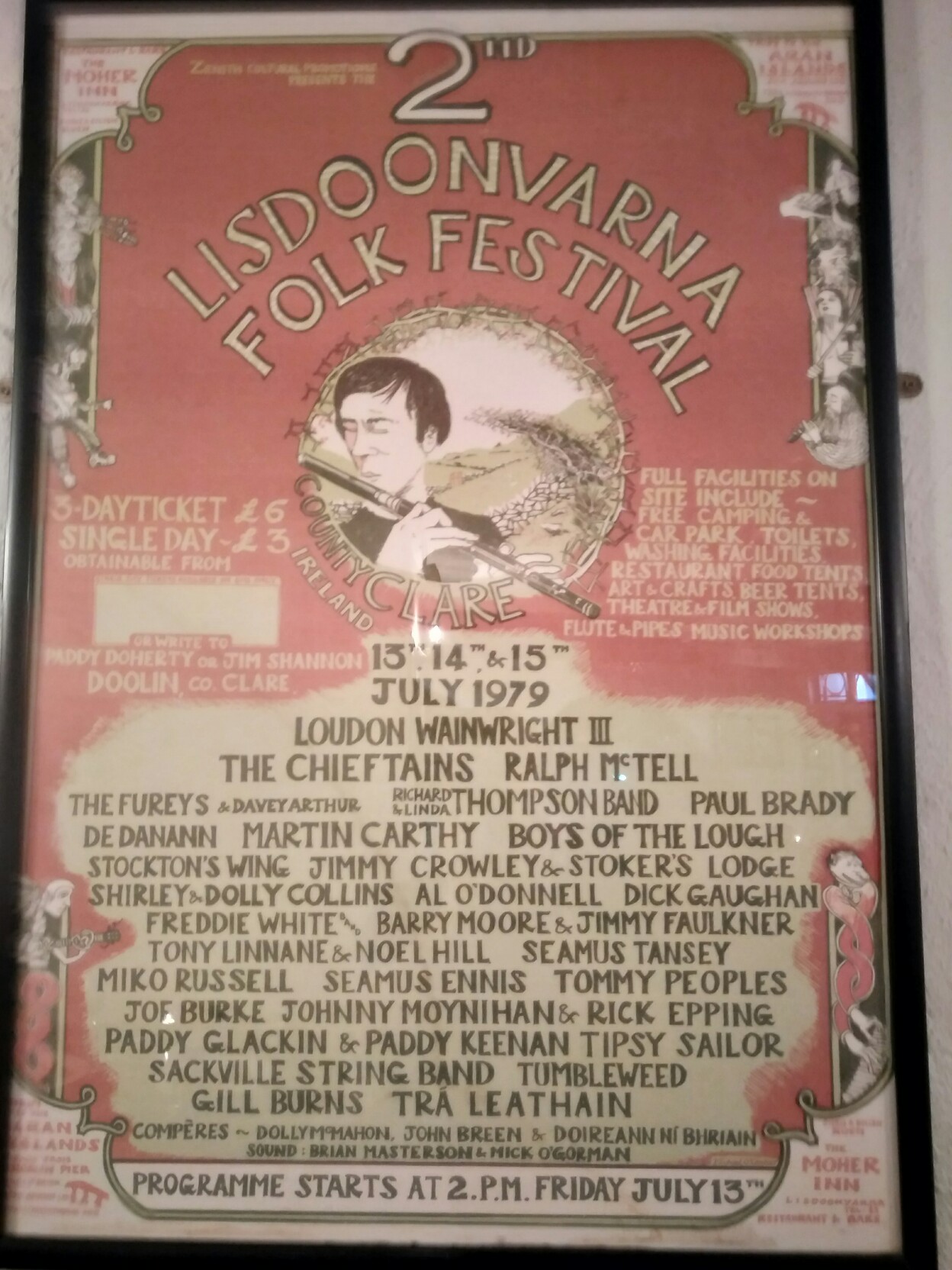 Except for match-making week there's not a lot happening in Lisdoonvarna. Being in Clare I'm sure every pub has great trad every night but these days the real music capital of Clare, of not all of Ireland is just a few km down the road in Doolin.
There's probably a town ordnance here forbidding a pub to open if it doesn't have musicians sometime during the day. The most famous of the pubs is Gus O'Connor's on the narrow village road towards the quay and ferry boats to the Aran Islands. It's 3:30 on a glorious Sunday afternoon. The tour buses are in full flight, collecting from Doolin quay or themselves ferrying sightseers. Traffic through the narrow streets is mayhem. O'Connor's welcomes motorhomes but with no dedicated car park and on street parking being fought for visciously it's a fairly empty gesture on a pleasant Sunday afternoon. We squeeze past and on to the quayside car park, huge and full, both with visitors to Doolin itself and longer stay parkers day-tripping to the Aran Isles.
Now when you arrive at Doolin you turn left for O'Connors and the quay but the village also extends to the right. A couple of pubs down here, including McDermott's which also welcomes motorhomes. Here the pubs are pleasantly busy as opposed to heaving. We are welcome to stay the night. We didn't eat but the food looked good and the portions huge.
After a walk and food in the van we find music in the pub and it's not even 8pm. A 3 piece ensemble of younger musicians playing well but somehow, I felt, without soul. Still good to see a banjo player - the alternate title for today's post could have been "Doolin Banjoes"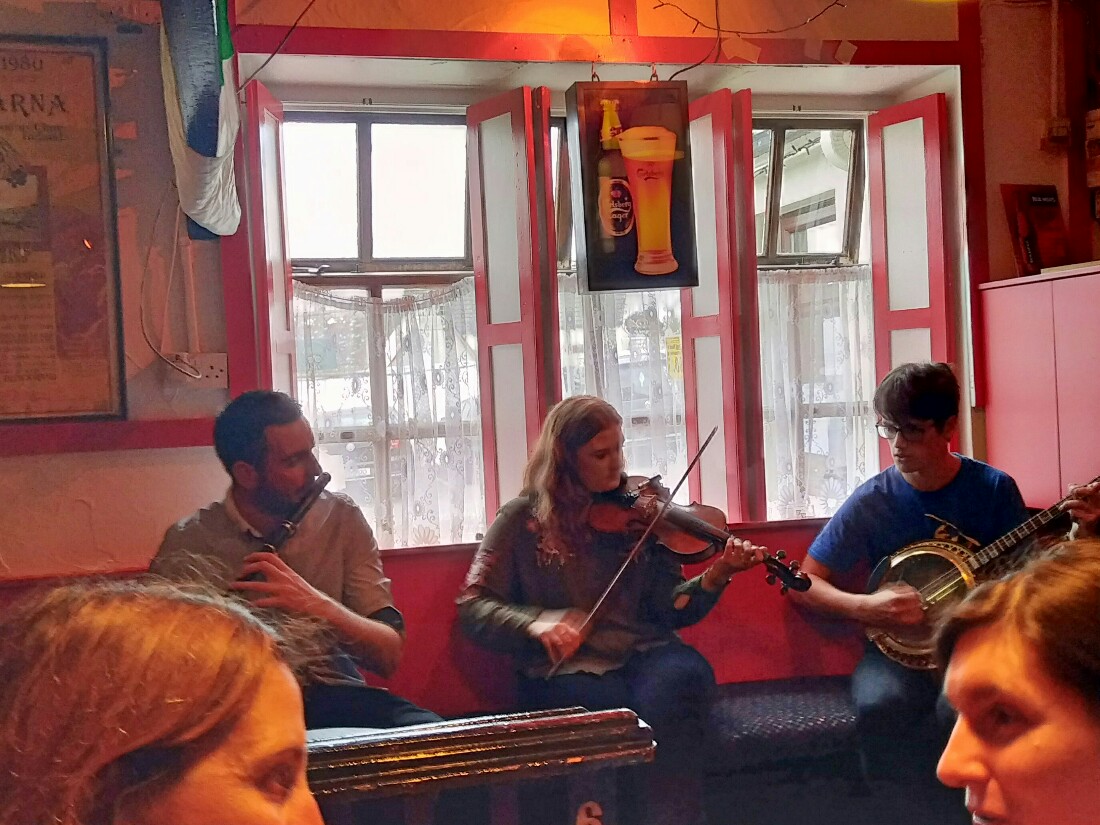 A pint of Guinness or so later and a new ensemble arrives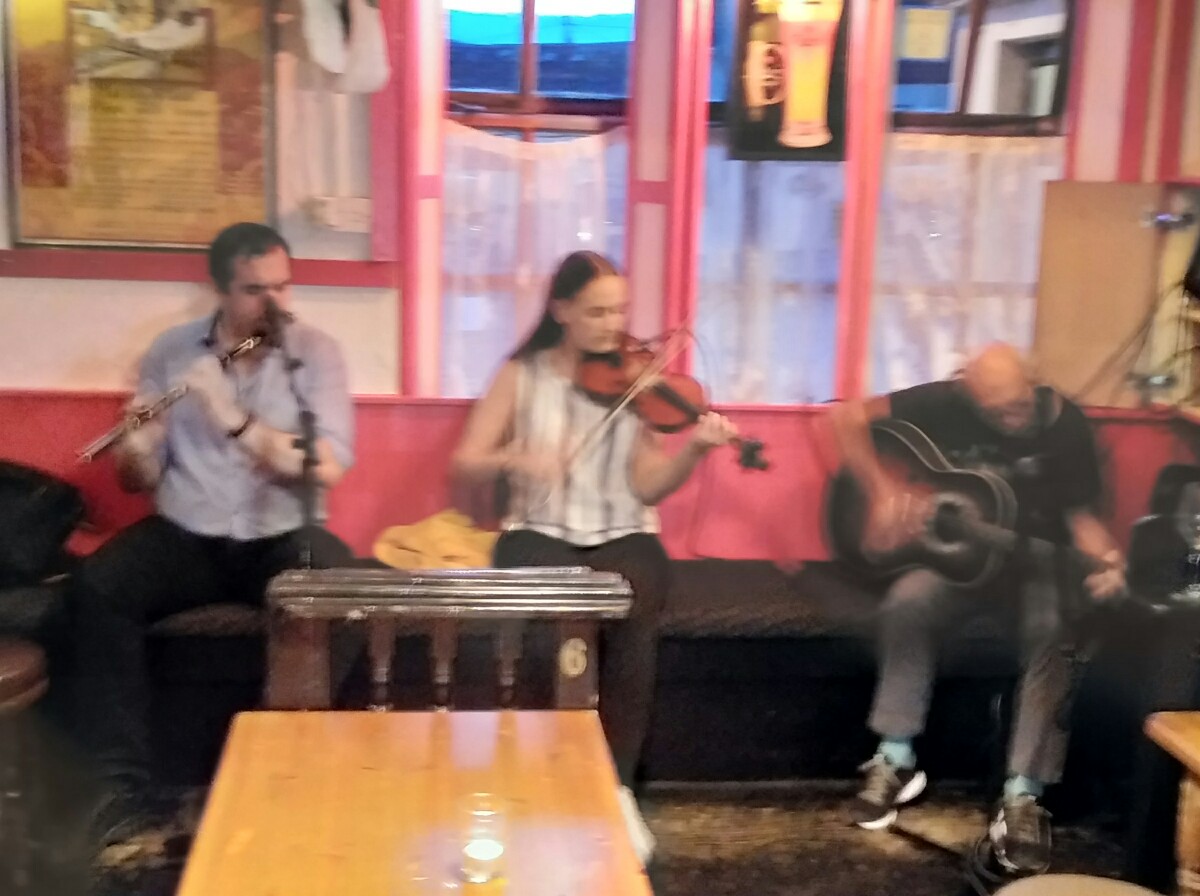 In the footsteps of Micho Russell Doolin has a reputation for great whistle and flute players and tonight's proponent was no exception. Great stuff aided by a decent fiddle player and driving guitar rhythm section.
We were joined by a group of younger American travellers and enjoyed pleasant conversation, swapping travel stories. Of course, the downside of Guinness is its affect on the memory, particularly for names so, not for the first time in this blog, I don't have the names. Annoying!
And here's today's 62 miles