The longest driving day of the holiday, 414km, 257 miles and just under five and a half hours behind the wheel. Much of it in very heavy rain.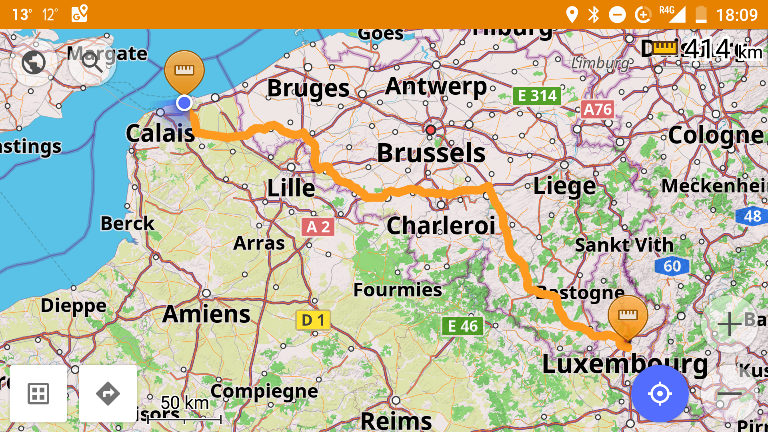 It started very badly. I've been driving in Europe for over 60 days now, so why did I turn left out of the campsite into the wrong side of the road? Possibly it was because I was concentrating on the yet complete visibility as the windscreen hadn't cleared of last night's condensation despite multiple attempts to mop it up with a microcloth. Possibly it was because the short approach road to the campsite was being dug up and I interrupted a large caterpillar tracked digger in mid-swing so pulled out a bit quicker than normal. Possibly it was simply because I'm a numpty. Anyway there was only one startled car coming towards me and I was easily able to swing over to the correct carriageway. Whoops.
You may remember that I mentioned all the cheap petrol stations as we turned off the motorway towards Luxembourg city. Well going the other way we found ourselves on the motorway without passing a single one! A several mile detour through a small town eventually found one. The detour was worth it too, diesel at €100.3 (90.1p) per litre. Not only that, because my French was so excellent when I came to pay the nice lady cashier gave me a sweetie. Mind you the other customers also must have had good French as she dipped into her large box of chewy sweeties for them too.
The route was mainly through Belgium and the roads were good but LOTS of lorries. The main problem was the weather, just heavy showers but those showers were heavy. Poor visibility even without the spray, with it going was hard on times. At one point a kamikaze French caravanist was weaving in and out of lanes overtaking everything and must have got something badly wrong as we joined a line of cars simultaneously enjoying the experience of aquaplaning as everything braked hard to let him in. Nutter!
The plan was to stop around half way and stroll around a bijou Belgium town but the weather put paid to that. In a lull in the rain Liz found an Aire with a service station to pull into for a coffee and pee break. Even then as we opened the van doors the heavens descended so we spent 5 minutes cowering in the van nursing our swollen bladders.
We did need a longer stop though so I set Liz the challenge to try and find a Belgian caravan shop so we could look for van accessories. She found three but we would arrive at the first two sometime around one o'clock, i.e right in the middle of their lunch closure. The third was a bit further on, just north of Lille and turned out to be a campervan van hirer and retailer with only a very small and limited accessories shop. Still I found the plug I'd been looking for and Liz stumbled upon a compact saucepan set specifically designed for caravans and boats. The two pans have handles that fold in, allowing the smaller to fit neatly inside the larger and the larger to take up the absolute minimum space in the van. We nearly didn't buy them as we'd bought a new Zebra billy can earlier in the year. But such serendipity just had to be rewarded.
On then to our overnight stop at Watten but when we arrive at the small Aire Du Camping it is completely full of large motorhomes, almost all British. There is parking on the other side of the canal so I head that way. We can't decide on which is the flattest parking space (there are 100 to choose from) and the last thing you expect when reversing out of a space in a large car park is to find yourself in the path of the town bus!
We decide we don't like the car park and will try the new Aire at Grande Fort Philippe just a few miles outside Calais. No facilities but a nice quiet car park specifically for motorhomes. Free and a maximum stay of 72 hours. It should do for tonight! Mind you getting here from Watten is fairly straightforward unless you have a Garmin Satnav which seemed hell-bent on taking us down tiny partially tarmacked roads. After a mile or two of rutted canal-side track Liz took over and over-rode the Satnav which kept instructing me to turn into ever narrower and worse kept trackways. Sometimes its routing is most bizarre.