The Cork and Kerry mountains
As I was goin' over the Cork and Kerry mountains
I saw Captain Farrell and his money he was countin'
...
Musha ring dumb a do dumb a da
Whack for my daddy-o
Whack for my daddy-o
There's whiskey in the jar-o
Ah, they don't make them like that any more. You might have guessed today's journey takes us over those far famed mountains (The Dubliners have those different lyrics)
Sneem is a lovely stopover. Fresh water, grey water, black water and views of river water directly from the van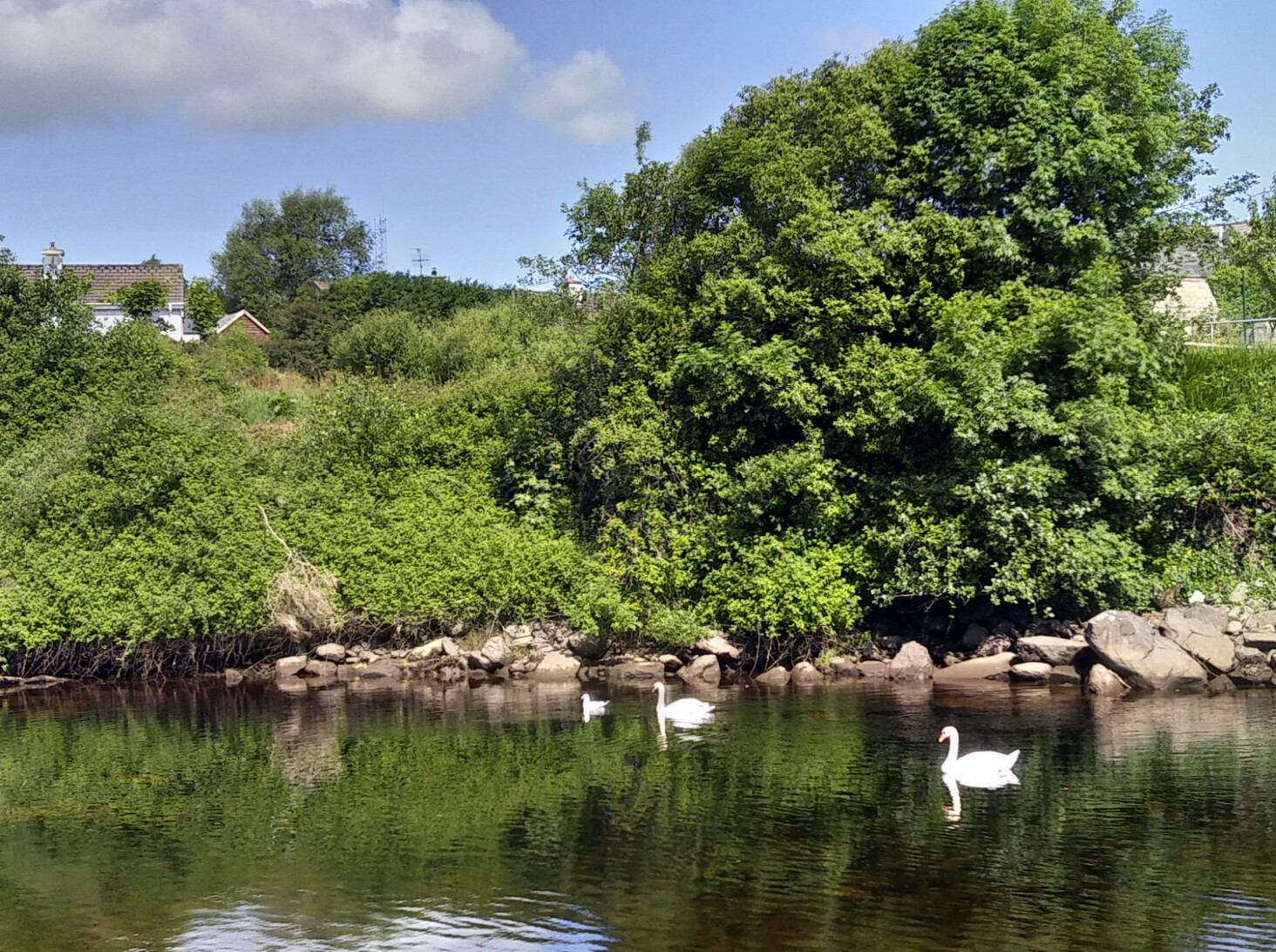 Well worth €10 and a recommended stop. After a pleasant meal we went back out about 9:30 as one of the pubs was advertising music. Just about to finish our drinks at 10:20 a musician starts to set up. About 20 minutes later he's joined by a female singer and music commences. Mainly Christy Moore covers interspersed with the occasional Country and Western song. I think 'Grace' is the theme song for this holiday, especially as it started their set. They wouldn't get recording contacts but we more than pleasant enough to listen too. We left them, still singing, just before midnight. Nothing happens early over here.
On round and completing the Ring Of Kerry we've done 2 our of the 3 rings, Dingle and Kerry, just Beara left.
The first town is Kenmare. It's Bank Holiday Monday, all the shops are open, there are market stalls in the streets with bunting above. More like a May fair than Bank Holiday. Surprisingly we found a parking spot and had a good mooch around some interesting shops. Things were so nearly bought but temptation was controlled. Well except for Solti's 1996 Cosi Fan Tutte from a charity shop (yes, charity shop! On a Bank Holiday!)
The final ring, Beara is less known and touristy than Dingle and Kerry. I'm not sure why. Top tip, don't follow the Wild Atlantic Way along the coast to Lauragh but stay in the R571 over the mountains. Probably if one word is overused in this blog then it's "spectacular" but these truly were with some incredible folding patterns in evidence. It's pretty all the way in down to Castletownbere. Now, from here we ought loop round down to Garinish and then take the final spur to the coast where we can hop on a cable car to take us over to Dursey Island. We really fancy the cable car ride over the foaming Atlantic but... remember that late night. It is now getting on into the afternoon and although we will make it in time for the cable car still to be running we'll be pretty late getting to tonight's destination on round in Bantry.
Prudence is exercised and instead of pressing on we stop for a coffee in a MacArthy's bar. The name changed fooled me, but, yes, it is. It's McArthy's Bar. You know the famous one, in that best-selling book of the same name. The one on the cover. Another famous pub visited by accident.
The journey back round is pleasant, pretty in places and almost uneventful apart from a local driver taking a bend onto a single track bridge at speed and almost sharing the same space-time coordinates with me.
Bantry is a bit of a strange place, expensive boats in the harbour but apart from the quayside restaurants the rest of the town seems a bit down at heel. Plenty of parking and we wander into the Tourist Information to check if there is any free overnight parking because the Marina parking is confusing. Rule number one of any Tourist Information point is ensure your staff can actually give tourists information. Bantry failed this elementary test. So we're on the Marina. We may get charged €20 which is a motorhome fee per night including electric or we may get charged €5 which is the car overnight fee (+ €1 per hour normal daytime parking) since we've elected for a normal car bay. Goodness knows. We'll find out tomorrow. Still you can't knock the view.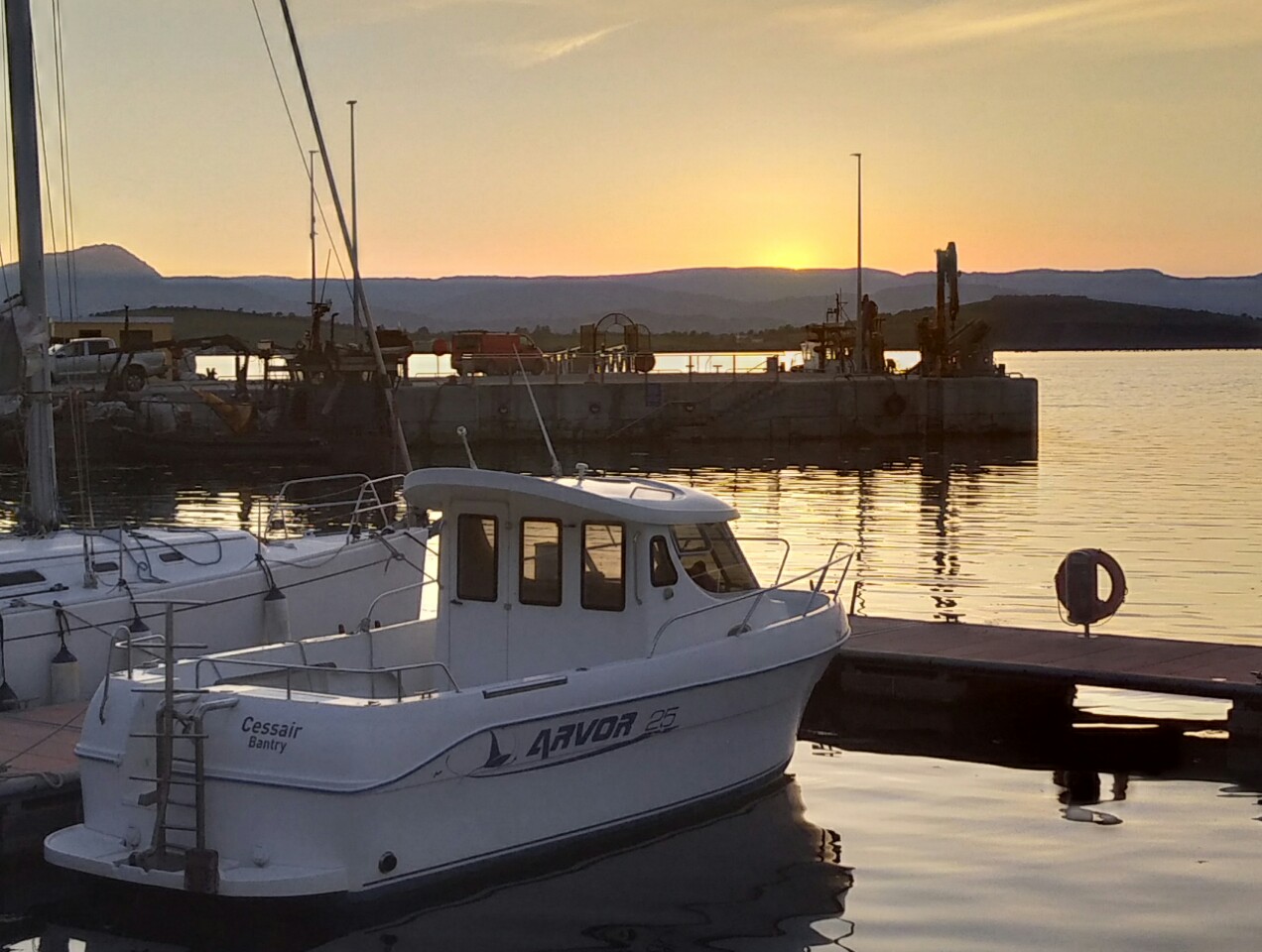 Here's today's 76 and a half miles