We've passed through Carrick a couple of times but not stopped. Let's rectify that. A pleasant enough town, smaller than we though but with a lot of pubs, all seeming to offer music nightly.
It's early but you can't really pass a micro-brewery taphouse, now can you? This was a part of the range of beers on in The Barrelhouse.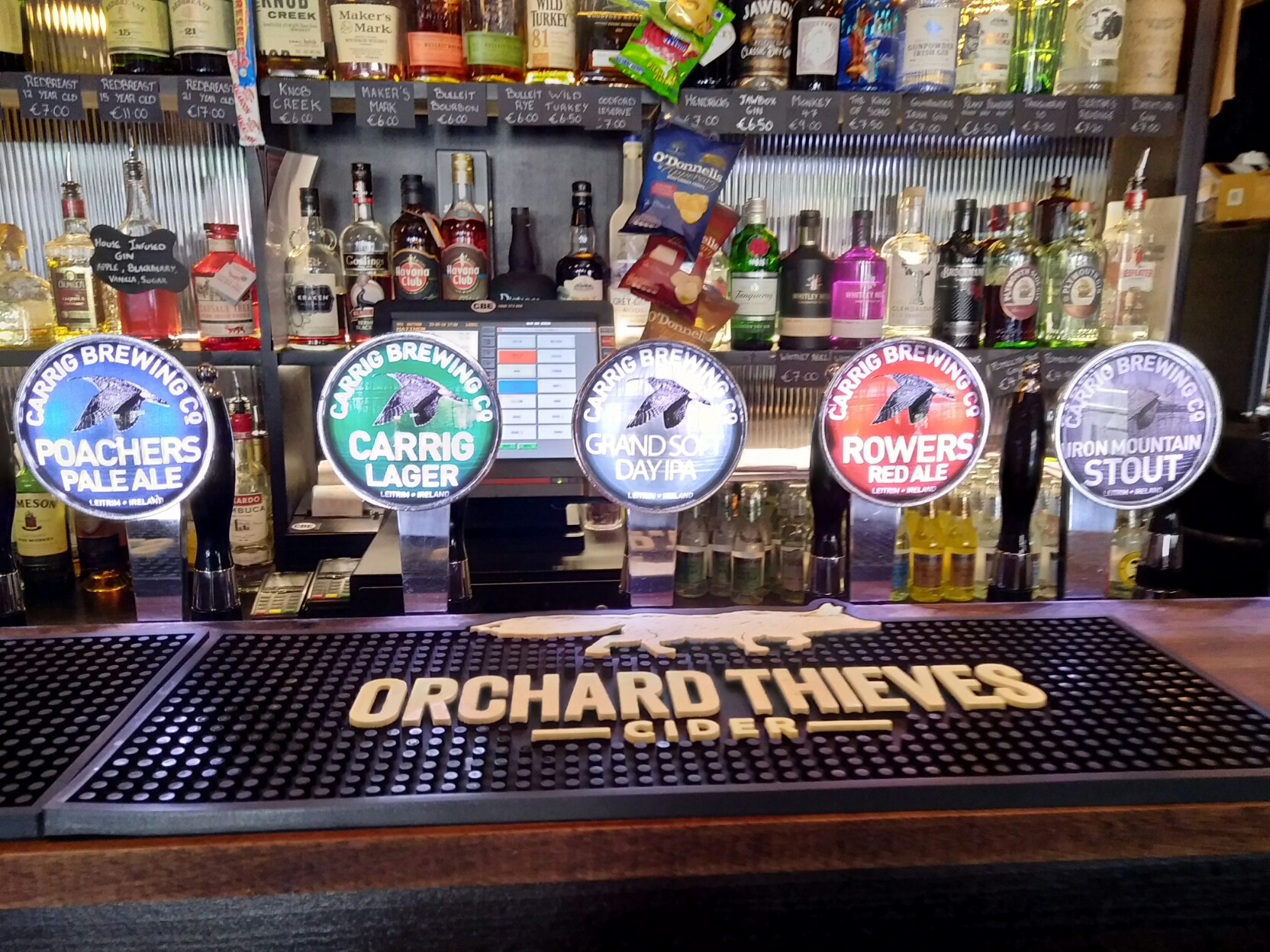 A bit expensive I thought but an interesting and informative barman who knows his beer (and gives us details of the Galway Bay brewery taphouse, which ought be in walking distance of our weekend campsite). He also informs us that Carrick is famed for its hen and stag does and is very lively on weekends. Zipwire, archery etc have all sprung up to reap the benefit of this lucrative trade; it also explains the multitude of pubs with music.
Talking of music, we might as well get down to Gene's pub, the Anderson's Thatch Inn, 3 miles away. It won't be open yet but we can cook and eat in the car park. Driving up the car park is all roped off, no access. Oh no, don't say he's closed tonight after we've hung around two days!
Back to Carrick and cook in the marina car park and it's now 8pm. The Thatch has a sign open every night from 8. It's Facebook page says 8:30 and we know from experience the first customers don't get there until 9. But at least the car park should be open now so we can organise the van first. Drive past and everything still roped off. Panic sets in. We drive on 9 miles down to Elphin to waste a bit of time and try and decide on plan B. Of course the sensible thing to do is ring Gene. "Of course we're open, just move the rope and cones". So back to the pub to find the rope gone and it's now 8:45 - the might be a customer soon. At 9 a van arrives, so 5 minutes later we become the second customers in the pub.
Whilst the pub is empty how about some photos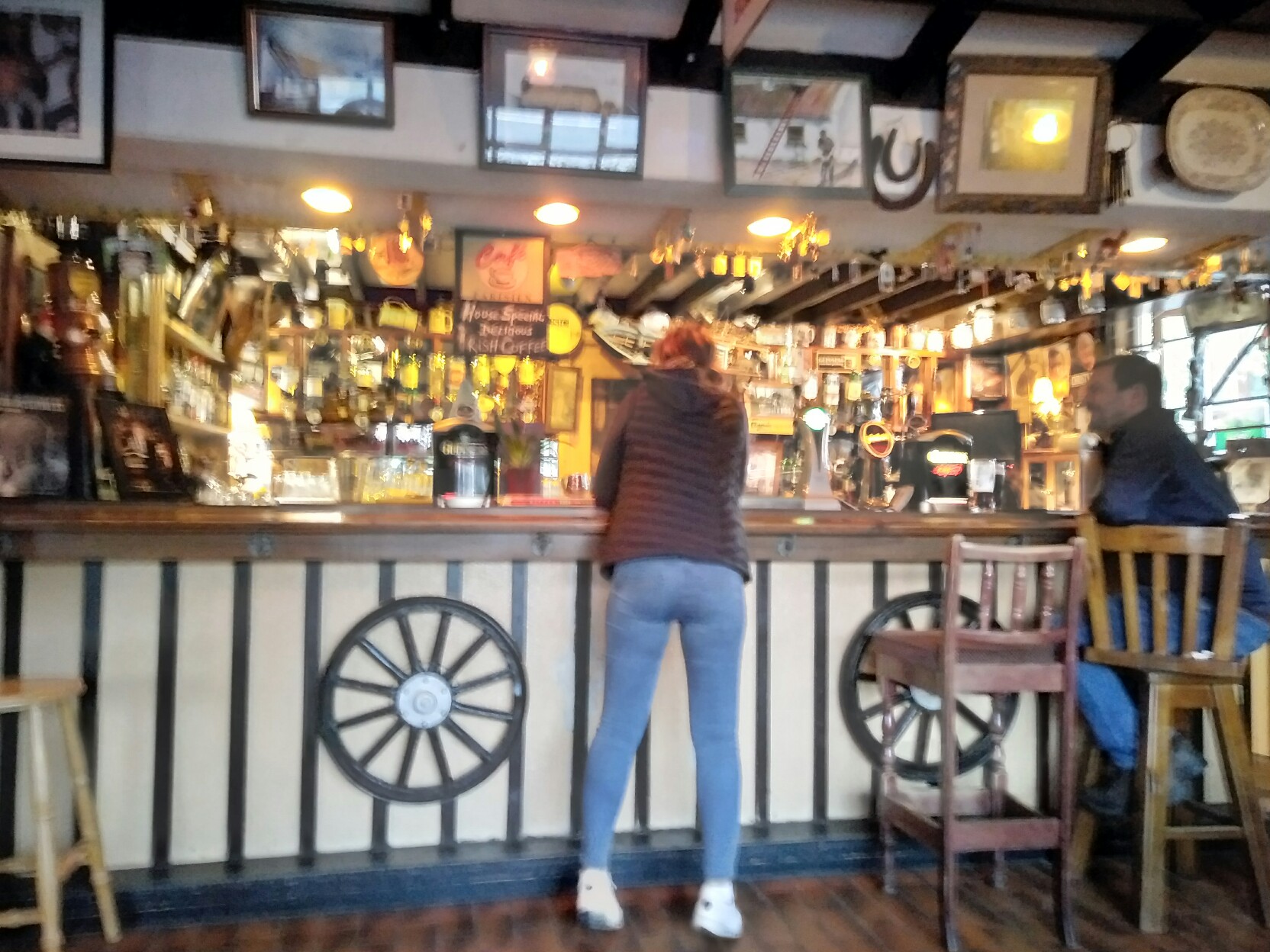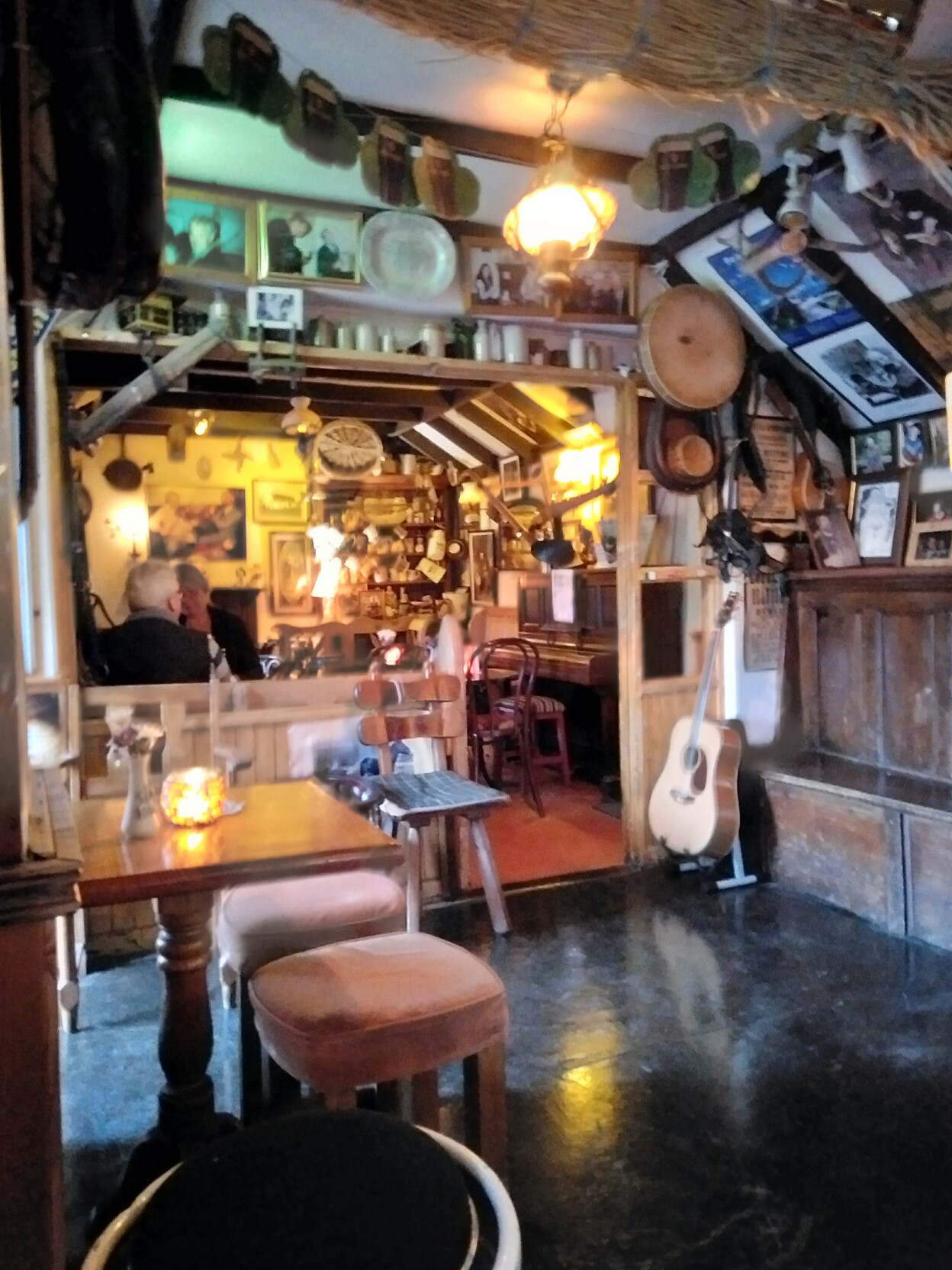 It's about another 40 mins before the next customer but then the pub fills rapidly. There's a couple of folks with guitars, a flute, a bouzouki, a button accordian and Gene has picked up a fiddle. Sometime around 10ish, Gene starts with a fiddle tune, someone around 1:15 the last guitar is cased. The 3 hours or so in between spanned so many musical styles and genres. There were traditional Irish reels, Gene varying between fiddle, concertina or bodhram, a cappella singing - from old Irish ballads to Meatloaf's "2 out of 3 ain't bad". There were full ensembles to solo guitar, including a well played "Behind Blue Eyes" (The Who). Christy Moore songs featured prominently.
And there was dancing. The button accordionist turned into dance master as he taught the assembled throng the steps and then pressure was brought to bear to ensure the floor was full. Best I can say is that I never stepped on anyone's toes! A bit more practice and we'd be there!
This was the Ireland we came in search of. Folk playing for their own enjoyment. Locals, most very talented, making music for their fellow locals.
I think the phrase I'm looking for is "the craic was 90"