Not a good start to the day here. Raining steadily (and we didn't put our little drying tent away last night) and I've just learned that another of the IBM club stalwarts, Bobby Elliot has died. Sad, he was part of the fixtures of IBM Hurley Club for decades.
Anyway, life goes on and blogs need writing. I didn't really blog yesterday apart from a quick praise, once again, of the Berlin transport system. 
So...
We need some camping accessories, another washing line and possible a better, bigger bag for personal washing kit. No, I can't just use a bit of string for a wash line. You can get camping ones which are twisted to hold washing without pegs and I don't have the elastic cord to make my own. There's a camping shop out along Karl-Marx Allee, obviously out to the east.
The camping shop was superb in its range of clothing but no washing line could be seen. However there's another one just over a mile away so we walk down Karl Marx Allee in search.
Karl Marx Allee was built in the 1950s and originally known as Stalinallee. It was the pre-eminent communist boulevard in E Berlin, showcasing the best of Russian German architecture. It's a most impressive street with interesting architecture. Liz has a photo of the Karl Marx bookstore and one of the buildings still retains its skyline decoration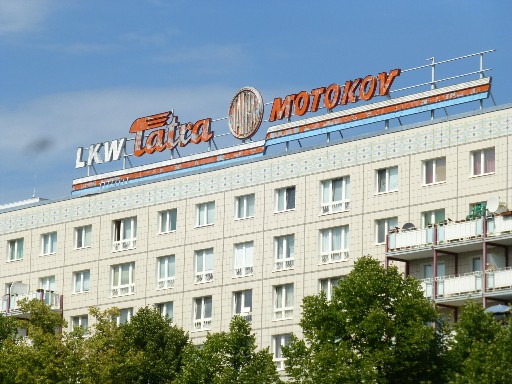 A second campsite later, washing line acquired and ideal wash bag rejected because €63 seemed a tad excessive for something Liz can make when we return.
As we're doing E Berlin stuff today why not a trip to the All Tag (everyday life) museum. It's a little way away and near a games store so we pop in there first. Unlike camping and outdoor equipment board games are cheaper here in Germany and many out of print titles are still available. Of course the boxes may be in German not English, but so many games are designed for the international market that there are no language dependencies in the games themselves. As someone who has done work on internationalisation in computers I appreciate this. A nice shop, empty of shoppers but crowded with games. We only bought a little card game for children.
The All Tag museum was excellent. Quite small but packed with stuff and loads of archive video clips (with optional English subtitles) really portraying a sense of living under a regime where work was state controlled. Propaganda was everything, with medals and awards to the best workers. To be honest some of the ideas were not too distant from my years in IBM 😃  But, of course, the main failure of Communism was its inflexibility and lack of heed to supply and demand. So shortages were commonplace and life was hard. Dissidents were under the scrutiny of the state police (MfS, commonly known as the Stasi). Flats would be covertly broken into and searched for wayward material, bugs would be planted in the walls, suspects would be photographed or filmed. One weird scheme was to collect the body odour of suspects and store in airtight jars, ready for sniffer dogs if it ever came to that!
The museum was free and so didn't need gee whiz technology or special attractions to prise the Euros from the tourist. And it was all the better for that, an excellent, genuine display and appraisal of life in E Berlin in the 60s, 70s and 80s.
That's not to say it didn't have a special attraction we'd have paid good money for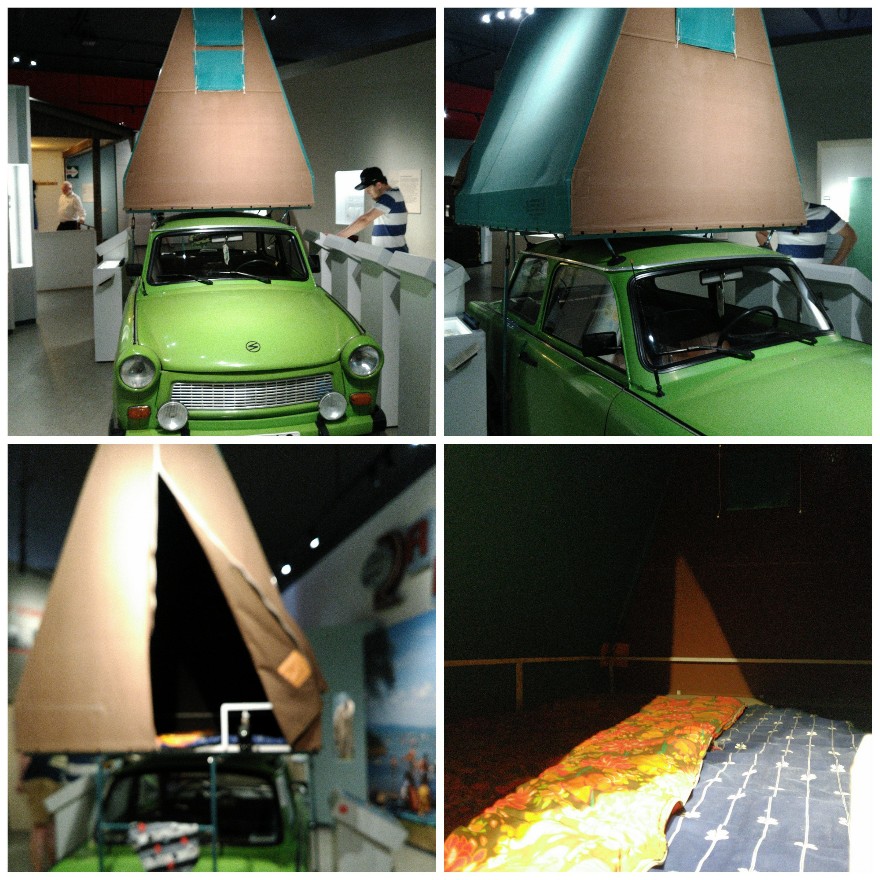 Yep, a tent atop a Trabant. These were all the rage. At the 10th anniversary in  over 1,000 campers got together for a rally. Considering on times there was up to a 12 year waiting list for a Trabi and 3 years for a tent these were not spur of the moment purchases. Also it is amazing that the little 600l Trabi engine could cope with the extra weight and that it's plastic body was strong enough to withstand up to 3 people sleeping on top. 
The manufacturer did extend the design to other vehicles but after reunification couldn't keep up with the business economics and sadly this has being consigned as just another piece of camping history. Sad - I want one!
Must be beer-o-clock. Just around the corner Google informs me of The Monterey Bar, several draughts and 250 bottles and cans from around the world. We settle for local beers, a Pilsner, a Berlin IPA and a Helles. Here's Liz enjoying the latter: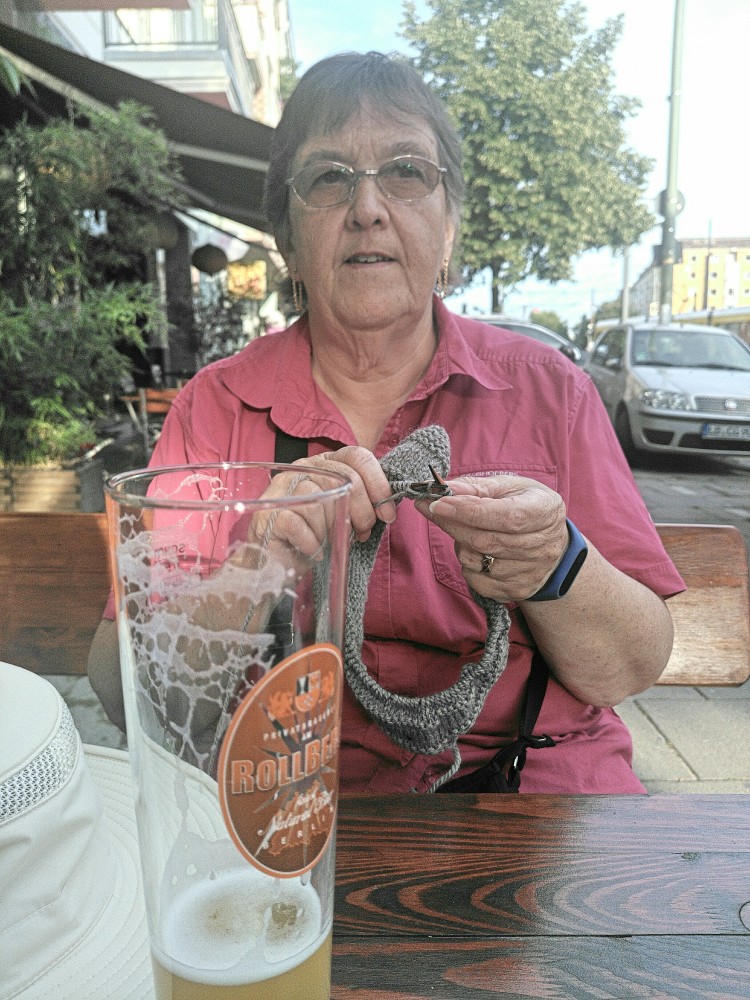 An interesting bar made more interesting by its location. A few doors back we'd passed a massage parlor and then a sex club with interesting artwork on it's exterior. Wish I'd taken a photo but the curious can go here. Looking on Osmand maps I spot that the bar shares a street address with the Maison d'envie - a brothel. Fear not, gentle reader, the bar itself is perfectly respectable, there is a small, discrete door to the side leading to some other buildings at the same address.
The barman recognises me a a beer connoisseur and recommends another bar round the corner which happens to be on the way to Lidls but we don't stop at Birra with it's great range of Italian and German beers because, after Lidls, food is definetely beckoning. We select a traditional German restaurant and even with English menus the food is still a bit of a maze. Liz had a pork steak smothered in cabbage whilst I went for some weird roast with pork under a bed of cheese and potatoes, all sorts of vegetables and even what can only have been pineapple. Very different but excellent, really enjoyable.
Too late now to visit Birra so we wend our weary way home. Even after 9 in the evening out only takes 10 mins or so longer than in the daytime. Mind you it's getting dark when we get back so we decide not to drop the tent. Might be a mistake given today's rain.