Vikings, wine and a funicular
This really is a convenient location, in the Ferenencváros suburb of Budapest. Followers of European football may recognise that name. The football team of that name did fairly well in European cup football in the 60s and 70s.
Anyway trams run up and down, outside the campsite, the hop-on hop-on bus is just round the corner and to save money on changing trams it's only about 1km to a tram that runs right along the Danube into the heart of Pest, the western part of the city which with Buda on the other bank gives the combined city its name.
Destination today is, indeed, the other bank; Buda Castle to be precise where the 26th annual Borfeztivál is taking place. For those less well versed in Magyar borfeztivál translates to wine festival. 
This means crossing the Danube but also staring in awe at the sheer vastness of some of the river cruise boats. Talking of river cruises,  Viking River Cruises will be a household name to every fan of British detective series such as Morse (their adverts sponsored much detective drama) as well as Saga magazine readers. Well at last, we've seen them.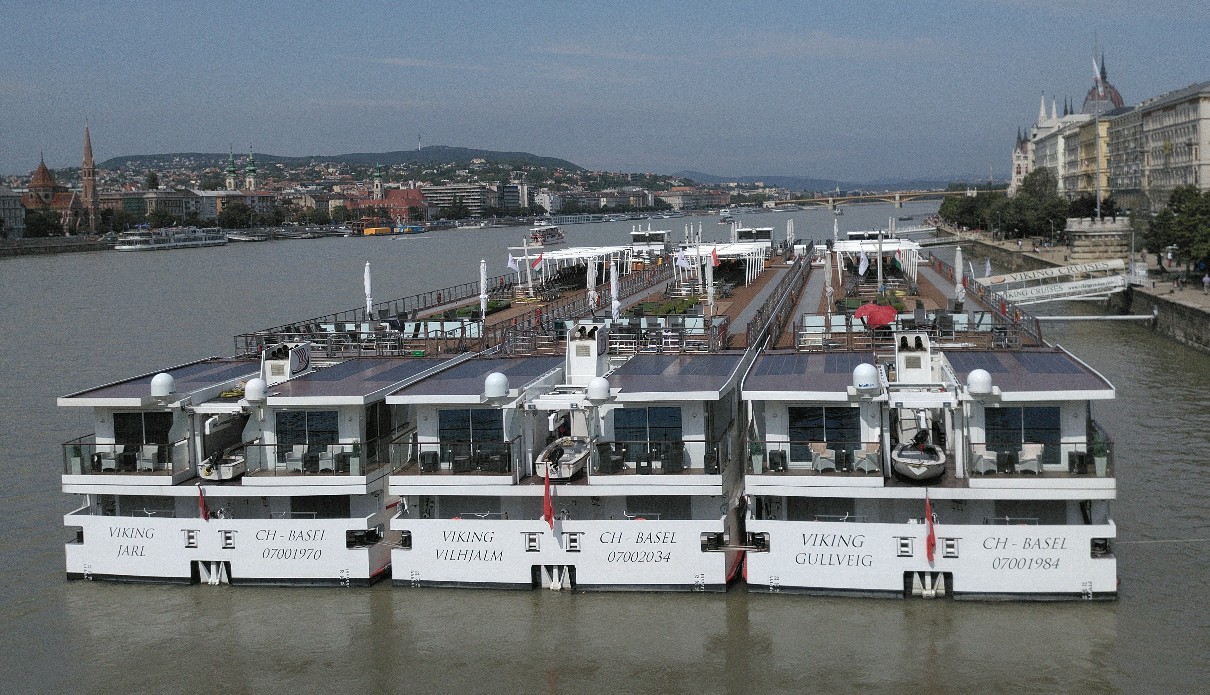 Enormous floating gin palaces with endless rows of picture-view cabins. Wonder how many tourists they take up and down the Danube each trip. Even more interesting might be the total age! If sitting back and watching scenery unfold is your thing then they do look a good option. But not for me!
Across the Széchenyi Lánchíd bridge and the castle looms directly above us. Fortunately the vertical gulf is bridged by a funicular railway (steam-powered, built in 1890, if such things interest you).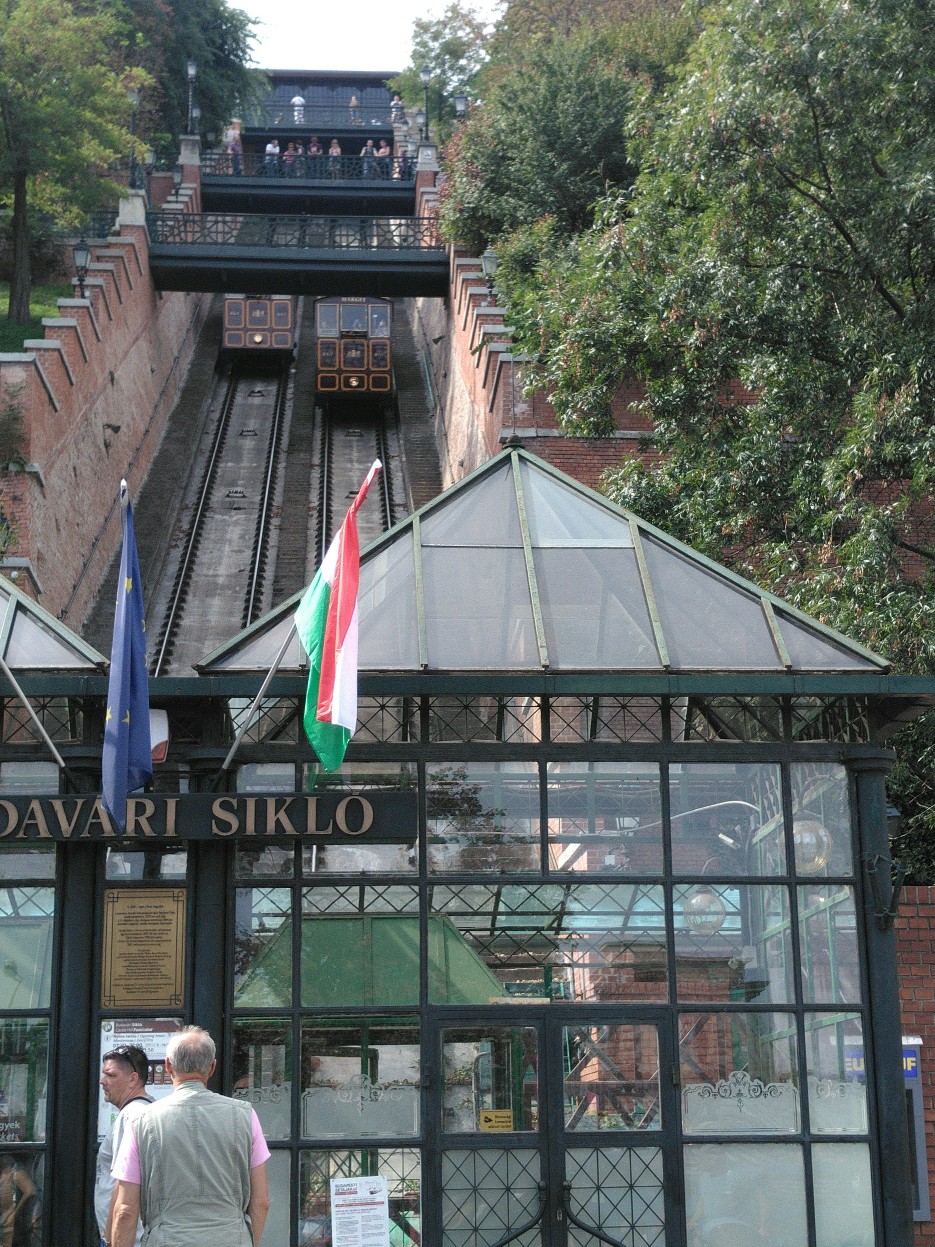 A long queue but beats the alternative walking ascent and we like funiculars. Good views too.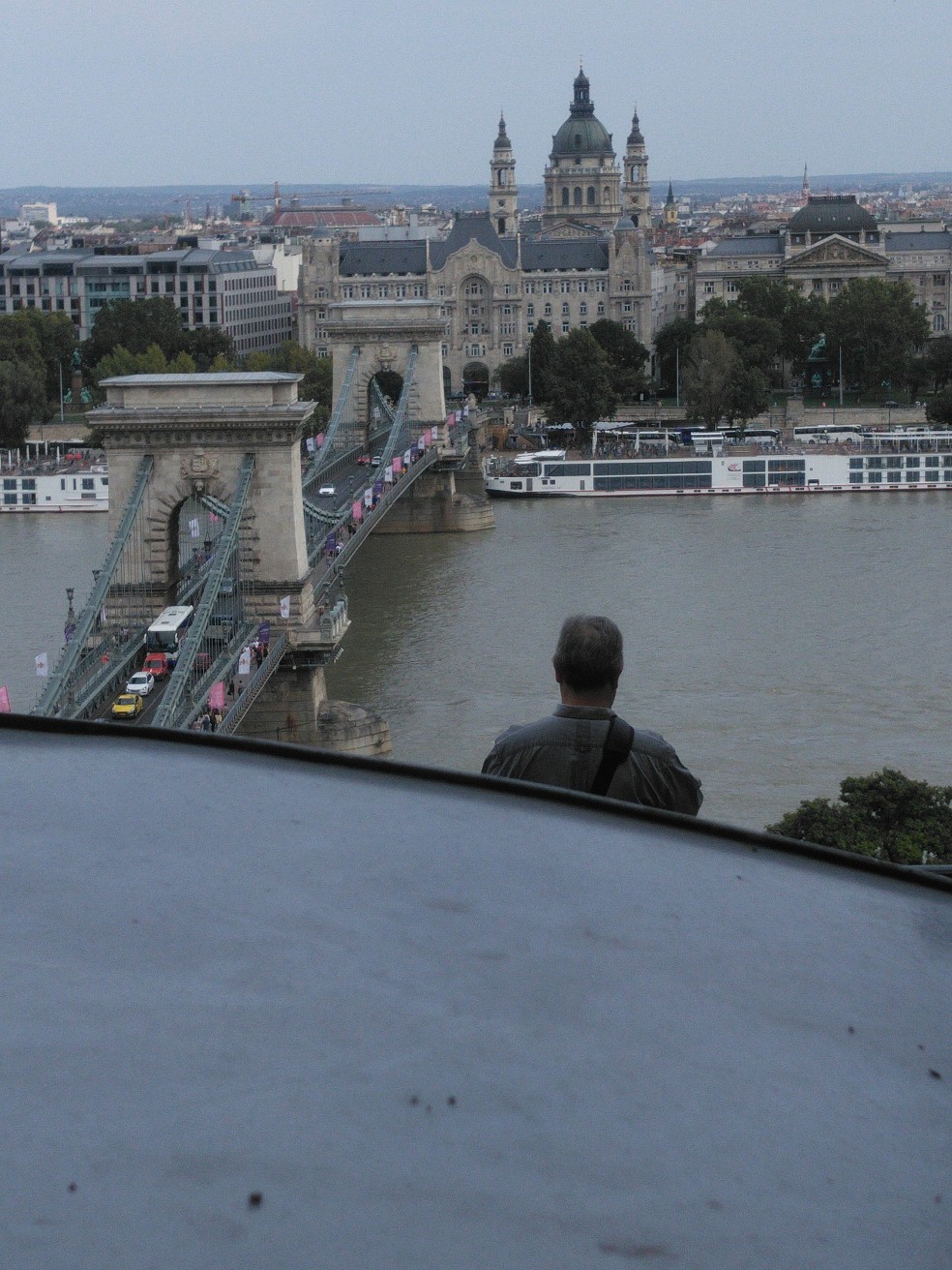 The wine festival was surprisingly empty when we got there about 2 in the afternoon. But filled up as the afternoon wore on. What had been an easy amble amongst the stalls became a fight through the crowds.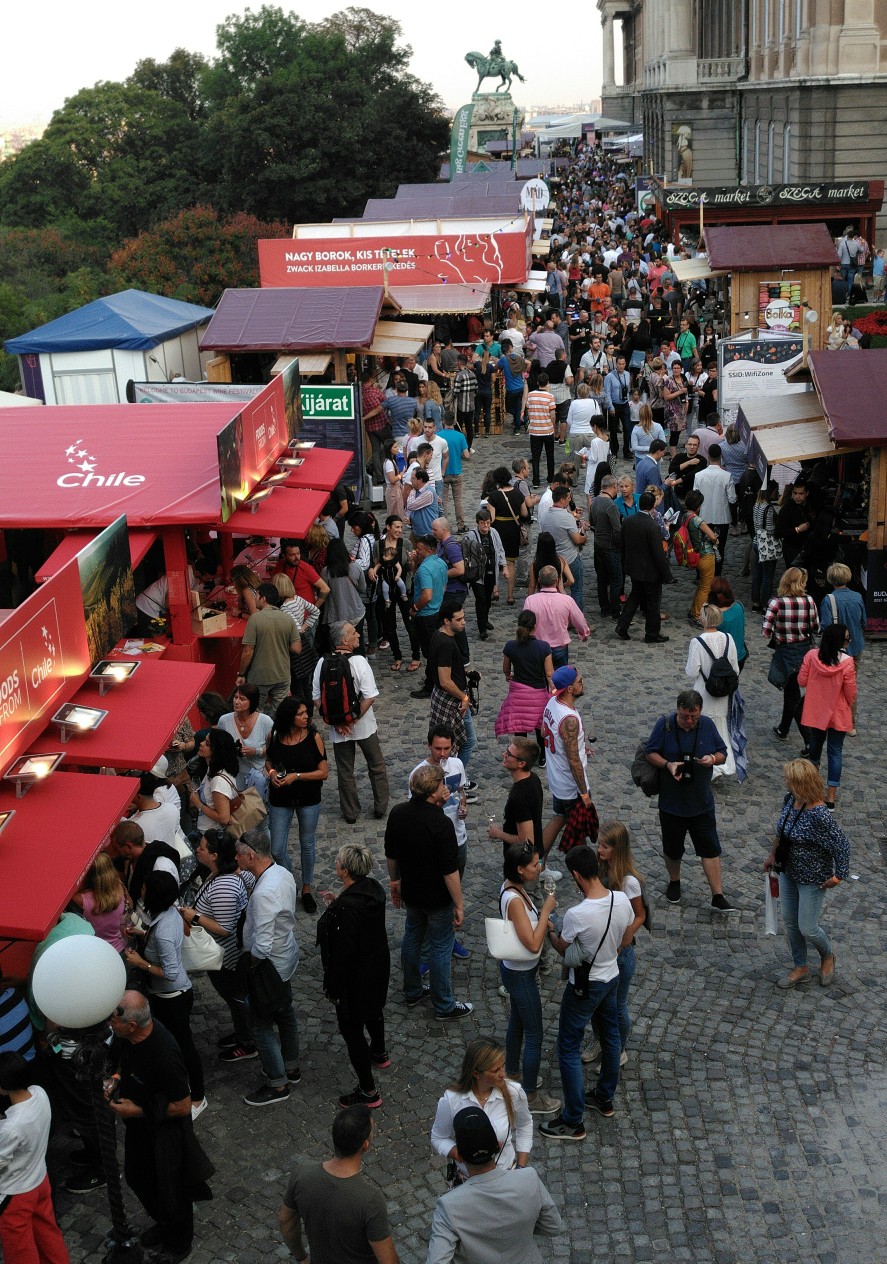 Now Hungarian wines aren't big in the UK. Egri Bikavér (Bull's Blood) was very popular a few decades ago before Australia and Chile found an export market. And back in the day when I had money (i.e. before we had children) I even managed a 50cl bottle of 6 puttonyos Tokaji Aszu, the fantastically sweet dessert wine. But at, at least, £40 a bottle these days we make do with something cheaper. I must admit I was tempted to hunt a bottle out for Christmas but even tastings were about £6 a glass. Not that I'm a tightwad but managing money today was difficult. The entire festival didn't take cash or credit-card except for a pre-loaded contact-less card that you bought and loaded. No problem to keep reloading, nor to get the surplus refunded but it just made watching money part of the afternoon. Anyway a wine that sweet would have killed my palette and so would have had to been the last wine but by then there were several other candidates (if you really want to know, the honour fell to a very pleasant Egri Bikavér, with its own pleasant trip down memory lane, not drunk Bull's Blood for at least 3 decades)
Anyway we are unfamiliar with the regions: Eger, Tokaji, Szegszárd, Villány et al and even many of the grape varieties: Furmint, Juhfark, Zenit, Kékfrankos et al so tasting is interesting. We mainly concentrate on varietals we don't know, Liz sticking to whites and me mainly red but with a couple of whites too. Here's an expert taster holding our glasses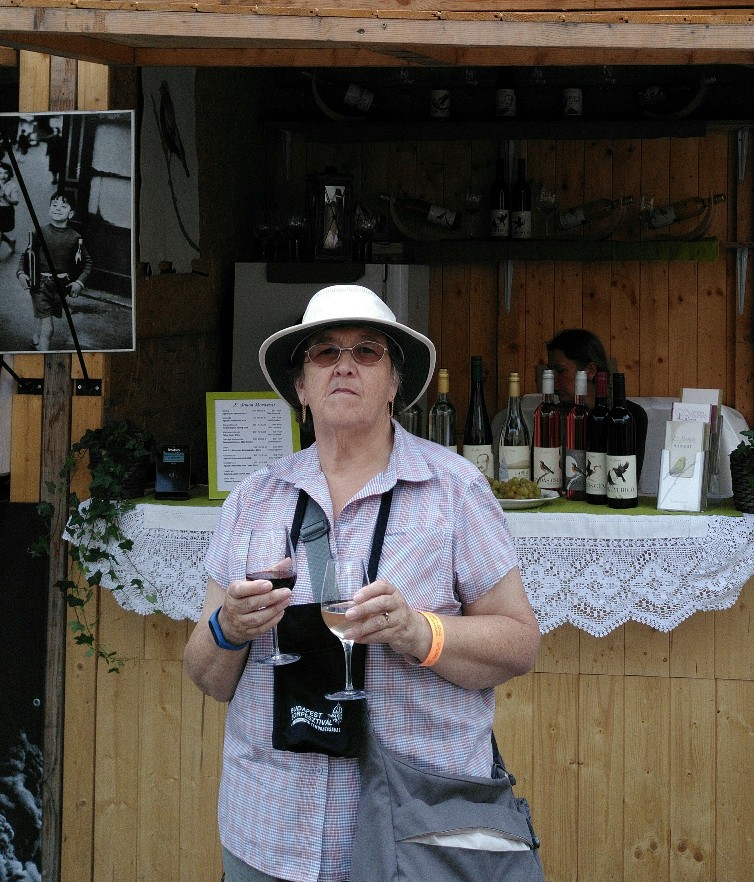 For us today was the best day to come but the music theme for today was jazz. Don't get me wrong, it was very pleasant and enjoyable but tomorrow is folk, Hungarian folk, and that might just have been a little more interesting. Still  nice sunshine, a little jazz, a little wine, most good, some very good, and a tócsni to line the stomach made for a pleasant afternoon. And I didn't even mention the view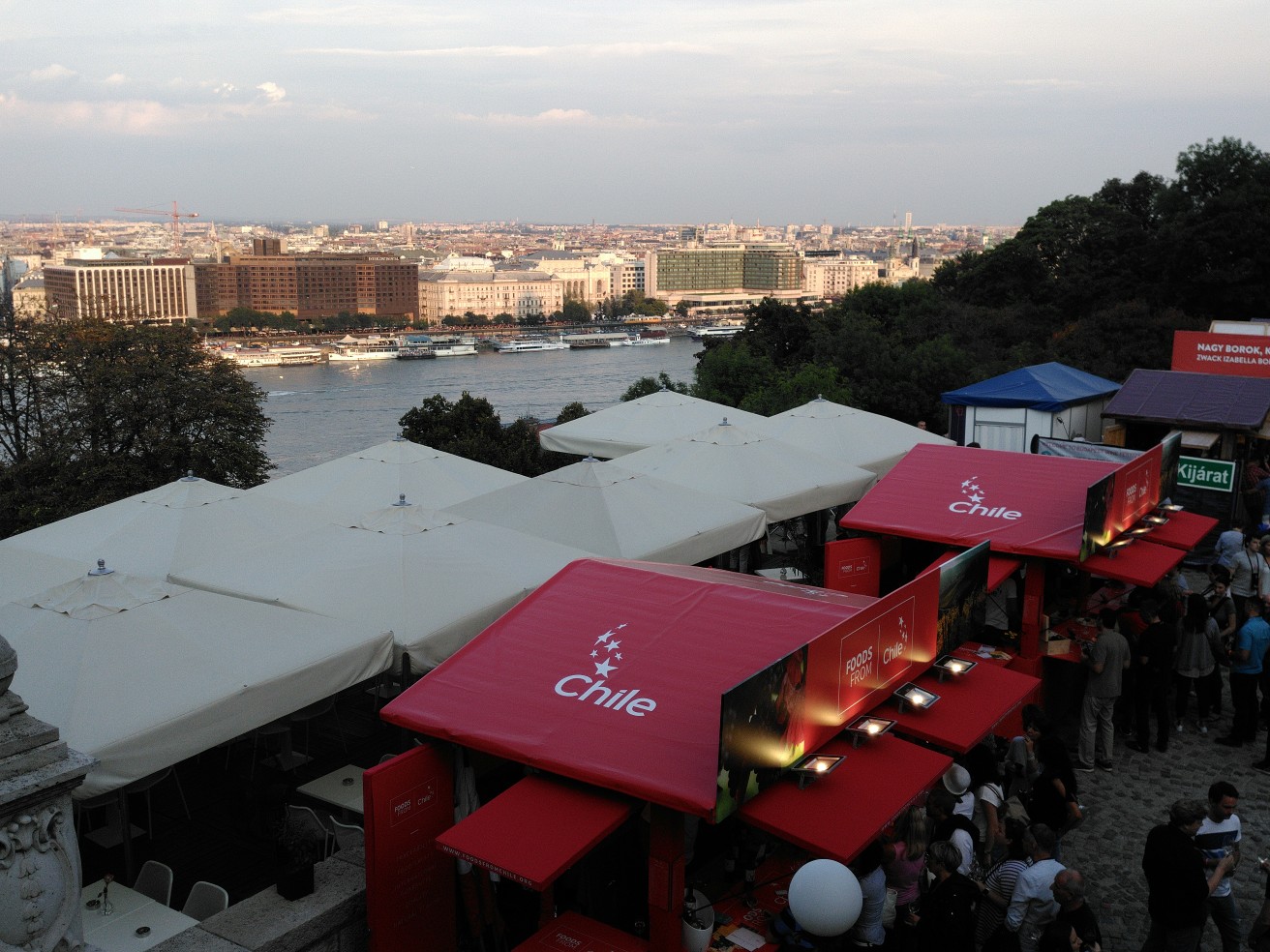 Of course, now we have two nice souvenir wine glasses. Can get them home safely? Plan A was to pack them safely in the free lunchbox that we weirdly got given in a Slovakian co-op, but they don't quite fit. Plan B, unpack the box of Lego Duplo we picked up in a sale somewhere in the Czech Republic. Yep, there's just enough space to tightly pack two wine glasses surrounded by plastic bricks. Hopefully that will work!