One thing I forgot to mention yesterday, Czech and Prague Tourist Information. In Berlin the Tourist Information desk wanted €1 for a basic map. In Dresden it was over €2 (we found a sightseeing bus brochure that had an adequate map for free). Here in Prague you do have to ask and not only is the map free, so is the 64 page Beer Guide To Prague, the 76 page Prague Pocket Guide,  2 separate 40 page books detailing a total of 10 walks around Prague and several other very useful guides. To be honest, the beer book alone compares well with UK CAMRA publications that sell for £6-7, it really is that good. 
Armed with all this we decided to avoid the tourist throngs and stroll around the Vinohrady district today. Now the Czech language is a different (Slavic) branch linguistically to Romance languages such as Latin and English, otherwise you might assume the first part of Vinohrady comes from vinos, the Latin for wine. Language is peculiar, because it does! Back in the 14th century it was covered in vineyards and the are still some here today.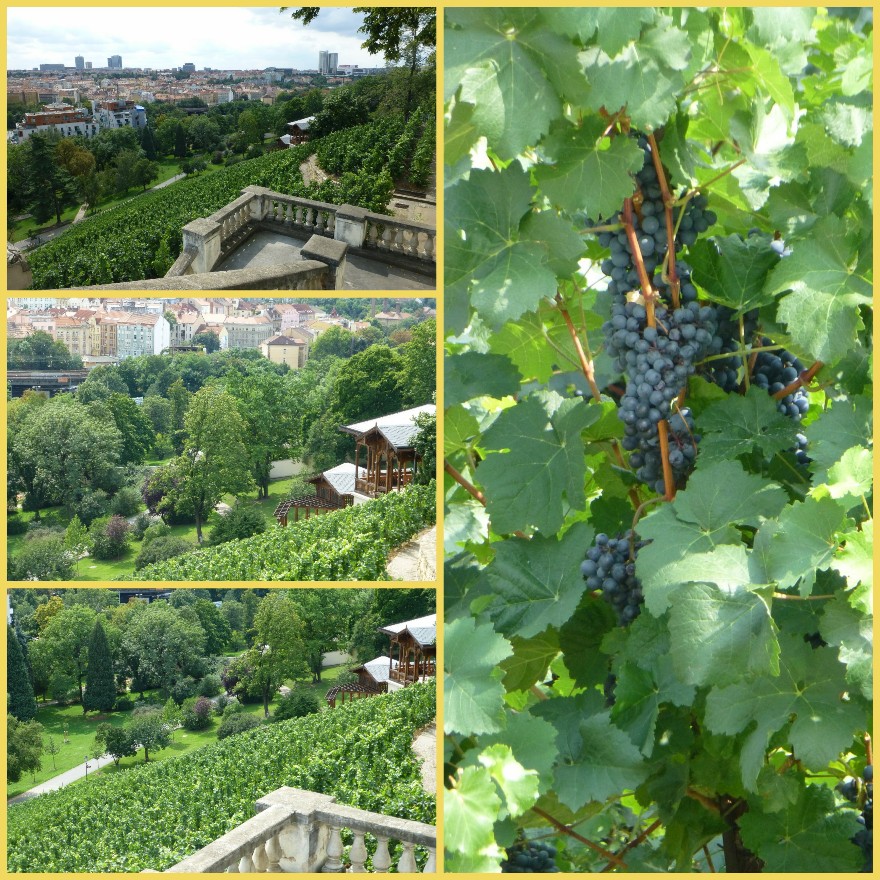 The main thrust of the walk was the tall apartment blocks built around the turn of the 20th century, many looking a bit jaded now but with magnicent architecture that must have been absolutely stunning 100 years ago.
The walk took us through several parks, one having a piano sitting there waiting to be played along with a book exchange kiosk - a must for Liz, whilst another (the one with the vineyard) had this lovely grotto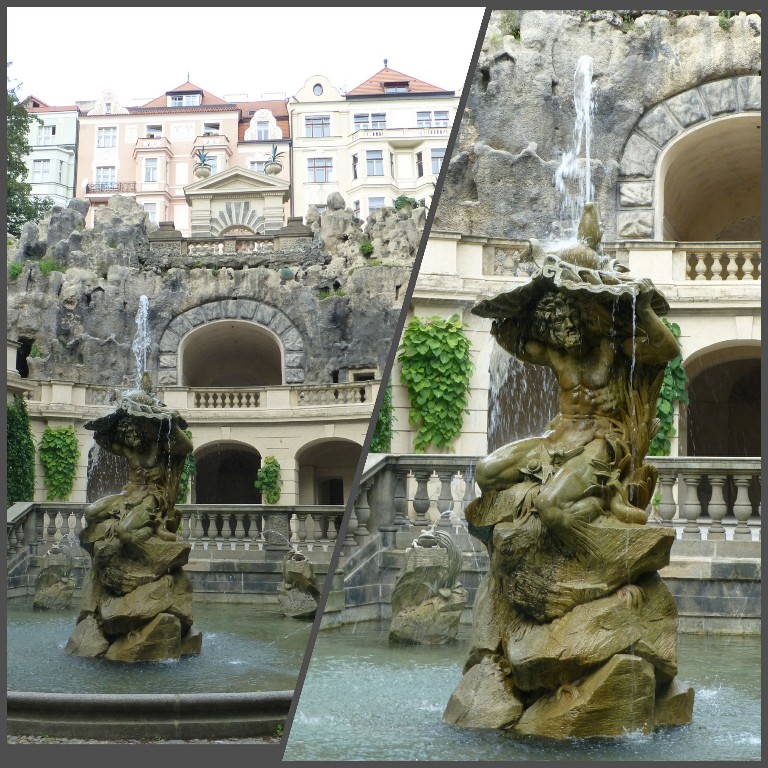 The tour passes the huge and impressive Zizkov television tower, an obvious indication of Soviet presence. Back in 2000 some fibreglass babies crawling their way to the top were added as a temporary art work. They proved so popular they became a permanent addition.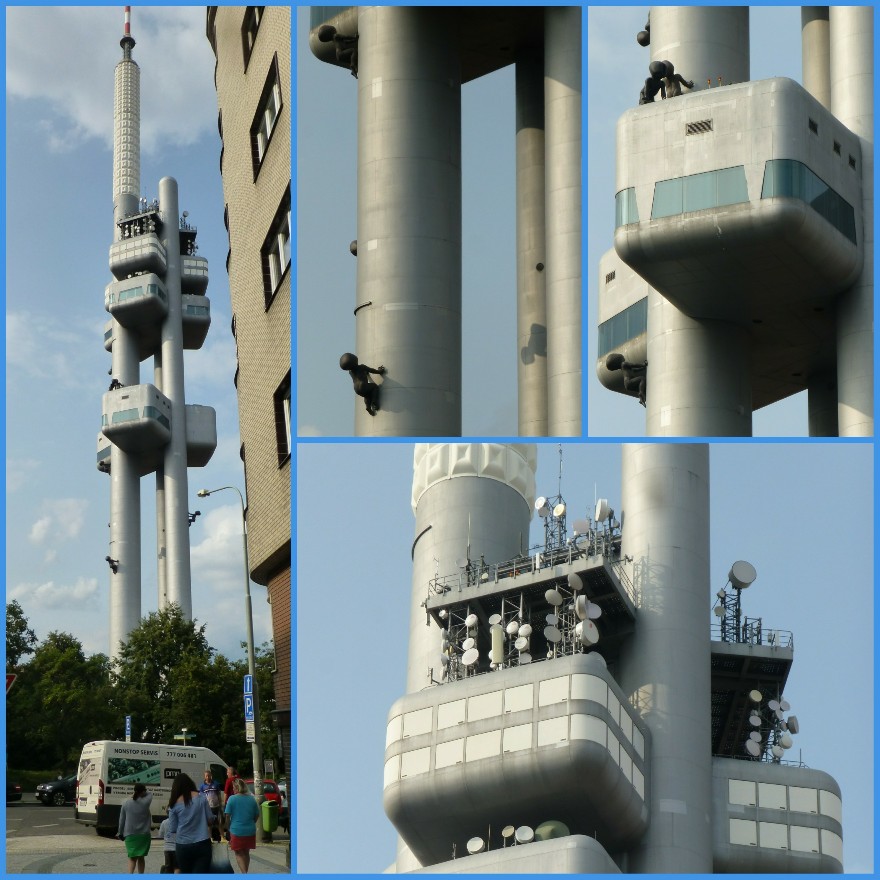 Mind you there's some serious communications hardware in there if all that dishes and antennas are anything to go by!
A couple of other collages of random places we passed. We didn't go into the Beer Museum but the two brewing shots are from inside the Vinohrady Brewery where we did slake our thirst and rest our weary legs (this is quite a hilly part of Prague). The church had nice ironwork streetlamps across the road and the random Art Deco bloke was just one of the better pieces of the many house ornamentations that we saw.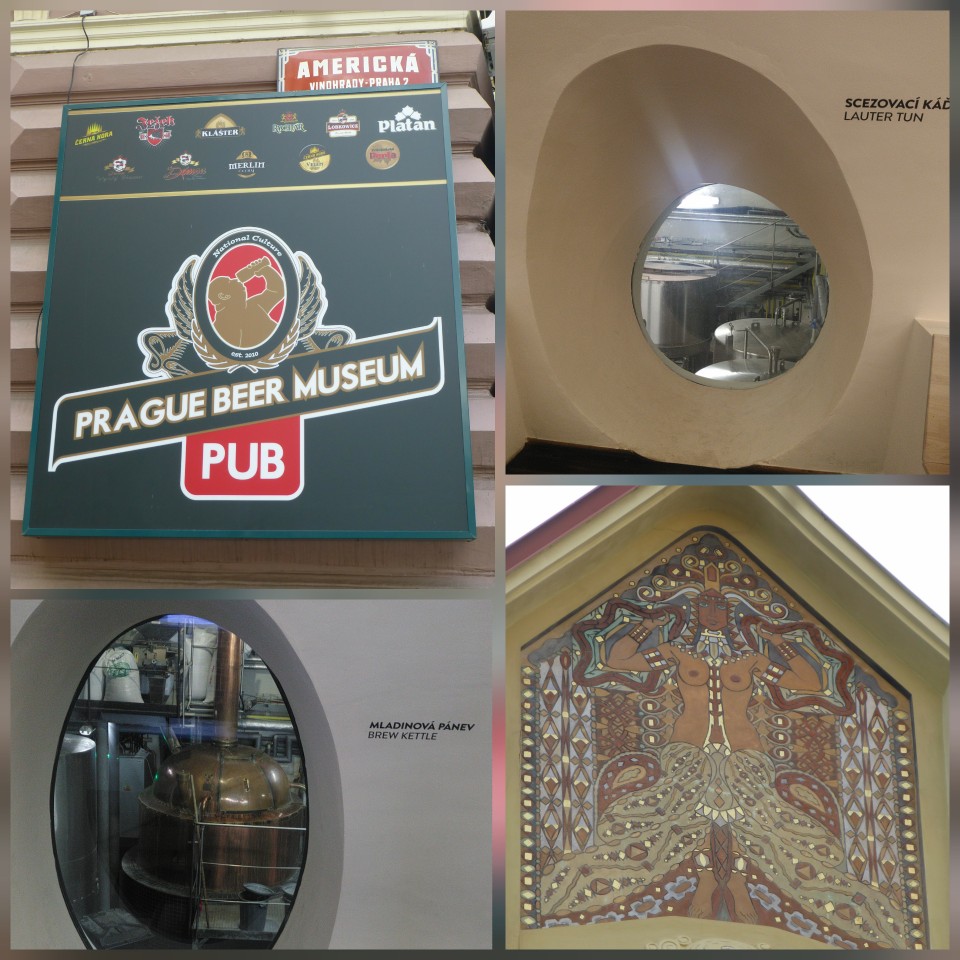 Back to the campsite in time to check our today's washing before dinner. Much of it has dried but despite being better than cotton the microfibre underwear is still slow to dry and will need leaving until tomorrow. Dinner then and a couple more pints of Trebonice's excellent Black Mamba dark ale - one of my all time favourite beers (and that's saying something!) 
On last photo for today; Jonathan will appreciate this. Apparently they are clamping down on drunken Segway riders careering through Prague parks. Here's a park gate (the insert being a sign just inside the park in case you didn't get the message first time).