Well an exciting start to the day. This was our view from the van window when we woke up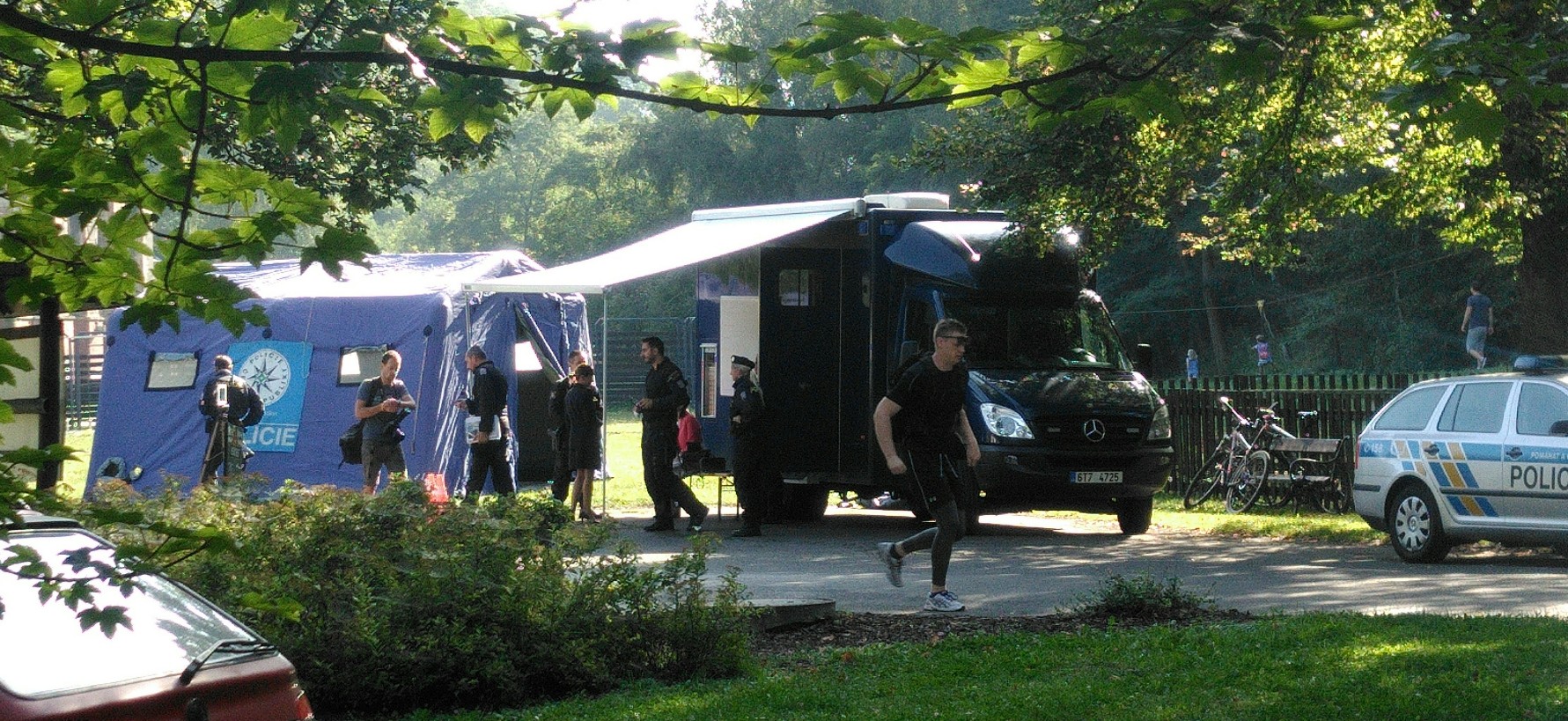 Definitely a CSI crime scene and looking the other side of the van there were several other police vans parked up, some with riot type shields. Now I know I've joked in the past about the lack of space in the van and that one trip maybe only one of us will return, with the police still looking for a body but this is ridiculous.
As it turned out it was all very innocent, some form of Police training/team-building, we think. I did ask an officer who looked fairly senior given the adornments to her uniform but her English was poor enough to remain ambiguous. 
Still it meant the van was under Police surveillance all day so we felt extra safe leaving it.
First port of call was the museum experience here in the park, a tour of the mining museum and an underground tour of simulated mining techniques. Of course it was all in Czech but English audio guides helped. Cost was incredible, the above grounds museum tour was almost an hour and below ground just over an hour. For us poor pensioners we got 2 hours of guided tour for 90kr, a little over £3. OK so the English audio guides cost 100kr, doubling the cost but it was still excellent value and very interesting. The underground part is only a few metres below the surface but the lift has video floors making you think you are descending much deeper. It worked, you really did feel down in a mine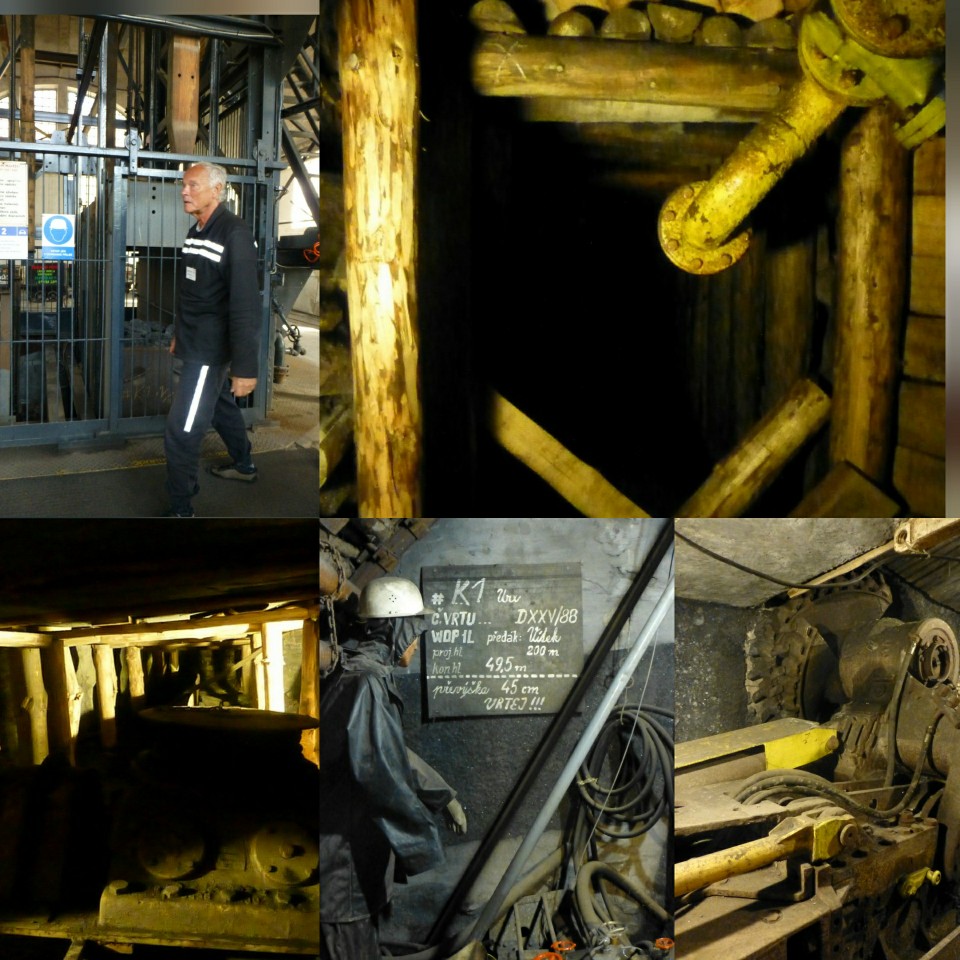 We were glad for the hard hats too, much was low roof.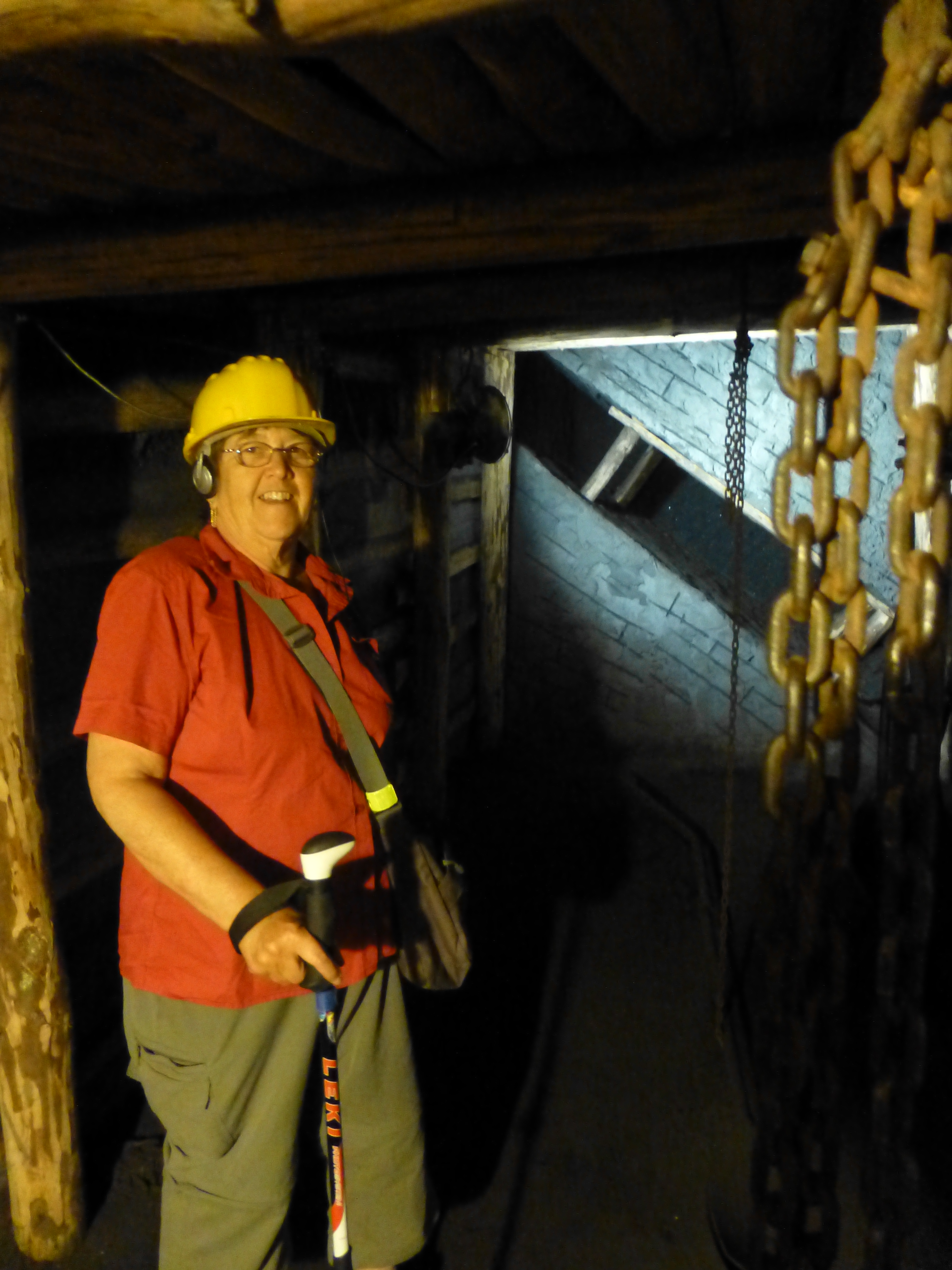 Back then into town. It's too hot to do much. It's over 30° today, hot even for here, so much of the afternoon was taken up with finding shade. In fact we found a shady table at a bar selling 'tanku' Pilsener Urquell and stay there for a couple of beers. It really was that hot. 
But first we caught the 2pm performance of the astronomical clock. It's all very cute, windows open, the characters animate a little and lights flash in the clock indicating time and other interesting information (or so we believe)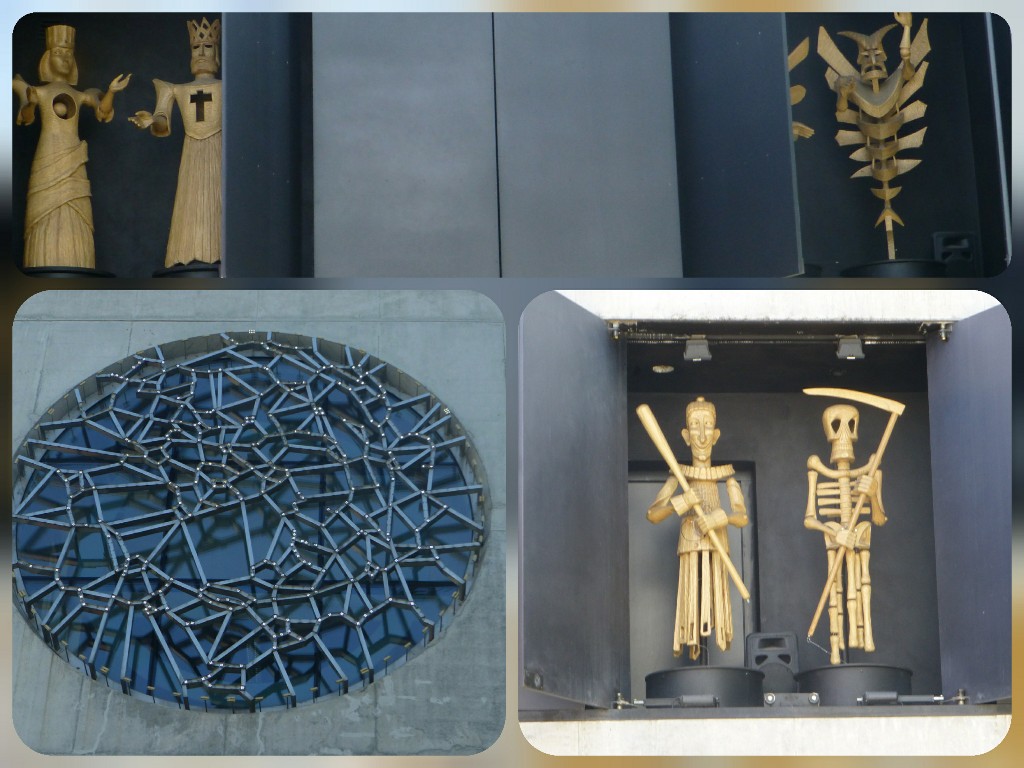 Two problems, the clock is just small lights on that rose-window-like framework. As the guide book says, best seen in the evening. However a bigger problem is that until the hour 'chimes' there is nothing to indicate it is a clock. The figures are hidden behind closed panes and the clock face just looks like a bit of modern sculpture. We had to pop into the adjacent puppetry museum and ask where the clock actually was, despite pretty much staring at it. Of course the museum woman spoke no English so many interesting gestures were exchanged!
Taking of the puppetry museum, this was one of the many splendid guardians of its doorway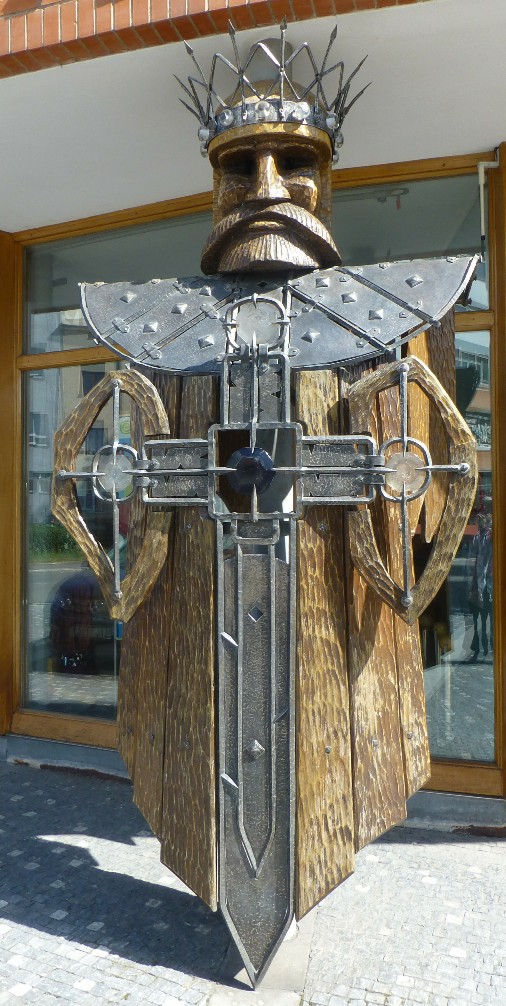 One last bit of Ostrava we must visit. Stodolni Street, 'the street that never sleeps' is famous across the Czech Republic for its stream of bars and clubs. Not us, but since it is in every tourist book we best check it out. The sort of faux Irish pub I tend to avoid, a couple of strip clubs I was forced to avoid and a few other bars that cried out to be avoided. It may never sleep but the sun has definitely made it take a nap this afternoon. Still always nice to see a friendly face, even in silhouette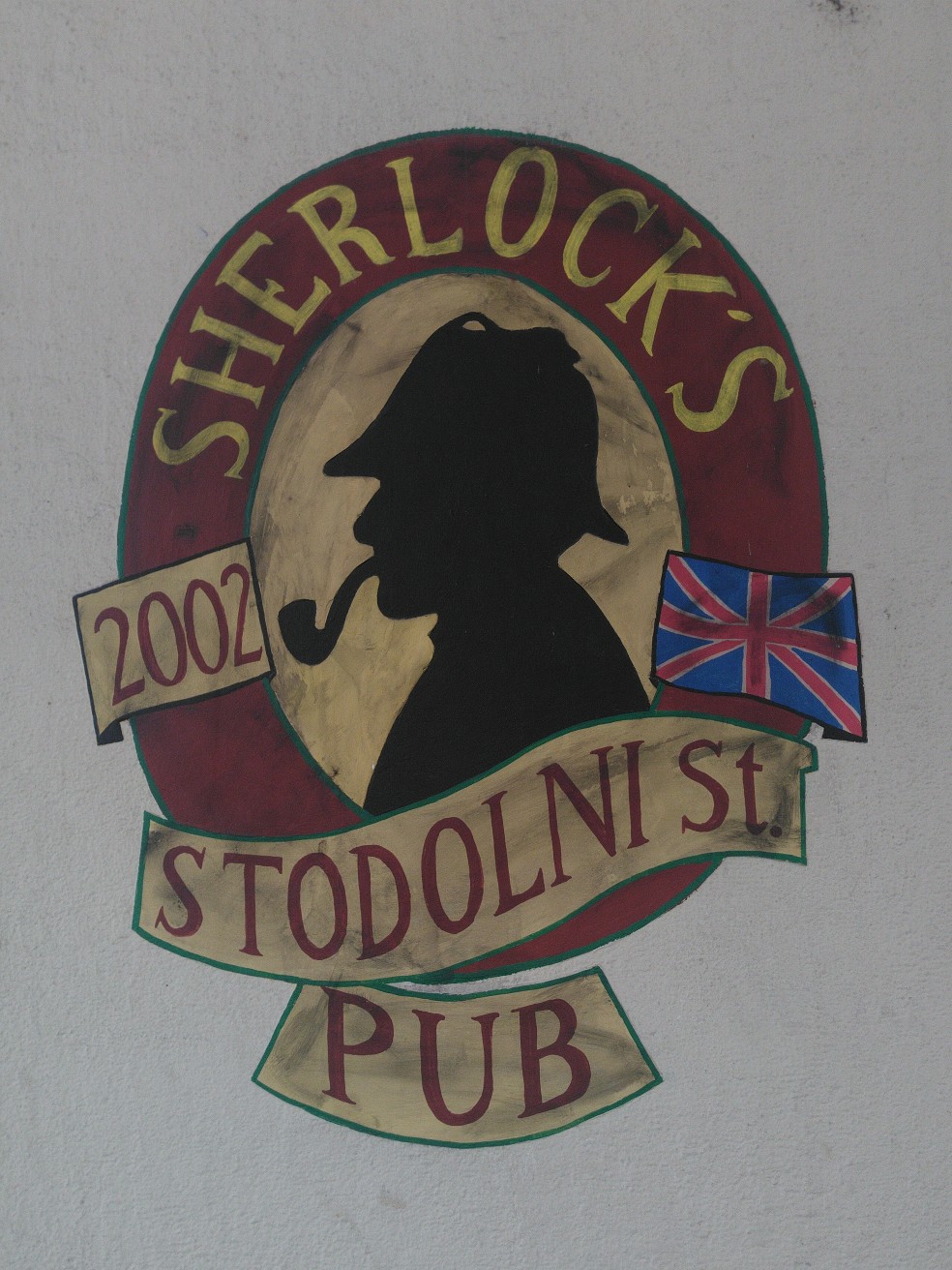 Before we leave here, one last photo. We mine's winding gear is illuminated at night. I don't have a tripod so the picture isn't framed perfectly but here's a try