You put your left leg in ...
A lovely sunny day, despite a still quite bitter wind.
This is a lovely campsite. Facilities are new but what really sets it apart are the little touches. There's a small community room, books and toys and even a travel cot. Perfect for families when rain makes a tent or van unbearable. The toilets have children's booster seats. There's a couple of swings and a slide. And the people are very friendly and chatty.
No bus service but the taxi into town is under £6 (coming back a slightly longer route it was just under £7). Even for the two of us not much more expensive than bussing it.
Derry has a lot of history, the siege in 1689, the battle of the Bogside in 1969 and the Bloody Sunday massacre a couple of years later. And, it still has its entire, intact city walls. Tomorrow we'll walk the walls and take a tour and visit the infamous Bogside but today we'll meander and get our bearings. After a wander around the centre we walk down to the river and the Peace Bridge, completed just 7 years ago. It's an impressive structure but why it winds rather than runs straight was a mystery. That is, until a chance conversation with a couple over on the Ebrington side gave us an explanation. Apparently as you approach the bridge the two stanchions appear separated, just like the divided communities, but as you walk the bridge there is a coming together. Let's see: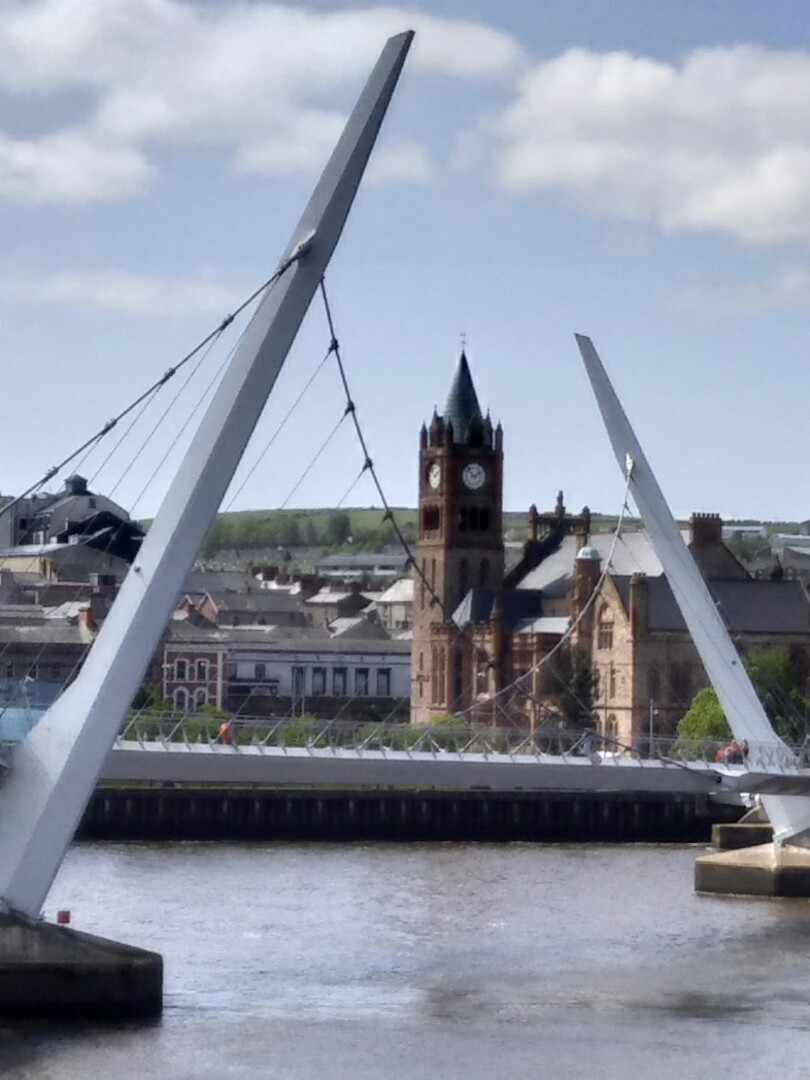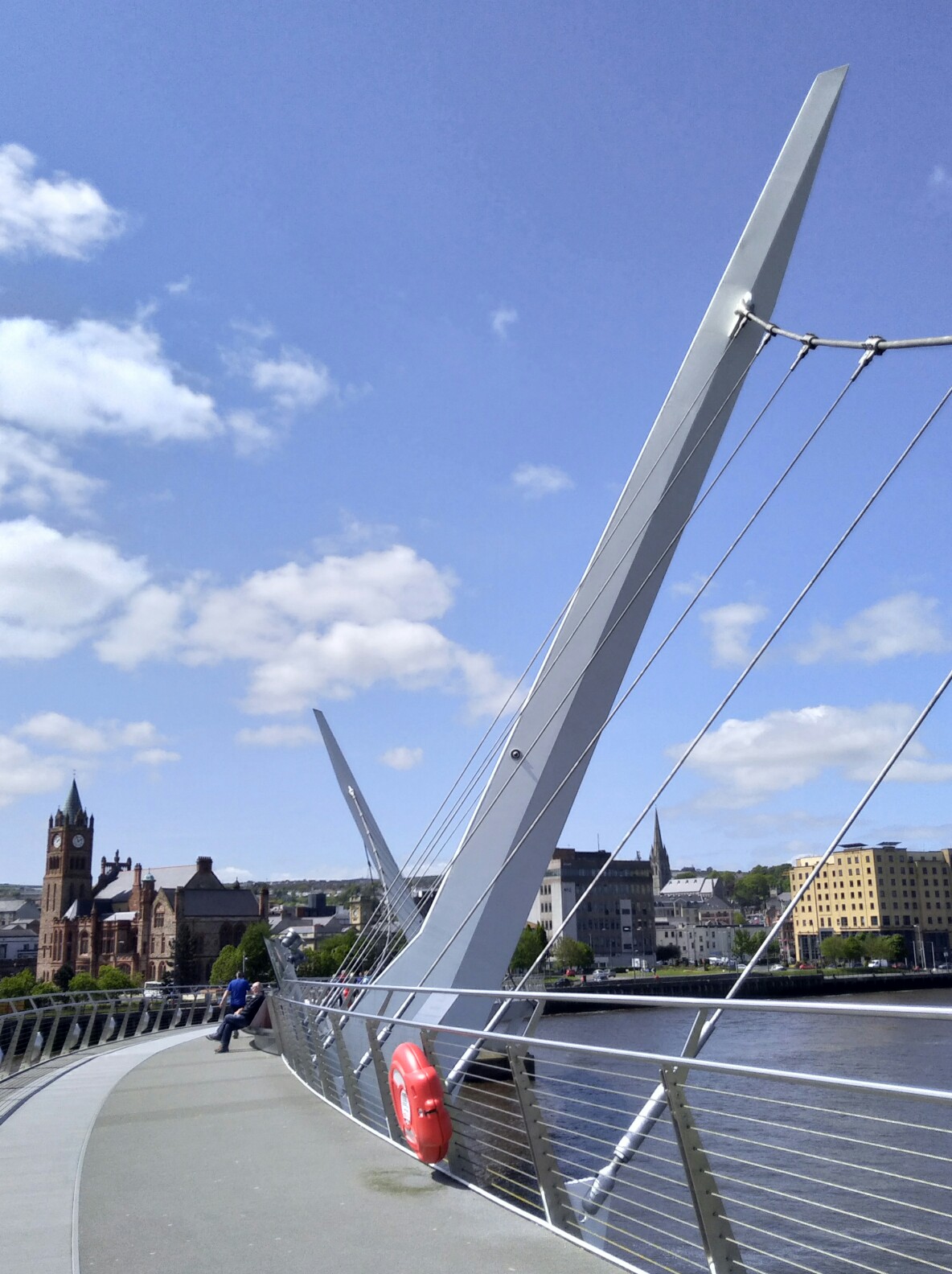 Clever eh!
The conversation also suggested we go into the Guildhall. We'd seen and photographed it from the exterior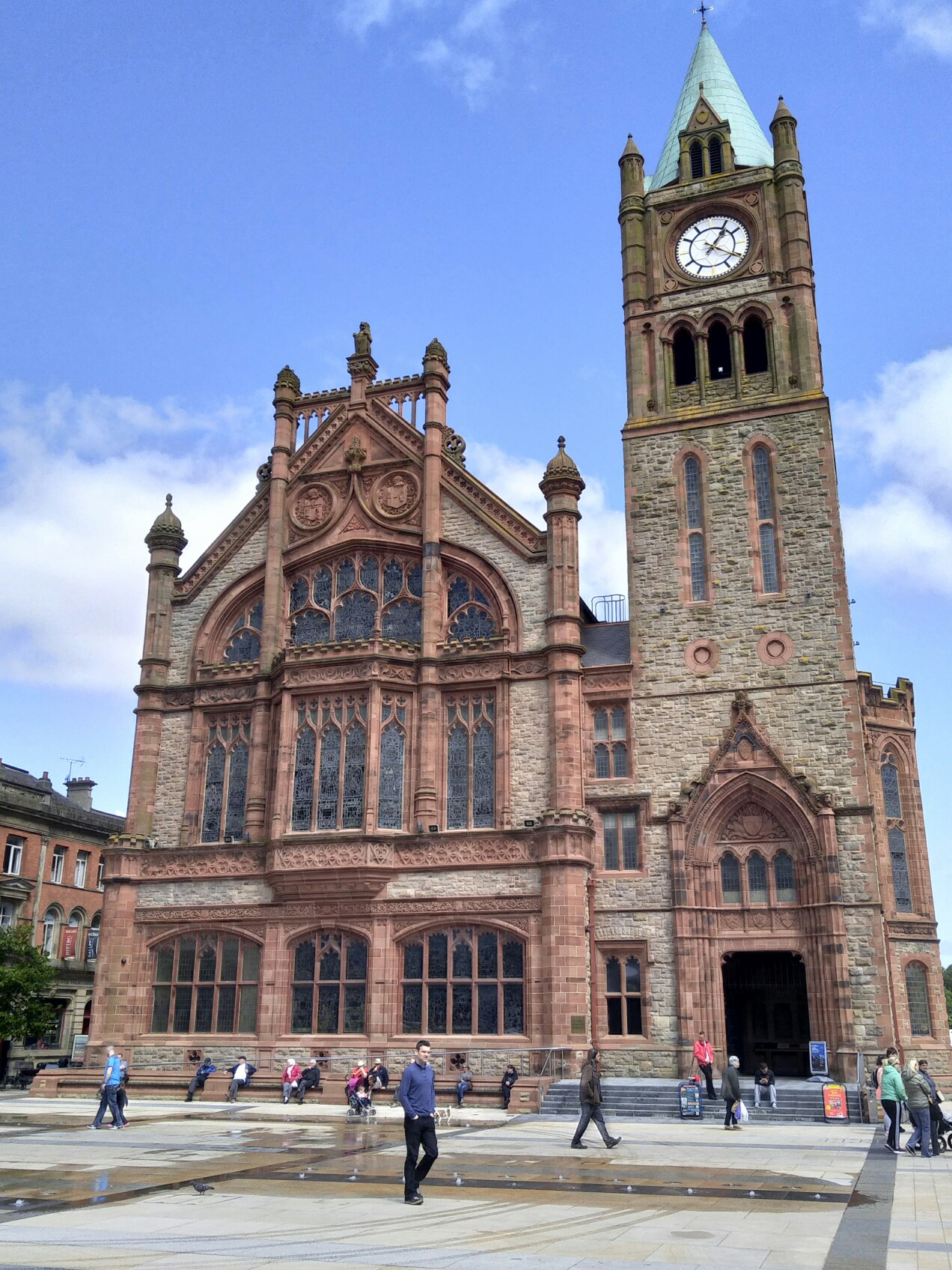 but hadn't realised we could go in. There was a very informative exhibition about the plantations. No, not coffee or bananas, but the deliberate plantation of English setlers into Ireland in the times of Henry VIII & Elizabeth I. Much of Ulster was settled by colonists under the auspices of the various Worshipful Guilds of London. The display culminated in this beautiful modern tapestry depicting the story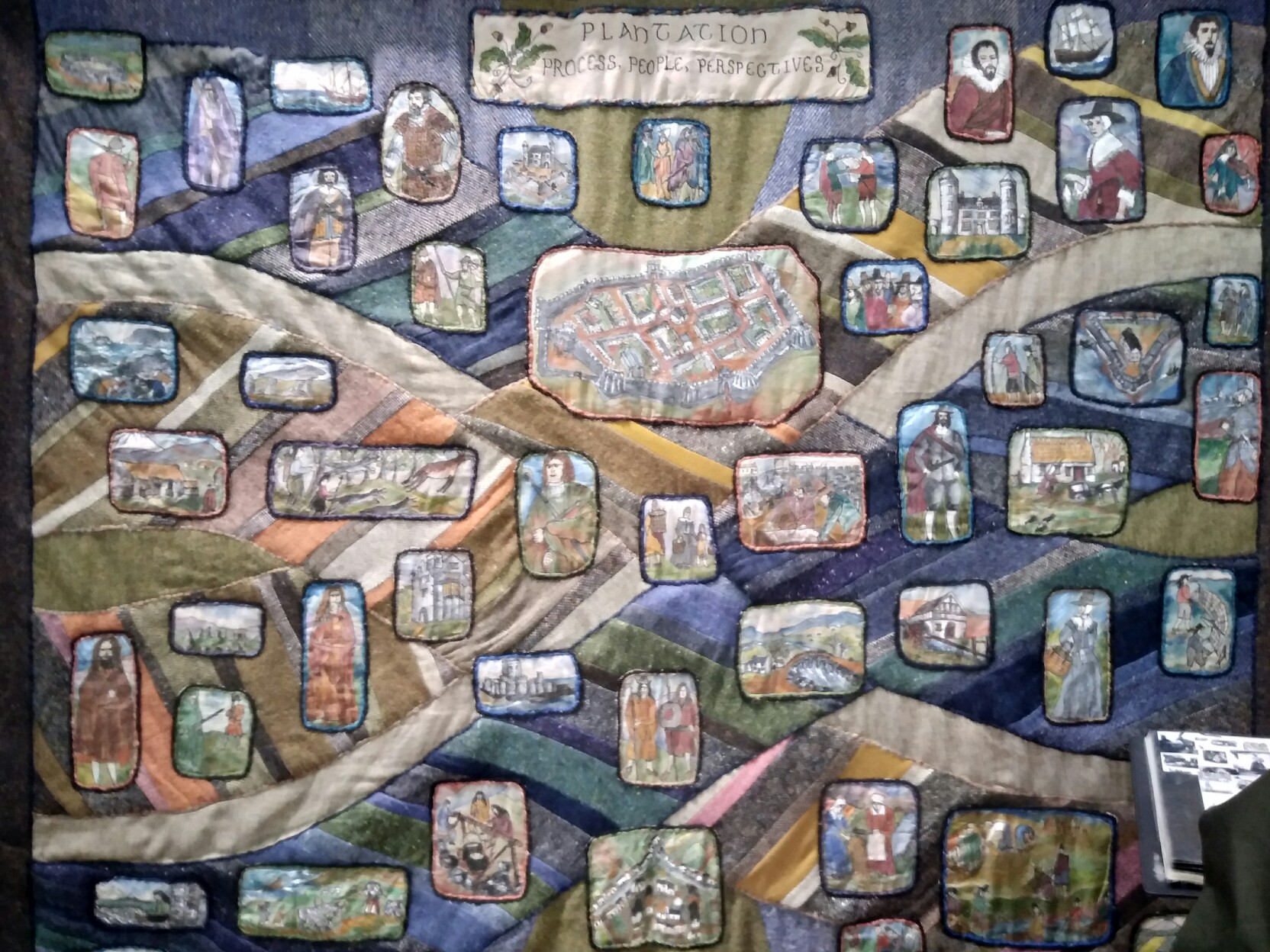 A fire ravaged the building at the end of the 19th century but resulted in a restoration that included a fantastic pipe organ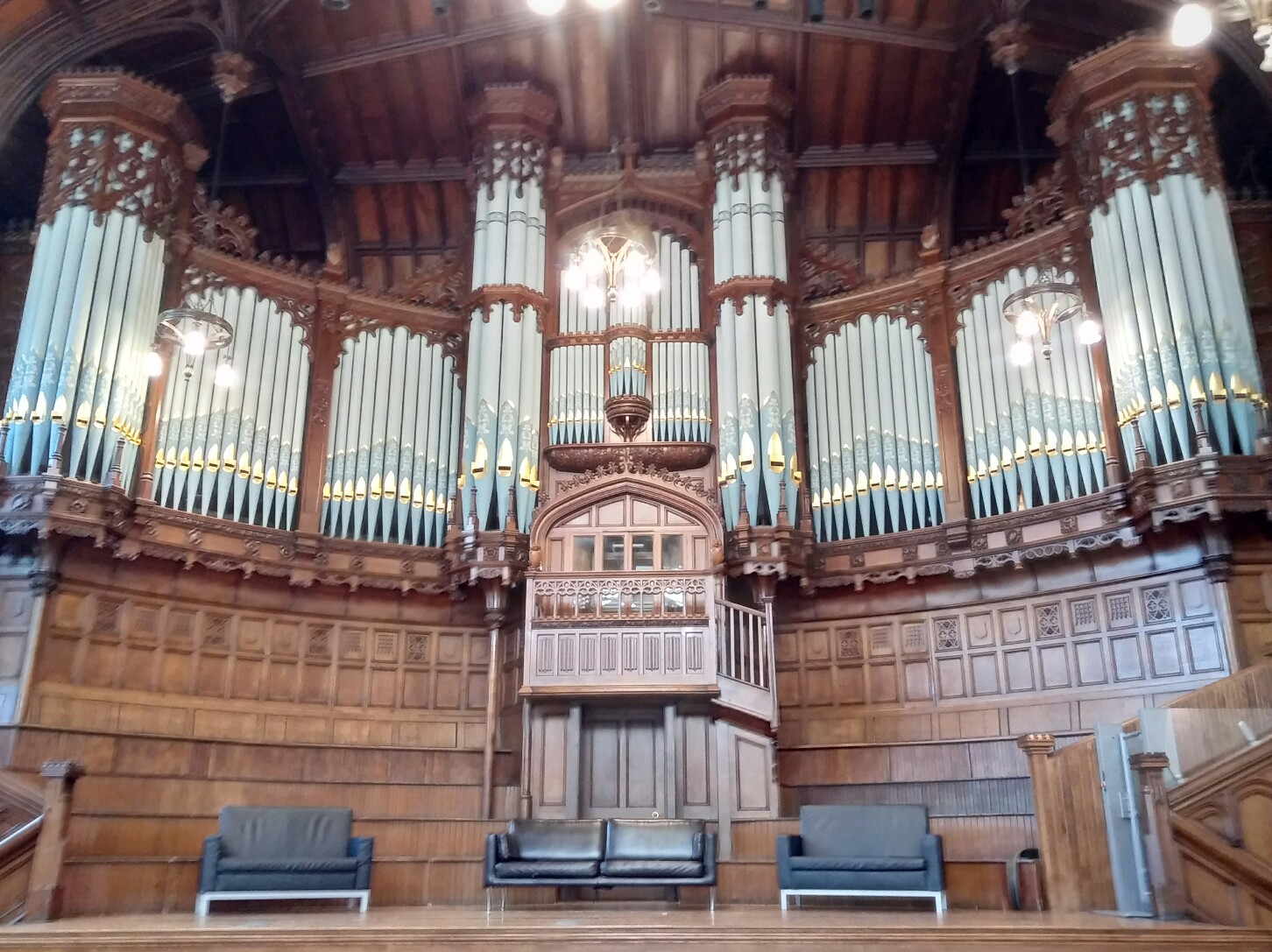 and some lovely stained glass [1]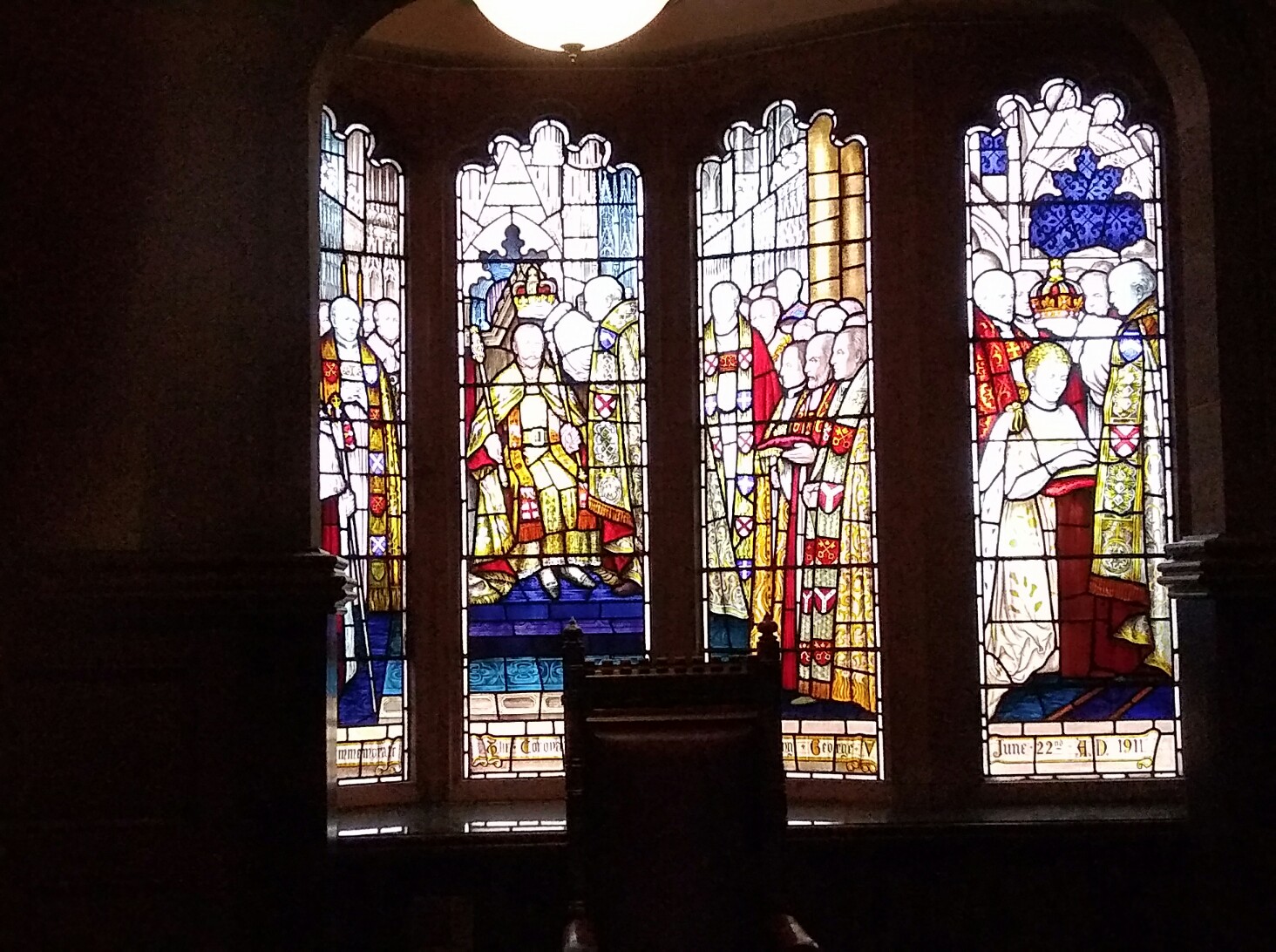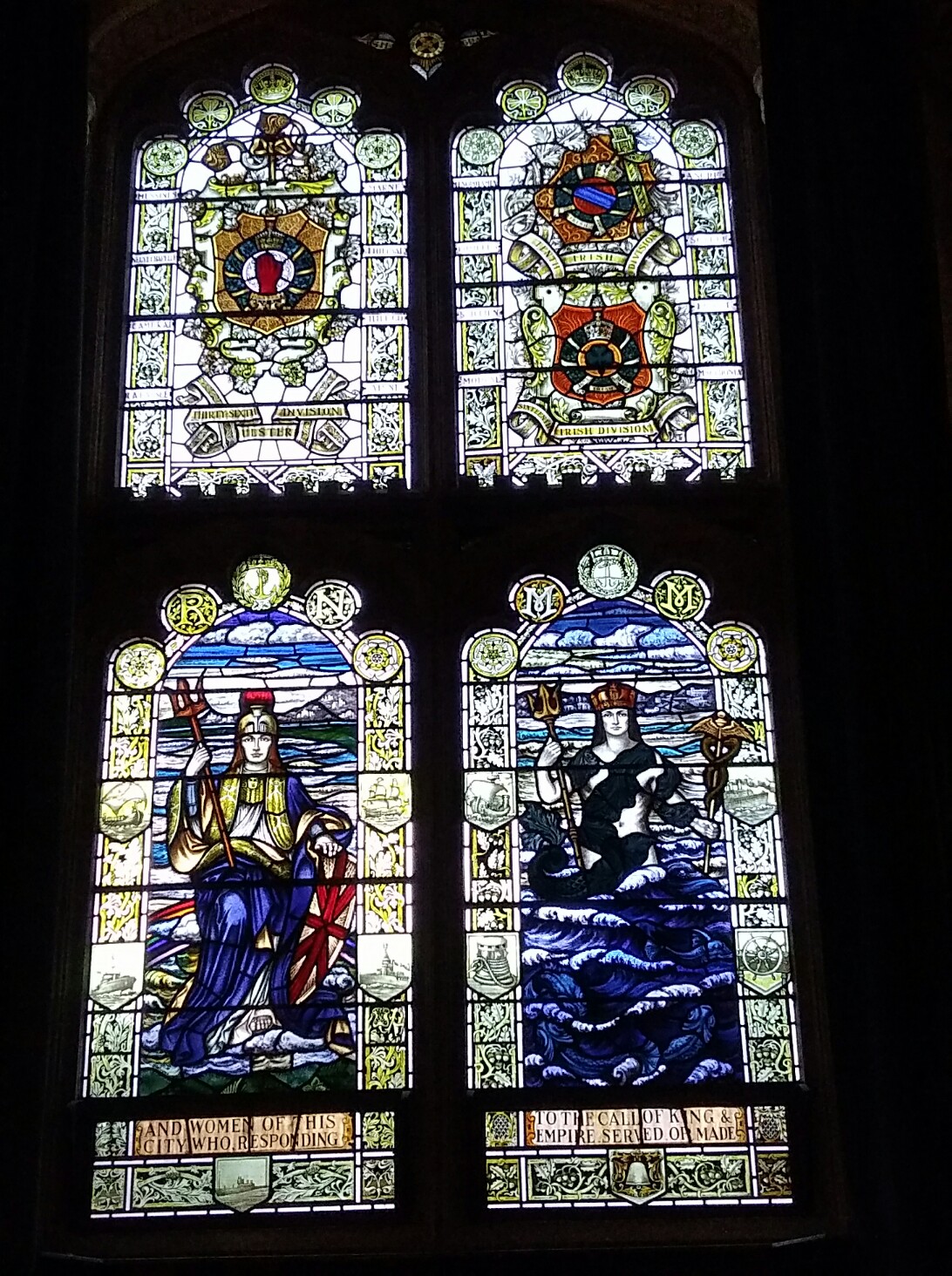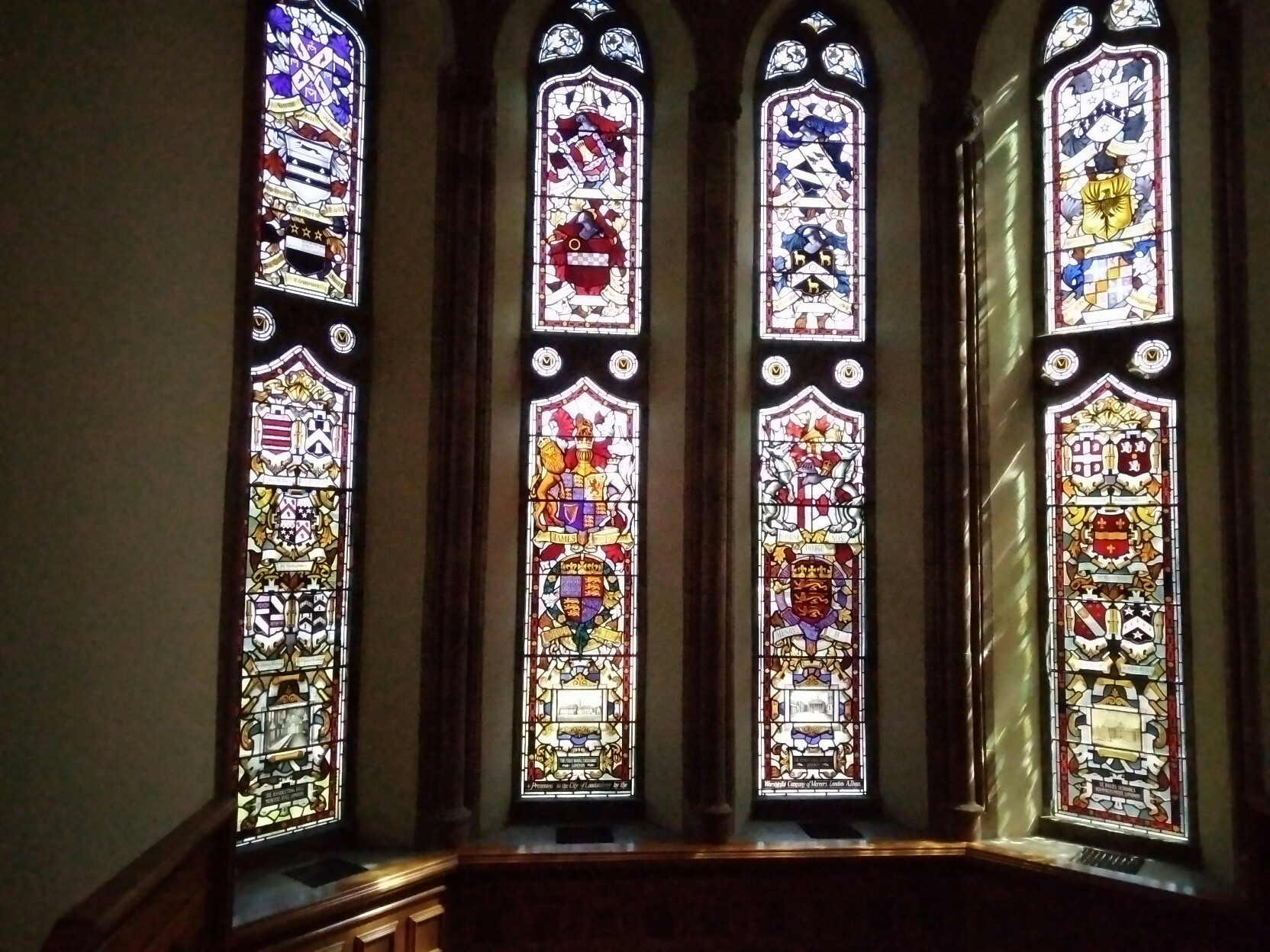 BTW if you can play a church organ, just ask and you'll probably be offered the chance to play this one!
Well that was a good chance conversation wasn't it? Actually it happened because we were both attempting to go to the same destination Derry's Walled City Brewhouse and were disappointed that it was closed until this evening.
Still a few more shops and an excellent ice-cream later (I did say the sun was warm) and the Brewhouse ought be open. As we are walking back over we checked the map and spotted that one area of Edrington has a street of murals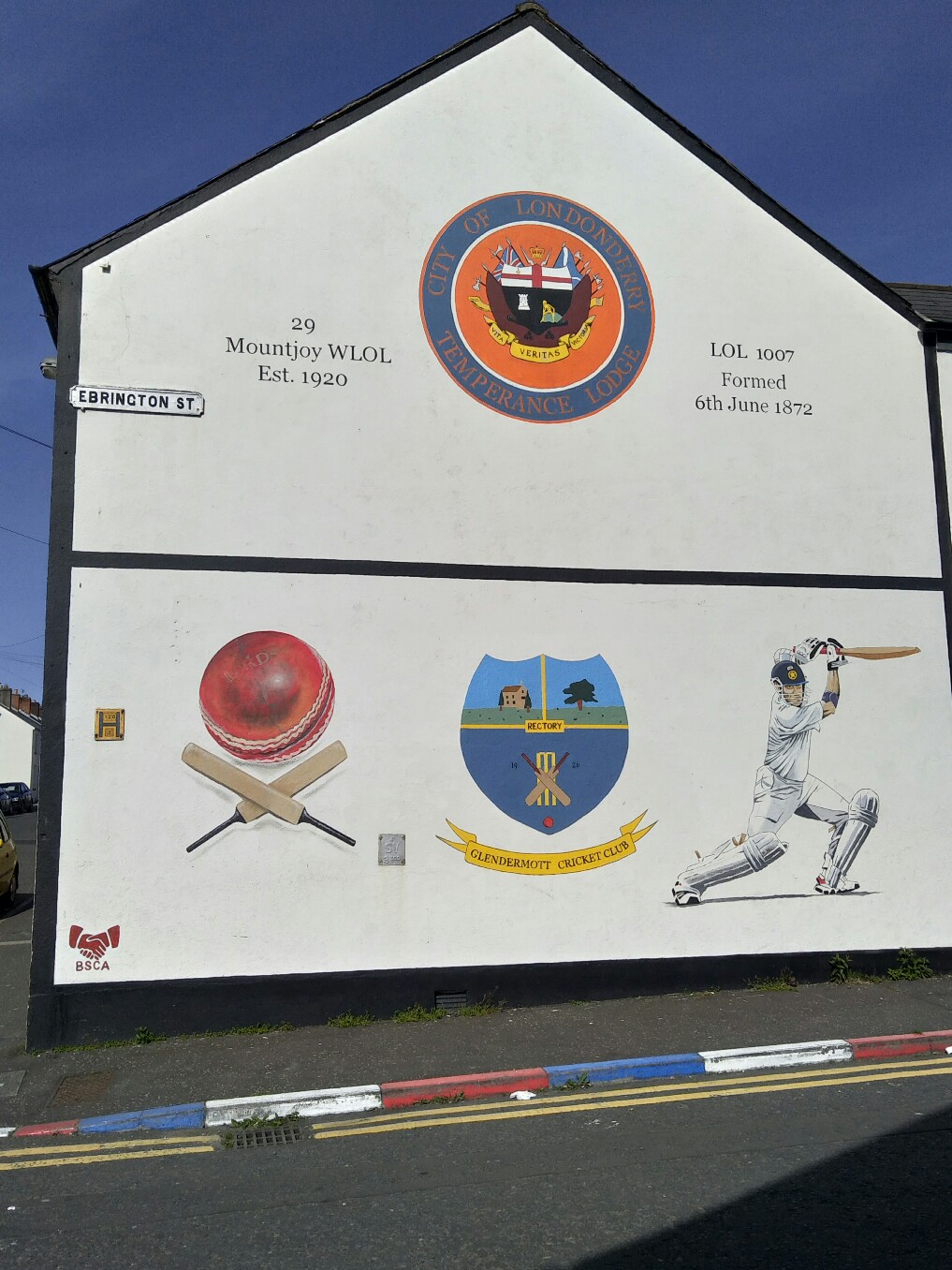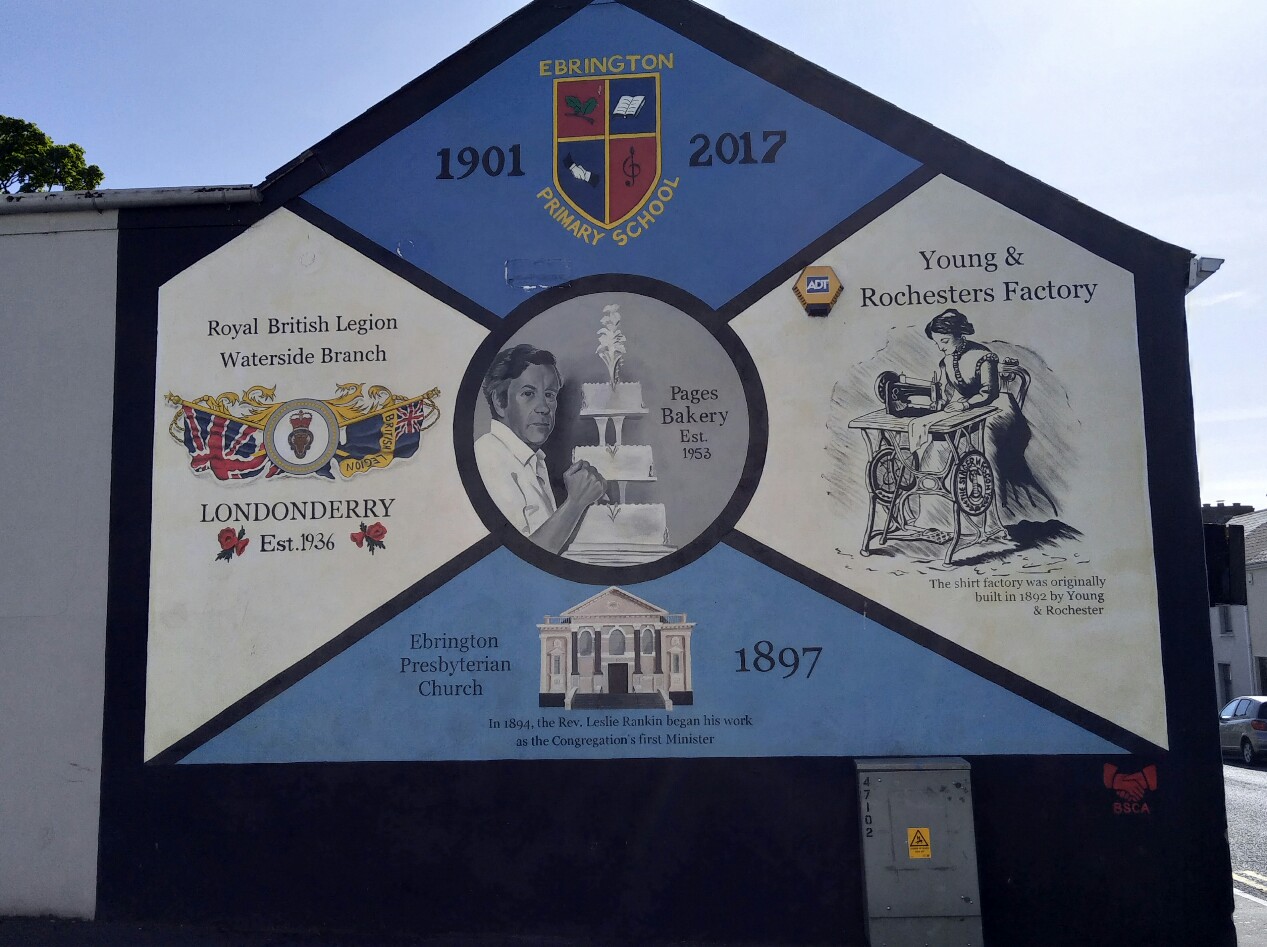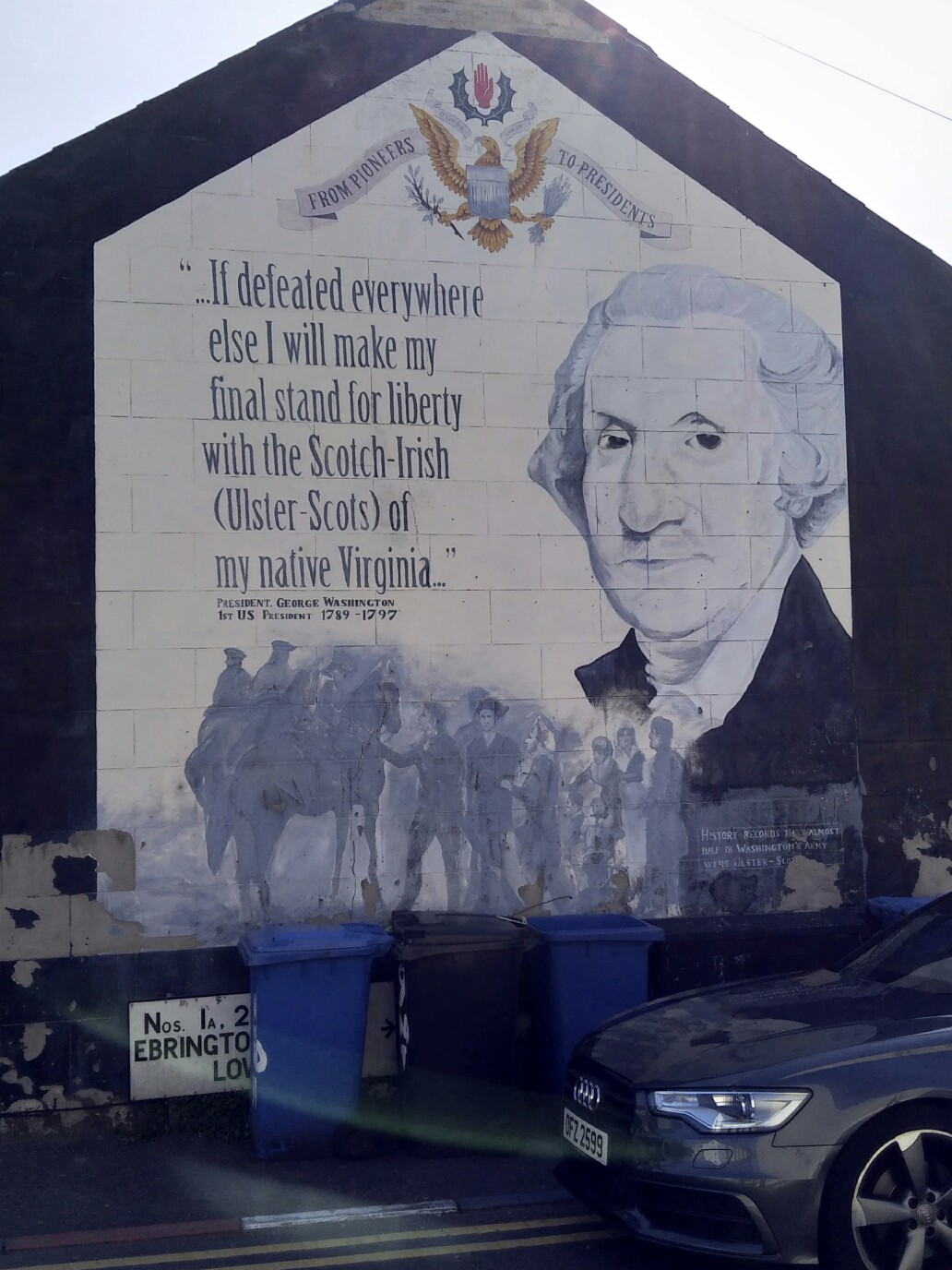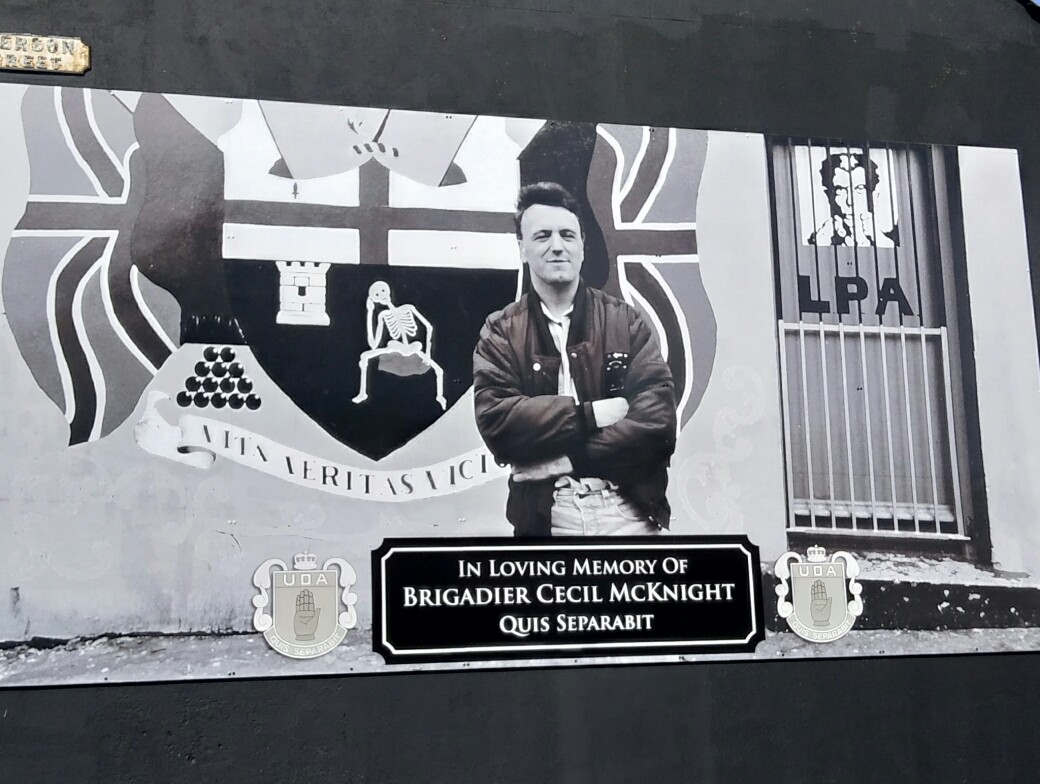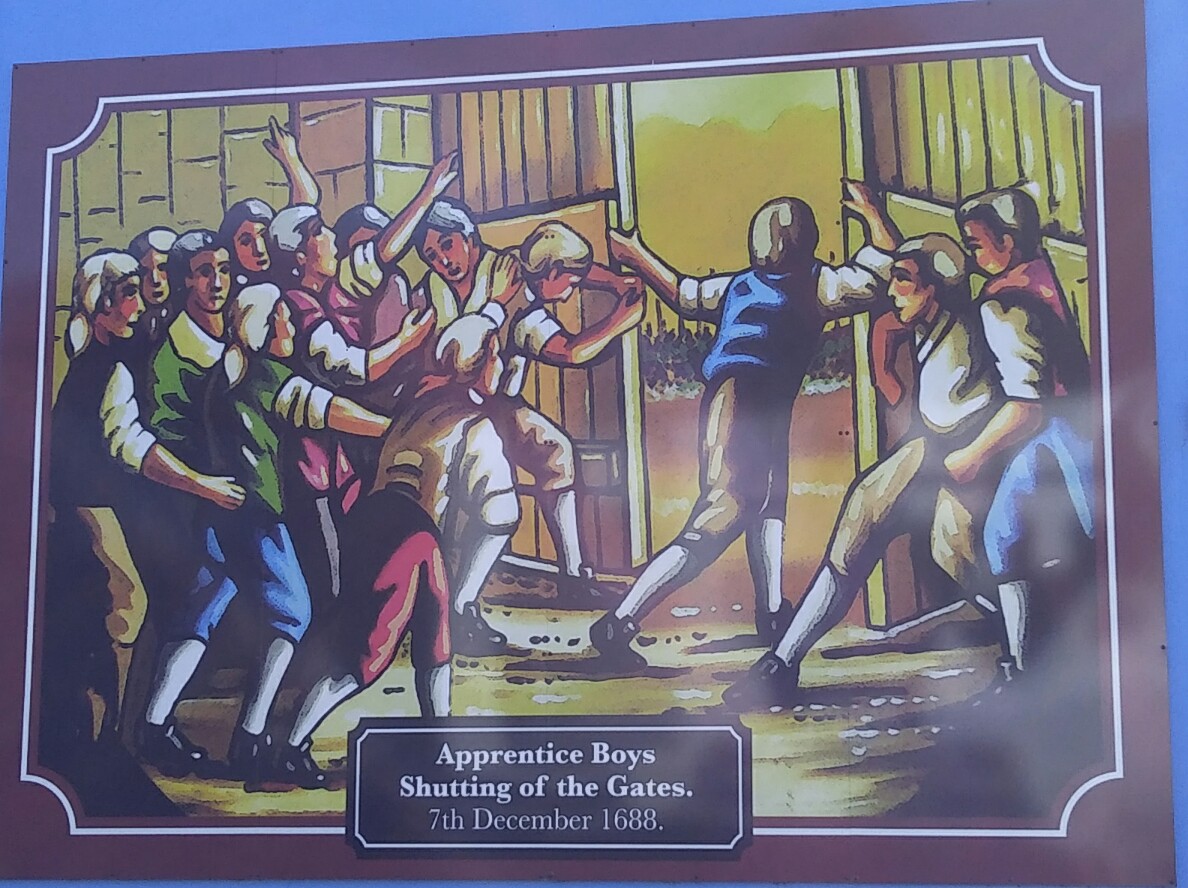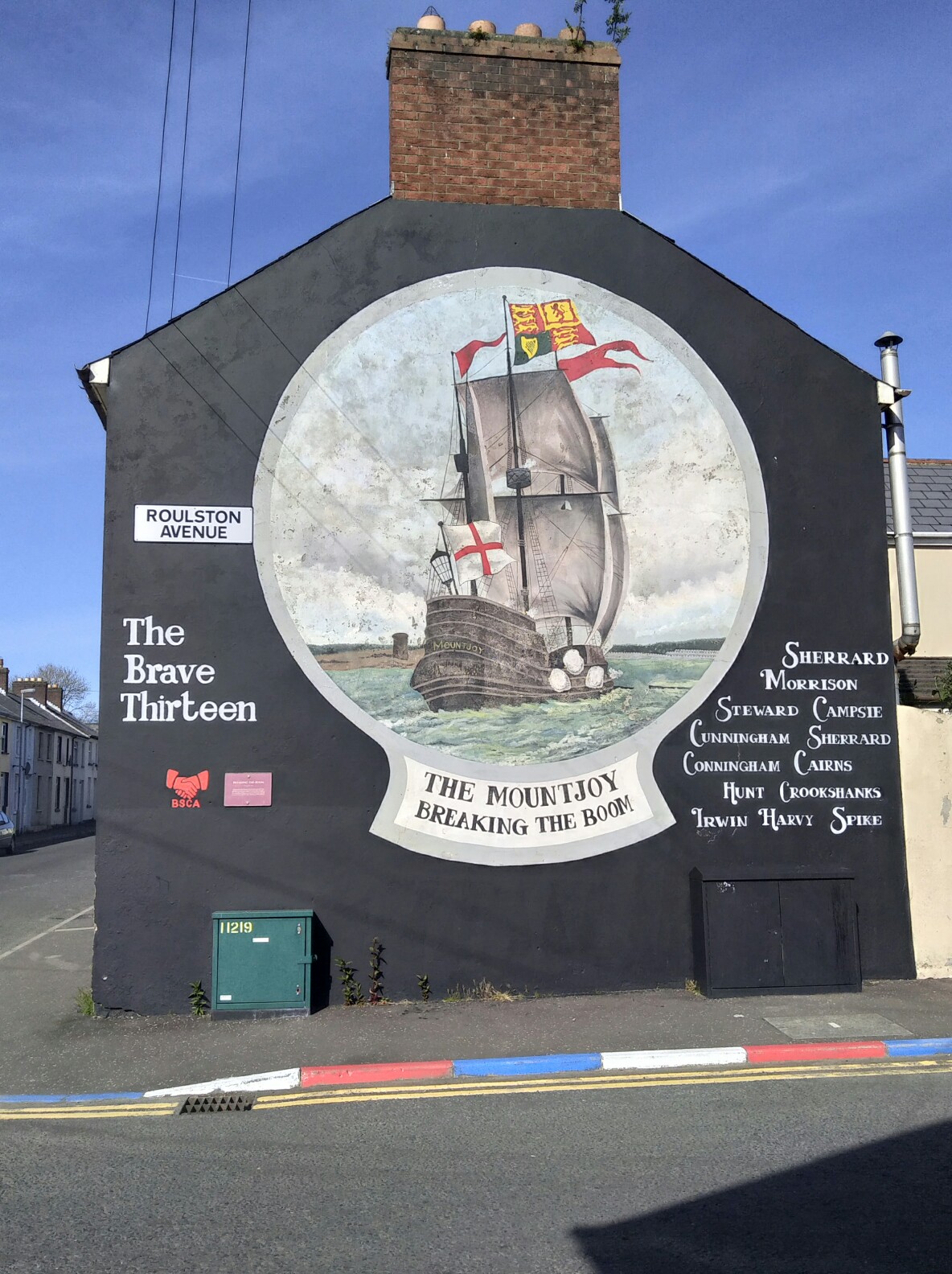 Yep, this is loyalist territory, the kerbs were painted red, white, and blue, as were many telegraph poles!
Now Derry is by far and away the friendliest place we've visited North of the border. Several people engaged us in conversation, and we even got people in the street saying "hello" or commenting on our ice-cream. In one charity shop we had quite a bit of banter with the assistant. As we are walking from the murals to the Brewhouse a car pulls up. It's our charity shop lady, she's recognised us again and just wanted to say a second "Hello". Nice.
The Brewhouse has a limited menu of somewhat upmarket food but at reasonable prices - a special at the moment is 2 courses for £18, and 3 for £20. A good range of beer, keg of course but several of their own brews - I liked their Mammoth Red. Clever names too, Derry Milk for their stout and Cherry, Londoncherry for their political correct fruit beer (gentle reader I leave it to you to explore the political divide concerning the town's name)
Oh and as for today's blog title: here's me with one leg in each country. Just think, a year from now just my right leg would be European!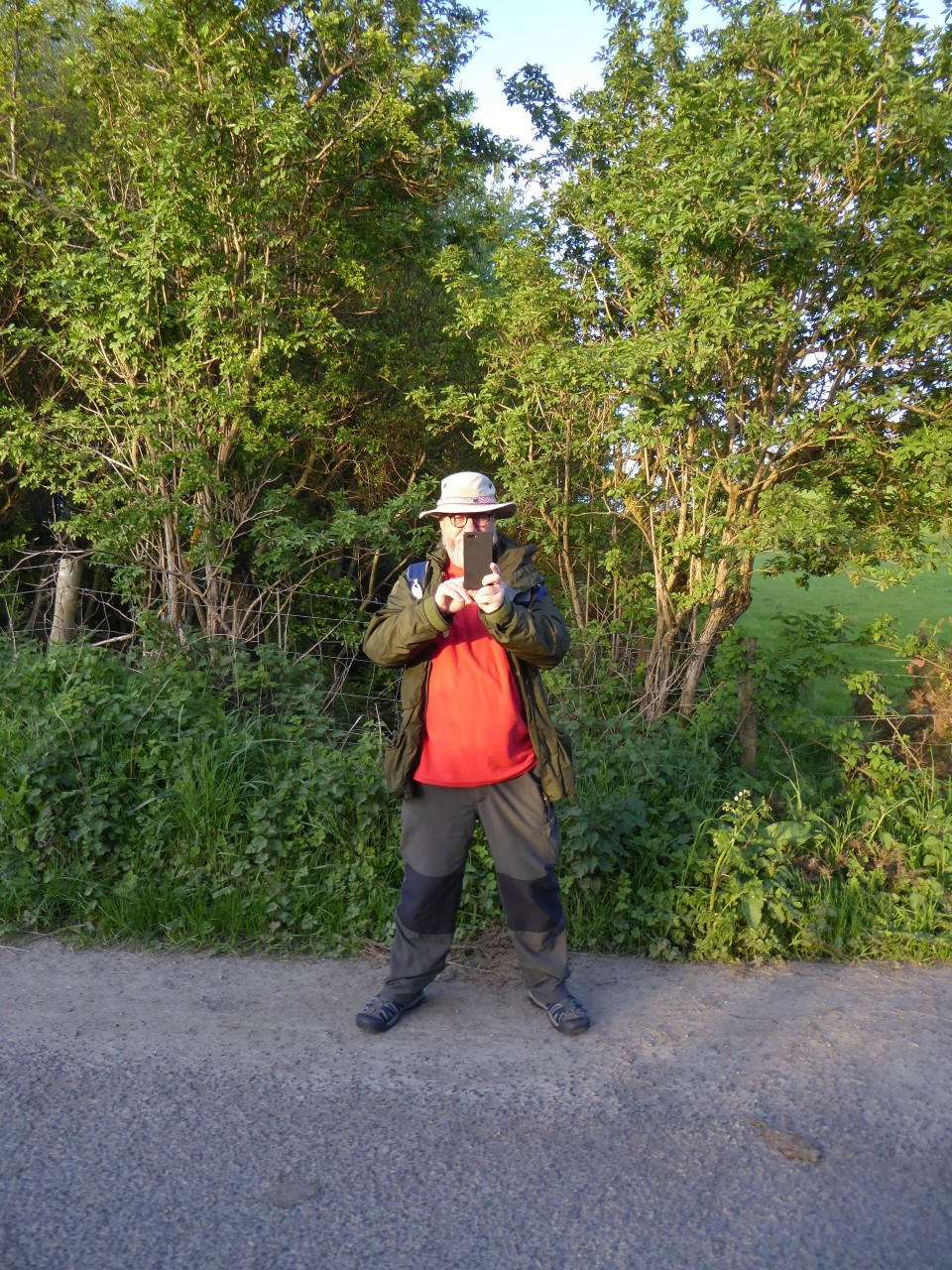 ---
Pleased that my phone has a fairly sophisticated camera so I could use a very fast shutter to capture these without them being over-exposed and washed out ↩︎