Have you missed me? (part two)
Now where did we leave off. Oh yes, arriving at Alnwick. Alnwick's a lovely market town. Lots of little shops, a famous castle, just as famous gardens and the possibly even more famous Barters Bookshop with its huge range of pre-loved books. And, location, location, location, it is not too far from Newcastle and Morpeth to the south or the seaside of Seahouses or the spirituality of Lindisfarne to the north.
Of course this is border country, reiver country where marauding hordes of Scots would swoop over the border and steal the women and rape the sheep. Unless you had a castle. No surprise then that this is castle country, Bamburgh, Dunstanburgh, Chillingham and many others including Alnwick, of course. Once the Scots were tamed (in an era before both Celtic Fans and Nicola Sturgeon) then castle building became replaced by stately home building; the most famous being Cragside.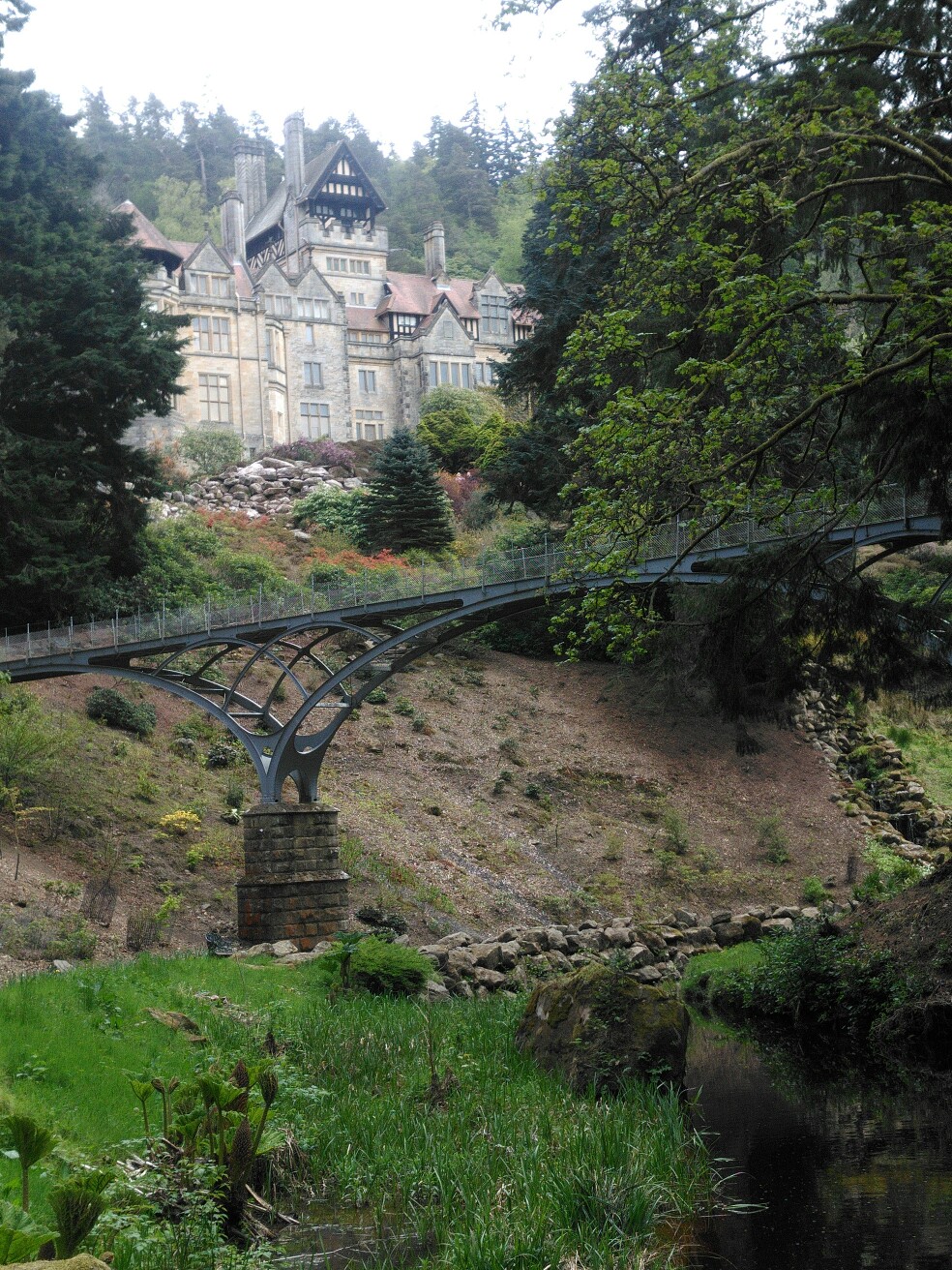 Cragside was built in the late 1800s by William Armstrong. Who? Ask any Geordie and they will tell you he should be up there in the hall of fame with Brunel, Stephenson and the rest. Armstrong made a huge fortune from hydraulic engineering and then latterly armaments. I'm assuming the name lives on today in Vickers-Armstrong and Hawker Siddeley-Armstrong. Like many N E entrepreneurs he was also a great philanthropist giving much to Newcastle including a hospital and the foundation of its university. But he was also an engineer of great vision. He realised that the new fangled electricity thing was a thing of the future and that those wonderful incandescent lamps Mr Swan was tinkering with would extinguish gas and candles forever. Cragside then fused his hydraulic skill with his vision for electricity by becoming the first house in the world to be powered by hydro-electric power, with an Archimedes Screw and several traditional water powered dynamos. Of course, back then nothing about electricity could be considered "traditional". The NT run a fascinating tour of the technology but, beware, hydroelectricity works by water at a height gaining kinetic energy as is descends which gets turned into rotational energy which in turn gets converted to electricity. Why beware? Because any tour of a hydroelectric installation worth its salt will show you the water sources and the dynamos, this definitely involves three-dimensional rambling!
Mind you, not all the wonderful light was supplied by Mr Swan. A certain Mr W Morris got in on the act too.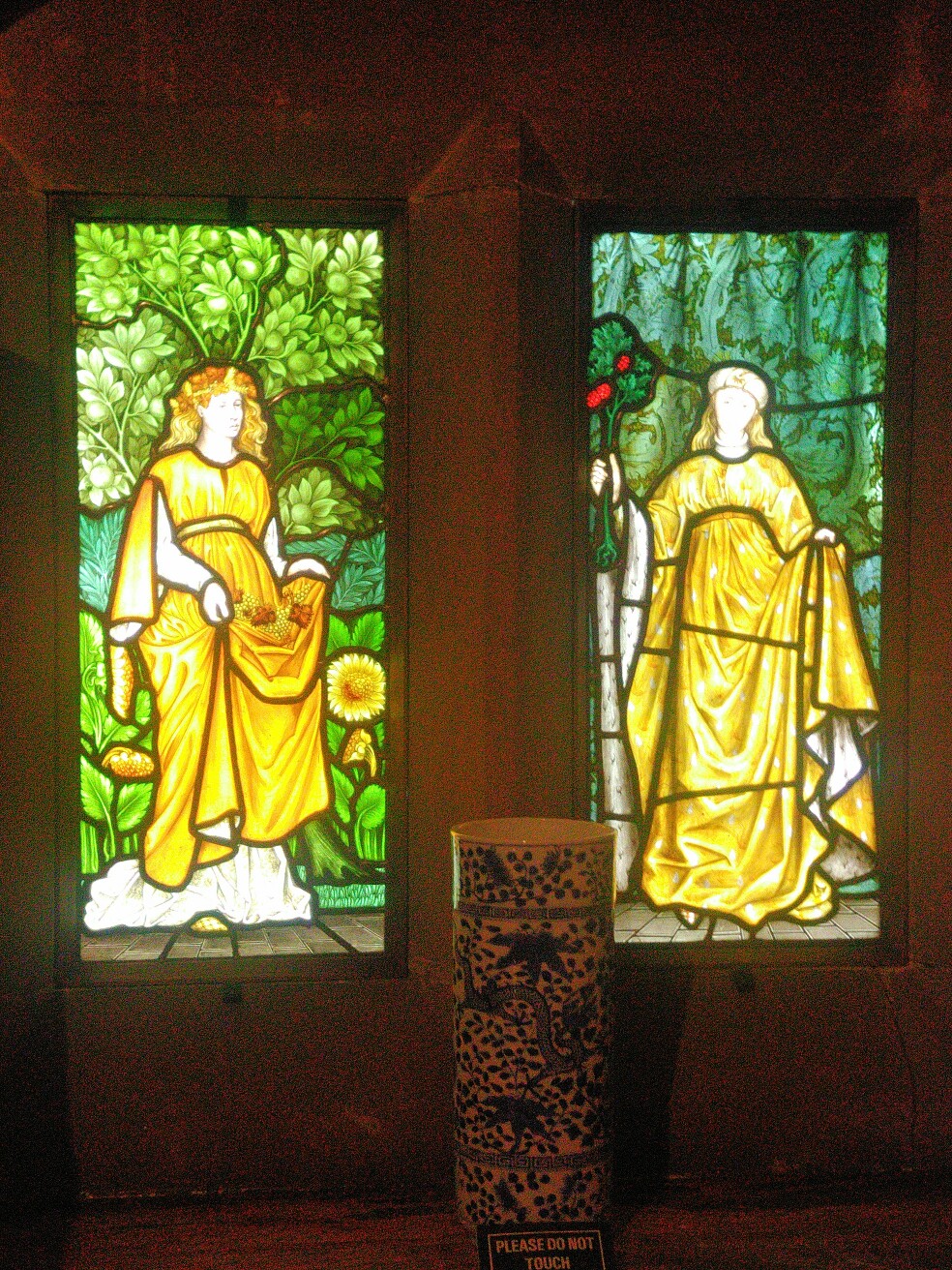 After Wednesday's tiring up and down of Cragside Thursday was a quiet stroll in the gardens, the famous Alnwick Gardens. The May edition of Gardener's World (£4.75) comes with a free card that entitles the bearer two for one entry into over 400 gardens including Alnwick (£12+ each) so immediately paid for itself (and a couple of beers later in the evening). Alnwick gardens are fantastic - a word chosen wisely as they really are a flight of fantasy of their patron, the Duchess of Northumberland. Immediately the main feature, a huge water cascade, 10 metres or more wide and probably in excess of 50 metres long commands your view. It is flanked on either side by avenues of pergolas made from living bamboo. A couple of weeks earlier and I suspect the many, many swinging seats in the cherry orchard were full of romantics swinging gently as the breeze showed them with cherry blossom. Shame Liz and I missed that!
The big disappointment of the day, the infamous Poison Garden. Some plants, e.g. Khat, Cannabis, Salvia are grown under Home Office licence and so guided tours are the only way to see the plants. The tour seemed rushed. I'm sure they have Opium Poppy and Coca but these weren't pointed out, neither was the strychnus nux vomica or many of the other serious poison plants. Instead emphasis was on home grown killers such as Laburnum, Rhubarb leaves, Dafodill bulbs etc. Boring!! Liz and know all this stuff.
Remember that huge cascade that forms the focus of this multi-million pound garden? Kinetic energy of falling water to make a pleasant eye-catching feature. Know what that means? Yes, another day of three-dimensional walking. Friday will be flatter.
Another NT property, Wallington is just down the road, close to Morpeth. Belonging to Charles Trevelyan a member of the first Labour cabinet it was another example of largesse and philanthropy. A casual enquiry in the library revealed that most of the books were, in fact, read as it was the tradition to loan books to the estate workers. Mind you, on return they would be quizzed on how much they'd enjoyed the book just to make sure they'd read it! The library staff were proud of the 6,000 or so titles dotted around the house. Wonder what they would have made of my late friend David's collection of over 9,000 titles in his modest suburban 3 bedroom home!
The reason we went to Wallington was that they have an active Red Squirrel conservation program and we were told there was a good chance of seeing a red. When someone tells you there is "a good chance of seeing a Red Squirrel" don't believe them. Reds are shy, secretive animals that spend much of their time hidden in their eyes at the top of pine trees. There is NEVER a good chance of seeing them. We didn't see any!