A terrible attempt to mimic Viking River Cruises who used to advertise in the midst of ITVs crime thrillers. Anyway the campsite here is adjacent to the river Svratka which meanders for a couple of miles before being dammed to make Brno Lake which abuts the northernmost suburbs of the city. This being Europe and public transport being functional ("as opposed to the UK" being left deliberately unstated) then there is a ferry which meanders down the river and zig-zags across the lake, both connecting opposite banks and bringing commuters into the city. The campsite sits at the far end of this service, just 200m from the ferry, so the obvious, pretty, but slow way into Brno is to take the ferry to the Bystrc suburb and then an onward tram.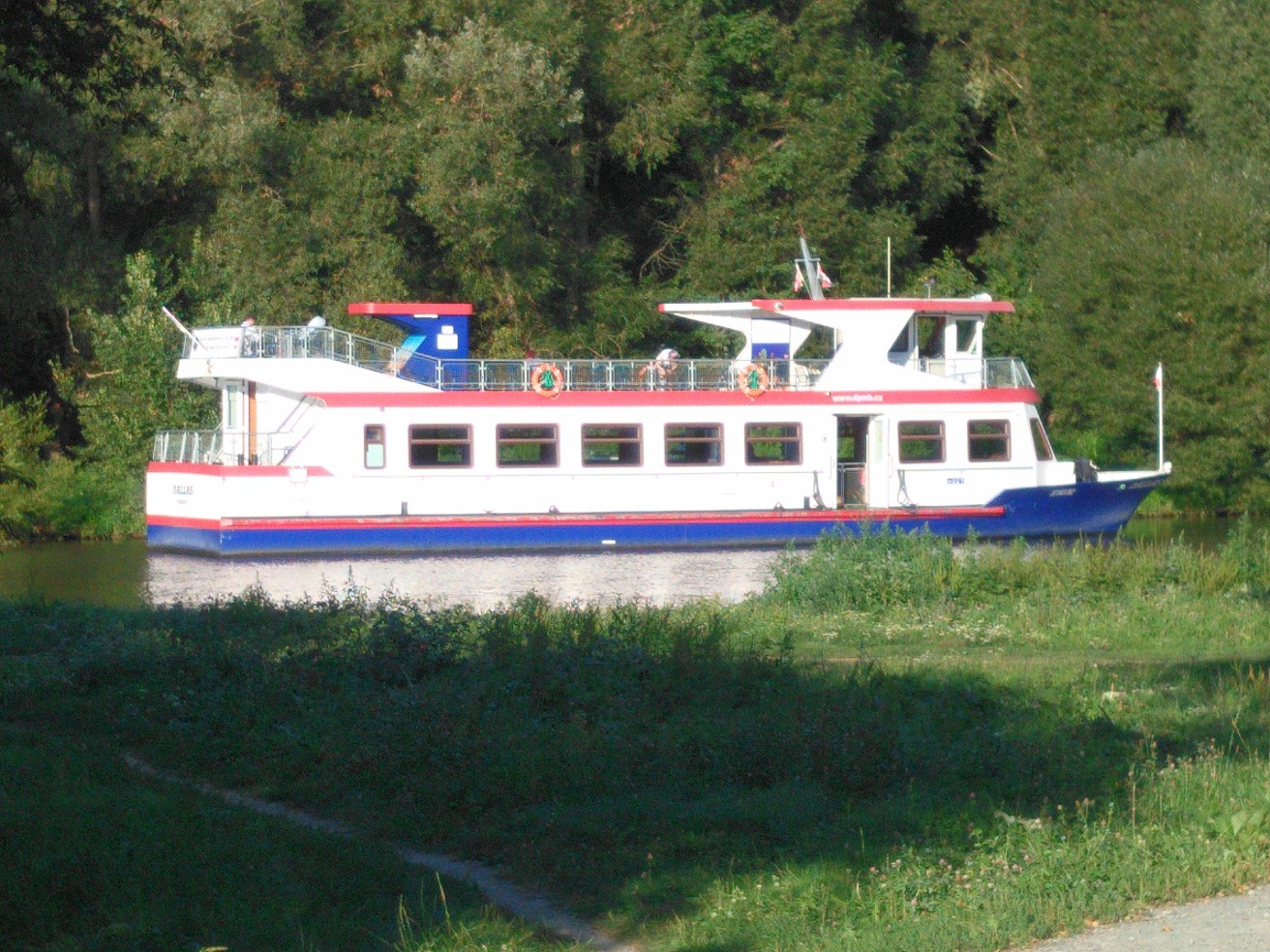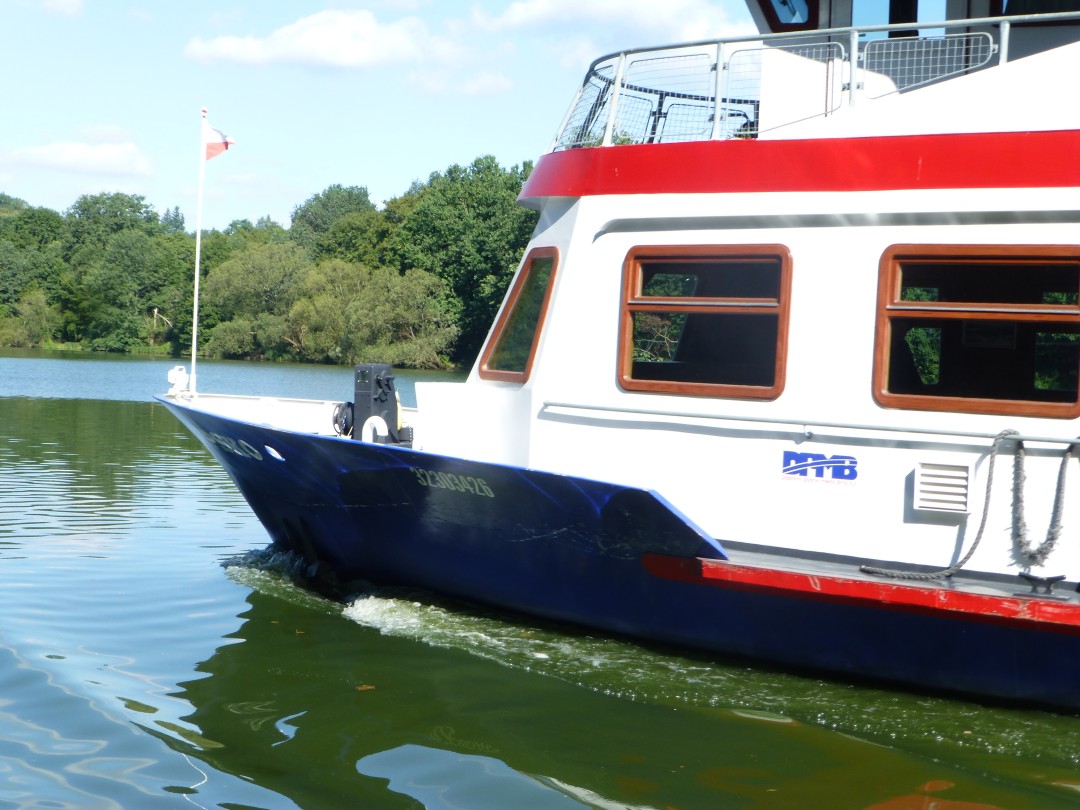 Unusually the fares are on a per stage basis. It's 15kr per stage, which at about 55p is cheap. Unfortunately we need 10 stages! Still an all stage return is 240kr (£8.50 which isn't bad for two one hour river cruises)
It's steady rather than slow, we pass Veveri castle,
many fishermen, a nudist beach (no I don't have any photos) and several other little beaches and coves before the 30 minute tram ride into the centre.
Brno had a reputation of being boring - indeed there was even a film "Nuda v Brnē" - Bored in Brno. But it is a pleasant enough little city with the usual city sights
Whoa, let's run that one again!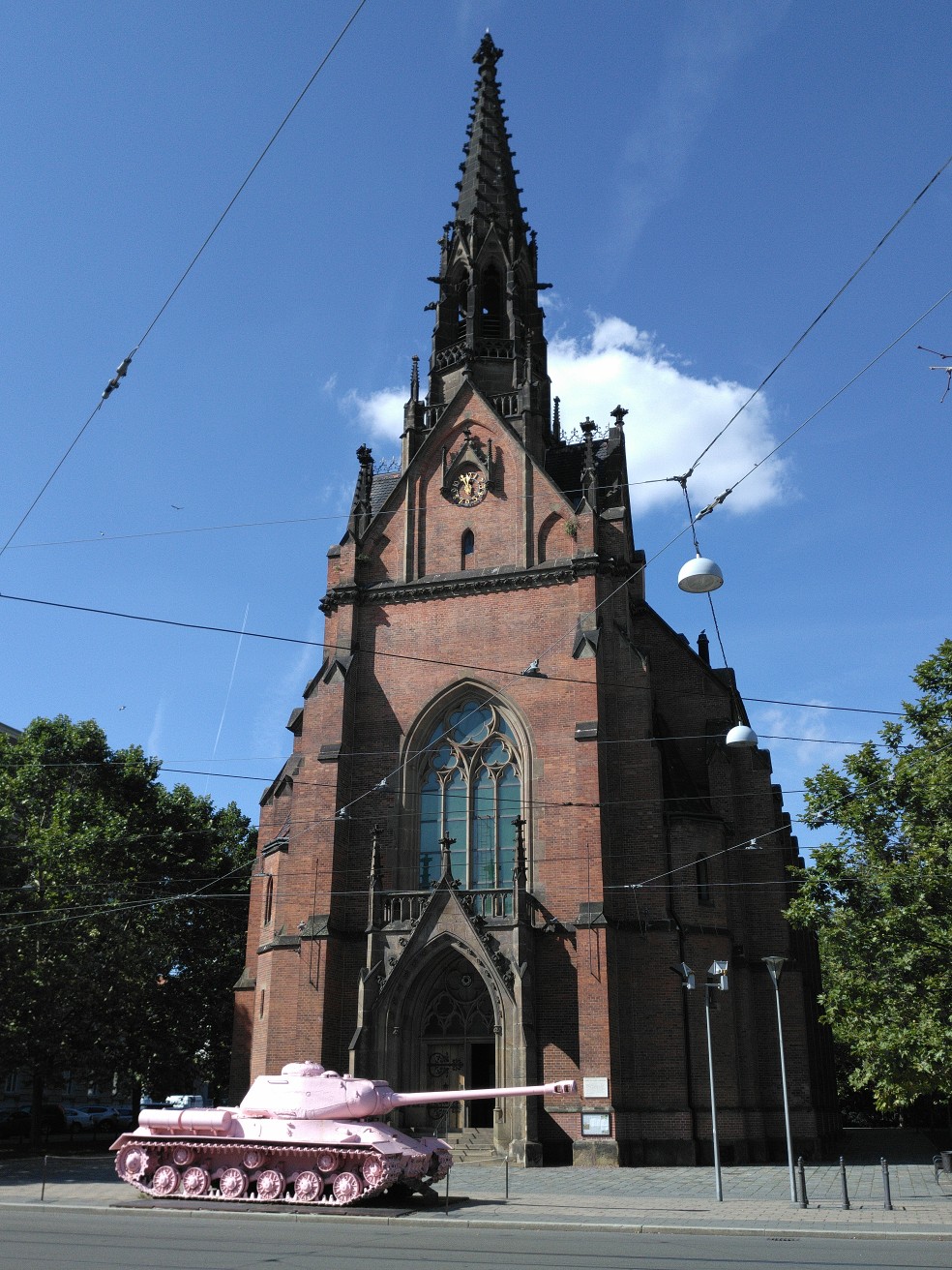 Yesterday's gleaming polished aluminium MIG fighter, that I couldn't stop to photograph, has just been upstaged by a pink Soviet IS-2m 1945 WWII tank. It's a long story and a controversial piece of art by David Cerny (apologies David, I can't work out how to make Android keyboard give me the correct accents over the C and y). Worth Googling. Oh, and the cellists weren't bad either. Oh, neither was the beer, local brewed by Hotel Pegas.
Anyway some tourist shopping and Liz had a piece of holiday fabric for quilting, then a walk to the castle. Now the castle itself was impossible to photograph from the route we took, it was total invisible in the trees until just a few metres away. But, like all good castles it's atop a hill so views were good
So back to the van and into the local village to eat. Our first communication problem of the holiday. Last night in the same pub we sat down outside and a waiter, hearing our accent brought an English menu and with adequate English he was brilliant in sorting out meals. Tonight we sat down outside, got an English menu but got spoken to in German. Finding ourselves in direct eyeline of the setting sun and between two smokers we tried to move inside. That's when problems occurred. The waitress fired off something in Czech that can only be "you can't sit there". We looked bemused but she had no other language (and you're guessing my Czech is, sadly, non-functional, right?). A regular tries to intervene and in poor German (his, despite being infinitely better than mine) ascertains we want to eat not just drink (I was pleased with that bit of German) he leads us outside. Thinking he is suggesting we go elsewhere Liz and I just sit down and he throws up his hand in despair. A few minutes later Liz has the revalation that we passed another door round the side and that was probably the restaurant. It was; large pizzas and beers later all was well. 
But it was somewhat confusing for all concerned. I suspect last night being Sunday the restaurant was closed so they served food on the bar terrace, but not on week days. Something like that anyway.
Communication is only going to get worse as we head east!